Serato vs. Rekordbox full DJ software features comparison – is one better than the other? Which one should you choose for your first DJ software? In this article we will compare Serato DJ Pro to Rekordbox in terms of features, ease of use and hardware / DJ controller compatibility. We hope this detailed comparison will help you with your DJ software choice and let you decide on which one of these is better for your needs. Let's begin!
A word about Serato DJ Lite vs. Pro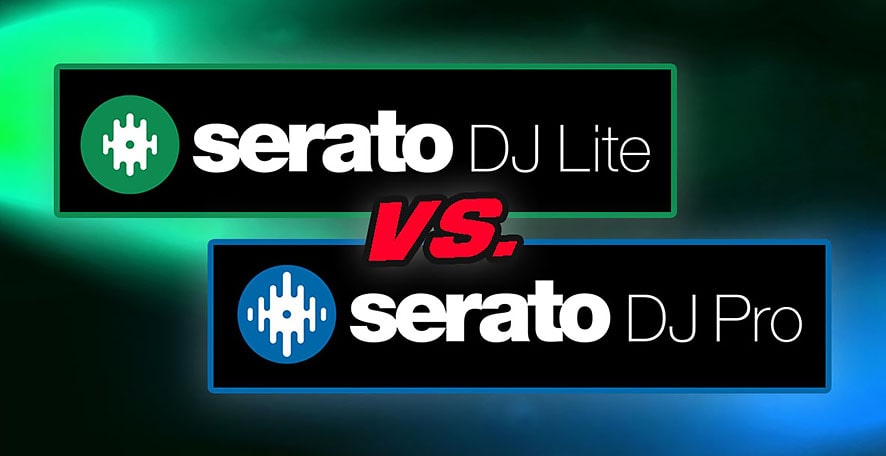 In this comparison we will focus solely on Serato DJ Pro. It's important to mention however, that there exists another version of Serato DJ software – Serato DJ Lite, meant for beginner DJs, or rather, users of lower budget entry-level DJ controllers.
Serato DJ Lite vs. Pro (12 Most Important Differences)
There are lots of vital differences between Serato DJ Lite and Pro, much more than we'd be able to list in this short article. If you're interested about comparing Serato DJ Lite and Pro, or learning what both or these are or could be used for, check out this comparison we made: Serato DJ Lite vs. Pro DJ software comparison.
Available audio FX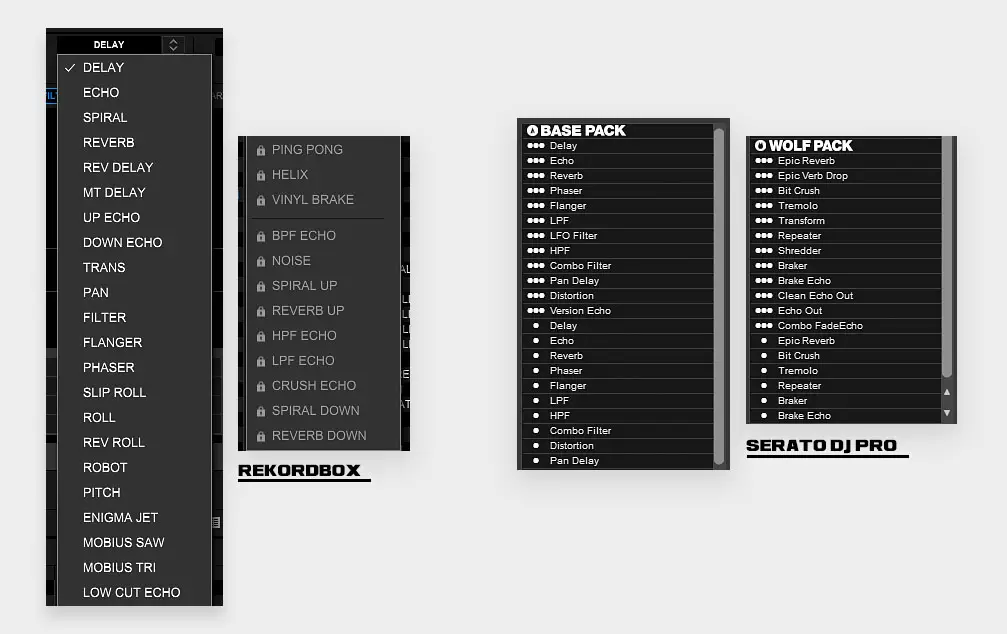 Here is how the audio FX situation presents itself in both Rekordbox and Serato DJ Pro.
Rekordbox: 22 basic audio FX and the access to Pad FX controls (audio FX controlled using performance pads on supported DJ controllers), more FX unlocked by upgrading your software plan.
Serato DJ Pro: 22 basic audio FX + 42 additional audio FX (in 5 additional FX packs available for purchase).
When it comes to audio FX, the advantage of Serato DJ is the sheer number of available FX (most of them in the additionally paid FX expansion pack), while one of the advantages that Rekordbox DJ has here, is the support for Pad FX – a really nifty feature if your DJ controller supports it.
Streaming services integration

Both Serato DJ Pro and Rekordbox support music streaming services that you can use as track sources provided you have an appropriate subscription active in either of the available services.
Serato DJ Pro supports the following streaming services: Beatsource, Beatport, SoundCloud and Tidal.
Rekordbox DJ software lets you use the exact same set of streaming services: Beatsource, Beatport, SoundCloud and Tidal.
Although not shown on the snippet above, both Serato DJ Pro and Rekordbox support iTunes integration.
Neither Rekordbox, nor Serato DJ Pro support Spotify music streaming integration, and they won't let you use your Spotify playlists as track sources.
Can You DJ With Spotify? (Updates)
The support for music streaming services is equally good in both Serato and Rekordbox and neither of them has strong advantages over the other in that matter.
More about that here:
Your music in the cloud – cloud track storage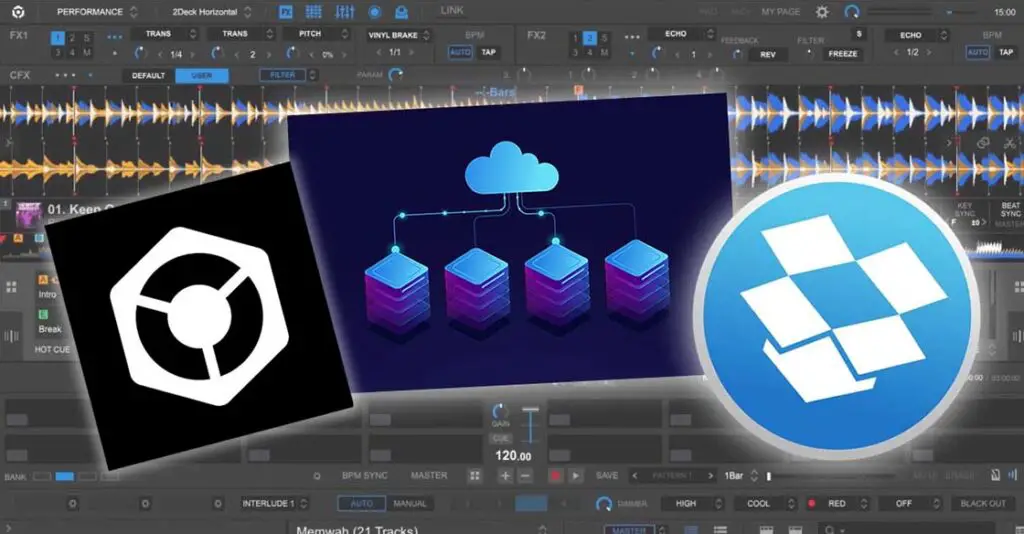 Another thing worth mentioning here, is that Rekordbox software has additional support for custom Dropbox cloud storage for your private audio files and tracks via the new CloudDirectPlay feature.
New Rekordbox Professional Plan – Featuring Unlimited Cloud Storage!
Serato DJ doesn't have that advantage, and it doesn't feature any kind of music cloud storage or cloud backup support. This is just a minor detail, as the CloudDirectPlay feature in Rekordbox is relatively new and not many DJs seem to make use of it as of now.
Expansion packs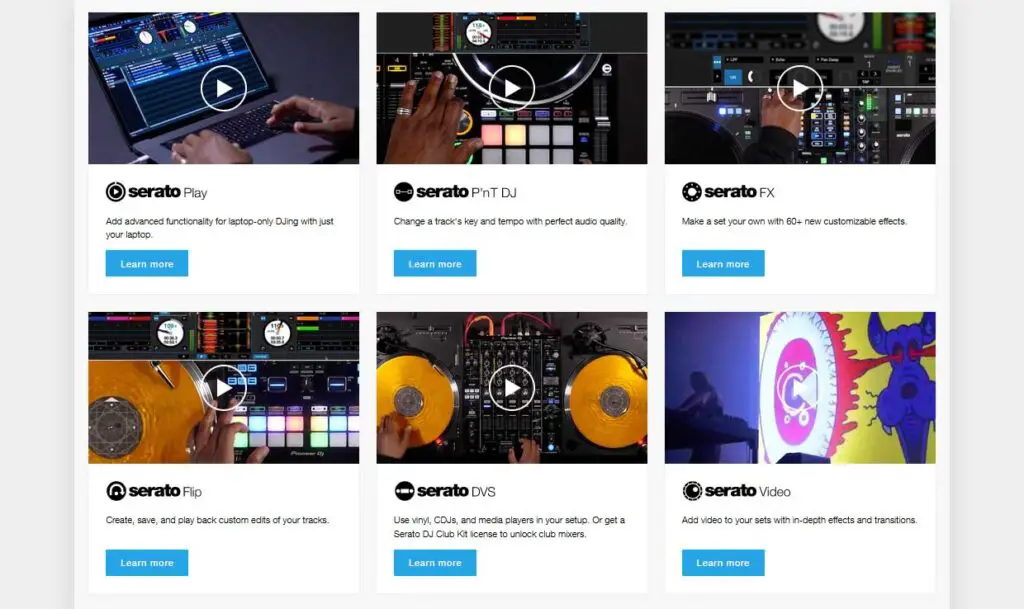 The expansion packs. Some say that Serato DJ Pro, having 6 feature expansion packs available for purchase has the upper hand on Rekordbox.
The other way of seeing it, is that after purchasing a full Serato DJ Pro license or a compatible Serato DJ Pro hardware unlock DJ controller, you still need to pay if you'd like to unlock additional features.
With Rekordbox, some features such as video mixing or DVS support are soft-locked without an upgrade to a higher tier of your monthly Rekordbox subscription plan.
What Is a Hardware Unlock Device? – DJ Controllers
Either way, the situation with expansions and additional features is as follows: the full version of Serato DJ Pro offers you 6 paid feature expansion packs (Serato Play, Pitch 'n Time DJ, Serato FX, Serato Flip, Serato DVS, Serato Video), while the full version of Rekordbox allows you to upgrade its feature set by upgrading your current software subscription plan (giving you access to video mixing features and DVS support among other things).
If you want to know more about the Serato DJ Pro expansion packs and what exactly do the have to offer – head over here for a quick read.
Hardware compatibility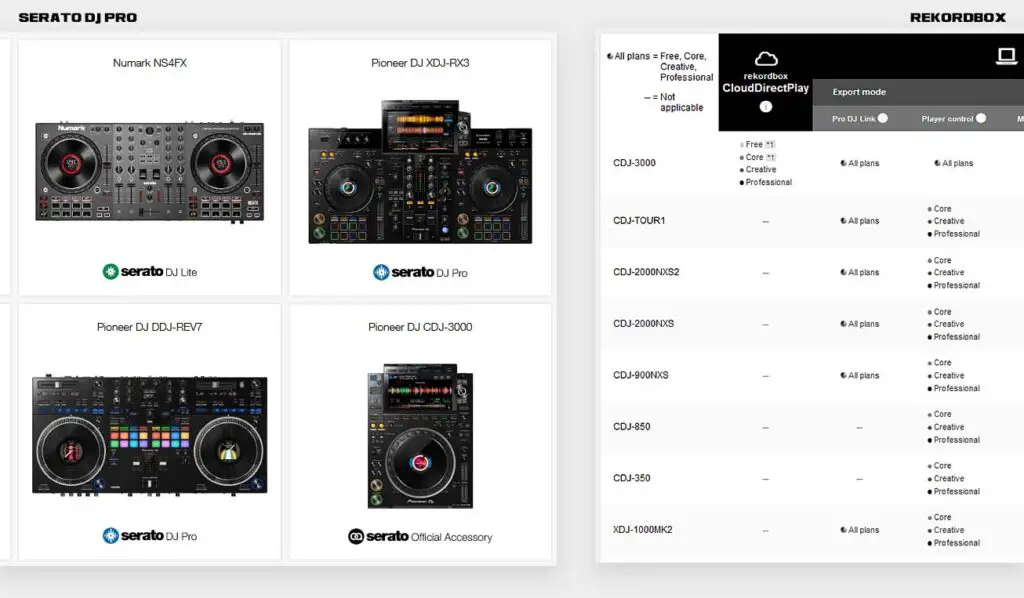 When it comes to the hardware compatibility, both Serato DJ Pro and Rekordbox DJ support a great deal of professional and entry-level DJ controllers.
Unfortunately, most of the time when a DJ controller supports Rekordbox DJ, it does not support Serato. It also works the other way around. While there are some exceptions to this rule, they are quite rare.
Because of the fact that both Serato DJ and Rekordbox in general support different sets of DJ controllers, there is no point of listing them all here. If you're interested in the exact list of supported hardware, it's best you head over to the official Serato & Rekordbox sites, we'll link them right here:
If you're wondering if the hardware compatibility should affect your software choice in any way, here is our honest advice: choose your DJ controller first, and then ease into whatever DJ software your desired device supports best.
Choosing a DJ controller that has a perfect control layout, great ergonomics and extensive feature set that you found to be the best for you is way more important that overthinking your DJ software choice. Both Rekordbox and Serato DJ are top of the line pieces of DJ software used by club and scratch DJs all around the world – you really can't go wrong with either of these!
DVS support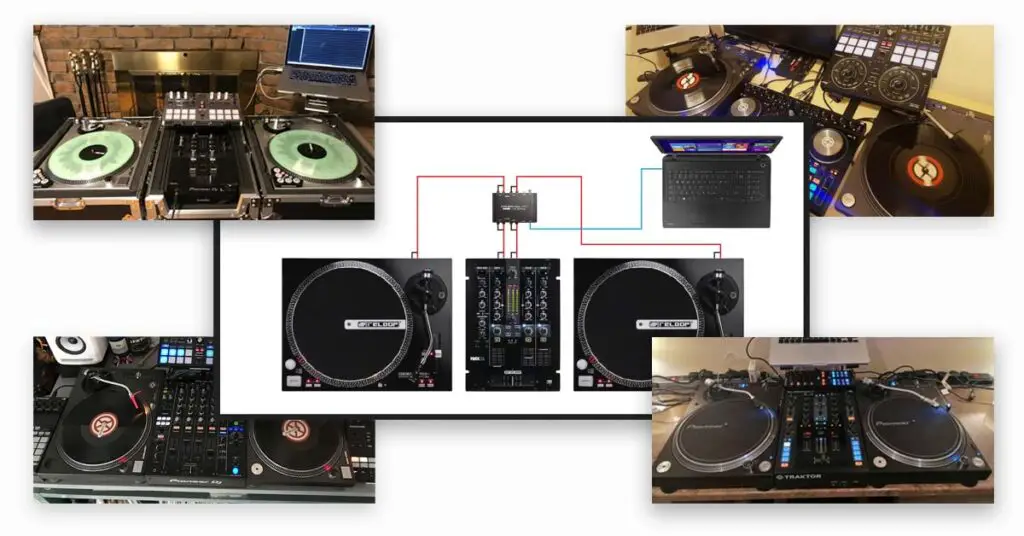 Serato DJ Pro and Rekordbox are both capable of supporting DVS (Digital Vinyl Systems).
With Serato DJ Pro, you'll need the previously briefly mentioned Serato DVS expansion pack. With Rekordbox, you can either purchase the DVS Plus Pack license key, or upgrade your software plan (if you have one purchased) to the one that has DVS support listed as one of its features.
DVS And Timecode For DJs Explained. (A Simple Guide)
Important: both in case of Serato DJ Pro and Rekordbox there exist hardware unlock devices that after being connected to your computer will automatically unlock all the DVS features. In both cases these are different devices, most of the time mixers or external soundcards meant for scratch DJs, or high-end DJ controllers.
These devices are listed in the respective supported hardware lists that we've linked in the previous paragraph.
Mixing without a DJ controller – Serato vs. Rekordbox vs. Traktor Pro 3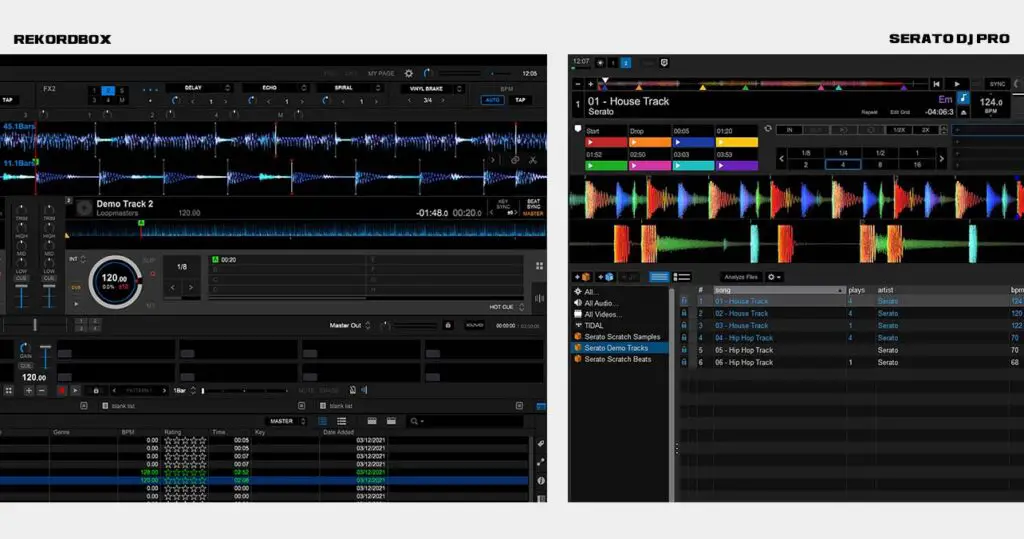 After purchasing a Traktor DJ Pro 3 license, you can easily mix without your DJ controller connected to your computer with ease and without any limitation. You'll have access to the exact same software features as you would have a DJ controller connected.
With Rekordbox, your controller-less mixing options are a little bit more limited, with Serato DJ Pro – even less so if you don't purchase the Serato Play expansion.
Can You Use Serato On Your Laptop Without A DJ Controller?
Serato DJ software won't let you access all its features if a Serato DJ hardware unlock device isn't connected to your computer, or you don't have the Serato Play expansion pack purchased.
The Serato Play expansion pack is one of the 6 paid Serato DJ expansions that you can purchase separately from the main Serato DJ Pro software. It allows you to use all of the Serato DJ Pro features without your DJ controller plugged into your computer, with the aid of customized keyboard shortcuts and hotkeys – something that Traktor Pro 3 offers out of the box after the main license purchase.
In Rekordbox with the basic free plan, you'll have access to basic mixing features, audio FX, loop controls, cue points and EQ out of the box.
Can I DJ With Just A Laptop? – Do You Really Need A DJ Controller?
In Serato DJ Pro without the Serato Play expansion and without a DJ controller plugged in you'll only have access to your track library management interface and a few chosen mixing features.
What are other DJ software alternatives?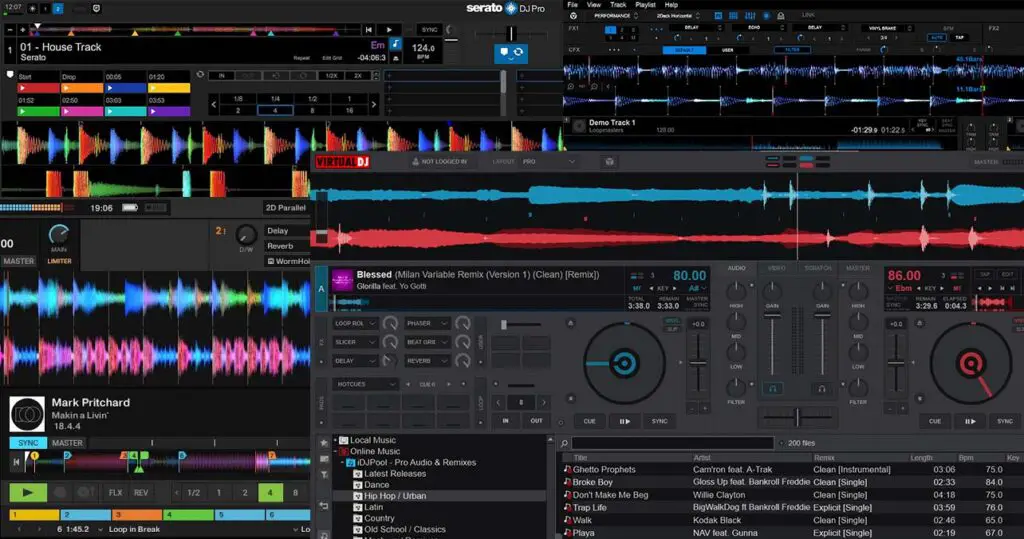 It's important to be mindful of other popular options too. The main competitors of Serato DJ and Rekordbox on the DJ software market, are Traktor Pro 3 by Native Instruments, and Virtual DJ. Their user bases are equally active, if not more when it comes to some of the open DJ communities out there.
Best Free DJ Software (For PC & Mac) [With links!] – click here!
These alternatives offer some unique features that were never part of , for example – real time AI track stem separation in VDJ software Be sure to read about those too before making your final decision.
We have an extensive in-depth comparison of Serato and Traktor here on djgear2k, check it out if you want to know even more!
Serato DJ Pro vs. Traktor Pro 3 – DJ Software Ultimate Comparison
While we're at it, be sure that you also check out the newest version of Virtual DJ software. VDJ has grown over the years from a simple tool used mostly by laptop-only DJ's, to a full-fledged professional DJ software actively competing with the big 3 (Serato, Rekordbox and Traktor).
Virtual DJ Software – New Vital Features You Didn't Know About
The price – subscriptions and licenses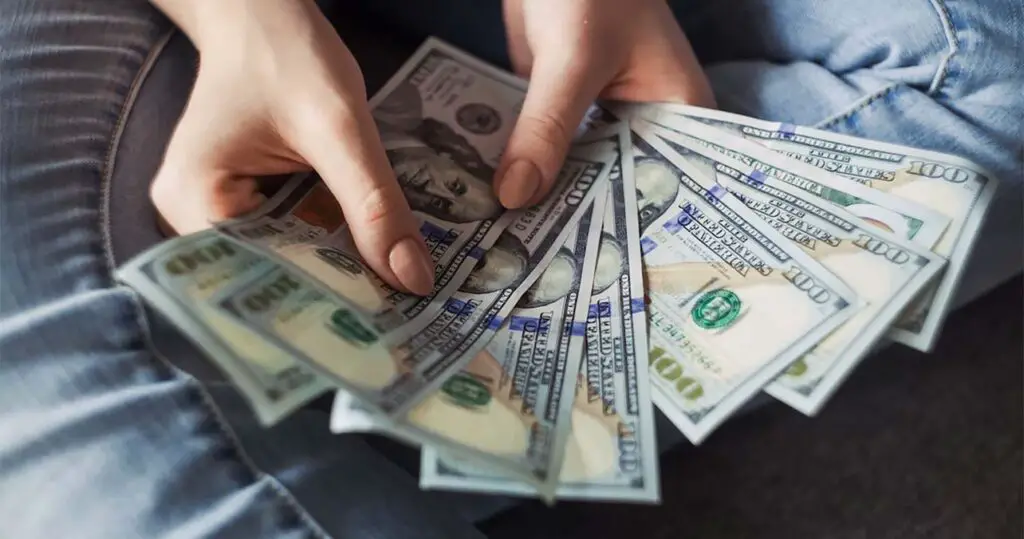 Serato DJ Pro can be unlocked either by: a one time software purchase, a monthly subscription, or a compatible hardware unlock DJ controller connected to your computer.
Rekordbox is quite similar: you can purchase a monthly or yearly subscription to one of the software plans, however it does not offer a one-time purchase deal like Serato DJ Pro does. Rekordbox can of course also be unlocked by a compatible hardware unlock DJ controller.
Check the current price of Serato DJ Pro here: https://serato.com/dj/pro/buy-dj-pro (you can also compare all the available plans here).
And the current price of Rekordbox DJ software here: https://rekordbox.com/en/plan/ (the plan comparison is available here as well).
When it comes to free versions of these, Serato DJ/Serato DJ Lite can be downloaded for free and accessed with quite a few limitations if you don't have an appropriate hardware unlock device or software license/subscription active.
It's pretty much the same with Rekordbox, as the free version of Rekordbox can be installed and accessed in export mode with limited access to track library management and mixing controls.
Pros and cons
Let's now quickly go over the most significant advantages and disadvantages of Serato DJ Pro and Rekordbox DJ software:
Rekordbox: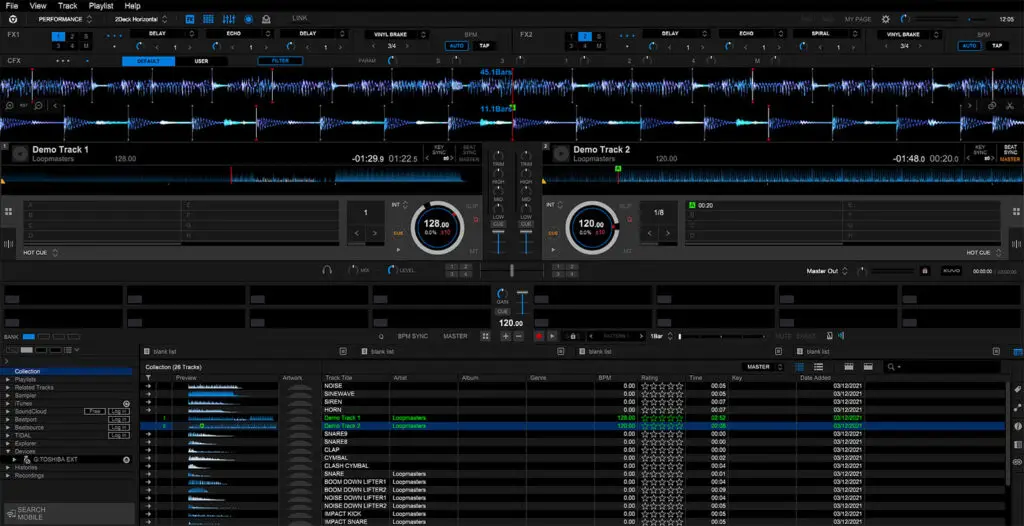 Pros:
More popular among club DJs (better CDJ/DJM setup integration, the way it handles external device audio file management).
Cloud audio files storage support (optional CloudDirectPlay Dropbox integration).
Support for top streaming services for DJs.
Access to the Pad FX performance pads mode on compatible DJ controllers.
Access to a little bit more controller-less mixing features than in Serato DJ Pro without the Serato Play expansion.
Cons:
No "one-time buy" offer available – you can only go the subscription route, or the hardware unlock route.
Some professional features such as vocal position detection and display or device library backups available only in the more expensive subscription plans.
Doesn't support many DJ controllers designed for scratch DJs (for instance the Pioneer DDJ-Rev7 or the Rane ONE).
Serato DJ Pro: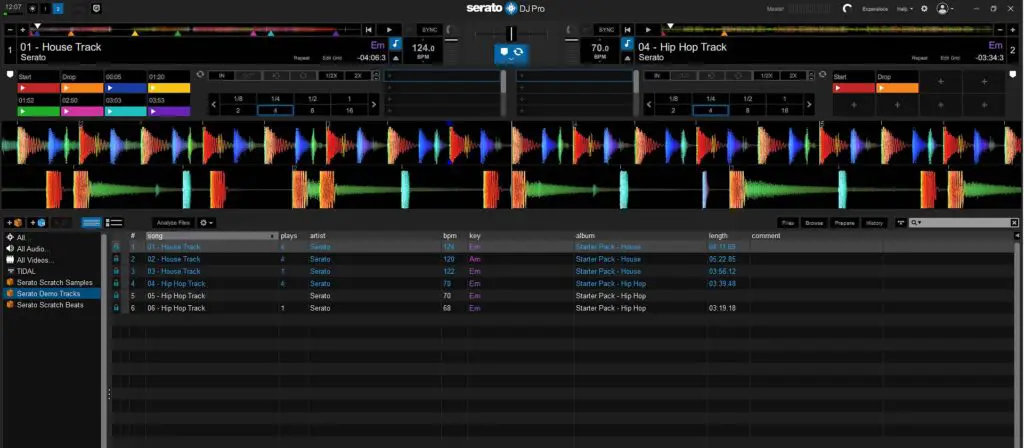 Pros:
More popular among scratch DJs (great support for DVS, more mixers for scratch DJs supported).
Ability to connect your Pioneer CDJ players via Serato HID feature.
"One-time buy" license available.
Supports the very same set of top streaming services for DJs that Rekordbox does.
A larger set of audio FX available (even more with the paid FX expansion packs).
Cons:
Many nifty features available only in additional, paid expansion packs.
Doesn't support most popular Rekordbox entry-level DJ controllers (such as the ever popular Pioneer DDJ-400).
The conclusion – which one should you choose?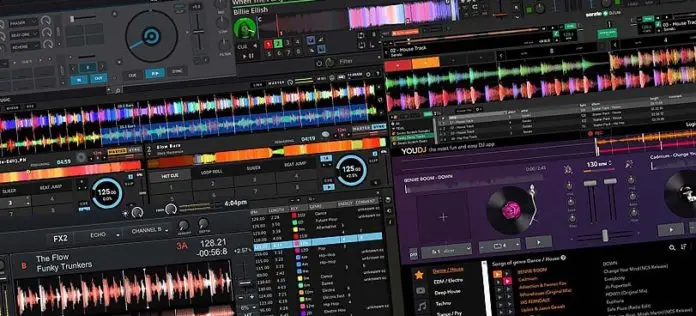 In the end, choosing Serato DJ over Rekordbox DJ software boils down to a few basic things:
Whether or not your chosen software supports the DJ hardware you currently own or plan to own.
Strongly preferring one software interface, feature set or control scheme over the other.
Your general personal software preferences (if you have them already).
If you're not familiar with DJ software yet, your choice will most probably be driven by your chosen DJ hardware – the DJ controller you're going to get – that's perfectly fine.
Best Free DJ Software (For PC & Mac) [With links!] – click here!
If you're a beginner, you can't really go wrong with any of these. Both Rekordbox and Serato DJ are currently the most popular choices among club DJs and scratch DJs, and are used extensively worldwide. A great tip here is to choose your first DJ controller first, and then simply go with its best supported and designated DJ software.
Most modern DJ controllers compatible with either Rekordbox or Serato DJ software (or in some rare cases both), will work as hardware unlock devices for their designated DJ software – this in a sense eliminates the need to use software license keys and can make your life easier.
And that's the end of this comparison! If you want to know more, you can also check out our extensive detailed comparison of Serato DJ Pro and Traktor Pro 3 DJ software here: Serato DJ Pro vs. Traktor Pro 3 – DJ Software Ultimate Comparison. Rock on!