As a DJ and everyday Serato DJ Pro user, I decided to switch to Serato DJ Lite for a full week to see how cut down the basic and bare-bones version of Serato really is. Well, now I'm back and I'm here to share with you my own personal experience with the Serato DJ Lite software to save you some time on deciding whether or not using it is the right choice for you. And oh boy, there is much to be shared here. Let's get straight to the review!
You might also like: Virtual DJ Software Review – djgear2k
[this article features Ebay & Amazon affiliate links]
Serato DJ Lite – software review

Serato DJ Lite is free DJ software dedicated for many entry-level Pioneer DJ controllers. It's essentially a very much cut down version of Serato DJ Pro which is extremely simple to use, but lacks lots of useful and for some – essential features.
When it comes to my actual experience with Serato DJ Lite, it has been rather pleasant overall. I have used it for with both the Numark DJ2GO2 Touch and Pioneer DDJ-FLX4.
An important thing here is that if you are to use Serato DJ Lite with most non-portable entry-level DJ controllers such as the Pioneer DDJ-Rev1 or the DDJ-FLX4, you will still be faced with many annoying limitations. For example, with some DJ controller models, the performance pad modes available and labeled on the pad mode selection buttons simply won't work with the Lite version of the software. More on the exact feature limitations in a short while.
When it comes to the overall software stability, performance and mixing experience I have to say that aside from not having access to many features that I know from Serato DJ Pro and use on a daily basis, I didn't face any actual software related issues. Serato DJ Lite is pleasant to use, has a very neat and simple user interface and I didn't experience any crashes or hang ups during my use of the software.
Serato DJ Lite comes with many entry-level DJ controllers, and in many cases It's the best software to use if you're just starting out and simply want to start as soon as possible. You have to keep in mind though, that most beginner DJs tend to outgrow the feature set of Serato DJ Lite pretty fast. You will see what I'm talking about when we get to the actual limitations and shortcomings of this software.
See also: Can You Record Your Mixes With Serato DJ Lite?
Streaming capabilities – on par with Serato DJ Pro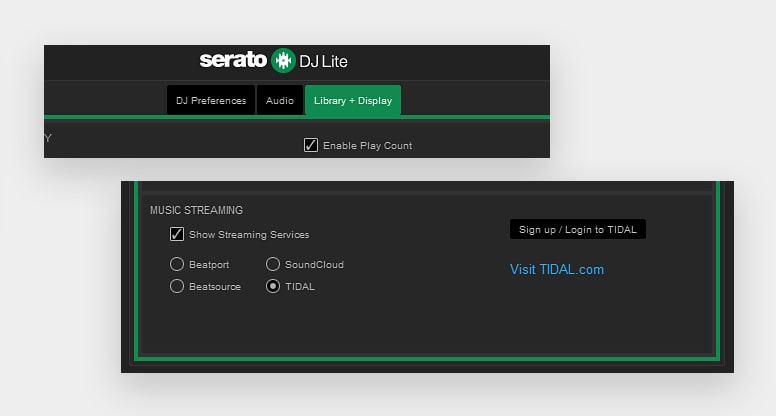 First things first, let's get the music streaming services talk out of the way. Streaming music from various online services is one of the most popular ways of sourcing music for modern DJs, and it's growing in popularity each year.
Serato DJ Lite supports the following music streaming services:
Beatport
Beatsource
SoundCloud
Tidal
The software does not support neither regular, free SoundCloud accounts, nor any other kinds of regular consumer music streaming services and apps like for example Spotify. It does however let you integrate your iTunes account into your music library rather easily.
Serato DJ Lite supports the exact same set of music streaming services that Serato DJ Pro does, so you are not at a disadvantage here.
Much more about music streaming services with Serato DJ: How To Use Streaming Services With Serato DJ Pro & Lite
What Serato DJ Lite lacks – annoying limits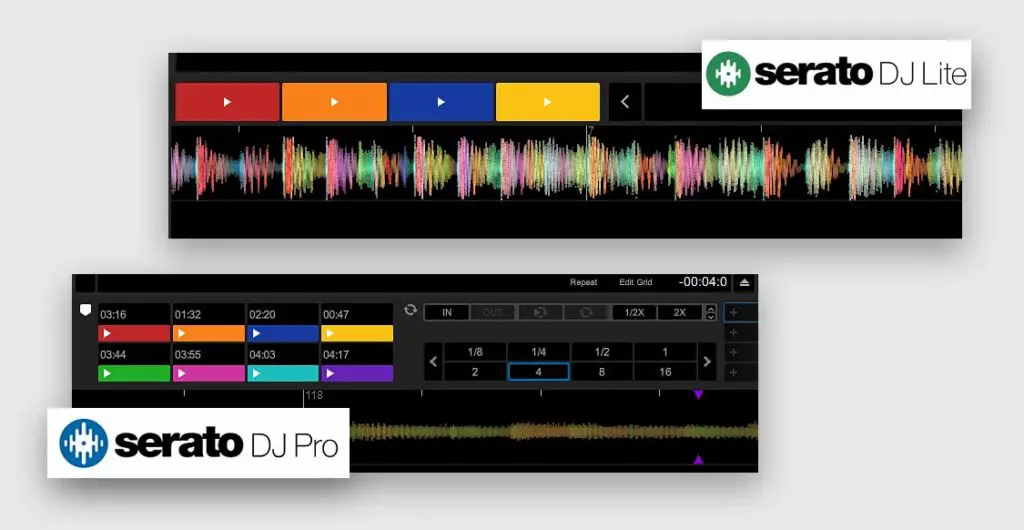 This is possibly the most important paragraph in this whole review. This is mainly because Serato DJ Lite, while being a reliable piece of software rightly geared towards beginners, stands really far apart from the "full" version of Serato – Serato DJ Pro in terms of its feature set.
There are lots of functions and features that are missing from the Serato DJ Lite toolset, and yet are readily available in Serato DJ Pro.
Here are some of the most prevalent Serato DJ Lite limitations listed:
Max. 4 hot-cue points in store.
Only 1 to 8 bar loops available (no half-beat loops and no loops longer than 8 bars).
Loop roll mode inaccessible on most DJ controllers that support it.
No in-built mix recording tool.
Limited waveform view options and no additional GUI display modes.
No ability to analyze and display key of the tracks in your library.
Sampler slot number hard limit.
A very limited audio FX section – only a few effects available, with no advanced parameter control.
No access to the Serato Smart Sync feature (an amped up version of auto BPM sync).
It's feature set cannot be expanded by expansion packs which are available only for Serato DJ Pro (except the Serato Play expansion which can also be used with Serato DJ Lite).
No access to beat jump controls.
Mapping custom, unsupported DJ controllers, or modifying an existing controller's MIDI map is not possible with Serato DJ Lite.
The most important thing for me, was the hot-cue number limitation – 4 saved hot-cues per one track is way too little for most of my use cases, and most likely too little for many people even when just starting out. Next up is the rather annoying loop size limit which doesn't allow you to go below a 1-bar loop, effectively making doing any kind of loop rolls impossible.
The second big thing here is no track key analysis feature on board. Mixing in key is one of the most important things for me, and with Serato DJ Lite you either have to do this by ear (good luck), or rely on various 3rd party key analysis software (paid, less convenient and not ideal for live usage).
A few more important points about the whole Serato DJ Lite vs. Pro feature debate here: 6 New Major Disadvantages Of Serato DJ Lite (Is It Any Good?)
DJ Controller compatibility
Serato DJ Lite is aimed at beginner DJs, and meant to be used with entry-level Serato compatible devices. Most devices that support the Lite version of Serato, also support the software upgrade to Serato DJ Pro. This upgrade however will cost you some money as you will see in a while.
The full list of Serato DJ Lite compatible DJ controllers can be found here, on the official Serato website. Among the most popular ones right now are:
Some of the more advanced DJ controllers skip the Serato DJ Lite ordeal fully, acting as hardware unlock devices for Serato DJ Pro out of the box. A great example of such a device (albeit quite old already) would be the Pioneer DDJ-SX3.
Here is how hardware unlock devices work: What Is a Hardware Unlock Device? – DJ Controllers
Serato DJ Lite system requirements
As per the official Serato requirements sheet, to use Serato DJ Lite on your computer, you have to have at least 8GB RAM, 6th gen Intel core i5 / AMD Ryzen 5 3000 (or better), at least 512MB of GPU memory and around 15GB of free disk space.
In general though, Serato DJ Lite will work just right on most systems, even the lower-end ones as my older Thinkpad I had on hand during a portable gig.
Newest versions of Serato DJ Lite can run on both Windows and iOS. Windows 11 is also supported. If you'd like to use the software on a Linux-based OS however, you'd have to attempt running it using Wine.
How exactly to upgrade to Serato DJ Pro?

To upgrade to Serato DJ Pro you simply need to purchase the Serato DJ Pro license through the official Serato DJ website. You can either get access to the software via a standard subscription model, or buy it making use of the lifetime deal. Check out the current pricing here.
Serato DJ Pro also offers a 14 days free trial if you're interested in trying it out!
When should you upgrade? Well, for me personally, the faster the better. If you're thinking about getting serious about DJing, and you own a DJ controller that is able to support Serato DJ Pro features, go for it! Serato DJ Lite is great when you're just starting out and figuring things out, however in the longer run it can prove itself to be largely unreliable for more professional use cases.
Serato DJ Lite vs. Pro – software comparison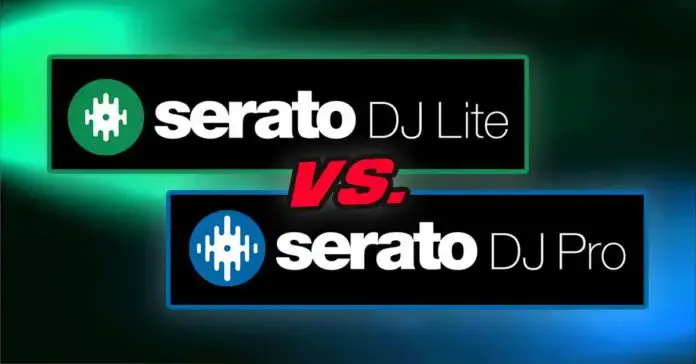 As you can see, Serato DJ Lite is extremely limited in terms of its feature set when compared to the full version of the software – Serato DJ Pro, which is available only as a paid upgrade from Lite, or when it comes with your Serato DJ Pro hardware unlock DJ controller by default.
While it's great when you're just starting out, it's feature set can be quickly outgrown and you will most likely find yourself lacking many important creative tools and quality-of-life features if you decide to stick with Serato DJ Lite for too long.
If you want to know more about differences between Serato DJ Lite and Pro (and there are quite a few of these), I've got a direct comparison of these two pieces of software prepared just for you based on my personal experience with both and opinion. Check it out here: Serato DJ Lite vs. Pro (12 Most Important Differences)