What is a DJ splitter cable? Why and when do you actually need one? What to do if a splitter cable doesn't work with your DJ software? Those are the questions that we're going to answer in this short straight to-the-point guide. Read on!
[this article features Ebay & Amazon affiliate links]
Why do you need a DJ splitter cable?
In general to DJ properly using any type of equipment (be it a single laptop, a smartphone or a DJ controller set-up) you need to have access to at least two audio outputs: one for connecting your equipment to the main speakers / sound system, and the other for connecting your headphones or monitor speakers.
During your mix you will use your headphones to choose, schedule and cue in tracks. The ability to monitor audio through your headphones will also make things like manual beatmatching possible.
Devices such as laptops and smartphones usually feature a single sound card with only one accessible audio output. If then for example alongside your standard laptop/smartphone you are using a simple entry-level DJ controller that does not have a sound card built in (has no additional headphone out on it which is quite common with cheaper controllers) you are left with only one audio output to use.
Can I DJ With Just A Laptop? – Do You Really Need A DJ Controller?
With just one audio out on a device you can either only plug in your speakers or your headphones and you will not be able to use them both at the same time.
That's why you need either of these two things:
A DJ splitter cable (splits your single stereo device output into two separate mono outputs that can output different sound) – the cheaper option
An external audio interface (a sound card that after connecting to your laptop will enable you to use its additional built-in audio outputs) – the more expensive option
What is a DJ splitter cable?
DJ splitter cable is a cable that splits stereo input into two mono outputs that are able to output different sound. The reason why the two outputs are able to output different audio data is because this type of cable splits stereo audio by L/R (left/right) stereo channels. The left channel goes to the one cable and the right channel to another one.
Most modern DJ software after connecting a DJ splitter cable into the device on which the software is used are able to split the device's stereo output so that for instance the left channel output corresponds to the master output (what people will hear) and the right channel output corresponds to the headphone monitor output (what only the DJ is able to hear).
After setting up a DJ splitter cable you plug in your headphones into one of its sockets and your speakers into the other.
Note that during this process, because audio is being split by stereo channel both of these outputs will be mono.
Will a regular audio splitter cable work for this?
You need to be very careful when buying a splitter cable that you plan to use for DJing. A DJ splitter cable is different from simple splitter cables sold in most tech shops. There is one major difference between these type of cables that makes a simple regular splitter cable unusable for DJs:
Regular splitter cables that are sold almost everywhere simply just clone a single stereo input into two identical stereo outputs. Those cables are often used for duplicating a single smartphone audio output to enable two people using two pairs of wired headphones to listen to the music from one device.
DJ splitter cables on the other hand are able to split the single stereo input into two mono outputs (split by L/R stereo channels) – this makes playing back different audio on both of the outputs possible thus also making it possible to use these kind of cables with most modern DJ software.
Get our recommended DJ splitter cable here: Native Instruments Traktor 8-Inch DJ Cable for iPad/iPhone
How to set up a DJ splitter cable inside your DJ software?
Once you get your proper DJ splitter cable using it with your DJ software is a matter of choosing a correct sound output route inside your software settings menu (if your software supports split audio output – and most do).
To use your DJ splitter cable you need to search inside your software settings for an option that is most likely called something like: "mono split", "split cue", "Y-cable" or "DJ splitter" and enable it after plugging in your DJ splitter cable.
Every software will have its own naming convention for that but all these options will do exactly the same thing.
This option when selected will automatically split your device's stereo audio output and after connecting your DJ splitter cable, it will enable you to use headphones for audio monitoring.

As we've said most modern DJ software support split audio output. You can use your DJ splitter cable with software like Virtual DJ, Serato, Rekordbox and much more!
When it comes to mobile DJ apps most of these will also support splitter cables natively.
Disadvantages of using a splitter cable
Because of the way a DJ splitter cable functions, both your headphone out and your main master output will be mono.
Although nowadays most club PA systems are wired in mono and the difference is often less noticeable the higher the sound volume goes, this might be a problem for some of you that want to utilize full power of the stereo output. In this case an external audio interface would be a better solution.
How much does a DJ splitter cable cost?
You can get an appropriate DJ splitter cable for as low as a few dollars but remember that low quality of a cheap splitter cable can sometimes cause problems such as audio bleed and the cable might be more likely to get damaged overtime.
Moreover before you buy double check that the cable you're buying is in fact a DJ splitter cable and not just a regular audio splitter.
Our recommended DJ splitter cable
If you want to save yourself some trouble choosing a DJ splitter cable that will actually work for you, you can get the official Native Instruments splitter that will work with any DJ software that supports DJ splitter cables. It's quality is backed by its soild reviews!
Get it here: Native Instruments Traktor 8-Inch DJ Cable for iPad/iPhone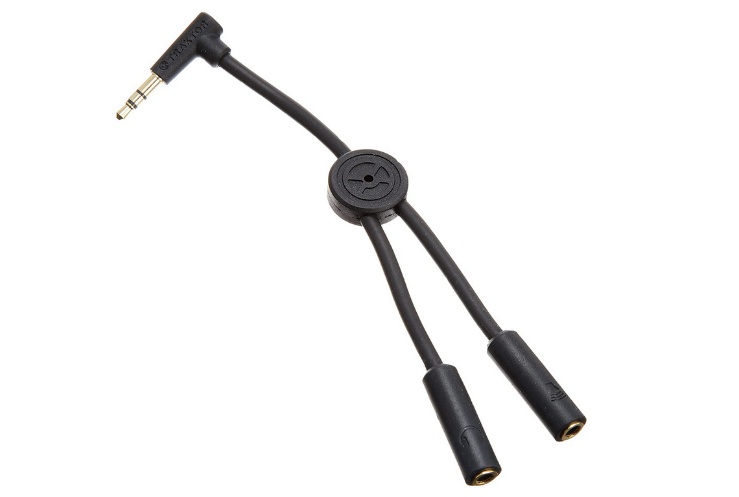 DJ splitter cable troubleshooting / Common issues
Q: My cable outputs the same audio on both ends and doesn't split the output properly.

Check if you had bought a DJ splitter cable rather than a regular audio splitter cable. Refer to this point.

Q: I can hear the master audio going through my headphones quietly alongside with the audio that should be playing through headphones (audio bleed).

A: When various sound enhancements are turned on on your laptop (either in system settings or in your internal sound card settings) sometimes that may cause weird audio bleeding phenomena when using split audio output. Be sure to try and disable all of them and see if the problem prevails. You can also attempt reinstalling your audio drivers. Alternatively:
Either the quality of your laptop's sound card could be causing the problem and not much can be done except using a different one, or you may have a faulty or low quality DJ splitter cable that causes the audio bleed. Double check the issue with another DJ splitter cable and if possible with another laptop to confirm which one is it. A better quality cable could then resolve the issue.

Q: I hear the master output in my headphones and the cue buttons turn my main speaker output on and off.

A: You might have your headphone and speaker cables plugged in the wrong splitter sockets – simply swap them.
Article updated: 19.11.22 by TS.
Check out also: Can I DJ With Just A Laptop? – Do You Really Need A DJ Controller?