Here are 8 essential vital tips on how to DJ for both beginner and more advanced DJs. You might be surprised that this guide contains so little actual technical skills and you'll find little to no information about mixing techniques in the list. This is mainly because aside from obvious technical skills that a DJ is generally expected to have there are many other soft skills that are at time much more vital to a DJ career success. Here we present to you top 8 tips on DJing. Learn to become a better DJ with us, read on!
1. Song selection skills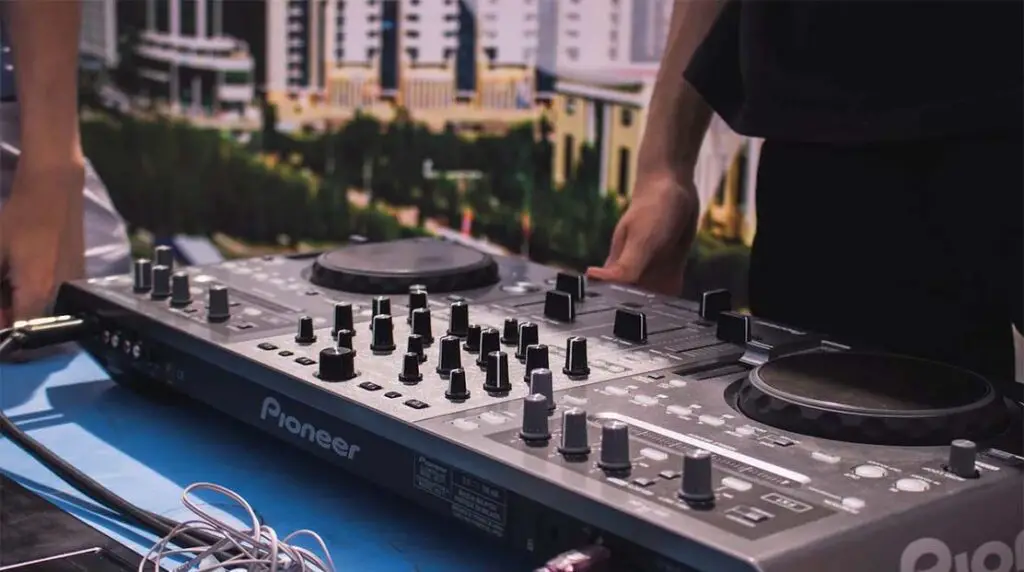 First and foremost, you should get confident in your live track selection skills. Of course, how well you are able to select appropriate songs in a live situation depends both on your track library management skills, and on your existing experience with leading live performances.
There are quite a few ways to get better at live track selection even without much previous experience.
How To Really Start DJing – 6 Simple Steps For Beginners
First things first, divide you music library in categories that will make it easier for you to navigate through it quickly and efficiently during your performance. Second of all, learn to read the crowd – this will help you lots when it comes to deciding what kind of track (genre, feel) will be the best to choose as your next song.
More on that in the next paragraph!
2. Reading the crowd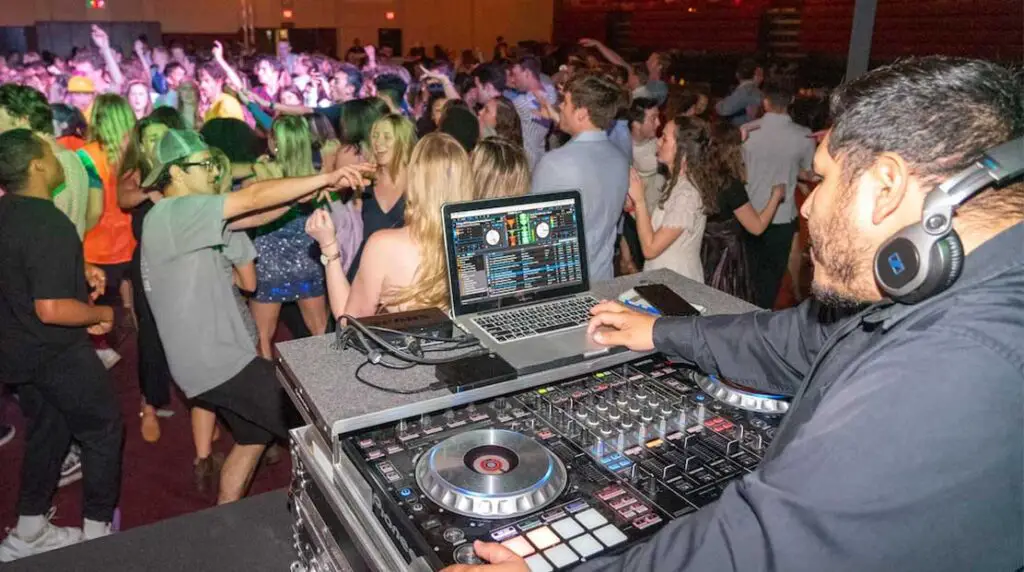 Regardless of whether you're a club DJ, wedding DJ, mobile DJ or scratch DJ, you need to learn how to please your audience. As your mix is always a live act that's performed in front of people, it's vital to know what the people want.
Of course, you cannot always change the general feel or direction of your performance. You wouldn't want to play slow dance 80's hits in a club focused solely on techno music, you also wouldn't want to blast your riddim bangers on your typical wedding gig.
Although there are some things you simple cannot do when it comes to track selection, there are almost equally many things that you can do and benefit from when choosing what song to play next from your track selection for the night.
To evaluate your performance live and decide on a mood/genre shift in your mix you need to read the crowd. You can do so by:
Choosing a few particular people from the crowd and checking what they are currently up to (are they dancing, sitting down, drinking at the bar?)
Look at the entirety of the dancefloor and then the entirety of the room you're performing in (are most of the people on the dancefloor or are most people resting? should you give them more time to get their drinks or rest, or put up a new floor-filler to attract their attention?).
Observe how do the people react to the genre/tempo/mood shifts each time you do a successful transition to another track. This will give you much valuable insight regarding your current audience!
Curiously, there aren't many ways you can learn how to make quick decisions based on the crowd's reactions without much previous experience. But there is just one way to gain experience, and that is by trying things out live!
Don't be afraid to experiment, especially on less serious gigs such as house parties or less genre-strict club performances. Look carefully long enough and after a dozen of times you will see and feel what all this is about! Observation is key!
3. Ability to improvise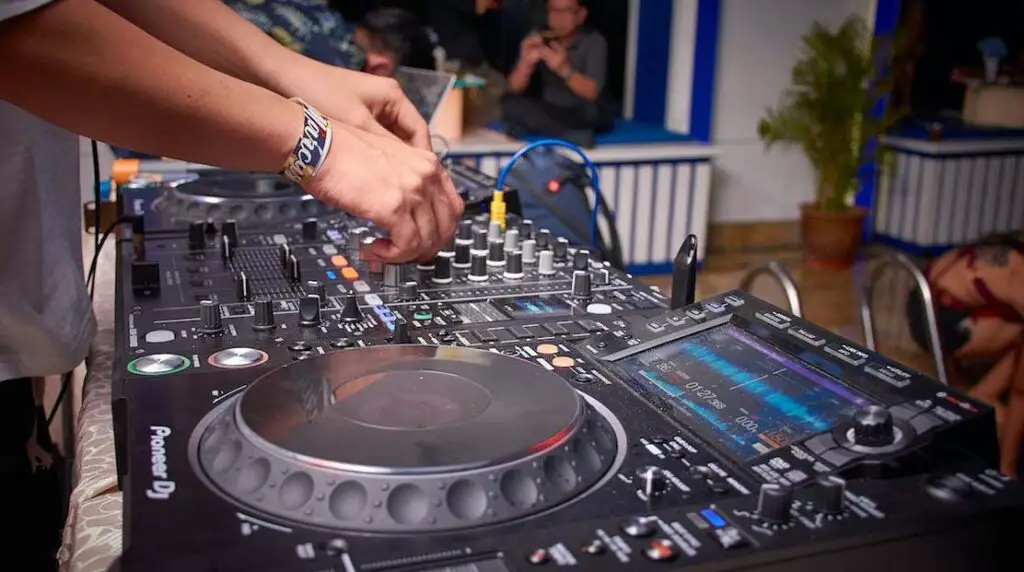 The ability to improvise is also one of the most important skills a good DJ must possess. The thing with improvising is, you will most certainly have to do that eventually! It's just part of being a live performer – in any business!
Here are some examples of things that can go slightly wrong during your live DJ set:
Equipment failure.
A track ending faster than you anticipated.
Accidentally stopping the track playback on one of your decks.
MC, venue manager or event manager wanting to get on the mic – and right now!
These are only a few examples where quick thinking and your ability to be able to improvise will be put to test. You can never be prepared for all the eventualities. It's always important to keep your cool and realize that despite what you might be thinking most people don't even acknowledge small technical mess-ups. Even more people simply don't remember them after your performance is finished!
It's important to have backup hardware solutions, backup music sources and an extra set of cables and adapters on hand, but don't panic when a seemingly tragic even that you didn't anticipate comes, it's just the part of the game.
That too can and will come with experience! Don't stress it!
4. Connecting with your audience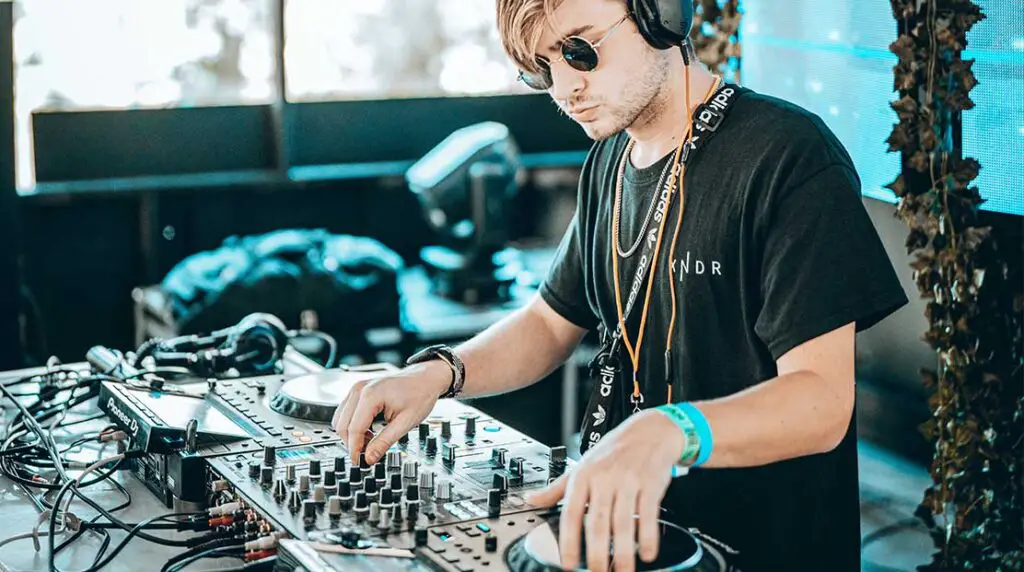 A step up from reading the crowd and the atmosphere in the venue is being able to connect with your audience. And sometimes you don't even need to use your mic for that!
Feel the music, move around and without using words let people who can see you know that they should be having at least as much fun as you're having. It can work wonders, especially when you're performing in small, enclosed spaces (house parties, small up close and personal performances).
10 Cardinal Sins Of DJing (Are You Guilty?)
Counterintuitively, you don't need to touch your equipment all the time to "seem professional". This is more about being authentic than about doing "this and that" to achieve your goal.
With that said, it's also important not to assume a closed posture or simply sit back after you've transitioned to your next track. If people somehow notice that you're not fully interested or engaged in what you're doing (even if that's not the case) the overall energy of your performance will suffer greatly. Your nervous body language might give off that impression quite easily.
Confidence is key. This is a crucial tip in many fields other than DJing. If you're confident of your skills and confident in your behavior you will be able to easily give your performance "personality" that your audience will appreciate.
5. Ability to adapt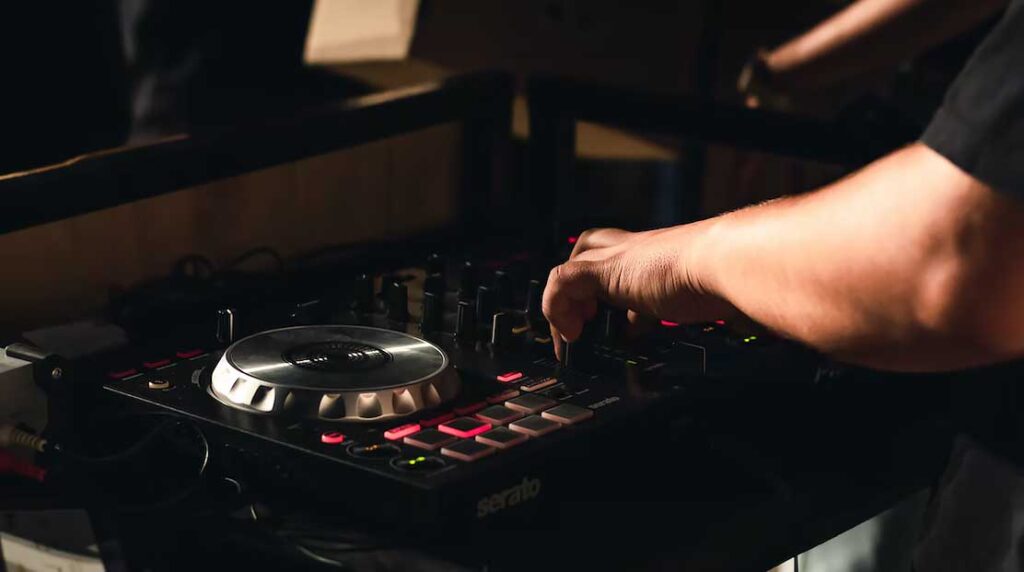 Being prepared, or rather being ready for every non-standard situation is key to becoming a great live performer. Of course as we've mentioned in one on the previous points about improvisation, it's nearly impossible to be prepared for every such eventuality.
The ability to adapt however, is something different from the ability to improvise which for some comes almost naturally.
In many live situations you'll have to adapt to new requirements or random predicaments that can come quite unexpectedly.
These situations may include:
Having to use a different set of equipment that you usually do.
Needing to completely re-adjust your pre-made setlist right before your gig.
Dealing with sudden partial equipment damage and having to avoid using some of your gear's functionality.
Having radically more or less time to fill with your live act without time to re-adjust your prepared setlist.
Being informed of sudden and radical gig schedule changes.
And much more…
If we were able to list every single one of these awkward situations, they wouldn't be that surprising when you'd be faced with each or any of them. Unfortunately and obviously this is not possible.
The key here is to be ready for these kind of situations and learn to respond accordingly to sudden changes in your regular routine. Things may not exactly go wrong, but they might change rapidly in certain situations and that's when you should take back control.
6. Track library management skills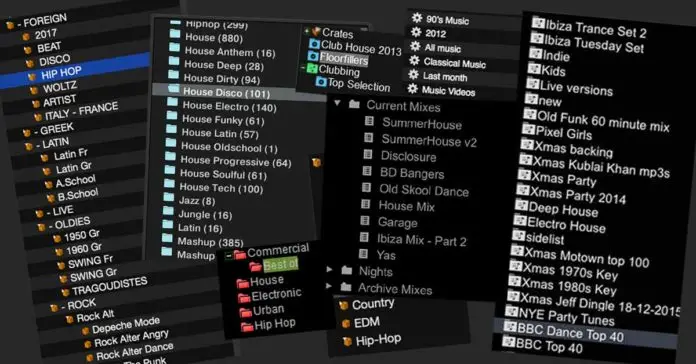 The important skill we mentioned earlier is connected with managing your vast track library in such a way that you'll never get lost while searching through it be it in a live situation or when preparing a new setlist.
As we've already covered playlist organization and track library sorting in our extensive music library management guide, we won't go into much detail here. If you want to learn more be sure to check this article out: How To Organize Your Tracks/Songs – DJ Playlists Guide
In general, you always want to divide your music library into categories that make sense to you and that can be useful in a live context, when you need to quickly decide on what track you want to queue up next and what track is best to use in the current situation.
These categories may include dividing your tracks by release years, genres & subgenres, mood and feel of the music or by using your personal tagging system: more on that here!
7. Learning how to deal with stress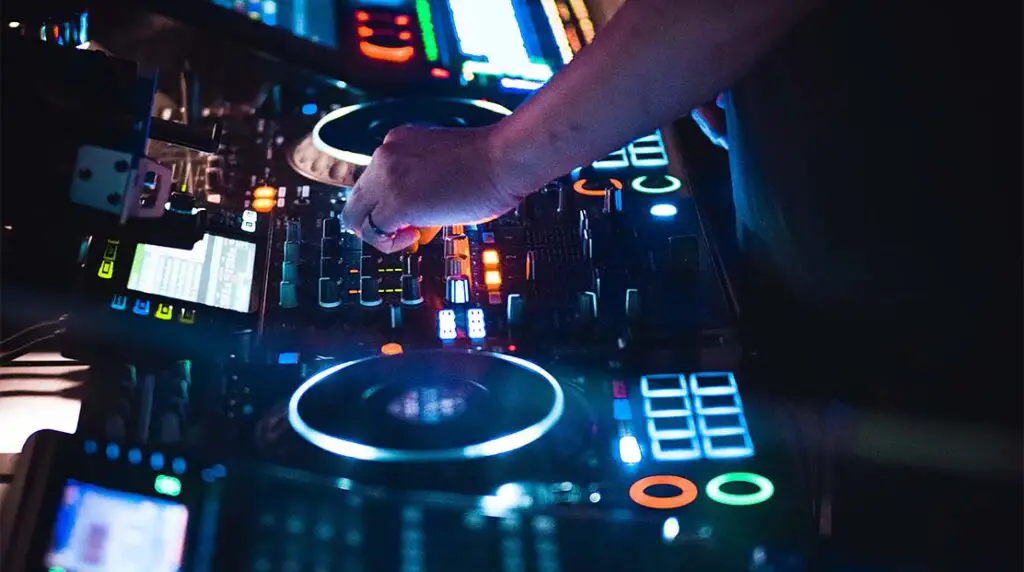 This tip is extremely important, especially when you're just starting out. It's a given that you'll be somewhat stressed out when performing for a live audience for the first time … and the second time … but it's also a given that eventually with more experience you'll get over your stress and stage fright and you'll be one step closer to becoming a professional DJ.
The very beginning of your career as a DJ however can often be really tough when it comes to stressing out over small things. Learn how to deal with stage fright and fear of messing up in this straight to the point guide we conveniently have over here: 5 Efficient Ways To Fight Stress During Your First DJ Set (Helpful Techniques)
If you're impatient, let's just say this: you're bound to get over the stress connected with performing live when you gain a certain level of experience. After a few live gigs you'll be richer with new knowledge and you'll be able to manage your emotions much better than during say your first and second live performance.
Remember, the first time is often the hardest and with each next gig you'll be much more relaxed during your performance. Don't give up and do push through!
8. Building an online following (Social media!)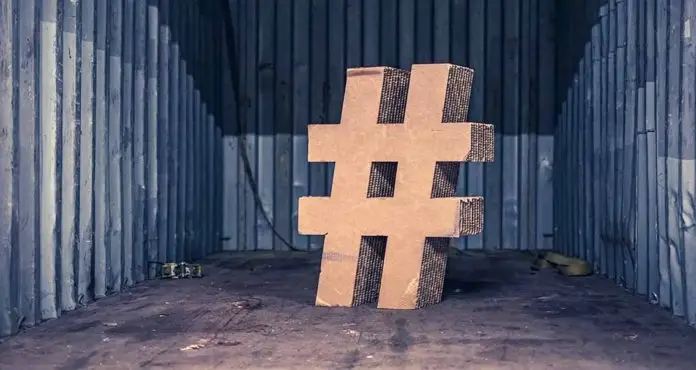 Nowadays, being a DJ without any kind of online presence doesn't really make much sense.
Of course you can be a famous DJ just in your hometown, but even that is highly unlikely without any online promotion in the digitized world we live in.
The main social media platforms you should focus on are Instagram, Facebook, Soundcloud, Mixcloud & if you're ready for that – TikTok.
The main thing here is to be consistent with posting material relevant to your DJ business, establish your DJ brand alongside with your DJ logo and DJ press kit and promote your social media on every live gig you're on.
Luckily we have a great free guide just for that – online business promotion for DJs, feel free to check it out here, it's free knowledge! How To Jumpstart Your DJ Career – 8 Valuable Online Promotion Tips
If you're more of an Instagram kinda guy, you should definitely check out this one: New Amazingly Effective Instagram Growth Hacks For DJ Accounts
Tips for DJs? – How to become a better DJ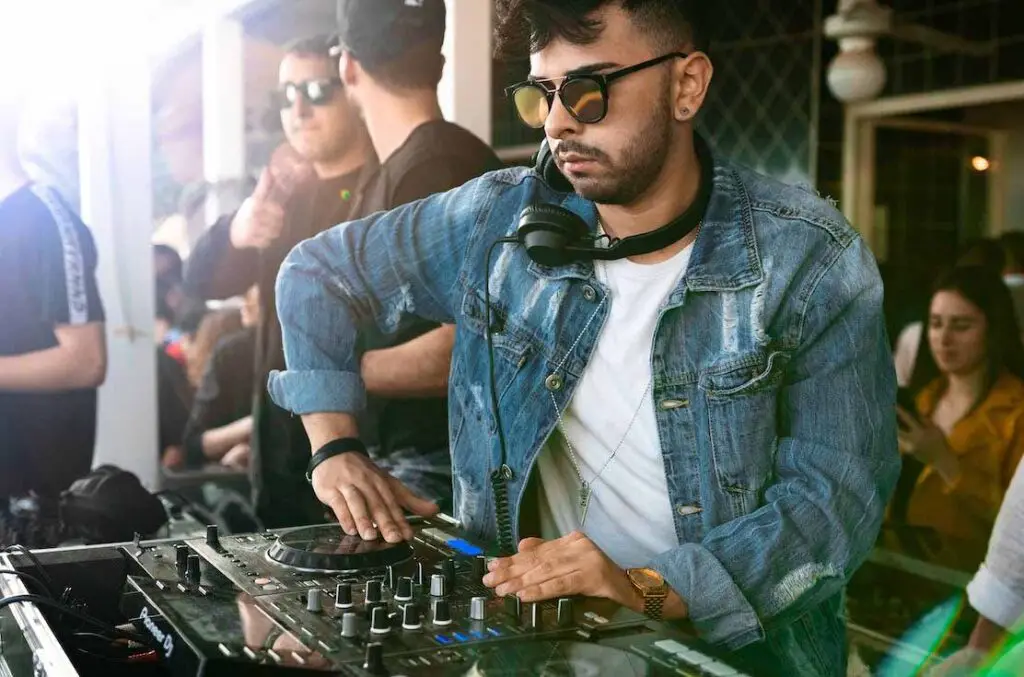 We hope that this article was helpful to you, if you still want more neat tips, tricks and guides on how to perfect your DJing skills, boost your popularity and get better and being a DJ, check out these: