What is DVS in DJing terminology? How do digital vinyl system setups work and what do they consist of? Can you actually listen to a timecode signal and what does it sound like? Buckle your seatbelts and let's get into THE guide concerning all things DVS. Let's begin!
Check out also: How To Care For Your Vinyl Records – The Ultimate Guide
[this article features Amazon and Ebay affiliate links]
What is DVS – Digital Vinyl System definition
DVS is an abbreviation for Digital Vinyl System – a setup that lets you control track playback inside your DJ software using either timecoded vinyl records and turntables or CD players and timecode CD's.
A DVS setup basically lets you control tracks in your software using the control signal playing back from a timecode vinyl or cd. Setting up DVS with turntables and vinyl records makes it possible to achieve a digital emulation of vinyl track control pretty close to natural vinyl experience albeit with some minimal latency. A DVS setup also allows you to control your DJ software with CD players that normally do not support any kind of native link with the software.
What is the timecode and the control signal?
A time code / timecode is in technical terms a type of an electronic signal used for identifying a precise location on different time-based media such as audio and video both in analog or digital form. On timecode vinyl records and CD's the timecode is present in a form of the control signal:
Control signal is essentially a sound seemingly similar to a sine wave that is either pressed on a vinyl record or saved on a cd or usb drive and that allows you to control the tracks in your software using your turntable or CD player platter.
When the control signal is played back, the software interprets it detecting its pitch and with that detecting the vinyl record/platter position which makes it possible to scratch and manipulate the tracks tempo using the hardware that originally did not support software control.
What does the average timecode control signal sound like?

Here is an example of what the control signal may sound like. Careful, the sound can get pretty loud!
The sound in our example is Virtual DJ software specific timecode signal and although as you'll see in the next paragraph not all timecode signals are the same, they can in general sound pretty similar to the human ear.
Are timecode signals software specific?
Keep in mind that although the tech behind different timecodes is pretty similar, different software brands generally support different types of timecodes. For example you won't be able to use a timecoded vinyl made for Traktor software with Serato DJ or Rekordbox and the other way around.
Virtual DJ for example has their own timecode system and as most DJ software companies they sell their official control vinyls (You can check them out here). As for Virtual DJ example the the software also supports the Serato specific timecode.
Be sure to check out what type of timecodes does your DJ software support before buying a timecode vinyl or CD.
What equipment is needed for a DVS DJ setup?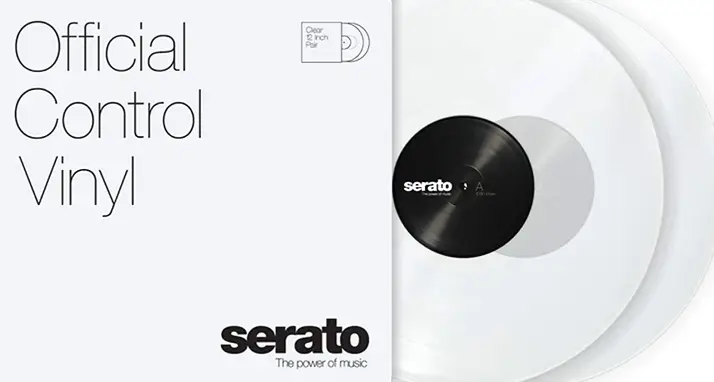 A DVS setup generally consists of vinyl record players or cd players and a DVS compatible mixer or a DVS audio interface – their role is to convert the analog signal (the timecode audio playing back from record players or cd players) to digital signal readable by specific software. One thing that's quite obviously also needed is the timecoded vinyl or cd containing the prerecorded control signal.
For a DVS setup with either turntables or CD players you will have to own:
Timecode vinyl record or a CD with a timecode on it.
At least one turntable or a CD player.
For Vinyl setups: DVS compatible mixer or An external DVS audio interface (both have to be supported by your software). / For CD Player setups: Software supporting the timecode you have on your CD.
Always check if the hardware you are planning to use is compatible with the software of your choice! You can find lists of hardware compatible with DVS and further guides on respective software manufacturer sites.
Software manufacturers often sell and distribute their own timecode vinyls, here on a picture below for example we have a 12″ Serato Control Vinyl compatible with Serato DJ. Those are generally available in many different colors and styles.
Can I make timecode CD's by myself?
It would be hard to press a timecoded vinyl record by yourself but when it comes to CD players you are free to burn the soundcode CD's at home. You can also have the timecode playing from an usb drive if your device has a usb input.
At all times remember that regardless of the vinyl emulation mode (modes not covered in this article) in a record player the needle will eventually reach the end of the record and you will have to move it back to ensure uninterrupted playback.
Timecodes on CD's and usb drives also have a certain duration so be sure to keep an eye on the timecode track position. A neat trick on some cd players is to put the timecode playback in a loop and just let it play endlessly.
Do timecode vinyl records get worn out?

Also keep in mind that although you are controlling the software you are doing so by utilizing the analog signal. That means that in case of record players you need to keep an eye on the state of both the timecode vinyl record and the player's needle.
Don't let those parts accumulate dust as it might and it will mess with the timecode signal playback causing track control issues. Also mind that after a certain play time vinyl records tend to get worn out – it's important to remember this in the big picture.
Do all mixers and controllers support DVS?
The controller and mixer support depends both on the controller's or mixer's internals and on the software you are using. For example when you want to utilize DVS with Serato DJ Pro you will have to own an official Serato DVS supported mixer. Here is the official list of Serato compatible devices. For some of the devices to use them with Serato you will have to purchase the additional DVS expansion pack in-app.
For Rekordbox you will have to own the Rekordbox DVS License to utilize DVS compatible hardware. And here is the official DVS hardware support list for Rekordbox.
Yet another reminder to always check if the devices you are going to use are compatible with your software! The hardware compatibility lists can again be found on respective software manufacturers sites.
What is the HID mode in Pioneer CDJ Players?
The HID mode (Human Input Device Mode) is a mode in some CD players that lets you control the compatible DJ software using the USB connection.
Pioneer CDJ Players that support HID mode (for example the CDJ-2000 series) allow you to connect your players to your PC/Laptop via an USB cable and control the software such as Serato DJ straight from your decks.
The HID mode gives you complete platter control alongside with all the additional functionality such as loop control, hot cues and more.
HID mode on CDJ devices works with different software such as Traktor, Virtual DJ and Serato.
Here is a great recent video on the official Serato youtube channel explaining how to connect your CDJ decks to Serato DJ Pro using the HID mode.
Timecode vs. HID in Pioneer CDJ devices
When using a timecode CD with your CD player you are stuck with basic deck functionality without any smart track control features and without CDJ screen feedback.
When using the HID mode you will experience lower latency and you will be able to utilize almost all of the functions of your player. Also in the HID mode you gain access to all additional control features such as hot cues, loops, track and library navigation and so on.

If your CD players support HID mode it's in most cases significantly better to use it instead of timecode CD's. If not (for example your model is too old to support HID mode), your only other option is the timecode route.
You might also like: Do Vinyl Records Wear Out When Used For DJing? – Let's Find Out!