Virtual DJ has gone a long way since its early days in the beginning of the XXI century. The software has made tons of tremendous improvements, a few of those being new modern user interface design, introducing real time stem separation features, integrating streaming services into the software library, presenting new features such as the sandbox mode.
Virtual DJ did some immense upgrades both in terms of user interface redesign, native controller support and new useful features. In this article we are going to run through those of said new features that we find the most important of a bunch.
This article is based on our own experience with Virtual DJ over the course of last 3 years, using it both with dedicated DJ controllers, old controllers like the Numark Total Control and even the Novation Launchpad S! Feel free to use this review to decide whether Virtual DJ software is a thing for you or not. The features listed here are those that in our opinion make Virtual DJ stand out in some way from other major mixing software such as Serato, Rekordbox or NI Traktor which we have all used! Let's begin!
You might also like: Serato DJ Lite Software Review – djgear2k

1. Real time stem isolation
Virtual DJ features an AI driven real time stem separation algorithm that allows the dj to split the song into stems and use them for live mixes. The stem levels and individual stem triggering can be controlled from the equalizer knobs and performance pads.
The Virtual DJ stem separation algorithm is not based on the widely used and popular open source Spleeter library by Deezer. This means that not only it's capable of more sophisticated stem splits than the majority of apps that use Spleeter nowadays but also it indicates that the VDJ algorithm is based on an in-house solution that is guaranteed to get quality updates with newer versions of the software.
Virtual DJ stem separation GPU acceleration
On newer laptops and PC's VDJ uses graphics card acceleration for faster song stem analysis. This means that on most modern devices both the bpm and key detection and stem analysis process after loading a track on one of the decks is almost instant as seen in the example below:
2. Streaming services integration
Virtual DJ allows the user to integrate various streaming services into the software library and use the streamed songs during live mixes. This feature seems to be one of the most popular ones in today's DJ software and many would find it hard to go without it.
The Virtual DJ software works with all following music streaming services:
Tidal
Deezer
Beatsource Link
Beatport
Soundcloud
And the following music content catalogs:
iDJPool
DigiTrax
VJ-Pro (library for video mixing)
The music content catalogs present in the list require a paid subscription to be used with VDJ software.
Check out also: Streaming Services Integration With Virtual DJ? (Quick and simple)
3. Simple MIDI mapping features
The Virtual DJ software allows you to quickly map all the appropriate midi outputs from your controller to almost every part of the software controls including multi function mapping features.
This means that just like in the Native Instruments Traktor software you are able to go wild with the controller button mapping and you gain access to many self made combinations for controlling effects or playback. All this is done by a simple visual menu interface that's in our opinion a bit easier to use than the Traktor one. The VDJ software offers great flexibility in the terms of making your own custom MIDI mappings.
4. Can you use Virtual DJ without a DJ controller?
Of course it is still possible to use the VDJ software without any DJ controller using only the keyboard inputs. You can do this by mapping key outputs to certain software controls using the same menu used in midi controller mapping.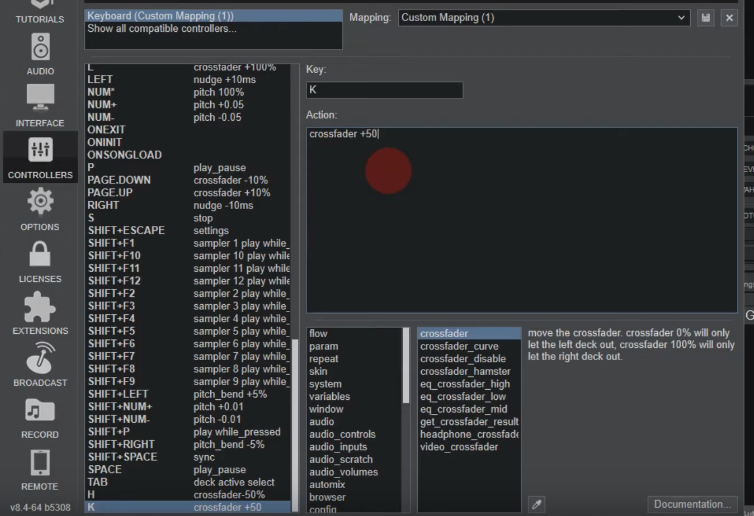 5. The Virtual DJ sandbox mode
The sandbox mode in the VDJ software makes the current master output play independently of the things you decide to do in the main mixer and decks area. This means you are free to manipulate tracks on your decks and while the sandbox mode is on the audience won't hear it!
When the sandbox mode is activated the song that is currently playing is pushed into a little box in the top part of the screen and now it's playing through your speakers or PA while all the things you do on the decks are now audible only in your booth monitors or headphones.
This feature allows you to experiment and do all sorts of transition and fx tests on the track that is playing for the audience without them noticing. This way you are able for instance to prepare and go through a transition in your headphones while the actual track playback is still uninterrupted.
After finishing your quick sandbox session you can go back to the regular mixing by turning off the sandbox mode by pressing the sandbox icon on the top bar.
When leaving the sandbox mode the crossfader setting along with some other changed settings will reset in software however be wary that the software control reset naturally doesn't affect the physical positions of the controls.
The sandbox mode is also great for exploring an unknown track during a live gig. It's a great alternative to regular headphone track playback as the sandbox session is fully interactive and you can use all the available software features while using it.

Check out the official VDJ guide to the sandbox function here.
6. Quick filters, color rules, hashtags
One of the cool Virtual DJ features is the ability to sort and search through your track library using a set of quick filters.
You are able to filter tracks in the folders and in the search box using self-made custom conditional filters. All the quick filters that you make will appear beside you search bar.
One of great uses of this features is creating a filter that has a similar BPM to the track that you're currently playing. You can set the bpm difference alongside with other conditions while creating the filter.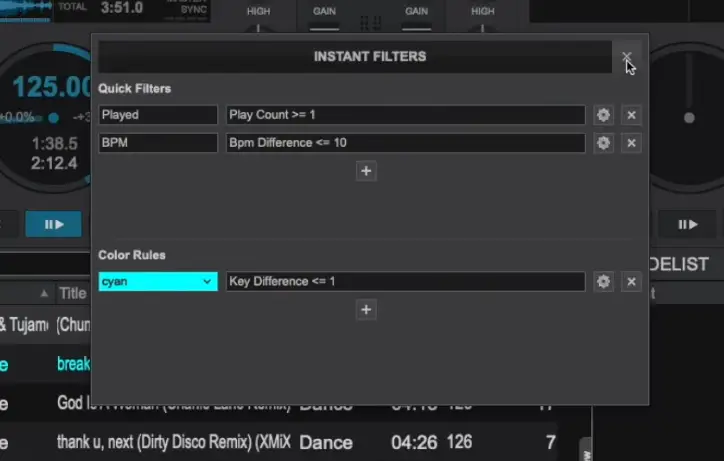 The color filtering allows you to set the exact same filters but this time all the filtered tracks in the library will be highlighted with your color of choice.
Now you are also able to use multi user hashtags to sort your music collection.
Hashtags in Virtual DJ can make the database navigation even easier. You can set the custom made hashtags that function as regular tags to the tracks of your choice and then use those tags to search through your music library.
7. CDJ track export Feature
Virtual DJ has got a great feature that allows you to export folders and playlists to your USB drive ready to use with Pioneer CDJ Players.
Using this feature you are able to export analyzed tracks, hot cue points and even pre-generated song stems (Acapella, Instrumental, Melody and Beat from the real time stem separation algorithm) if you would like to use those for your CDJ mixes.

Check out the official VDJ site about the CDJ export feature here.
8. Virtual DJ scratch banks
Virtual DJ grants you access to scratch banks. Those are banks of high quality scratch samples built in for quick access inside of the software. You can select a scratch sample from the scratch bank and easily load it inside one of your decks.
You can also compose your custom scratch bank presets using your samples of choice from your drive.
Scratch bank also allows you to quickly move between your scratch samples and the track that was previously loaded on the deck you're scratching on via controller pad shortcuts.
Many custom scratch banks with pre-selected samples are available for free as an addon downloads inside of the Virtual DJ Software.

9. Should I bother using Virtual DJ in 2023?
The Virtual DJ software has made immense progress throughout the last years of its development. Over those years it has become both stable enough for live use and it's been with many features some of which may make the competition jealous.
Here are in our opinion the main advantages of the Virtual DJ software in 2023:
The software is free for non commercial use albeit without an ability to use a DJ controller.
An exclusive AI based stem separation algorithm.
Extensive MIDI mapping features and broad controller support. (including simple mapping of unsupported devices)
The new sandbox mode
Great large track library management with highly customizable smart filters.
Ability to quickly export not only analyzed tracks but also separated song stems to your CDJ Players.
It's up to you whether the set of features available is satisfying enough to switch to Virtual DJ or consider using is as your main DJ software. One of many advantages of Virtual DJ are simple MIDI mapping mechanisms for every controller available out there, huge flexibility and many customization options both for user interface, library and database filters and user interaction.
The second thing to consider is of course the pricing. Virtual DJ for commercial use is available both in a subscription plan and in a one time purchase offer with guaranteed lifetime updates. Let's quickly go over the software's price.
10. How much does a Virtual DJ license cost?
You can either subscribe to one of the custom Virtual DJ monthly plans or buy a full license (Virtual DJ Infinity) with lifetime updates for unlimited number of controllers.
The price of the Virtual DJ license depends on the type of license you decide to get. Different licenses give you access to different features.
If you aren't using Virtual DJ software commercially you can use the "Home Free" license. It doesn't allow you to use a DJ controller with the software but it might prove itself useful for beginners.
For many people the basic "Home Free" license won't be sufficient because of the lack of controller support. Keep in mind that you can use licensed controllers alongside with the software starting from the "Home Plus" plan and only the "Pro" and "Business" licenses allow you to make use of the software for commercial use / making money from gigs.
Here is a snippet from the license comparison taken from the official VDJ website.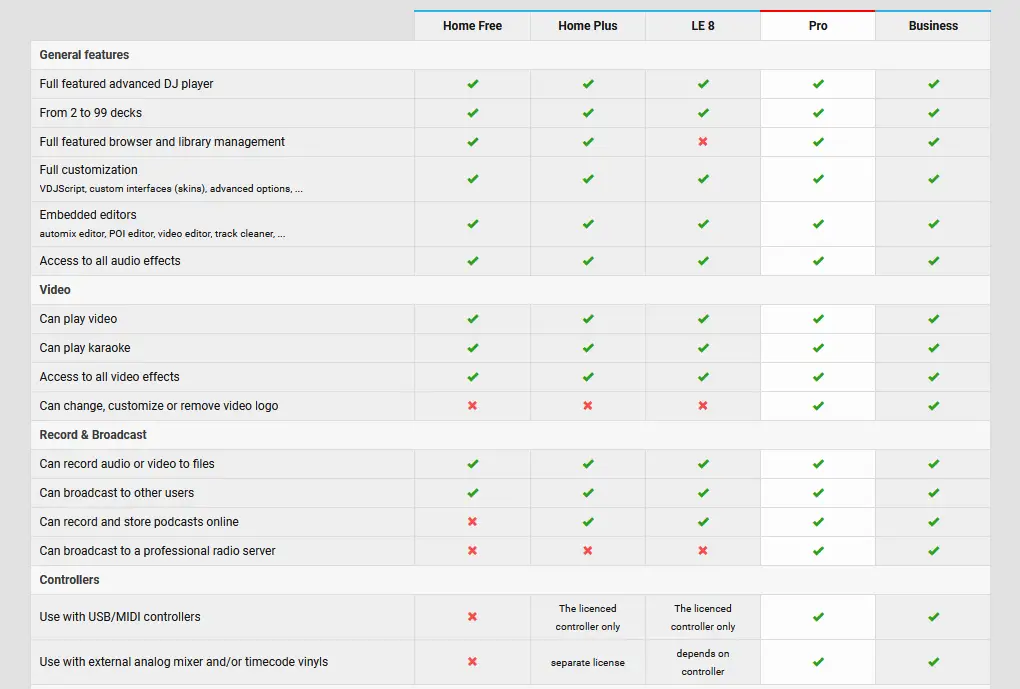 You can check all the current license prices on the official Virtual DJ website here.