Virtual DJ software gives you quite a few ways to access music for mixing and one of them is streaming service integration. If you want to know how to easily and quickly pair the Virtual DJ software with the available streaming services, read on!
What streaming services does Virtual DJ support?
Besides letting you access three huge online video, karaoke and music pools via 3 different optional subscriptions (iDJPool, VJ'Pro and Digitrax) the Virtual DJ software after initial setup lets you integrate with the following music streaming services:
Deezer
TIDAL
SoundCloud
Beatport Link
Beatsource Link
How To Use Music Streaming Services With Rekordbox
Digital Pools and Music Streaming Services in Virtual DJ
Virtual DJ offers both subscription based music, video and karaoke pools access and possibility of integrating 5 different streaming services through its built in library browser.
You can see all the available online streaming options after clicking on the "Online Music" bar on the left side of your music library section.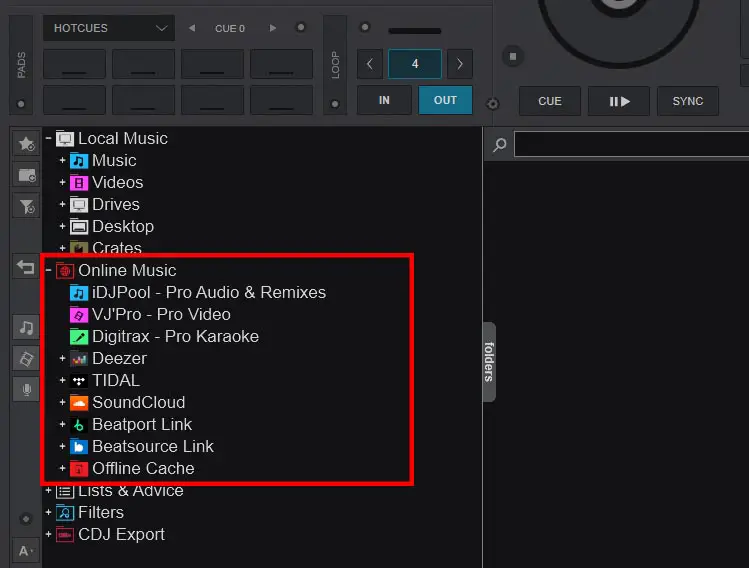 The top three options in the "Online Music" menu (iDJPool, VJ'Pro and Digitrax) are subscription based online services that you can use for downloading and playing music, videos and karaoke instrumentals as long as you have appropriate subscriptions active. You can learn more about those here.
After selecting one of the first three options you are able to freely search through a vast library of each pool, although without subscription you are only able to preview a short 30 second snippet of each track.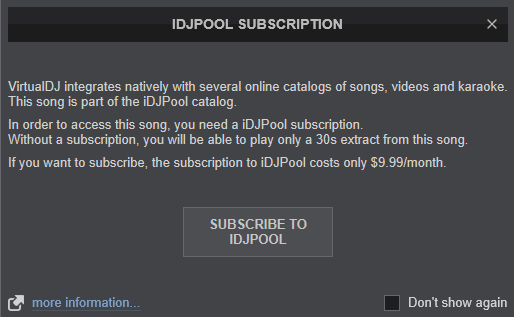 We won't be describing those first three options in detail here as they operate more in a way an actual digital DJ record pool does rather than a simple music streaming service. If you are curious about what DJ record pools are and how to use them check out our article on this:
What Are DJ Record Pools And How To Use Them? (Where Do DJs Get Their Music From?)
How to setup the streaming service of your choice inside of the Virtual DJ software?
After the first three options we finally see all of the available music streaming services. The setup process is pretty much the same for all of these:
Connecting your account to any of these is a matter of right-clicking the streaming service of your choice and then clicking "Sign in".

After that a new window will pop-up and you will be redirected to a page on which you will be prompted to log in into your account on your chosen streaming service website.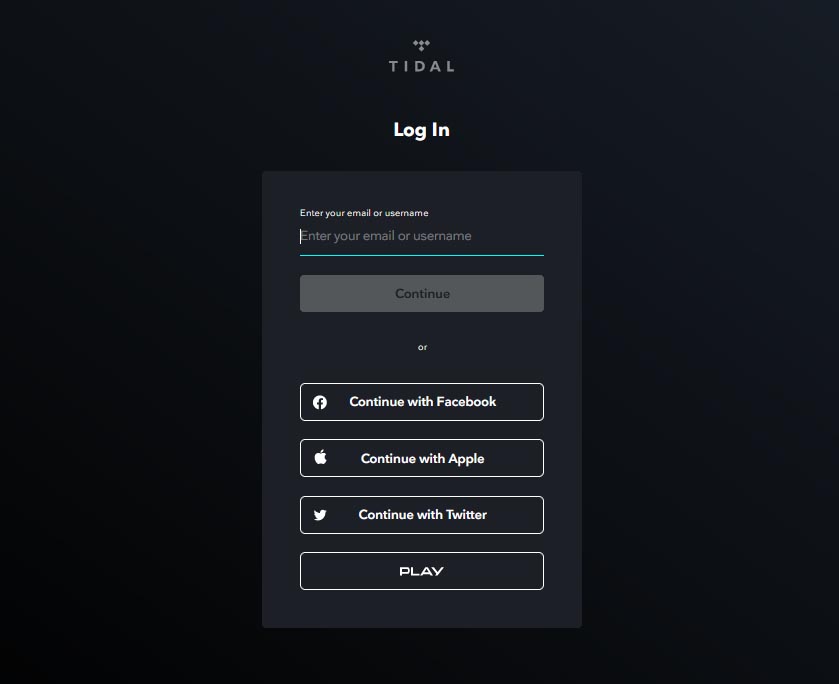 After logging in you will see a confirmation window:

After completing this steps for your selected streaming service it is now fully integrated with your Virtual DJ software.
Remember that each of the available streaming services you need to have an active paid subscription to be able to browse and load the songs from the online library.
What If I don't see any streaming services in the library section?
In the rare case that you cannot find any of these streaming services in the "Online Music" menu, try to update or re-install your Virtual DJ software.
Does the Virtual DJ SoundCloud integration work with a free SoundCloud account?
No, if you try and use a free SoundCloud account during integration you simply won't be able to see and browse through your tracks from the Virtual DJ interface.
To use SoundCloud with Virtual DJ you need to have at least a "GO+" or SoundCloud DJ subscription active.
Can you save the tracks for offline use?
While this generally depends on the streaming service of your choice the anwser is: yes, although there are some exceptions and it really depends on the particular subscription package you bought in the streaming service you chose.
For example if you connect your SoundCloud account with Virtual DJ software and you have the GO+ subscription active you won't be able to save any of the SoundCloud songs and use them offline, but if you have the SoundCloud DJ subscription active you will be able to do so.
For more detailed instructions refer to the official Virtual DJ online documentation here: User Manual – Alternate Catalogs.
Can You DJ With Spotify? (Important Updates)
Is it legal to use the music from integrated streaming services during a live DJ set?
While we don't give any official law advice in here we can certainly say that it all depends on the actual Terms of Service of the streaming service of your choice.
For example in the FAQ section of the SoundCloud DJ subscription on official SoundCloud page we find interestingly enough that this subscription although it seems to be marketed towards DJs, cannot be used for example at a music venue:
To be completely safe always refer to the Terms of Service of the streaming service you're currently using to avoid complications.
Check out also:
New Virtual DJ 2021 Software – Best Features Rundown