What is a double drop mix? How to perform a double drop mashup as a DJ? Double drop is a very common DJing technique that can be really fun to utilize when executed properly. Let's take a look at the most important rules of double drop mixing and dive into the step-by-step tutorial on doing double drop mashups.
[this article features affiliate links]
What is a double drop mix in DJing?
In DJing, the term double drop mix refers to a mixing technique of combining main parts of two electronic songs in a usually fast-paced mashup. In most genres the main part of an electronic track where the energy of the song is focused is called a "drop". This term is generally analogous to a basic musical term "chorus".
Double drop mixing is a popular DJing technique that is widely used in EDM music mixes. The difficulty of this technique depends on the track choice, extent to which your plan to manipulate the audio on the two chosen tracks and whether or not you plan to use extra hot cues to combine different parts of the track drops.
Generally you can learn to perform a basic double drop mix in less that a few minutes!
Double drop mix example on the Numark DJ2GO2 Touch
Let's dive straight into a quick example of a double drop mix. This one is done on a basic entry-level DJ controller – Numark DJ2GO2 Touch using Serato DJ Lite software (you can get this controller here). As this device lacks built-in EQ controls, combination of the two tracks is not perfect sonic wise, but still this example clearly shows that doing a simple double drop mix is possible even on a small affordable entry-level DJ controller.
In our case we used two songs with very similar structures – "Bonfire" and "Give it up" by Knife Party duo.
You can get the Numark DJ2GO2 Touch DJ controller on Amazon here: Numark DJ2GO2 Touch – Compact 2 Deck USB DJ Controller For Serato DJ
Numark DJ2GO2 Touch – Ultimate Portable DJ Controller Overview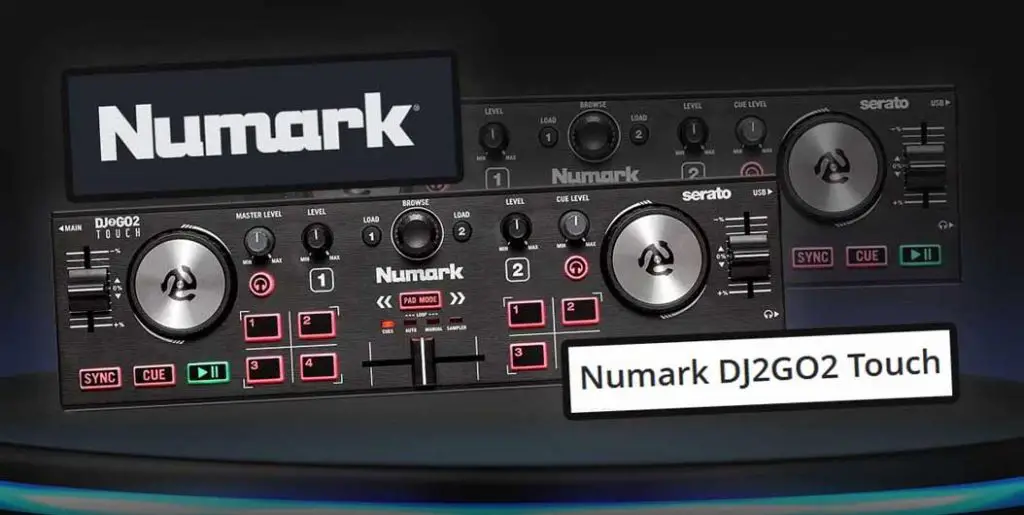 Which tracks go well together – how to choose tracks for double drop mixes?
There is nothing more important in double drop mixing than choosing appropriate tracks that will sound good combined. You can know all the techniques in the world but if you choose tracks that have clashing keys, vastly differ in tempo or genre, or are impossible to phrase match correctly all will be for naught.
These are the most important rules of choosing tracks for a double drop mix:
Choose tracks with matching keys – if you don't know much about mixing in key and choosing consecutive tracks based on their musical keys, check out this extensive article by DigitalDJTips if you want to know more about mixing in key – How Important Is It For DJs To Mix In Key?

Mixing in key is a skill that is every DJ should have, not only for double drop mixing but more importantly for making meaningful track choices during a regular mix session.

Choose tracks with matching BPM – choosing tracks with closely matching tempo is also really important. To perform a double drop mix you have to synchronize your two tracks together either by beatmatching manually, or by using the sync function on your controller.
Choose tracks that can be phrased properly – avoid tracks in different time signatures, with vastly differing drop lengths or song structures.
Be prepared to experiment a bit – when you become a little bit more experienced, be ready to ditch some of these rules and experiment using the trial and error method, sometimes the best results come from the most unpredictable track combinations!
Avoid clashing basslines! – at all costs avoid bass frequencies clashing in your mashup. If only you have an EQ on board (the Numark DJ2GO2 Touch in our example sadly doesn't have that) you should turn down the bass of one of the tracks, in most cases to zero. You can do this by simply turning the low knob all the way down. You can choose by yourself which of the two tracks will have its bassline playing and which one will have it cut off. Two basslines playing together sound terrible and get worse the higher the volume gets. This phenomenon happens also with tracks with keys matching perfectly. As a rule of thumb you don't want to have two basslines on at the same time, be it during a double drop mix or a regular live mix session.

How to do a double drop mix – step by step guide
The steps to performing your first basic double drop mix are pretty simple, here are the things you have to do in order to perform a basic double drop mix such as the one seen in our quick example:
Prepare two tracks that go well together in terms of tempo, key, phrasing and genre – this is a crucial step that is sometimes more important that exact flawless execution of the next steps. If you're unsure how to do this refer to the previous paragraph.
Choose a mix entry point on both tracks – after you've found two tracks (let's say track A and B) which drops go well together, you have to find an entry point in the tracks that you will use to begin your short drop mashup and mark these points by placing hot cues on them.

Those points can be the beginning of the drop or 4/8/16/32/n bars before the drop. The main thing is that the markers that will signify your mix entry points have to be placed either on the beginning of the drop itself or in equal distance from the drop beginning on both tracks. When the track A reaches your chosen point you have to immediately play the second track B from its set entry point so that both the tracks are playing together in sync from the set entry points (change the tempo of track B to match the track A using your pitch fader if the tempo of the tracks doesn't match).
If you miss your mix opportunity you can always reactivate the mix entry point marking hot cues on both decks at the same time and have both tracks in sync immediately.

Synchronize the tempo of the two tracks – now when the two tracks are playing together from the marked entry points (you can have the track B silent in the beginning and slowly bring it up or have both the tracks playing at full volume from the start) you have to make sure that they are synced well. Use your controller's jog wheel edges to nudge the track into the right position or use the sync button to match the beats of the two track playing. If you've synced the tracks correctly and followed your mix entry point correctly, the drops of both the tracks will hit together at the same time.

Remember not to let the basslines of the two tracks clash. Turn down the bass knob on one of your tracks and feel free to manipulate the equalizer knobs even further to ensure that the two tracks are mixed in a best way possible. Trust your ears!

The stage is yours – now all is dependent on the tracks you chose (their structure, phrase lengths and musical content), from now on you can use the channel volume faders or the crossfader to either jump from one drop to another or blend the two drops together with the help of your controller's EQ. Again – this will sound good only if the tracks you've chosen are a good match!
Exit your double drop mashup – you have to plan in advance what are you going to do when the drop of either of the tracks ends. In most cases a good thing to do is to wait for the breakdown/end of the drop in one song and just stay in it until you will be able to freely mix out of it into your next planned track. In our example we cut the track B short, but you can certainly continue your mix after performing a double drop mashup.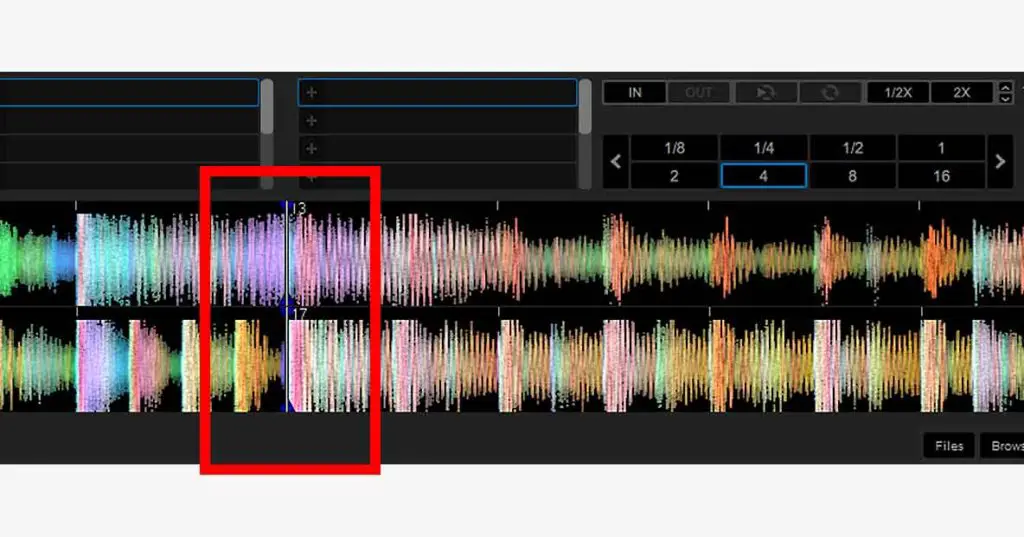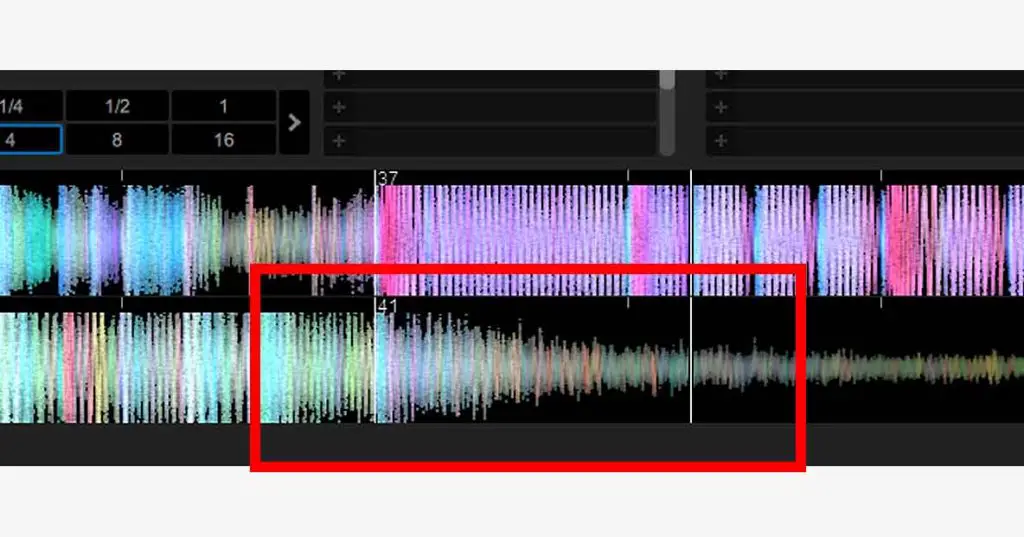 Can I use sync while performing a double drop mix?
You certainly can use your controller's sync functionality to synchronize the tempo of the two tracks. Most of the times you can also easily go without it. It depends solely on the complexity of your mashup and your personal preferences. Don't be ashamed to resort to sync but also remember that beatmatching manually may give you more flexibility in some cases.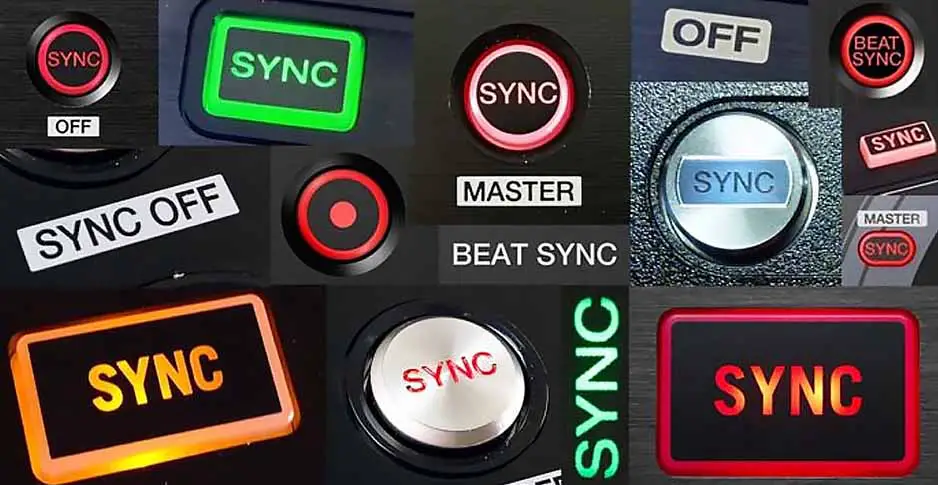 If we're talking about mixing more than 2 tracks together actually it's often hard to go without using sync. It could also be beneficial in some cases to try and use the key sync functionality in your software if you found tracks that go well together in terms of phrasing and tempo but have clashing keys – this is a very valuable tip!
What is next? – Multi channel mixing
A step further from doing a simple two channel double drop mashup would be to perform the same kind of trick but this time with 4 matching tracks synchronized and properly phrased. This touches the subject of multi channel mixes that is a popular topic among more ambitious club DJs.
To perform any kind of multi channel mix you need to have at least a 4 channel controller on hand. 2 channel controllers with 4 deck modes theoretically would be fine too, but doing a proper multi channel mix without access to more than 2 physical mixer faders can be extremely hard and far from convenient.
If you are ambitious and want to try something new, you can find 4 tracks that go well together and attempt to prepare a 4 channel drop mashup. This however needs to be prepared and unlike a simple double drop mix generally cannot be improvised.
There is no shame in using the sync functionality while doing a multichannel mix or mashup. In fact, many times it's close to impossible to do it without it. Experiment, go through trial and error while choosing your tracks and practicing and surprise your audience during your next gig. Double drop mixing and multi channel mashups are loads of fun when prepared and executed correctly. Don't miss out on that!
Main article photo: Panagiotis Falcos