The Numark DJ2GO2 Touch detailed straight to the point review. DJ2GO2 Touch is an ultimate fully functional portable pocket DJ controller that features a built-in soundcard and can be used both on PC with Serato DJ, VirtualDJ and with iOS mobile DJ apps including Algoriddim DJay! Is this a right controller for you? Let's find out!
[this article features Ebay & Amazon affiliate links]
Numark DJ2GO2 vs. Numark DJ2GO2 Touch
Numark DJ2GO2 Touch is an upgraded version of the original Numark DJ2GO2 portable DJ controller. The main difference between the two, and the main upgrade that the DJ2GO2 touch introduces, are the capacitive jog wheels.
These allow you to scratch on the device without facing the limitations that the original DJ2GO2 suffered from. For example scratching on the original DJ2GO2 when the track was playing was impossible, as the jog wheel wouldn't be able to detect whether or not your finger is touching its surface.
The jog wheels on the DJ2GO2 Touch actually detect whether your finger is touching their surface and are not just detecting the wheel's forwards and backwards movement (this was the case with the previous DJ2GO2 model).
The other difference is that the DJ2GO2 Touch features a standard straight crossfader cap, instead of a pitch fader cap that was reused on the original DJ2GO2 crossfader, which again makes it easier to scratch using the device.
So what is the main difference between the original Numark DJ2GO2 and the new Numark DJ2GO2 Touch? On the newer DJ2GO2 Touch you can finally freely scratch without facing technical limitations that of the previous unit.
-> How to DJ: Masterclass – Everything you need to know to become a performing DJ! <-
The built-in soundcard
The Numark DJ2GO2 Touch has a built in soundcard. This means that you can connect your headphones to the 1/8 inch jack output on the controller and pre-listen to the tracks you're going to mix using the standard headphone cue functionality.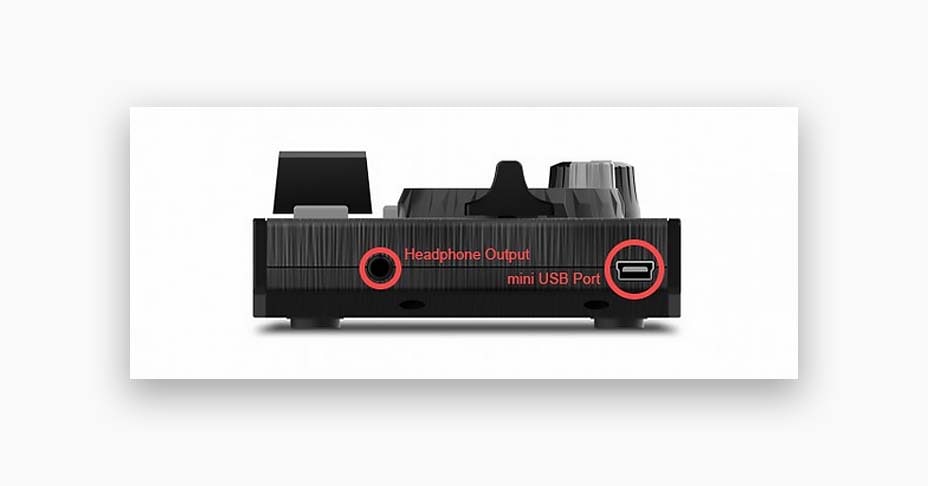 DJ2GO2 Touch also features a single 1/8 inch stereo jack output for connecting the speakers of your choice.
Having a built-in soundcard in a controller this small is pretty nifty, as you don't have to mess around with DJ splitter cables to be able to mix using your headphones.
New DJ Splitter Cables Guide + Troubleshooting
Main controls
Numark DJ2GO2 Touch consists of two deck sections and a small central section that consists of a crossfader, library search knob and deck load buttons for choosing your tracks, pad mode change button doubling as a shift button and pad mode indicator lights that show you which of the four pad modes is currently active.
The shift button (the pad mode button) while pressed down allows you to access additional functions such as turning off the sync mode on a deck or deleting a previously created hot cue.
Each of the deck sections features the standard play/pause, cue and sync buttons, a jog wheel and a tempo fader, headphone cue button (that allows you to pre-listen to your tracks in your headphones) and channel level knobs that replace traditional channel faders on this device.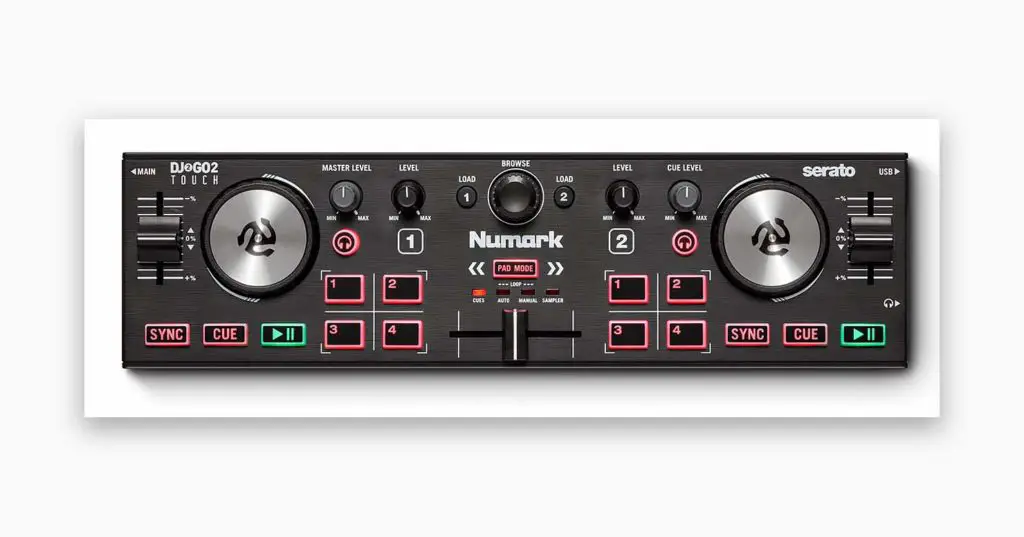 There are also two additional knobs here: a master level knob that allows you to adjust the master output volume, and the cue level knob for controlling the headphone output levels.
Sadly, there are no equalizer knobs or even a high-pass/low-pass filter knob present on this device. This is quite important as this device also lacks any kind of audio FX controls.
If you're interested in a similar controller that features FX controlls and a filter knob, check out the Hercules DJControl Starlight DJ controller.
Hercules DJControl Starlight – Portable DJ Controller Overview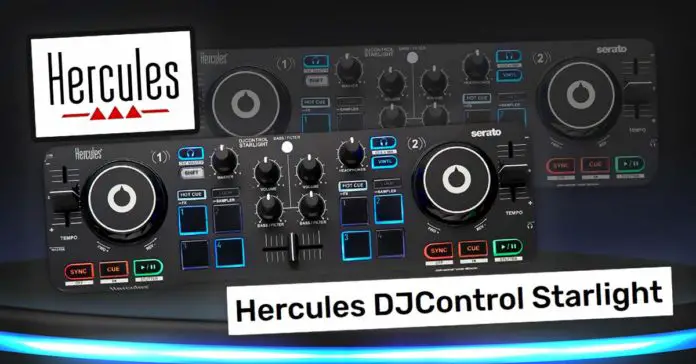 Performance pads
Performance pads on the Numark DJ2GO2 Touch can work in one of the 4 modes:
Cue – standard Hot Cue mode – create a point in a track that you can instantly revert to at any time and that is saved in your music file.
Auto – automatic loop mode – allows you to instantly set 1/2/4/8 beat long loops by pressing each of the pads. To turn off the loop, press the corresponding pad again.
Manual – manual loop mode – pad 1 sets the beginning of the loop, pad 2 marks the loop ending, 3 turns the created loop on and off, and 4 reactivates the loop coming back to its beginning. As a bonus you are also able to control the loop in and out points by turning the jog wheel after pressing either pad 1 or 2.
Sampler – you can utilize up to 4 audio samples with Serato DJ Lite.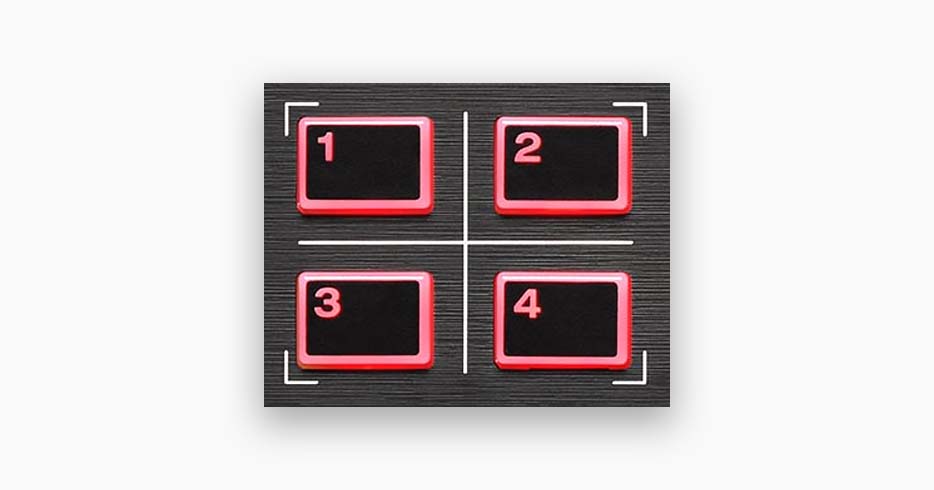 All in all the performance pads on this device are simple plastic buttons that do their job just fine. A thing that would be great to see here is a pad mode that lets you use some form of pad audio FX (like on the Hercules DJControl Starlight)
The pitch faders
Small pitch faders on the DJ2GO2 Touch allow you to freely change the track's tempo, the default tempo change range is set to +/-8% change.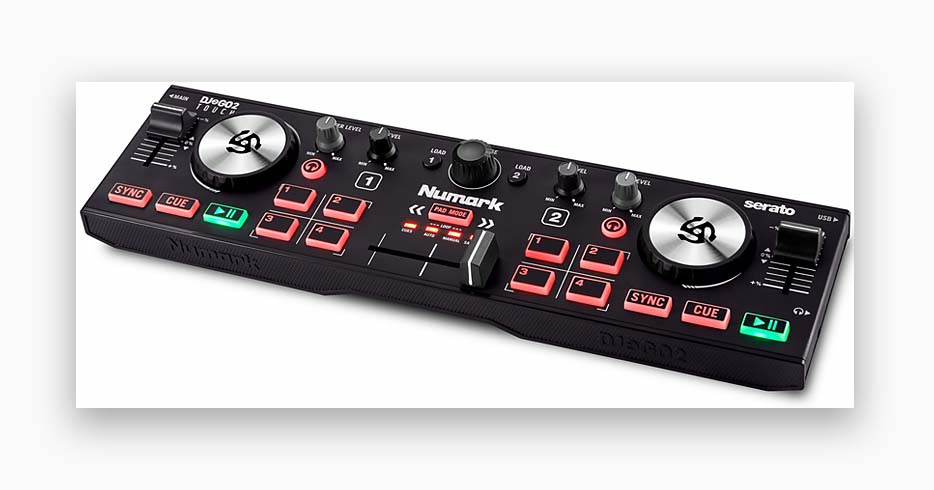 It's important to note that while the pitch faders on this device are very responsive, they are also really short and really sensitive to touch. If you had previous experience with larger pitch faders you might need a while to adjust to these scaled down controls.
Does Numark DJ2GO2 Touch let you control audio FX?
There are no audio FX controls on the Numark DJ2GO2 Touch, the only way to use your software audio FX with this controller is either simply using your mouse or setting appropriate FX keybinds or macros on your keyboard (if your DJ software allows you to do so).
If you're looking for a DJ controller that has dedicated Pad FX controls and an additional filter knob onboard we highly advise you to take a look at the Hercules DJControl Starlight (Check the current price on Amazon here) as the most important rival of the DJ2GO2 Touch.
Hercules DJControl Starlight – Portable DJ Controller Overview
The Jog Wheels
Numark DJ2GO2 Touch features two small jog wheels that will allow you to scratch (even when a track is paused – that wasn't the case with the original DJ2GO2) and nudge the track to aid you with beatmatching (by moving the jog wheel's edge).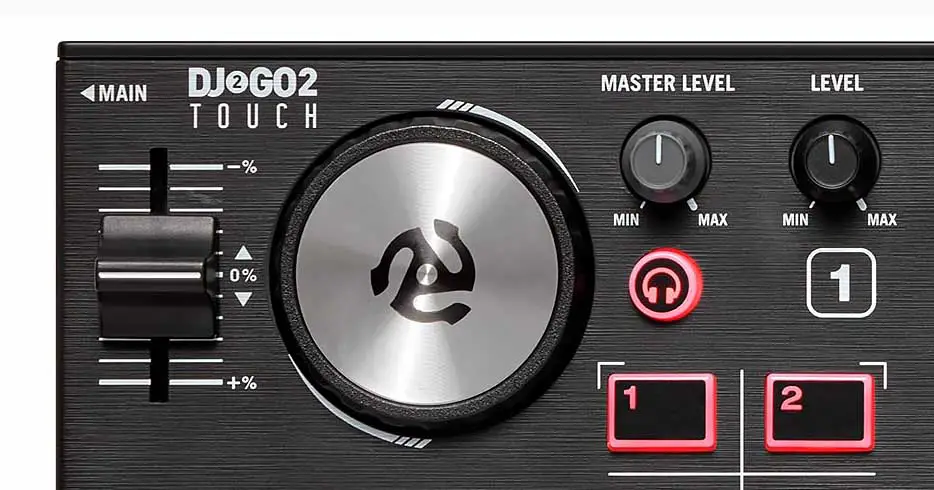 The crossfader cutting distance on the DJ2GO2 Touch is really short and the crossfader curve can be freely adjusted in the Serato DJ software so if you're up for some scratching you have everything you need here.
Inputs and outputs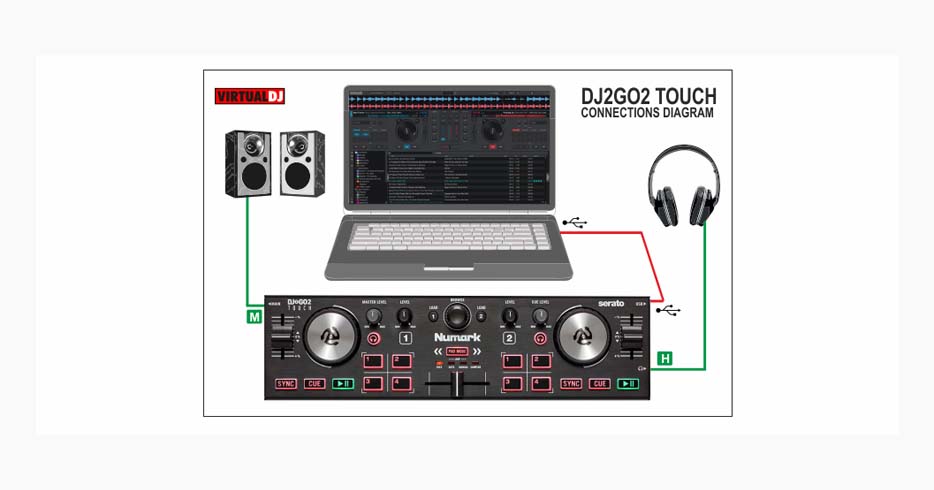 Inputs and outputs on the Numark DJ2GO2 Touch:
| | |
| --- | --- |
| Outputs: | 1x 1/8 inch main output, 1x 1/8 inch headphone output |
| Other: | 1x USB port for laptop connection and power |
Inputs and outputs on the Numark DJ2GO2 Touch
Your Numark DJ2GO2 Touch should come bundled with a USB cable and a 1/8 inch jack to RCA cable for speaker connection. We strongly advise you however to also get a simple jack-to-jack cable for easier connection to portable speakers and smaller sound systems.
The device doesn't feature any kind of audio inputs.
Software compatibility
Numark DJ2GO2 Touch is officially fully compatible with free Serato DJ Lite software, VirtualDJ software (only with paid packages) and with Algoriddim DJay app on iOS.
The device is also compatible with the paid upgrade to Serato DJ Pro which unlocks more software features.
Important: DJ2GO2 Touch is only compatible with Virtual DJ if you have the Pro Infinity, PLUS or a Pro subscription license active.
If you're using the free version of VirtualDJ (Home Free) you will only be able to use the controller for 10 minutes and then you'll have to restart the software.
The price
As the device's price on most marketplaces is currently under $100, this makes it one of the cheapest entry-level DJ controller on the market!
Check the current price of the Numark DJ2GO2 Touch on Amazon here. <-">-> Check the current price of the Numark DJ2GO2 Touch on Amazon here. <-
Pros and cons of the Numark DJ2GO2 Touch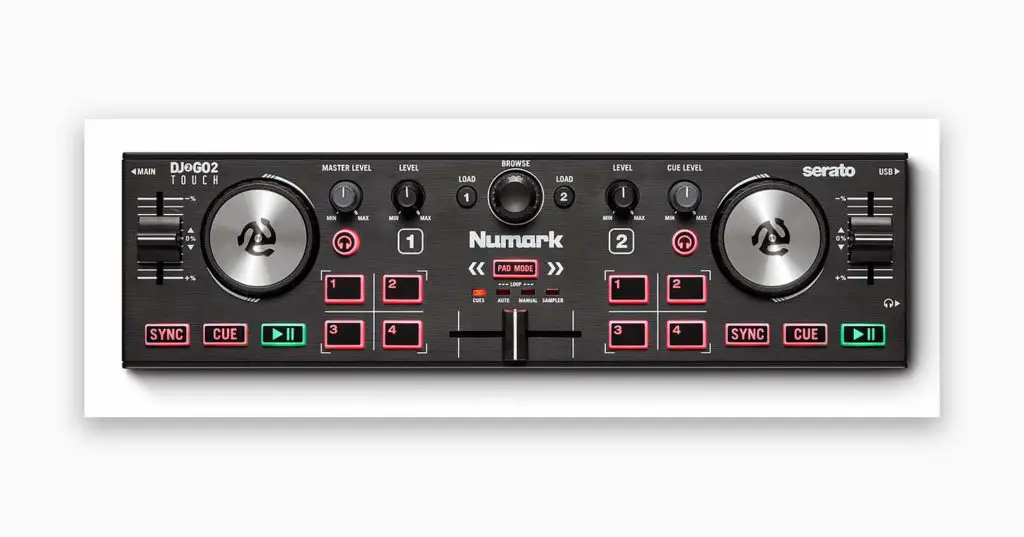 Pros:
Great quality responsive capacitive jog wheels
Efficient control layout
Light weight, pocket sized and portable
USB cable and a 1/8 inch jack to RCA cable bundled with the device
Device is designed to easily fit under your laptop's keyboard (but this will depend on your laptop's model and size)
Scratch experience quality improvements in comparison to the original DJ2GO2
Cons:
No equalizer and filter knobs on the device
No audio FX controls
The conclusion
The Numark DJ2GO2 Touch is a great portable DJ controller for beginner DJs that haven't really touched any kind of DJ gear ever before and for more advanced DJs that simply want a pocket portable practice or performance setup that can easily fit in a backpack and can be used with a smartphone. For this price you really can't go wrong with this little nifty device.
Check the current price of the Numark DJ2GO2 Touch on Amazon here. <-">-> Check the current price of the Numark DJ2GO2 Touch on Amazon here. <-
As we've mentioned before, you can also consider getting the main competitor of the Numark DJ2GO2 Touch – that is the Hercules DJ Starlight which allows you to control audio FX using the performance pads. We have a nice detailed review of this particular device, check it out here:
Hercules DJControl Starlight – Portable DJ Controller Overview