With our long expertise in DJ equipment, we're here to present you a full updated list of all new DJ controllers that are in our honest opinion not only fully capable professional DJ devices, but are also perfectly suited for beginners and novice DJs.
All of these devices are not only reliable and simple to use, but they will also provide you with hours of fun mixing your music be it in your bedroom as an amateur DJ, or as a professional during your live gigs.
Each of the controllers on the list features a short note with the most important essential info regarding it, based not on specs and dull product descriptions, but on our experience with the gear and various comparisons we already did between many of these great products. Read on, and at the end you'll be able choose the best one for you!
[this article features Ebay, Guitar Center & Amazon affiliate links]
1. Pioneer DDJ-FLX4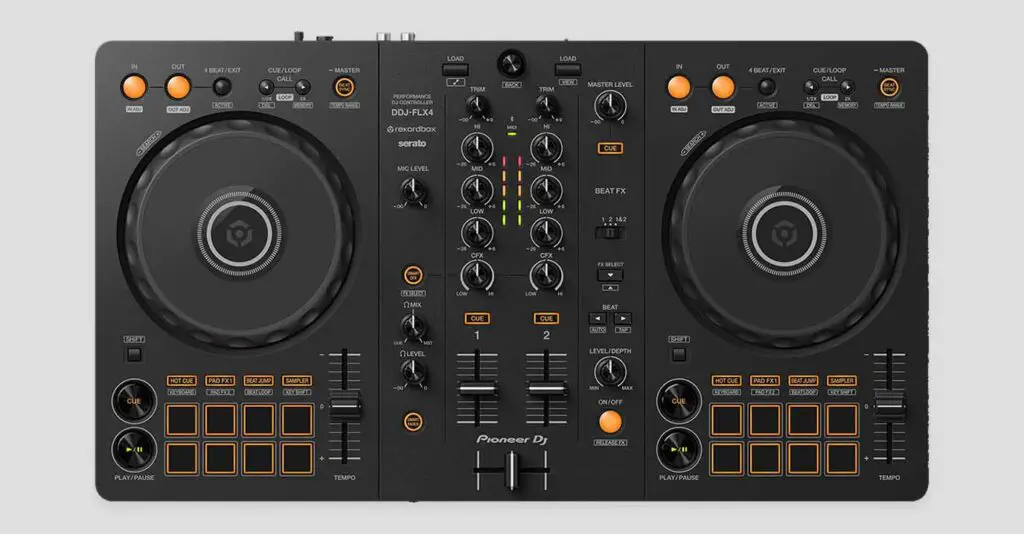 The Pioneer DDJ-FLX4 is undoubtedly the most popular entry-level DJ controller trending on the market right now. The reason for that is simple – it is a direct replacement to the very best entry-level Pioneer DJ controller to date – the Pioneer DDJ-400 which has been officially recalled.
This little device has a ton of useful features including a great set of audio FX controls on board, and the ability to be used with two most popular pieces of DJ software out of the box – It's compatible with Rekordbox and Serato DJ Lite by default. You can learn more about the the DDJ-FLX4 here in our little write up about it.
2. Pioneer DDJ-FLX6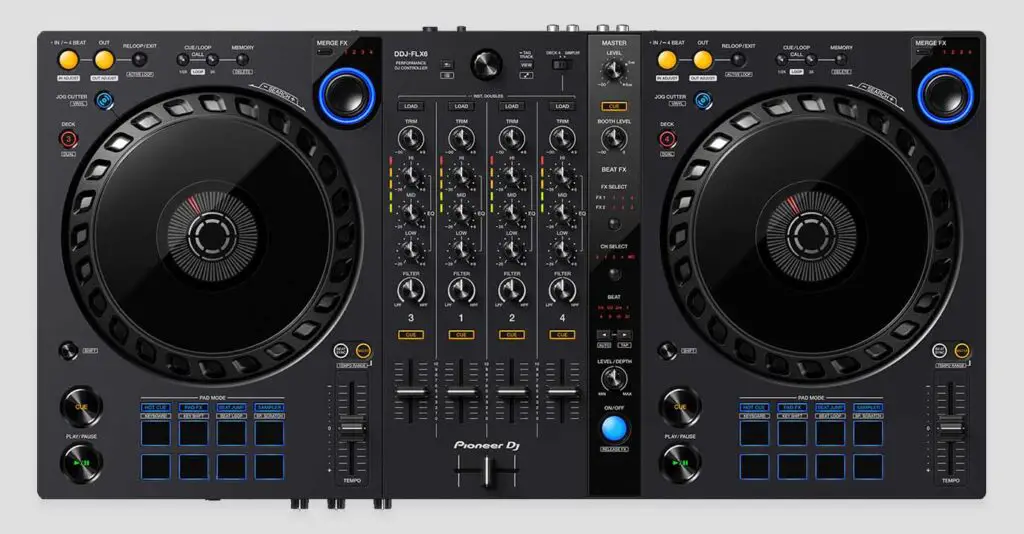 Pioneer DDJ-FLX6 is a device that preceded the DDJ-FLX4 when it comes to its release date, however it's not exactly a downgrade if you decide to go for it rather than for the brand new FLX4.
It features not 2, but 4 mixer channels and full-size capacitive jog wheels alongside a few exclusive FX features that make it much different from the FLX4 that came after it.
If you need 4 mixer channels and a larger, more professional-looking device, the DDJ-FLX6 might be a good choice for you!
3. Pioneer DDJ-Rev1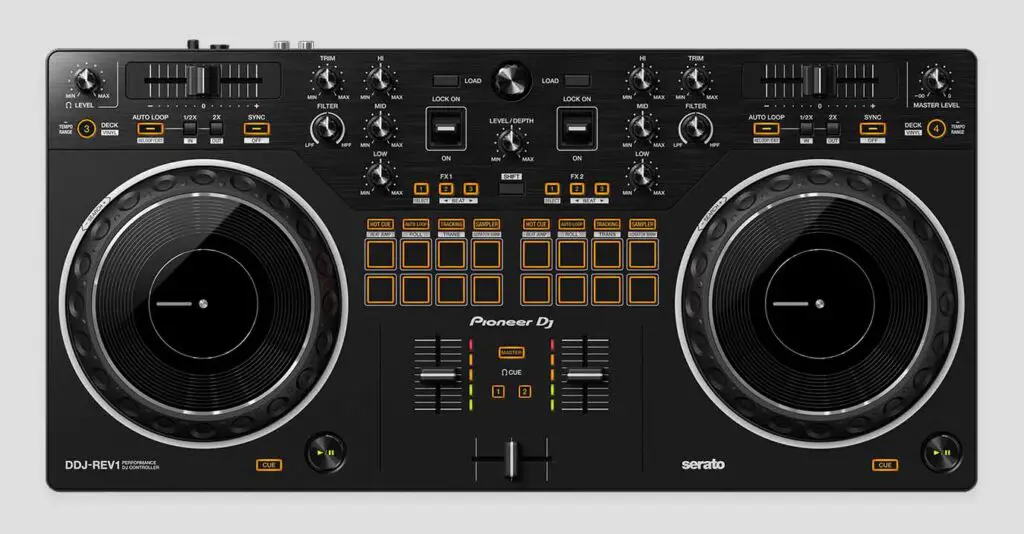 The Pioneer DDJ-Rev1 is a DJ controller that's really worth your attention if you're an aspiring scratch DJ. In comparison to the FLX4 it features larger and much sturdier jog wheels, FX paddles that are often found on professional standalone scratch mixers, and most importantly – a battle style control layout!
For now, I can't think of a better option if you want to quickly jump into the world of scratching, beat juggling and mashing up your tracks on a small form factor DJ controller. If that sounds like you, be sure to check it out!
4. Numark Mixtrack Platinum FX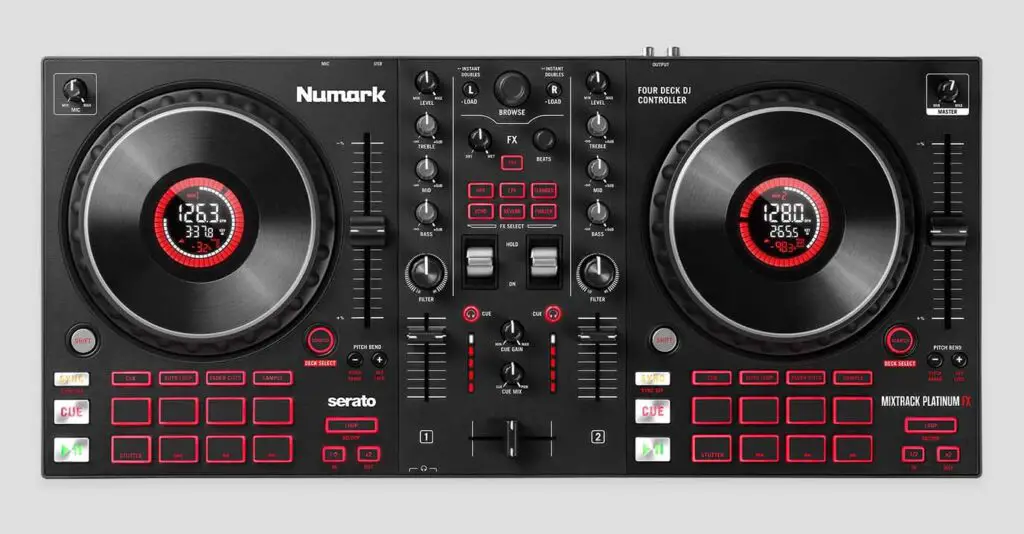 Numark Mixtrack Platinum FX is a little bit different, and not only because of its longer name and different manufacturer. It's a highly capable entry-level DJ controller that can be much more affordable than the two we mentioned before. It also has a tuned-down version without the built-in displays – the Mixtrack Pro FX.
This device is amazing for what it is, featuring the already mentioned jog wheel displays, full-size pitch faders and… paddle FX. Yes, this is the second DJ controller that we mentioned that has these on board (and the only one left on this list).
5. Traktor Kontrol S2 MK3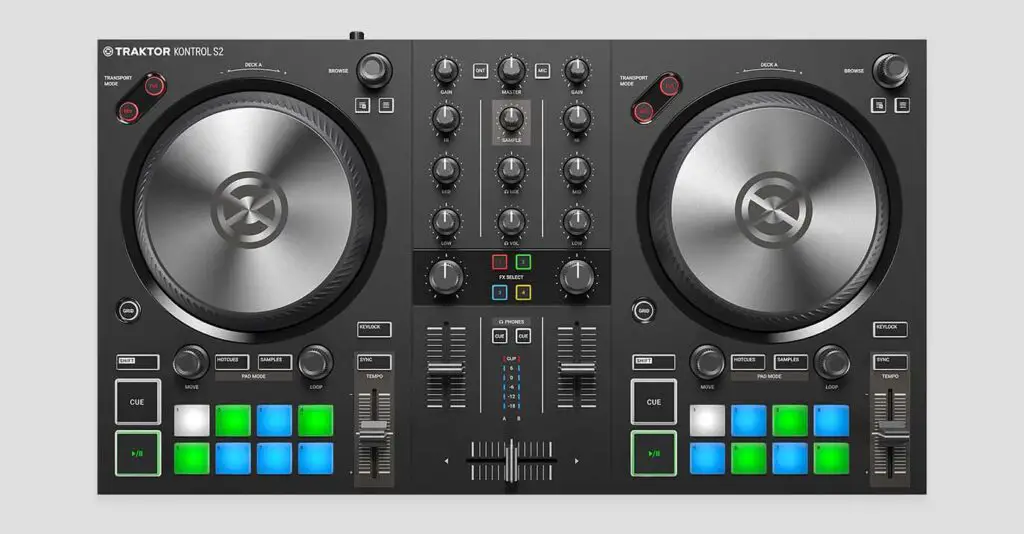 Traktor Kontrol S2 MK3 is a neat proposition straight from the company named Native Instruments. They are well known for their Kontrol DJ gear line-up, which they make exclusively for their own DJ software – also called Traktor.
All Kontrol devices are full-featured DJ controllers which can be used by both beginners and professionals alike. If you decide on getting the S2 MK3, you won't be disappointed with neither the quality nor the feature set. You can trust NI when it comes to DJ gear – they've been updating their DJ controller designs alongside their software for long years – with great success on the market.
6. Traktor Kontrol S4 MK3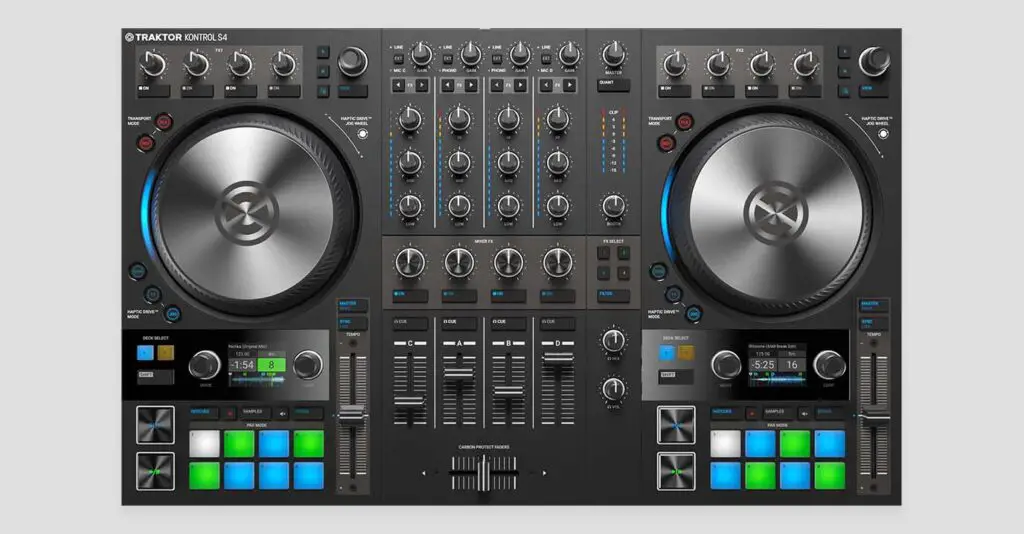 If 2 mixer channels on the Traktor Kontrol S2 MK3 seem to be too little for you, fear not! The Traktor Kontrol S4 MK3 was made specifically to address this issue.
While it is a little more expensive, it will allow you for more creative freedom in the art of multi-channel mashups and mixing. An upgrade definitely worth it!
7. Pioneer DDJ-800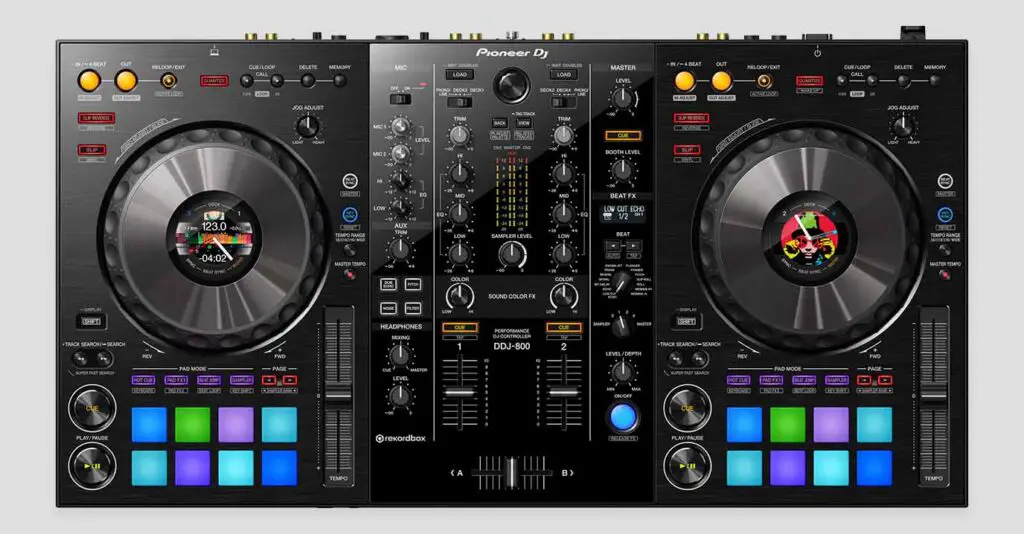 Pioneer DDJ-800 is in a sense a scaled-down, 2 channel version of the Pioneer DDJ-1000 – a flagship professional Pioneer DJ controller which has been recently replaced by the new DDJ-FLX10 which we're going to talk about in a short while.
DDJ-800, while a little bit more expensive than the DDJ-FLX4, brings a lot of new features into the game, while still being very much beginner friendly! If you're searching for a way to start your DJ career with a blast without breaking the bank, the DDJ-800 is a great choice to consider.
8. Hercules DJControl Inpulse 500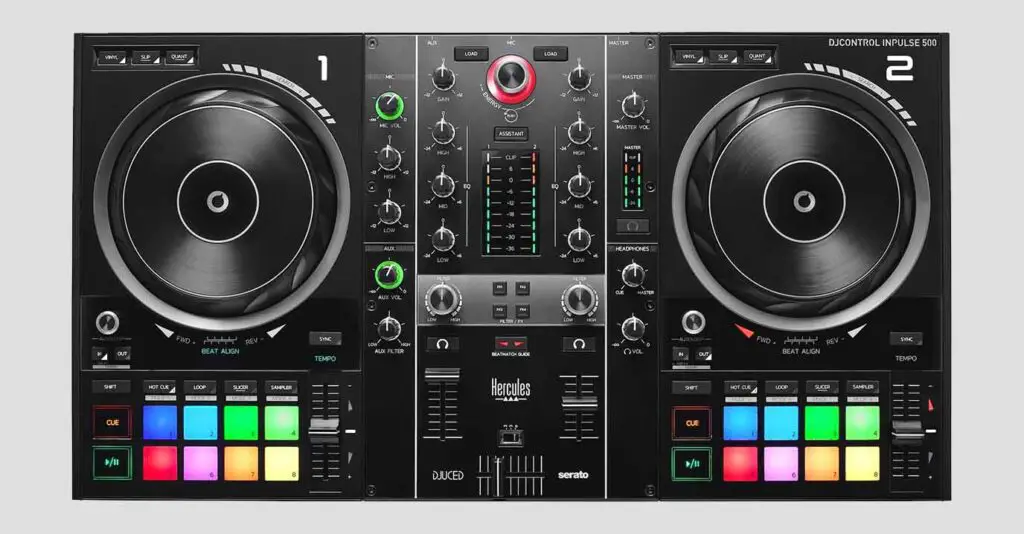 Hercules, while being the lesser known brand on the general DJ equipment market, still has many interesting propositions to offer when it comes to entry-level DJ gear. In this case, the most worthwhile beginner-friendly DJ controller we found in their offer was the Hercules DJControl Inpulse 500.
This little device might not seem like much, but it's just as capable as other DJ controllers in this price range, including the Numark Mixtrack Platinum FX. All that, while maintaining an almost portable form factor and a stylish look. If you're looking for a great budget solution for your first DJ controller, look no further!
9. Numark Mixstream Pro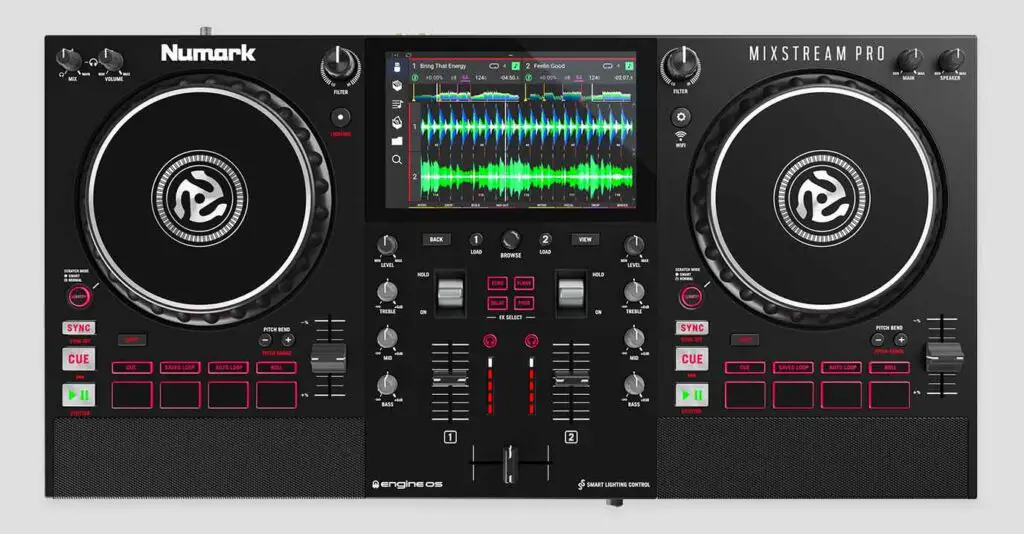 Numark Mixstream Pro is a rather interesting DJ controller, mainly because, it's the only fully standalone DJ controller that is present on this list.
What this means, is that you're able to use your Mixstream Pro without connecting it to a laptop or a computer! Moreover, it's fully compatible with various popular music streaming services, so provided you have power and Wi-Fi hot spot around, you are ready to party!
Did we mention that it has built-in speakers too? This is a really interesting one if you're going the mobile DJ route!
10. Pioneer DDJ-FLX10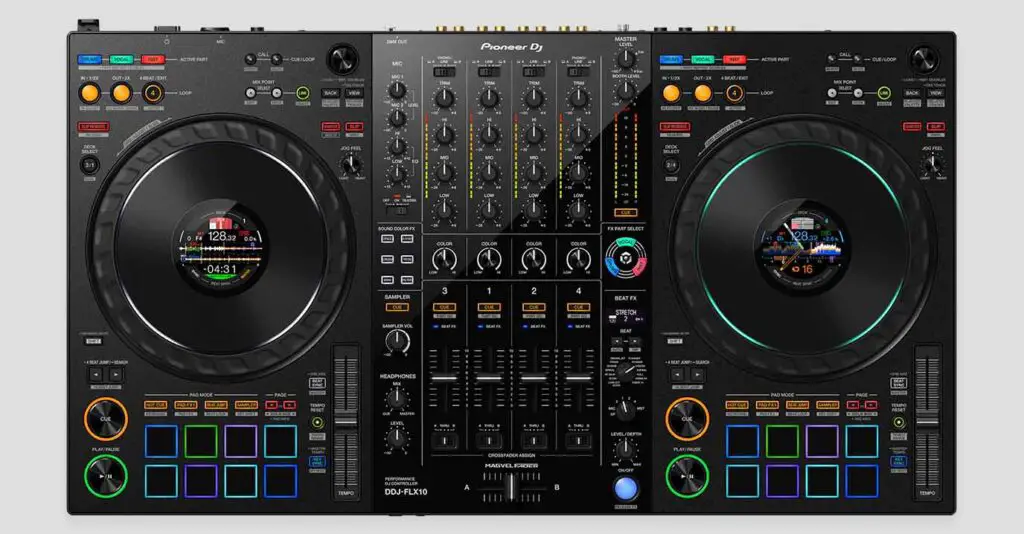 Finally, the Pioneer DDJ-FLX10. Many would say that this all-in-one DJ device is not aimed at beginners at all. They would be only partially right. The recently released Pioneer DJ powerhouse and new flagship DJ controller while having all the features of a full professional club setup (and more) is also extremely easy to use!
If you're still intimidated by all the buttons and switches on various DJ devices you're seeing, you're in the right place. Here at djgear2k we have various guides aimed specifically at beginners, including one explaining all of the parts of a professional DJ controller.
With that said, this is definitely the most capable DJ controller on this list. If you want to go all out right form the beginning, this is the right choice!
DJ Controllers For Beginners – Summary
We hope you found our list helpful! It features all of the most popular choices when it comes to entry-level DJ controllers aimed at beginners, novice DJs and people who'd really like to start their DJ journey as fast as possible.
We based the selection not only on our knowledge and experience, but also on various voices and testimonies both from our users and online store clients.
If you'd like to learn even more, feel free to check out our other DJ gear comparisons, tests and reviews in the Hardware section of our portal. Rock on!