Here it is! Our detailed review will cover everything from the new design changes to all the new features that the brand new Pioneer DJ OPUS-QUAD brought about! Let's jump straight into the news and into our honest opinion on this rather compelling piece of DJ equipment, which can might as well in a sense be labeled the Pioneer XDJ-XZ2!
Check out also: Top 10 Best DJ Controllers With Built-In Screens (Full List!)
[this article features Ebay & Amazon affiliate links]
First – The specification
Device:
Pioneer DJ OPUS-QUAD
Photo:
Price:

– Check price on Amazon

– Check price on Ebay


Mixer Channels:
4
Standalone capabilities:
Yes, full.
Wi-Fi:
Yes, 2.4 GHz / 5 GHz.
Control layout:
Club Layout.
Dedicated software:
Standalone, Rekordbox, Serato DJ (coming soon).
Jog wheels:
~8.12 in / 206 mm
Audio FX:
6 Sound Color FX, 14 Beat FX, X-Y on-screen pad.
Pioneer DJ OPUS-QUAD – features and availability.

If that's not quite enough data for you, you can see the full specification here.
The design and layout changes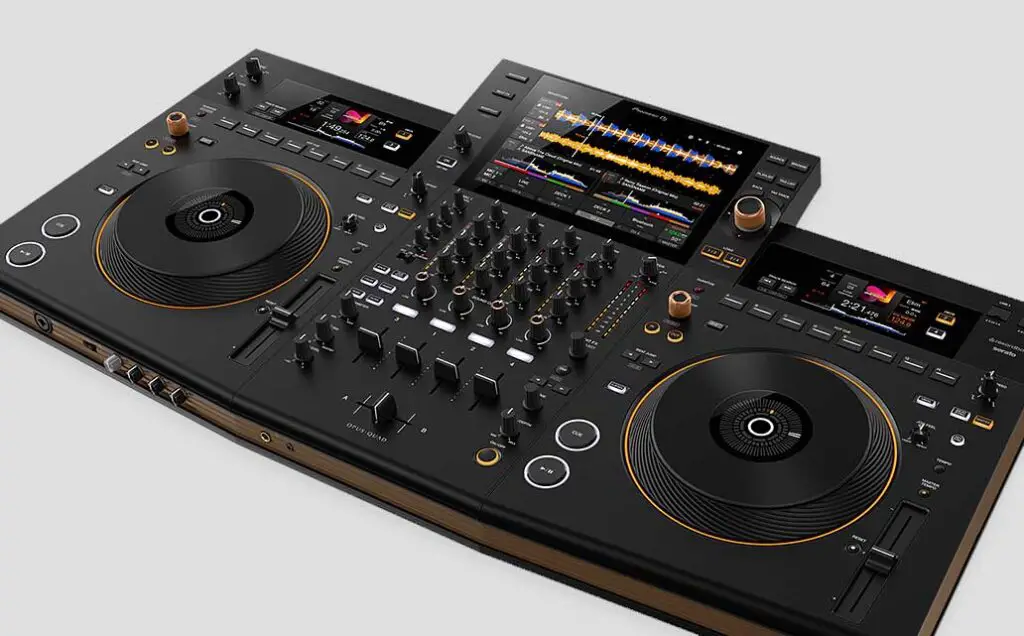 I'll be perfectly honest right from the beginning. After first hearing about the Pioneer DJ OPUS-QUAD's release, I really hoped it would be more like the now dated Pioneer XDJ-XZ, which it's clearly aiming to replace.
The overall design of the device, combined with the naming convention change however, both suggest that Pioneer DJ simply wants to follow the road of upgrading all of their equipment lines to further match the styling and methodology of the new and currently trending FLX line of devices (which started with testing the waters with the Pioneer DDJ-FLX6 way back in November 2020).
The OPUS QUAD all-in-one DJ system as a whole makes use of a deep dark grey matte-like finish with beige accents on its sides which is quite an interesting design choice all in all. I personally am not that keen on these color choices which stray further from my rough and straight to the point older Pioneer DJ gear aesthetics.
Other than that, the shape of the device is pretty unique too, as it's not entirely rectangular as all the previous Pioneer DJ controller have been, with its two wing-like deck sections which are slightly curved.
But in the end, the design changes with the almost completely new look and feel of the device are overall pretty interesting at the first glance. The DJ OPUS-QUAD is sleek, looks fresh, and with its rather minimalistic approach to the front panel layout it still vaguely resembles an actual Pioneer CDJ x DJM club setup, which is the main point of a modern all in one DJ setup.
With that said, let's get into the nitty-gritty details, shall we?
Standalone capabilities – Worthy XDJ-XZ replacement?
Well, we're happy to announce that now we have the very first standalone all-in-one DJ controller from Pioneer DJ that allows the user to utilize all of the 4 mixer channels while not connected to a laptop or a PC.
If you didn't know, the predecessor of the OPUS QUAD – the Pioneer XDJ-XZ, while it featured 4 mixer channels on board, allowed you to use only two of them for loading up tracks while used in the standalone mode.
The Pioneer DJ OPUS-QUAD lets you utilize all 4 of its mixer channels for loading and playing tracks live, unlike the XZ. This is quite a nice breakthrough for Pioneer DJ, and in a sense, after comparing the feature sets of the two devices you could in a sense deem the OPUS QUAD a successor to the XDJ-XZ's legacy.
The 10.1-inch touch screen display + 2 bonus screens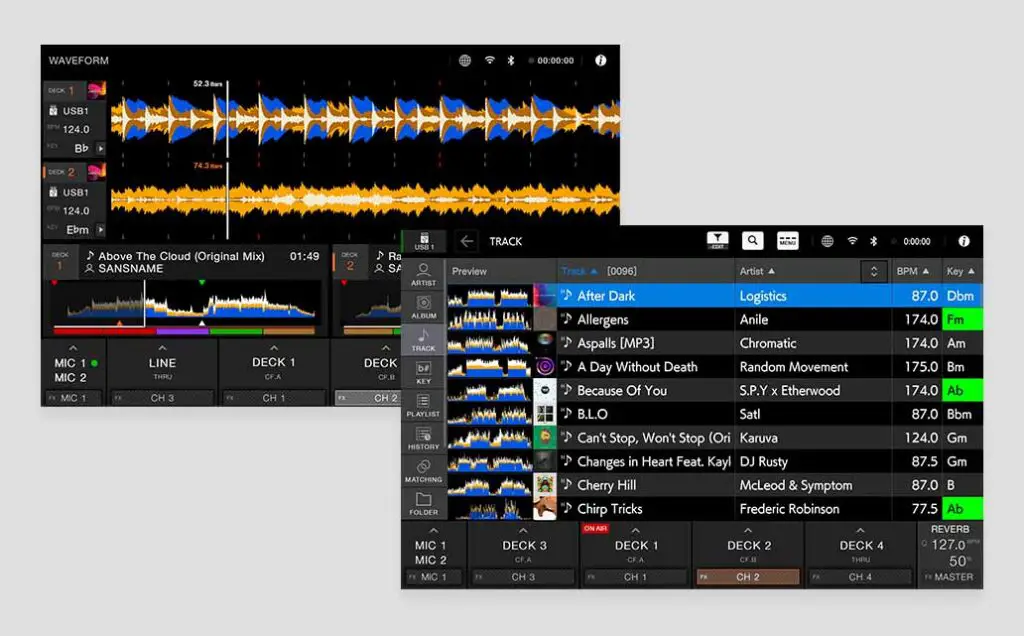 Pioneer DJ OPUS QUAD features a neat 10.1-inch touchscreen on board, which is finally a proper and fully featured multi-touch capacitive display, akin to the ones present on all modern smartphones.
This is a huge deal, as all of the previous Pioneer DJ controllers that featured touch displays, made use of very old and much outdated resistive touchscreen technology which was imprecise in touch tracking, didn't allow or support any on-screen gestures and had no multi-touch capabilities (this was the case for one, on the quite recently released Pioneer XDJ-RX3).
The main display on the OPUS-QUAD is a multitouch capacitive display and the two supporting CDJ-like screens over each of the decks are regular LCD displays. The responsiveness of the main screen has been much improved when compared to the mentioned XDJ-RX3, which is a great thing.
Lack of performance pads
You won't find traditional performance pads on the device. The Pioneer DJ OPUS-QUAD went the CDJ way when it comes to its deck layout, giving you access to 8 hot-cue buttons akin to these present on the Pioneer CDJ-2000 and CDJ-3000 DJ players.
This decision was made by sacrificing the two rows of performance pads under each jog wheel which were a standard in Pioneer DJ controllers up until now.
The complete lack of performance pads on the device might be bad news for DJs who enjoy using their samplers, slicers, or their pre-set loop rolls a lot, and I cannot help but think that there could've been space for at least a scaled down version of standard performance pads under the jog wheels if they were moved upwards towards the displays. Well, it is what it is!
Jog wheels – quality redesigned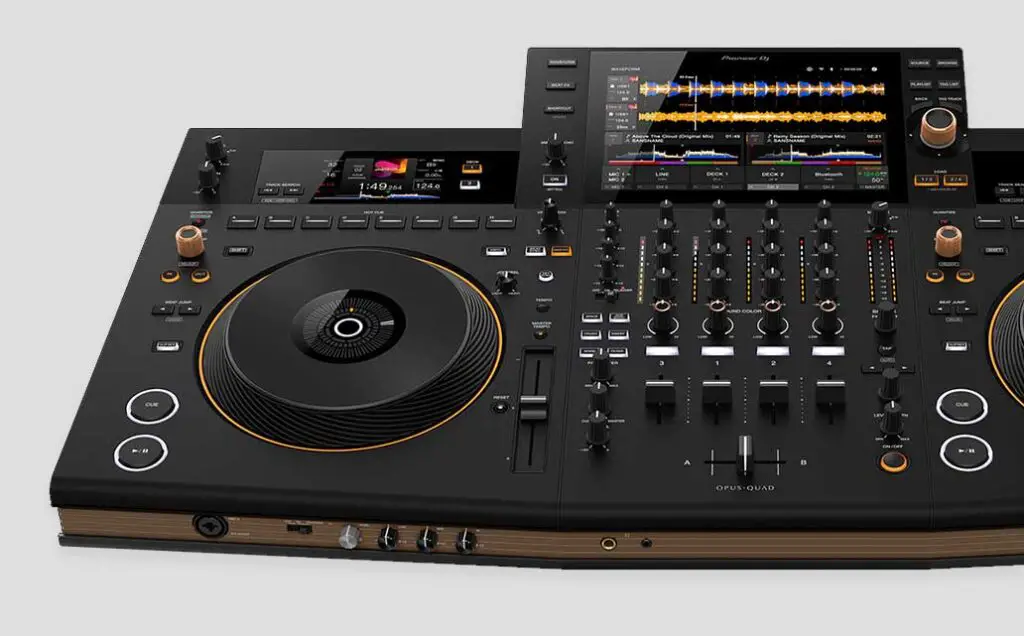 On the unit you will find two ~8.12 in / 206 mm mechanical jog wheels with tension adjust that are directly comparable with the ones present on the club standard Pioneer CDJ-3000 players.
Their top surface is pretty nice and feels kind of like its rubber-coated. Overall, the new jog wheel design holds up pretty well, although not everyone likes the fact that Pioneer DJ decided to go further away from their now classic and recognizable CDJ-2000 styled jog wheel looks.
In terms of the central jog wheel displays, Pioneer DJ has come back to the roots, going back to a simple virtual needle indicator. All the live track info has been moved to the additional displays on top of the deck sections, and this is a nice decision considering the amount of information the supporting displays are able to show.
Audio FX controls
First of all, the Pioneer DJ OPUS-QUAD features a set of 6 classic Sound Color FX – Space, Dub Echo, Crush, Sweep, Noise and Filter. Notably, there are no pitch-based FX here.
Next, it features 14 standard Beat FX, with a classic set of FX parameter controls.
All the Beat FX available on the OPUS-QUAD in the standalone mode for now are: Delay, Echo, Ping Pong, Spiral, Reverb, Trans, Filter, Flanger, Phaser, Pitch, Slip Roll, Roll, Vinyl Break and Helix. A pretty standard and extensive selection.
A huge advantage that the OPUS-QUAD has over for instance the XDJ-RX3 with quite limited on-screen FX controls, is the full-size on-screen X-Y pad for controlling all of the available Beat FX. The parameters on each axis depend on which effect you're using on the pad. There is also a customizable quick FX bank for 4 effects you want to have on hand at all times.
You probably won't be surprised to hear that using it is a breeze on the new updated touch display. Good job Pioneer!
Other than that, when it comes to additional features, you can find the Smooth Echo controls on the device. This neat feature simply applies a selected configurable amount of echo on your audio output on a selected action – for example when you move a mixer fader down or press a hot-cue button. Neat and fully configurable!
Zone output on a Pioneer device?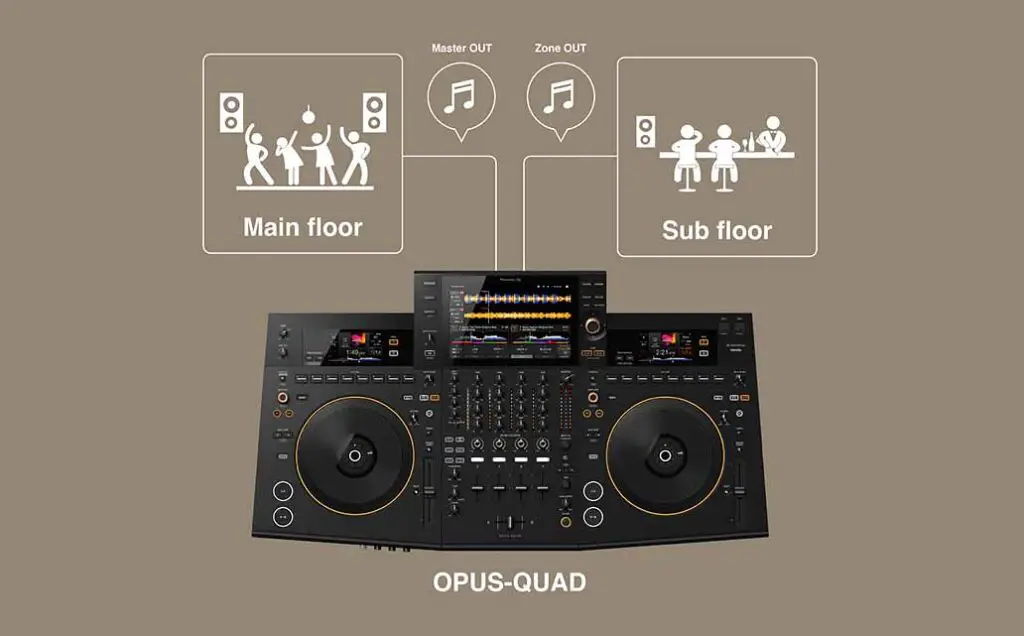 The zone output on the OPUS QUAD lets you send a different audio source to a second set of speakers that can be located for example in a second room, next to the one you're currently performing in. This way, you can automatically play an entirely different set of tracks in the other part of the venue while you're mixing away on the main stage.
Although zone outputs are a pretty niche feature used mostly by a selected group of mobile DJs, they are still pretty neat to have on hand.
Another DJ controller that features the zone output that comes to mind would be for instance the Denon DJ Prime 4. Once again, it's a really nice thing to have on a device of this caliber.
Built-in Wi-Fi, Cloud Library Sync
The Pioneer DJ OPUS-QUAD has a built-in 2.4 GHz / 5 GHz Wi-Fi chip on board. What this means, is that you can simply log in to a WiFi network and get access to tracks that you have in your DropBox account configured with Rekordbox.
The wireless network connection will soon also be used for the integration with the upcoming Rekordbox DJ mobile app so stay tuned for that!
You can learn much more about Rekordbox cloud storage for your music here, and about the music cloud streaming on the CDJ-3000 players – here.
Music streaming services integration?
Does the OPUS-QUAD have support any kind of music streaming service integration? Well, sadly no, not in the standalone mode. It's quite frankly one of the things that I'd wish were the other way. The competitors are surely ahead of Pioneer DJ on this one.
The device, although it features a Wi-Fi module and is perfectly capable of communicating with the Dropbox cloud, still doesn't give you any option to utilize music from 3rd party streaming services such as Tidal, Beatport, Beatsource or SoundCloud when it's used in the standalone mode.
Bluetooth connectivity
Not much to say here really, besides that it's certainly important to mention that the device has a Bluetooth ver. 4.2 compatible module with SBC and AAC codecs compatibility on board.
This might be used for the Rekordbox app connectivity somewhere in the near future.
DJ software compatibility
Besides its standalone embedded software, the Pioneer DJ OPUS QUAD acts as a hardware unlock device for the full version of Rekordbox DJ software.
Serato DJ compatibility is planned to come out somewhere this year so stay tuned! Serato DJ Pro will also be fully unlocked by the device, so that's also great news.
The device is also said to be able to connect to the mobile Rekordbox DJ app (once it finally comes out), and given that it's a flagship Pioneer DJ controller, we sure hope that there will be support for the OPUS QUAD in Vritual DJ coming real soon. We'll be sure to test that out!
Pros & Cons
Pioneer DJ OPUS-QUAD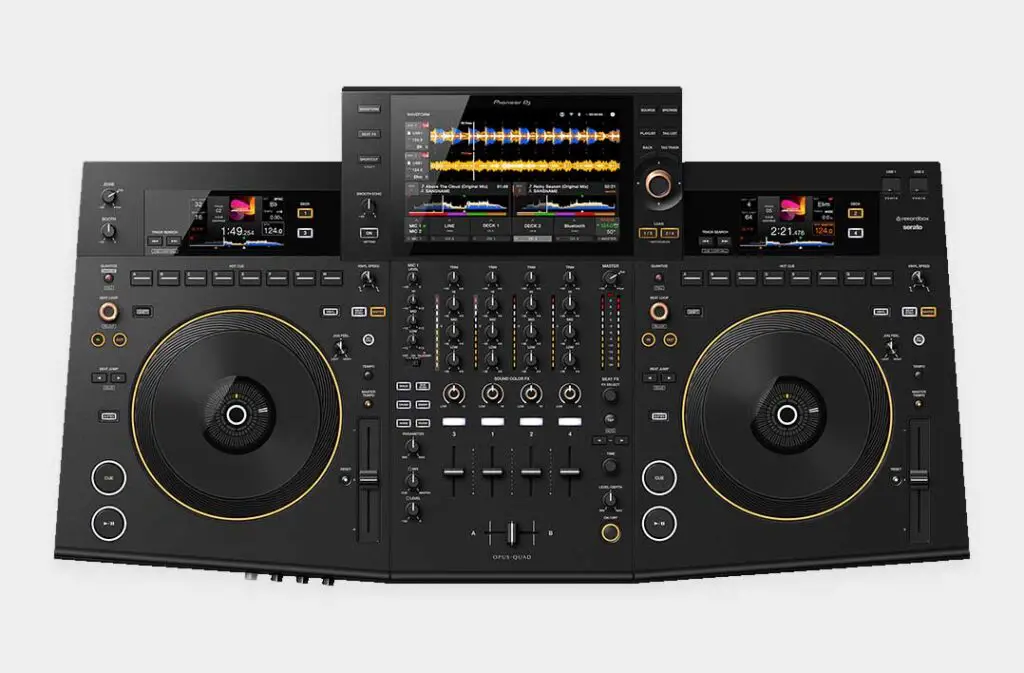 Pros:
Great updated touch display – capacitive screen with multi-touch capabilities.
Fully standalone 4-channel DJ controller from Pioneer DJ – finally.
Full-size jog wheels akin to the ones present on the CDJ-3000.
On-screen X-Y pad for controlling Beat FX.
Serato DJ Pro support coming up.
Zone output – a neat feature for mobile DJs.
Will support the Rekordbox DJ app once it comes out.
Cons:
The price is a bit steep.
Still no on-board track analysis as of now.
Music streaming services unavailable in the standalone mode.
Not quite everyone is the fan of the new re-designed form factor.
I'm not exactly a fan of the rubbery finish of the jog wheels.
Is the DJ OPUS-QUAD really worth it?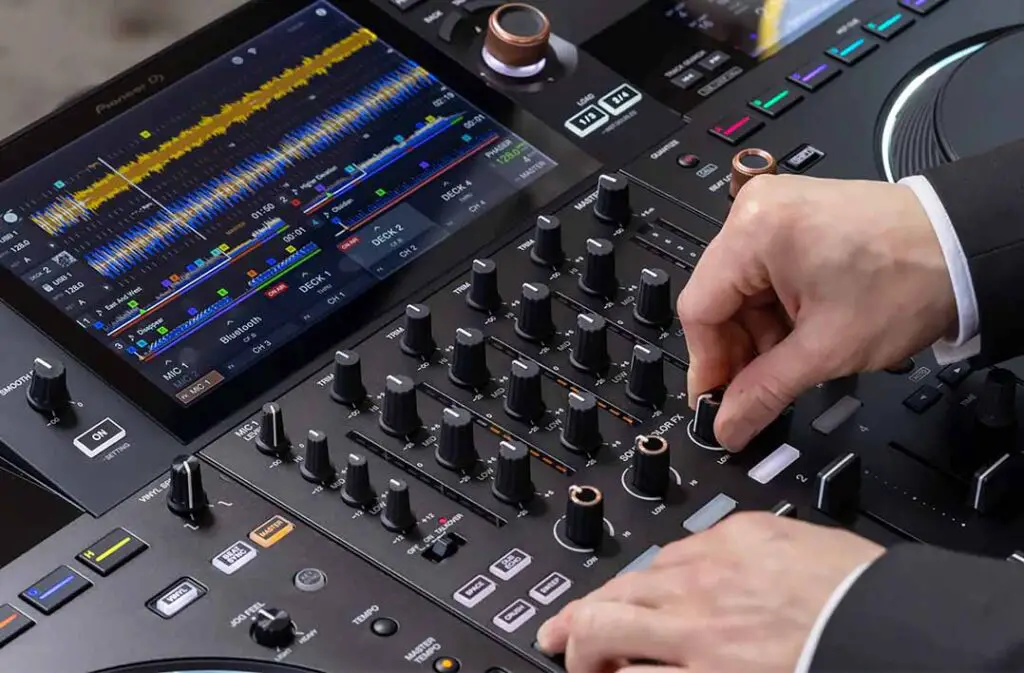 In the end, the Pioneer DJ OPUS-QUAD is a very much capable device which might be as well called a direct replacement for the Pioneer XDJ-XZ that's been out on the market for quite a while now.
If you're looking for a direct competitor to this device, you can go and check out the Denon DJ Prime 4 which is really close to this new device in terms of its feature set.
Check out also: Rane FOUR vs. Rane ONE (Gear Comparison!)