Choosing your first DJ controller might not be as easy as it may seem. Budget, skills and future plans are only a few factors that can influence your choice and final decision. The purpose of this guide is to help you choose your first Pioneer DJ controller and begin your DJing journey as fast as possible!
Note: This article focuses solely on Pioneer DJ controllers, we have a scheduled post on Numark DJ controllers which is coming up soon, stay tuned!
[this article features Ebay & Amazon affiliate links]
Entry-level DJ controllers vs. "Professional" DJ controllers.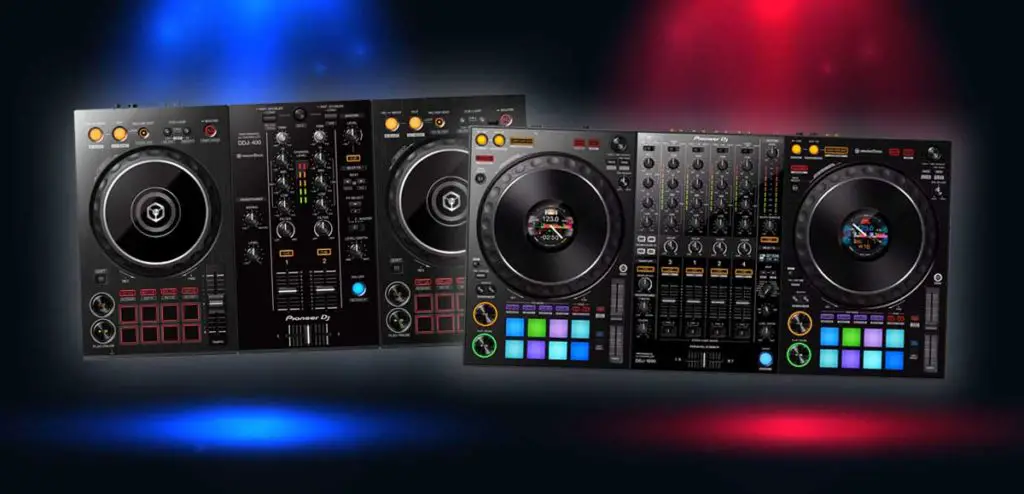 In general you can draw a line between so called entry-level DJ controllers (mostly smaller in size, featuring only 2 mixer channels and having limited additional functionality) and "professional" DJ controllers (usually having 4 mixer channels, being larger in size and more durable and having more additional features).
If you're a beginner DJ you can either go with a usually cheaper entry-level DJ controller to check and see if DJing is a thing for you (like the DDJ-400), or get yourself a slightly pricier full-fleged professional controller that will last you a longer time and enable you to use a wider range of features (like the DDJ-1000). In both cases the general selection process will be pretty similar.
During your search you may also come across older DJ controllers (for example back from 2014) that are no longer supported or no longer updated by their manufacturers (like the original DDJ-SX or. Those are generally fine if you're just starting out, but again they may be lacking both in terms of official support and the features, as the DJ equipment business is rapidly evolving through the recent years.
Pioneer DDJ-400 – The most popular choice in 2022
Without a doubt, wherever you'll ask about a most popular entry-level DJ controller for beginners you will get one and the same answer: the Pioneer DDJ-400.
This dedicated Rekordbox controller is definitely one of our first choices when it comes to DJ gear for beginners. Not only is it simple to use, but also it has many of the functions that the pricier DJ controllers have and features a control layout resembling a 2xCDJ setup with a Pioneer DJM mixer.
DDJ-200 vs. DDJ-400 (Which Is Better For You?)
If you're just starting out, we deem it one of the best and most common first choices that you can make. Certainly you won't regret getting it, and while being an entry-level controller it won't feel like a toy during your day-to-day usage.
Pioneer DDJ-SB3 – A perfect choice for Serato users?
It would be smart to say that the Pioneer DDJ-SB3 is kind of like a DDJ-400 for Serato DJ users. Well, kind of. What this means for you is that this controller being made specifically to be used with Serato DJ software has a slightly different control layout from the DDJ-400, better reflecting the Serato DJ software capabilities and features.
UPDATE: Be sure to also check out the new DDJ-Rev1 – a direct successor of the DDJ-SB3 – New Pioneer DJ DDJ-REV1 – A Great Choice For Beginners?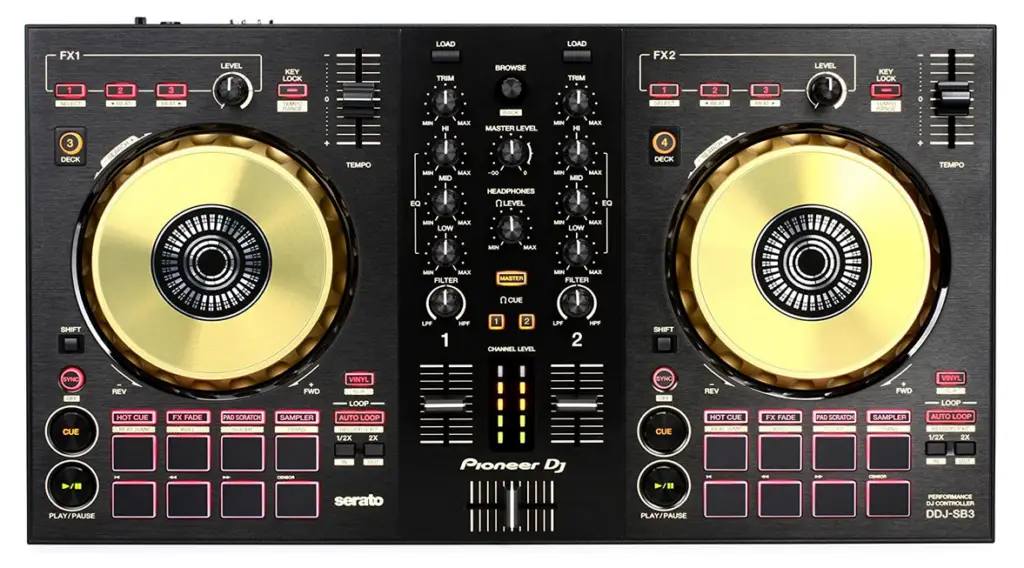 An important thing to mention is that while the DDJ-SB3 and the DDJ-400 are pretty similar in terms of functionality, the DDJ-SB3 works inherently with Serato DJ Lite, and to make full use of this controller (as in make use of all the functions on the device) you have to upgrade to Serato DJ Pro (which is available as a one time buy or a monthly subscription). The DDJ-400 on the other hand works with Rekordbox and its full functionality is available to you out of the box.
Check out our direct comparison of the DDJ-400 and the DDJ-SB3 here:
DDJ-400 vs. DDJ-SB3 (Which Is Better For You?)
If you're just starting out, the general software choice is pretty much arbitrary, as both Rekordbox and Serato DJ are currently two of the most popular DJ software and the differences between them while important for experienced DJs that are used to one or the other, don't really matter much for beginners and intermediate users.
Your decisive factor between the DDJ-400 and the DDJ-SB3 should be based around the combination of price, control layout schemes, available features and upgrades and overall design choices.
Recently a new DDJ-SB3 competitor has appeared – be sure to also take the Pioneer DDJ-Rev1 Serato DJ controller into consideration!
New Pioneer DJ DDJ-REV1 – A Great Choice For Beginners?
DDJ-SR2 – A small SX-like powerhouse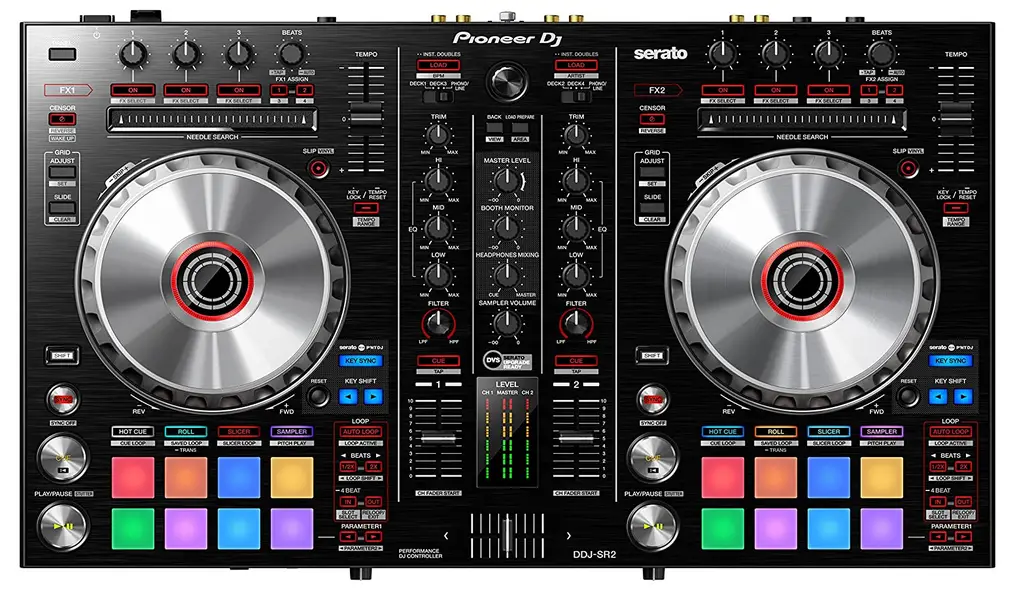 Pioneer DDJ-SR2 is also a dedicated Serato DJ controller. This little device while being only a 2-channel controller has a lot of useful features packed into it. In fact, it's sometimes compared to the DDJ-SX series, as the button layout and features present on the device closely resemble those of the DDJ-SX3 and its predecessors.
Compared to two controllers mentioned before the DDJ-SR2 is a bit more feature-rich but also comes at a slightly higher price point. Definitely consider that one at the beginning of your DJing journey!
2 mixer channels vs. 4 mixer channels debate
Having two mixer channel enables you to have two tracks playing at the same time. This is the absolute minimum for a DJ to perform a basic transition between two different songs.
Some DJ controllers featuring only 2 mixer channels, have additional deck changing buttons which you can use to switch all available controls to now control virtual decks 3 and 4 (this is the case with the previously mentioned DDJ-SB3).
This isn't really an ideal solution, as there is no efficient way to mix 4 tracks using a 2 channel mixer, and the mixer fader positions often get mixed up when rapidly switching between decks 1/2 and 3/4 (as switching between the deck pairs naturally doesn't reset the physical position of the fader).
4 channel controllers are in general more pricey than 2 channel controllers which are often associated with the entry-level gear. There is however one interesting cost-effective entry-level controller that features 4 mixer channels – that is the DDJ-FLX6 which we have done an in-depth write-up on.
Pioneer DDJ-FLX6 – DJ Controller Overview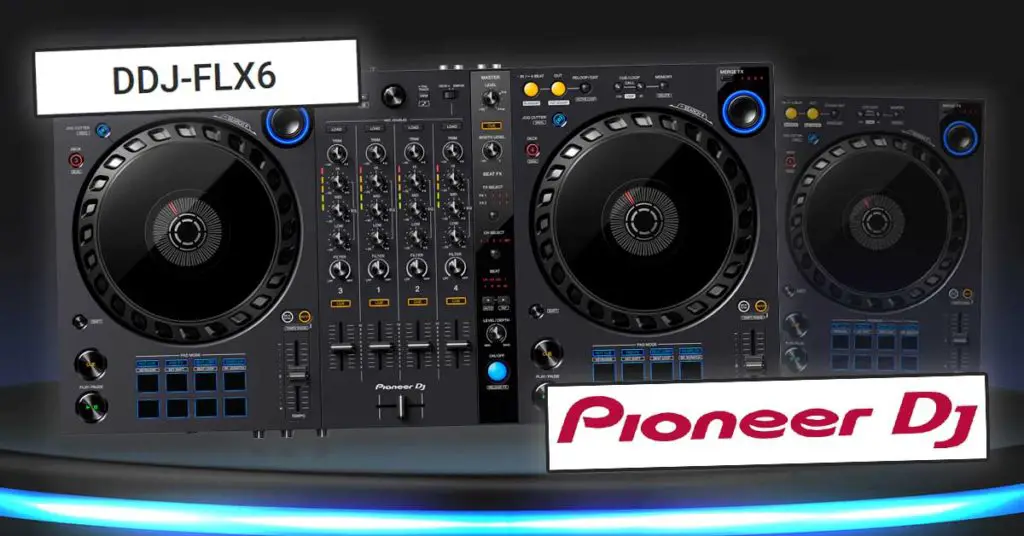 Having access to 4 mixer channels, you are able to simultaneously play 4 tracks. Of course you won't be using this functionality all the time, especially if you're just starting out.
Multi-channel mixes or mashups can generally get pretty complicated and as a beginner you shouldn't stress too much about these.
In many 4-channel devices you can also assign the channels 3 and 4 to the sampler or the microphone output and for example use audio effects on those inputs. This of course depends on the DJ controller of your choice, as different DJ controllers have different internal audio routing options.
Additional mixer channels can also give you the opportunity to utilize other input devices such as CD players, turntables and more. This however works only if your controller's mixer has appropriate additional audio inputs for this purpose.
Some higher-end DJ controller mixer sections can function in a standalone mode (they can work as a regular audio mixer utilizing its audio inputs and outputs when the controller isn't connected to a computer).
Most of the entry-level controller mixers won't have additional outputs and inputs and will allow you to control only the audio coming from your DJ software.
Controllers with standalone audio mixers built in will generally be above the average price point of general entry-level DJ gear.
Moving towards more advanced gear
It's a common thing to move on to more advanced DJ gear when you outgrow your entry-level controller after learning the basics of DJing. You can also start off with a slightly more expensive DJ controller that will allow you to skip the upgrade process entirely.
As per online testimonies, most people that don't lose interest in this wonderful hobby that is DJing, outgrow their first entry-level DJ controller in less than a year.
If you're set on your goals we believe that jumping straight into a higher end DJ controller can actually be very beneficial for you (we of course still suggest the Pioneer DDJ-1000 if you prefer to go big from the beginning).
The great thing about this is that although DJ controllers like the DDJ-1000 can look quite intimidating, they are in fact just as simple to use as the entry-level gear. Most of the price differences are connected with better build quality, better components, additional functionality that usually is there to make your life and job easier and additional features such as more advanced audio FX and track control functions.
If you're really into DJing, and you're set on pursuing DJing as career or as a hobby, you can't go wrong with jumping straight into the world of so-called professional DJ controllers. Below we list 2 great popular units that pretty much are current Pioneer DJ flagships in terms of non-standalone DJ controllers.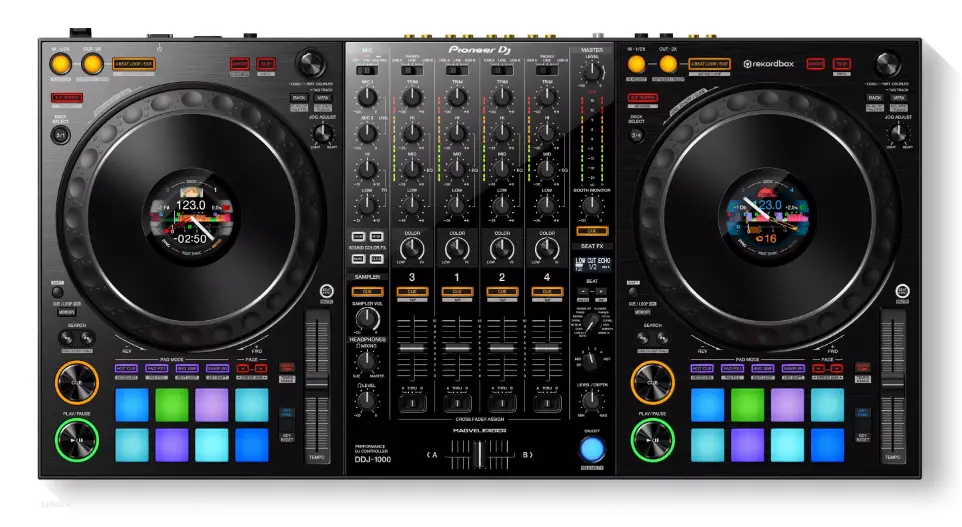 The Pioneer DDJ-1000 is now pretty much a flagship Pioneer DJ controller. While the price point may be pretty steep for some, you can't really get more than this for now in terms of standard non-standalone DJ controllers.
DDJ-1000 comes both in dedicated Rekordbox variant (regular DDJ-1000) and Serato DJ compatible version (DDJ-1000SRT).
The DDJ-1000 both in terms of layout and present features closely resembles the CDJ-2000NXS line of flagship Pioneer CD players, alongside with DJM mixers. This is definitely the best choice and if you've got the money and you're set on getting the best DJ controller from this list, in our humble opinion this is the one!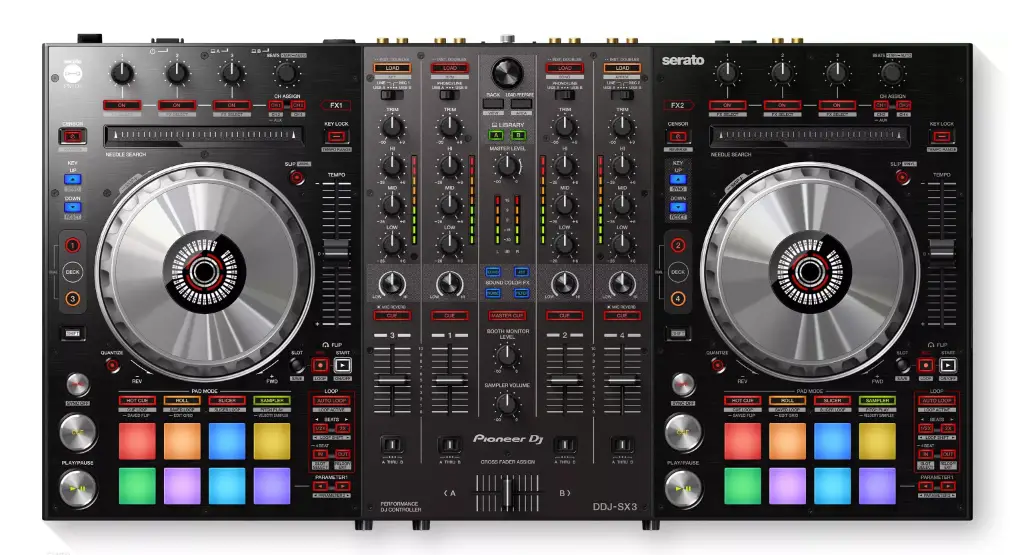 In a sense the only direct competitor of the Pioneer DDJ-1000 (excluding the standalone Pioneer XDJ-XZ) is the DDJ-SX3.
Pioneer DDJ-SX3 is a dedicated Serato DJ controller that is a latest controller from the SX series that have persisted on the market for over a decade long.
Again, this 4-channel DJ controller is made with Serato DJ software in mind, so both the button layout and device's functionalities will be geared towards Serato DJ software features.
Nevertheless this is a great pro-level device that takes one of the top places in the consumer market since its release in 2018. You should definitely check it out!
Things to keep in mind
You have to remember that while your DJ controller and your laptop are the core parts of your DJ equipment setup, you still need things like headphones or monitor speakers, PA system and all the required audio cables.
It's easy to omit both costs and importance of these seemingly less needed things so make sure that you think ahead!
If you want more help with building your DJ setup, check out our helpful guide on just that: What Equipment Do You Need To DJ? (2022 Beginner DJ Gear)