DJ Gear For Beginners? What equipment do beginner DJs need? When starting out It's essential to choose equipment that will enable you to begin your DJing journey with ease. It's easy to make mistakes when choosing your first equipment set without prior knowledge so the main purpose of this article is to inform you what are the basic parts of a DJ controller setup that you will need to get to start DJing.
Here we will present to you all the necessary equipment to get started alongside with our recommendations!
[this article features Ebay & Amazon affiliate links]
This article features a description of a basic set of equipment for a digital DJ and it focuses solely on DJ Controller setups – we've purposely omitted larger DJ setup recommendations (such as CDJ setups or DVS setups). Beginners in general prefer to start learning using a controller and a few accessories rather than a bulky and usually expensive tour setup, and rightfully so – this most often proves to be the best way to start out.
Of course you have an option to start building a full DVS turntable setup or a set of industry standard CDJ players alongside with a DJM or a VJM mixer. This article however takes a presupposition that you want to take your first steps into the world of DJing without spending a fortune on DJ gear.
Nowadays it's often best to start learning how to DJ on a controller and then eventually move on to more sophisticated setup as you progress with your skills. Unless you really want to start off with a digital vinyl system you should learn the DJing basics on a controller first.
So the first step is choosing your DJ software and getting your first DJ controller:
What DJ software do I need?
It really depends on the specific controller you are going to choose in the end. Many modern DJ controllers are designed to work best with a specific piece of software and come bundled with a specific software license.
The most popular pieces of DJ software are for the moment: Serato, Rekordbox, Traktor, and Virtual DJ.
Your software choice can be naturally influenced by your controller choice. For example most Pioneer DJ devices will allow you to use their full functionality only with Rekordbox or Serato, and Native Instruments devices will have the best compatibility with their own manufactured software – that is Traktor.
Can I DJ With Just A Laptop? – Do You Really Need A DJ Controller?
In cases of some DJ software such as Traktor or Virtual DJ you will be able to use any controller you want, as the majority of modern controllers use the MIDI standard to communicate with your PC over the USB cable connection, so many of the hardware buttons can be freely programmable if the software allows it.
If you want to use either Traktor or Virtual DJ with your new DJ controller you should check if your controller is officially supported or is there is a good MIDI mapping for the particular controller available online. While you probably could do the whole mapping process from scratch it's certainly not a process that is beginner friendly.
While Virtual DJ and Traktor allow you to freely modify your controller's MIDI mappings (what each button on the controller does in the software), Serato and Rekordbox allow only the use of officially supported devices (the list of which you can check on respective manufacturer's websites).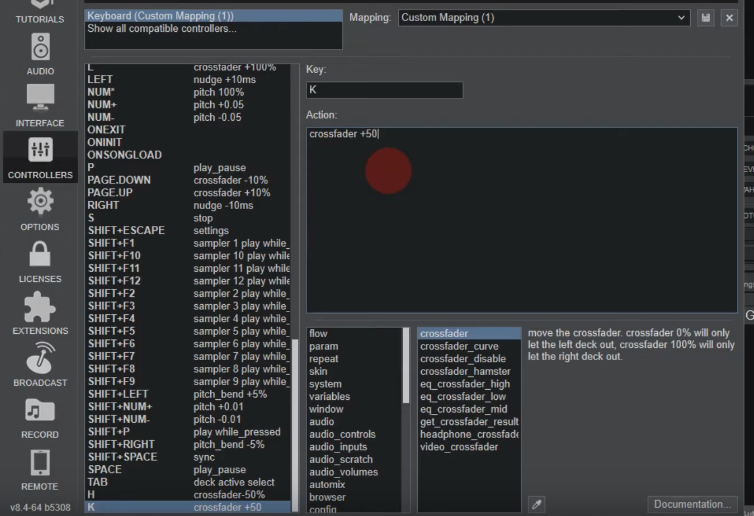 In some cases even if a controller is made for a specific piece of software in mind, the device producers can craft official MIDI mappings for other software products and make them available online. That was the case for instance with the original DDJ-SX controller which while made to be used with Serato DJ also had an official Traktor DJ mapping available for download on the Pioneer DJ website.
Most of the time your newly bought DJ controller will either activate specific DJ software when being plugged into your computer (controller will act as an activation dongle) or the product package will contain further instructions on how to activate the software license. This can be the case only if a particular software license is bundled with the device.
Remember to check if the controller of your choice comes bundled with a software license or not. If it does not you may be required to purchase a software license separately.
Be sure to also check the software compatibility before buying your DJ controller if you prefer to use any particular DJ app. If you don't have a preference yet we suggest to seek controllers compatible either with Rekordbox or Serato DJ as those are the most popular pieces of software right now, arguably have the best online support and are quite simple to use. Other popular alternatives are Virtual DJ or Traktor mentioned before.
If you decide to use your new DJ controller with software that it wasn't designed for chances are you're going to run into some configuration problems. To prevent this it's best to search online for the already existing software compatibility issues connected with the controller of your choice. It can save you some hassle later on!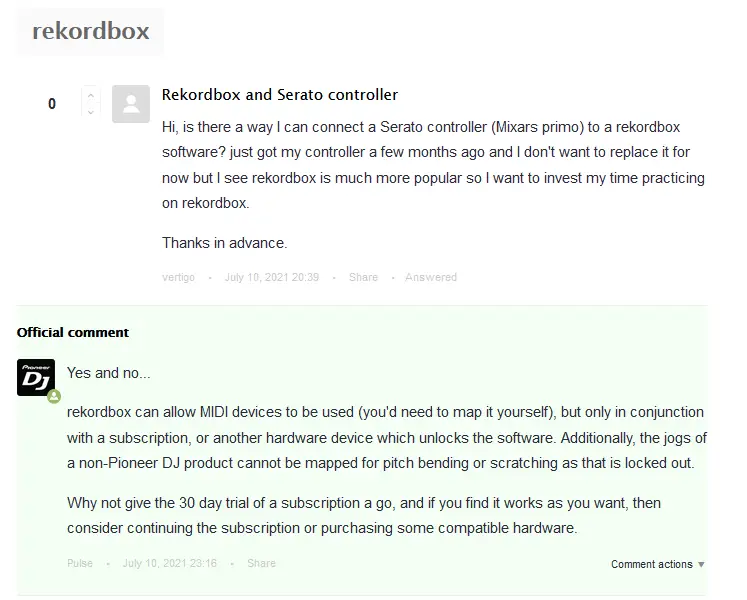 What DJ controller should You choose when starting out?
Essentially when it comes to DJ controllers you will have to choose between entry-level controllers that are usually pretty cheap but may lack some features present on more advanced devices, and the controllers that are more expensive and have more features on board, and therefore are considered more future proof than their cheaper alternatives.
-> How to DJ: Masterclass – Everything you need to know to become a performing DJ! <-
If you get startled by the looks of more complicated, more pricey devices don't worry – both starter entry-level controllers and more advanced ones are actually equally easy to use, as they both rely on a standard mixer/deck functionalities and all the additional options you get with the higher price tag are there to make your job easier or enable you to reach for more creative mixing techniques.
Whether you think about getting your first DJ controller or you are already waiting for your device to arrive you might want to check out our complex guide on DJ controllers here: DJ Controllers Explained! (What Do All These Buttons Do?)
How much does DJ gear cost anyway? (DJ Controllers)
While it's hard to pinpoint an exact average price of a DJ controller because of many technical factors that have to do with the final product price, buying a DJ controller can be an expense somewhere between about 200$-500$ for a brand new entry level DJ controller to 1000$ and up for 4-channel controllers with more advanced features.
Laptop or laptop-less approach?
Generally there are two types of DJ controllers – those you can use only with your laptop, and those that can be used both with a laptop connected and as a standalone DJ setup with your music supplied on an USB drive connected to the controller. The latter are usually a bit more expensive, although that's not always the case.
Standalone DJ controllers always feature LCD screens on which you can control the track positions and browse through your music library.
If you're interested in standalone DJ controllers you can check out the Pioneer XDJ series – for example the Pioneer XDJ-RR.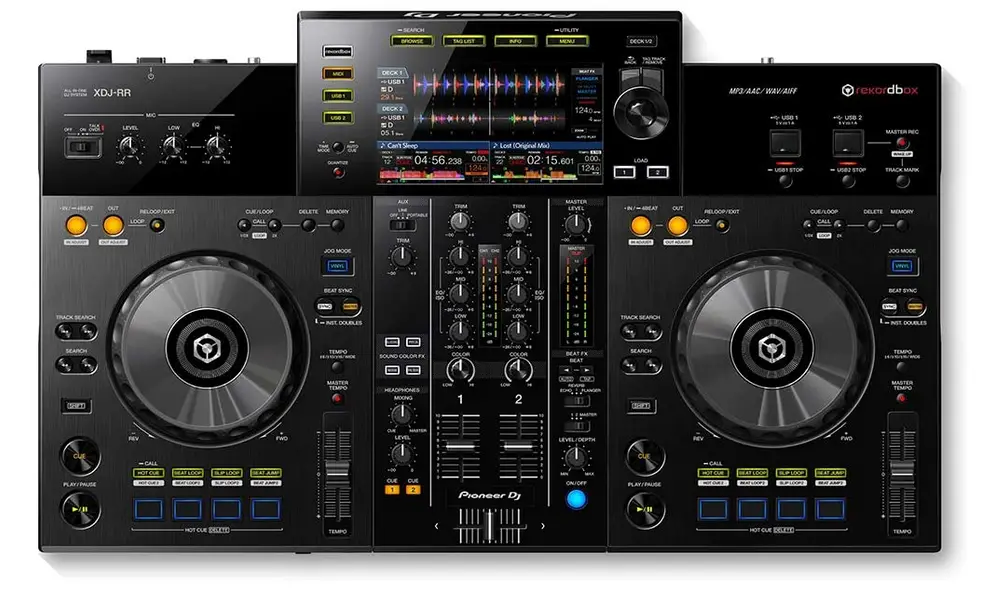 Here we will focus on the most popular controllers that are meant to be used alongside your laptop. This is often the better choice for beginners as you are able to mix and experiment with all the tracks on your hard drive and you are not limited to the tracks exported on your USB sticks.
A built-in sound card?
When researching various DJ controllers you might come across the term "features a built-in sound card".
This simply means that the unit processes the audio signal internally and has its own dedicated audio cable outputs. If a device does not have a sound card built-in then it has to rely on the laptop or mobile device it's connected to for outputting audio signal.
Some smaller portable mobile DJ devices such as the Pioneer DDJ-200 or the Numark DJ2GO2 don't have a sound card on board simply because of their pocket size factor. To connect those devices to a bigger sound system (so in truth connect your laptop to it) you might need an external mixer with an amplifier.
How many channels do You need on Your DJ controller? (2 channels vs. 4 channels)
Most of the DJ controllers on the cheaper side will have feature "only" 2 mixer channels. This means that you won't be able to mix more than two songs at the same time if the controller doesn't feature any artificial multi-deck functionality (deck changing buttons with mixer control override like in the Pioneer DDJ-SB series).
Having two mixer channels doesn't necessarily make your setup less professional, in fact, scratch DJs traditionally usually utilize only two mixer channels in their scratch sessions and performances.
Having more than 2 channels available is a great bonus, as you can not only mix more tracks at the same time with ease, but sometimes also plug additional devices into your DJ controller's mixer if your controller's mixer has appropriate inputs in place.
If your device does support additional mixer audio inputs you can for example incorporate vinyl record players or CDJ players into your setup. In some cases it's also handy to have a spare channel on your mixer for plugging in your microphone directly into your controller.
If you feel like you might want to do multi-channel mixes at some point in time (which require more than 2 channel on hand) or you just want to have more flexibility in the near future I suggest you to jump straight to the Best starter 4-channel DJ controllers section of this article a few sections below. 4 channel mixer on your DJ controller will also certainly make your setup more future proof.
Best 2-channel DJ controllers for beginners: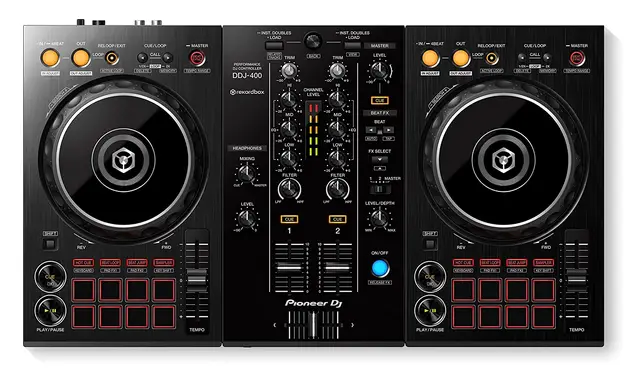 When it comes to starter entry-level DJ controllers one of the most popular choices seems to be the Pioneer DDJ-400. This two channel controller is a big step up from the Pioneer DDJ-200 which is quite limited feature wise, although slightly cheaper and more portable.
Pioneer DDJ-400 features an easily accessible pad mode switches, loop control section modeled after the CDJ series alongside with the cut down version of DJM mixer audio FX section – those are the most important features that aren't present on the slightly cheaper and smaller DDJ-200.
Click here for a detailed comparison of the DDJ-200 and the DDJ-400!
For various reasons pointed out in our head-to-head DDJ-200 vs. DDJ-400 comparison we advise to go for the DDJ-400 instead of the DDJ-200, it's a much better choice for a beginner with it's current feature set.
Check the current price of the DDJ-400 here.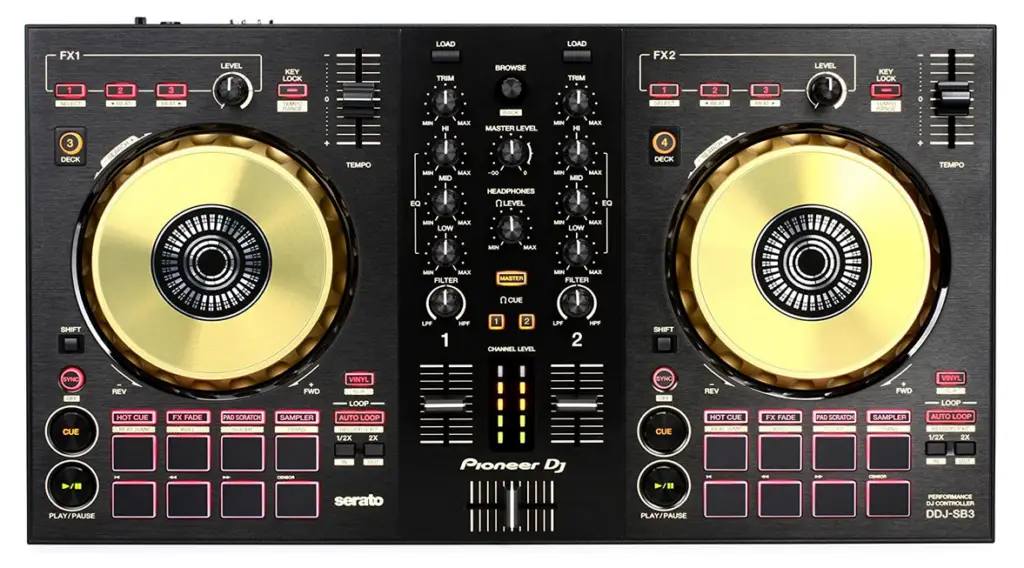 The Pioneer DDJ-SB3 is a great entry level device that differs a bit from the DDJ-400. The first and major difference is the native software support – DDJ-SB3 is a dedicated Serato DJ controller.
Furthermore, different from the DDJ-400 the device features multi-deck functionality that enables you to simulate playing on 4 decks by switching the deck control using provided deck number buttons. Besides, it also has an interesting beginner friendly auto-scratch pad mode and convenient FX fade function for simple half-automated track transitions.
Overall if you prefer Serato DJ (lite version comes with the DDJ-SB3) over Rekordbox (that is native software for the DDJ-400) you might want to consider getting this unit as it comes with the Serato DJ Lite license.
Check the current price of the DDJ-SB3 here.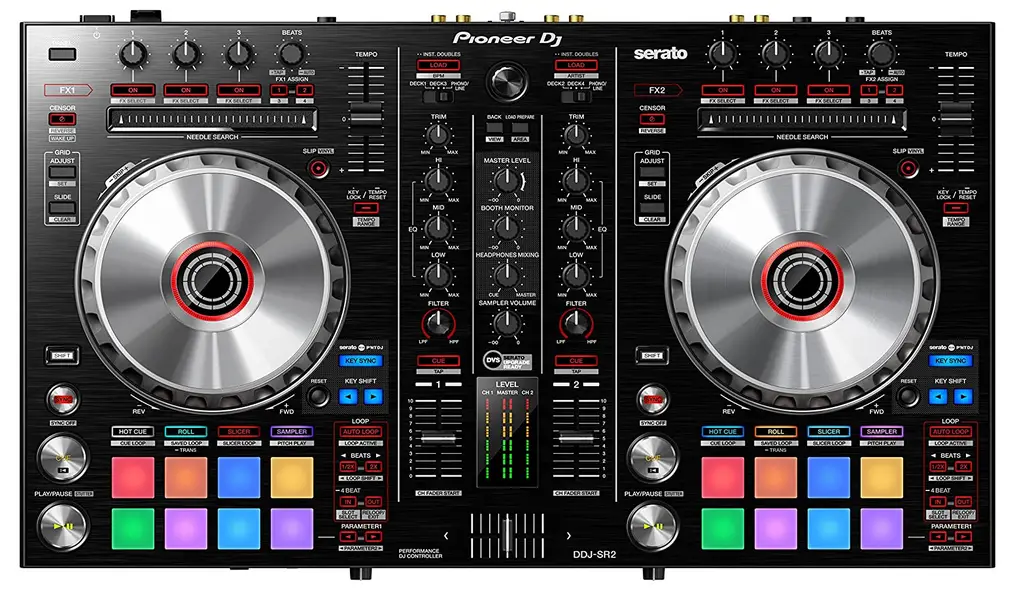 The DDJ-SR2 is another good popular controller choice for beginners and feature wise a huge step up from the two devices mentioned before.
The unit features a nifty needle search touch bar for moving through the track in a quick manner, dedicated buttons for Serato Pitch n' Time functions like changing the key of the currently playing track (!), beat grid adjustment buttons, color coded performance pads, full fledged loop section taken from the traditional Pioneer DDJ-SX controller series layout and to top it all off the censor/reverse button is also present here unlike on the previously mentioned devices.
This controller has of the most feature packed layouts from the two controllers that we mentioned before, the layout that closely resembles the professional Pioneer DDJ-SX series. If you want to go for the most feature packed controller of these three then this is the way to go.
The DDJ-SR2 is also like the DDJ-SB3 natively a Serato DJ controller.
Check the current price of the DDJ-SR2 here.
Best 4-channel DJ controllers for beginners: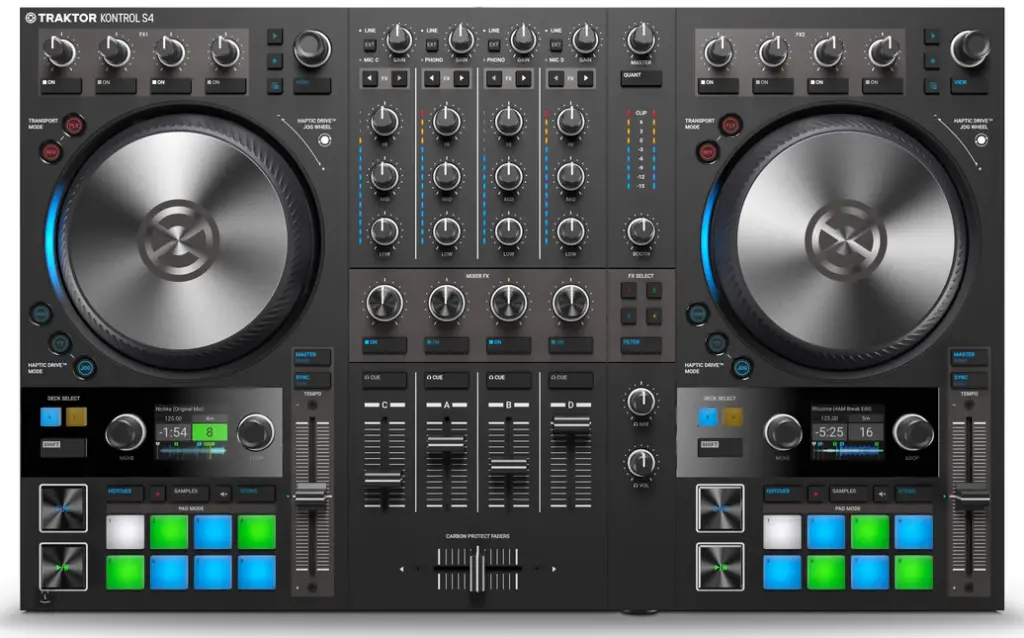 The Traktor KONTROL S line is a DJ controller series that is designed to be used with Traktor DJ software. The devices are small in size, the layouts are really well thought out and the Native Instruments brand has very good reputation in the DJ market.
As this controller is made with Traktor in mind the software integration is almost flawless. This is also one of a few devices of this size that features fully motorized adjustable jog wheels that imitate a vinyl record behavior.
If you think you'd prefer Traktor as your daily driver DJ software then this device series is definitely the way to go.
Check the current price of the TRAKTOR KONTROL S3 here.
Check the current price of the TRAKTOR KONTROL S4 here.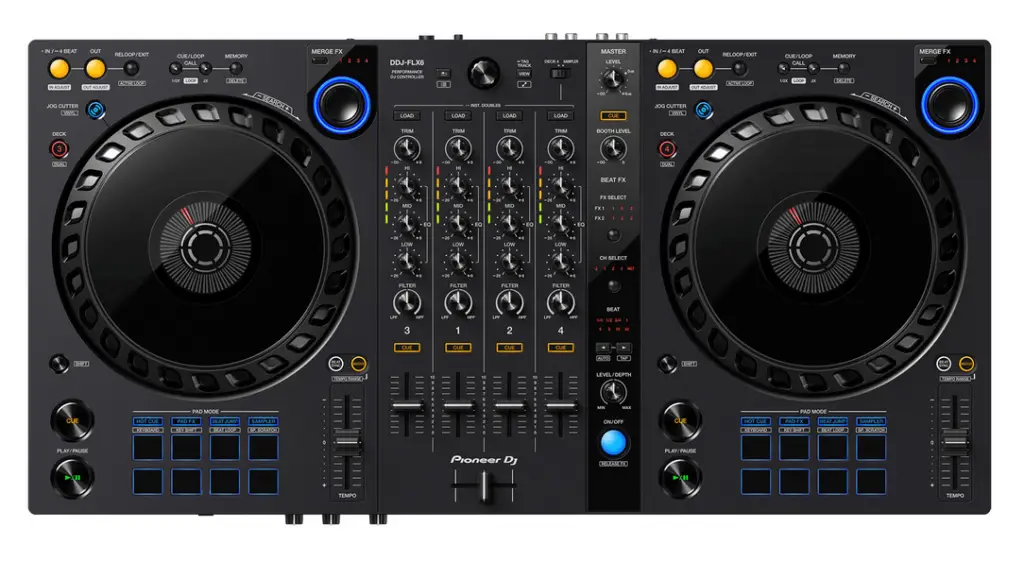 DDJ-FLX6 is a relatively cheap option for those of you who want a full-fledged 4-channel DJ controller with full sized jog wheels and front panel, for around double the price of the DDJ-400.
Check out our detailed review of the DDJ-FLX6 here: Pioneer DDJ-FLX6 – DJ Controller Overview
The unit features adjustable jog wheel resistance, a cut down Sound Color FX section taken from the Pioneer DJM mixer series and brand new "Merge FX" and Jog Cutter functions which are geared towards beginner DJs. Above all this you can also benefit from using the multi-deck functionality while using this controller (including dual deck control mode).
The DDJ-FLX6 works out of the box both with Rekordbox and Serato DJ Lite.
Check the current price of the DDJ-FLX6 here.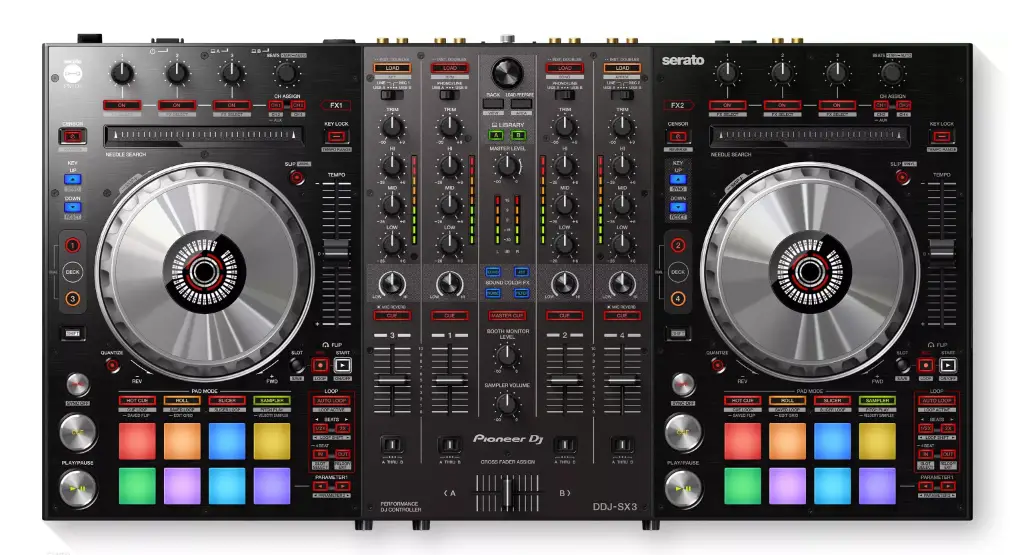 DDJ-SX series is one of the best known Pioneer DJ controller lines. The DDJ-SX3 is the latest unit from the bunch featuring all the improvements made since the emergence of the first DDJ-SX controller back in 2012.
Although this line of Pioneer controllers doesn't feature the famous Sound Color FX mixer section or full sized jog wheels it has almost all the functionalities of the models mentioned before served in a easy to grasp button layout, plus it's mixer section can function as a standalone mixer unit. One can think of this device as the older brother of the 2-channel DDJ-SR2.
This alongside with the DDJ-1000 described below is definitely the controller that you should choose if you want to ensure that your setup can be future proof.
The DDJ-SX3 is a dedicated Serato DJ controller.
Check the current price of the DDJ-SX3 here.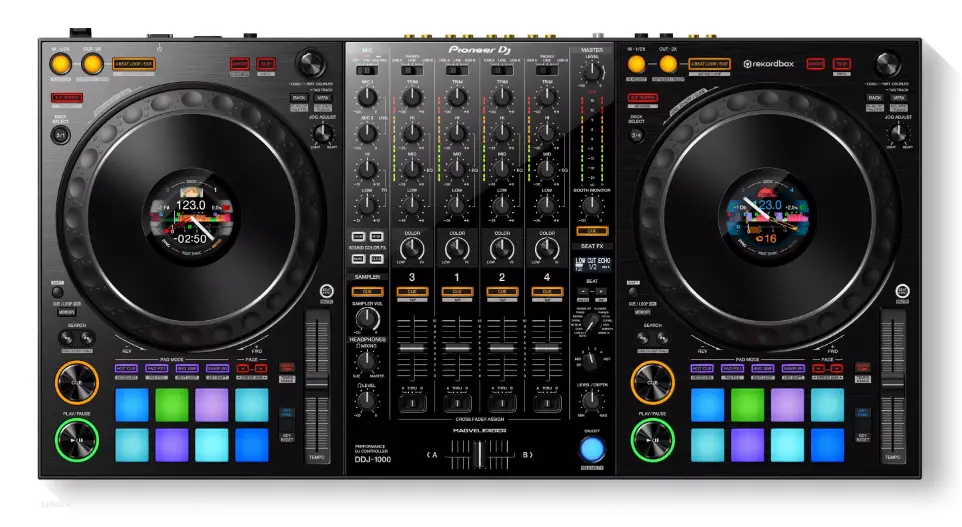 Finally, the DDJ-1000 is a huge step up from all previous devices and frankly speaking our go-to choice when it comes to a perfect DJ controller in the current year.
It features full sized jog wheels (same ones that the CDJ series use), the full Sound Color FX mixer section taken from the DJM line of Pioneer DJ mixers, detailed jog wheel LCD displays and it offers tremendous amount of nifty features based on the main line of club industry standard Pioneer CDJ players. The unit's mixer can also function in a standalone mode just as in the DDJ-SX3.
The Pioneer DDJ-1000 is a Rekordbox controller, although there is also the DDJ-1000SRT version that is designed to work with Serato DJ (and it has almost the same layout and feature set).
Check the current price of the DDJ-1000 here.
Cheaper DJ gear alternatives
While we don't really advise to start out your DJing journey using small pocket sized portable DJ controllers those might be an interesting option for you if you are on a really tight budget.
Keep in mind however, that using these types of devices is almost nothing like using the "real deal" full sized DJ controllers with all the crucial features present.
If anything, using these tiny portable devices is much harder than using a basic entry level 2 channel controller as you simply don't have access to many essential hardware features (such as full EQ section, full sized tempo sliders and library controls and so on).
Controllers like the Numark DJ2GO2, Hercules DJControl Inpulse 200, or the Hercules DJ DJControl Starlight enable you to control the basic functions of your DJ software using physical buttons and faders for a cheap price and you can use all of these controllers with Serato DJ Lite software out of the box.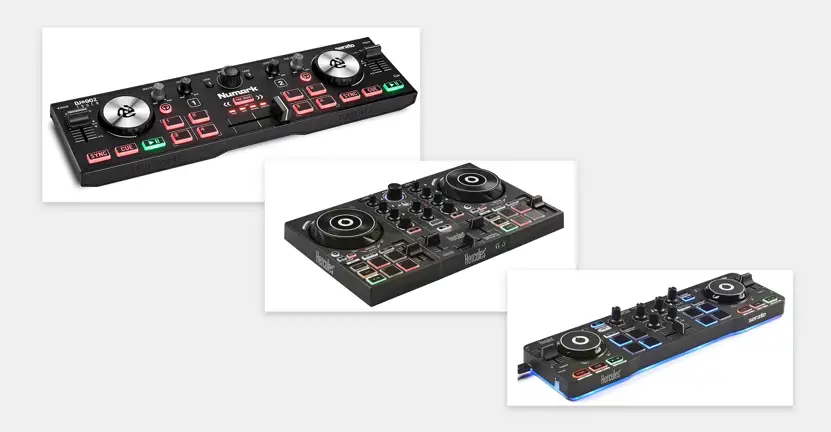 Can I buy used second hand DJ controllers online?
There are many opportunities to buy used DJ gear online and many of these are probably worth your attention if you are on a tight budget, but as with buying any professional equipment from a previous owner there are many things that you need to know and check before buying second-hand DJ gear.
Fortunately we already have a short and to the point guide on buying used DJ gear online, check it out here: Buying used DJ equipment – what exactly to look out for!
Headphones for DJing
We'd be lying if we said that you cannot use any of the spare headphones laying around your house for mixing and be successful. However remember that during your sets and mixing sessions you will be using your headphones often and for really long times so make sure that you are comfortable with your current headphones model.
Be sure that your headphones are well fit, that you have a cable that is long enough to give you space for free movement and that your headphones are not going to tire out your ears after long hours of mixing.
The Audio-Technica ATH-M30X headphones have all of these characteristics, are really high quality while staying on the cheap side and treated correctly can serve you for a very long time.
On the other hand if you want to go all out, there are the famous Pioneer HDJ-X10 headphones that are one of the best models you can get with high quality audio, sturdy build and comfortable universal fit.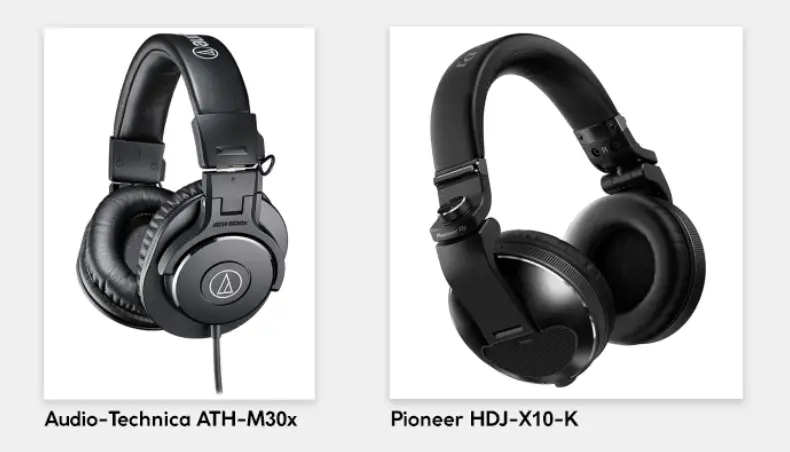 Remember that DJ headphones are pretty much a one-time buy. Unless the cable gives out at some point (and we all know that might happen) after buying a pair of good quality headphones you will be able to use them for a long time both for mixing, music production and during your music discovery sessions. It's best to invest in a quality versatile model that will last you a long time.
Speakers & essential cables
You will also have to get some speakers to plug your DJ gear into and if you don't have some on hand already the best choice are small studio monitor speakers because of their versatile nature and studio sound output quality.
KRK Rokit series speakers and the slightly cheaper model with about the same qualities – Pioneer DM-40 monitor speakers are examples of good studio class audio monitors that you can use not only for DJing but also for music production.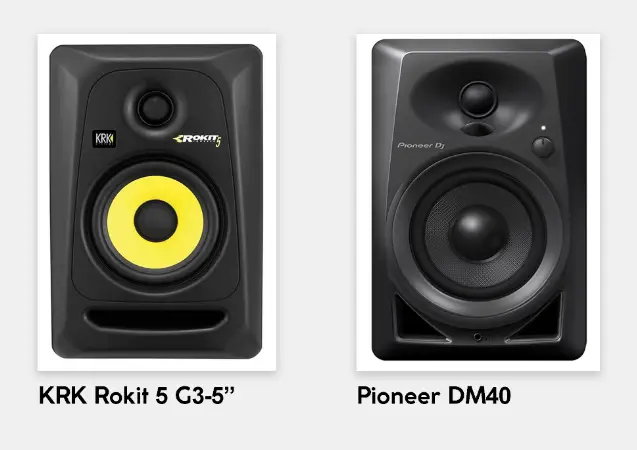 Once you get your monitor speakers in most cases you will be able to connect them to your controller using RCA or XLR cables. The cable choice naturally depends both on your controller's available audio outputs and the monitor speaker's inputs.
If your DJ controller features only RCA outputs at some point you might also need an RCA-XLR cable for connecting to a sound system or an external audio mixer taking only XLR inputs.
The cables are rarely bundled with monitor speakers so be sure to get appropriate cabling alongside your speaker set.
Can I use my new DJ gear with the speakers I already have at home?
While you can get a pair of professional monitor speakers for as low as $150, you can also consider using any kind of lower quality speakers you have at hand at the moment if you're not willing to make the expense yet.
If you decide to do so, you need to keep two things in mind: first of all the sound quality of non-studio grade speaker sets varies greatly and most probably while the speakers you'll find at home will be sufficient for mixing they certainly might not be enough if you'd plan to later use them for music production.
Second of all remember that to connect your DJ gear with RCA output to a set of speakers that takes in only line in jack input (and many simple external PC speakers or portable speakers tend to do that) you will have to buy a cheap 3.5mm to 2-Male RCA audio adapter cable for a few dollars.
This cable is pretty much essential as it's almost guaranteed you will have to use it at some point. Many consumer grade audio devices and speakers you'll come across won't take any other input than the 3.5mm jack so it's best to come prepared!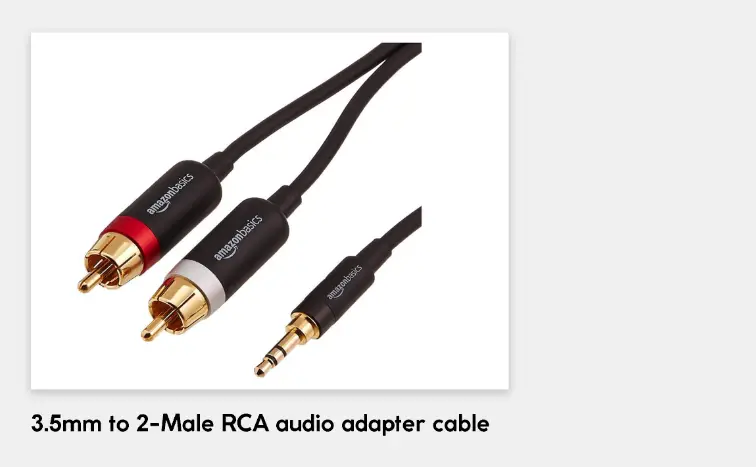 We won't be talking about PA systems or portable speakers here but bear in mind that if you are eventually going to move away from mixing in your home to mixing outside then at times you will have to take care of the sound system by yourself. A Bluetooth speaker, portable PA system or a full on professional PA system with stands and external power is a must when mixing out and about.
Gear list – equipment recommended in this article:
Here are all the gear links from the article compiled in an easy to search through list. All of the products are available on Amazon. Feel free to use those as a starting point for your further research and for DJ controller comparison:
2 channel DJ controllers:
4 channel DJ controllers:
Cheap portable DJ controllers:
Recommended DJ headphones:
Recommended DJ monitor speakers:
Cabling (Controller to speakers) [Double check which cables you need as those depend on your controller audio outputs and your monitor speaker inputs. Also remember to choose appropriate cable lengths for your mixing environment.]
In conclusion:
The only things you really need to start out is a DJ controller, headphones, speakers and appropriate cabling to connect your speakers to your device. In many cases when you want to save money you can simply use headphones and speakers you already have at home if you are able to use them with your new gear.
Remember that the most vital part of your setup will be your DJ controller. We advise you to go through the list of available controllers and carefully compare the models in your preferable price range.
Although in this article we've mostly focused around Pioneer equipment, Numark DJ is another great DJ gear brand that might be of interest to you if you want to get quality DJ gear on the cheaper side.
Remember to always do thorough online research before making a final purchase and if you have any questions about further recommendations or technical issues feel free to ask in the comments below. Rock on!