Are you looking for a versatile and beginner-friendly DJ controller? Well, look no further than the Pioneer DJ DDJ-FLX4. This device offers a range of features perfect for any novice DJ, including the Smart Fader and Smart CFX features that are exclusive to this piece of gear from Pioneer DJ. Whether you're just starting out, or looking to upgrade your equipment, we're here to take a closer look at this small yet beautiful beast. Is it really worth getting? Let's see if the Pioneer DDJ-FLX4 is the right choice for you!
[this article features Ebay & Amazon affiliate links]
Pioneer DJ DDJ-FLX4 vs DDJ-400: Layout and design changes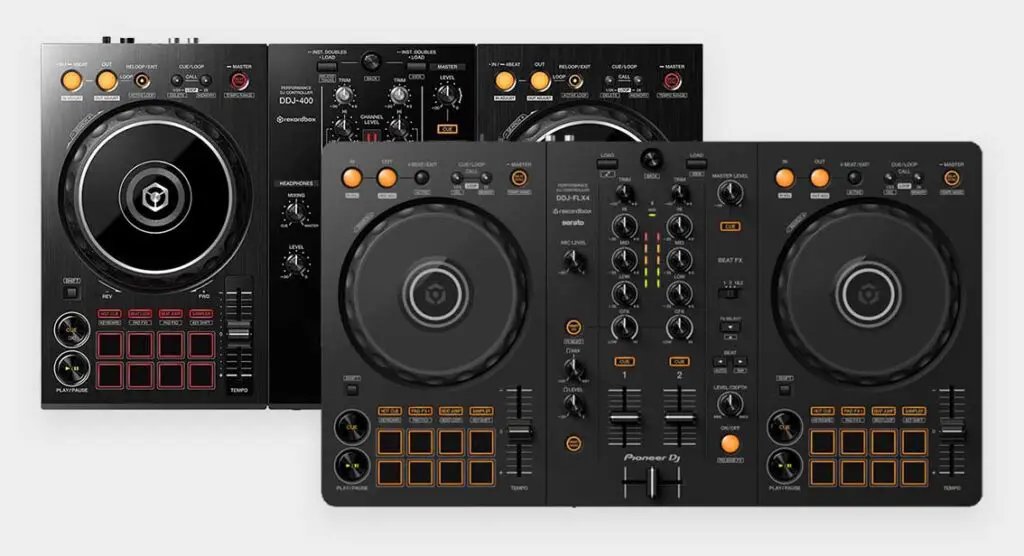 The Pioneer DDJ-FLX4 is the latest addition to Pioneer's lineup of beginner DJ controllers, and it's meant to replace the ever-popular DDJ-400 model after its discontinuation. So, how does the FLX4 compare to its predecessor?
Both controllers feature a club control layout, resembling a Pioneer CDJ x DJM equipment setup. Where the controllers do differ though is first in the design choices regarding their front panels. While the DDJ-400 went with the "classic" deep black Rekordbox branding finish, the FLX4 is more similar to the previously released controller from the FLX series. Its smooth matte finish is a direct reference to the one present on the Pioneer DDJ-FLX6.
Pioneer DDJ-400 Discontinued (What's Next?)
In terms of connectivity, the DDJ-FLX4 has an USB-C port and built-in Bluetooth, which the DDJ-400 does not have. Currently, there are no real uses for the BT connection on the device, however in the future when the new Rekordbox mobile DJ app is released, the FLX4 might rely on it for communicating with your smartphone or tablet. The DDJ-400 features only a single standard USB cable output.
One of the biggest selling points of the DDJ-FLX4 is that it works with both Pioneer DJ's Rekordbox software and Serato DJ Lite. This means that when using the device you can try out both software options and decide which one you prefer before committing to a specific platform.
This is great news for those of you who don't really have previous experience with any DJ software. Keep in mind that Rekordbox and Serato are two most popular options on the market when it comes to DJ software, at least as for now. The DDJ-400 sadly is not compatible with Serato DJ. More on that later.
Overall, the DDJ-FLX4 offers a few new features and improvements over the DDJ-400, making it a solid choice for beginner DJs who are looking for a versatile and easy-to-use controller. However, if you're on a tight budget, don't need all the extra features and are able to find the DDJ-400 used for a good price, it's still a great controller to have.
You can check out all the offers for used DDJ-400 units here over on Ebay.
Software compatibility & connectivity
As we've already mentioned, the Pioneer DDJ-FLX4 is compatible with a variety of DJ software, including Rekordbox and Serato DJ Lite out of the box, with the possible paid upgrade to Serato DJ Pro.
In contrast, Pioneer DDJ-400 only works with Rekordbox. Both DDJ-FLX4 and DDJ-400 can be used with Virtual DJ (with an appropriate VDJ licesnse purchased) and Traktor DJ software (provided you have an appropriate control mapping on hand).
Other than that, FLX4 features the USB-C port used for connecting it to various compatible devices, a port that supports pass-through charging which is a pretty nice feature.
The Bluetooth connection is also in place on the DDJ-FLX4, although it's not yet utilized anywhere. The controller is supposed to work with the new Rekordbox mobile app, which is expected to be released somewhere in the first half of 2023.
Jog Wheels: Light and responsive, but not ideal for scratching
It has medium-sized jog wheels which are about ~5.19 in (132 mm) in diameter, with good resistance and covered in a unique matte finish. While they don't really differ much from those present on the DDJ-400, they feel equally good to use.
Pioneer DDJ-FLX4 vs. DDJ-Rev1 (Which One Is Better?)
If you're searching for a similarly priced DJ controller geared more towards scratch DJs with a little bit larger jogs, we recommend you check out the Pioneer DDJ-Rev1.
Smart CFX & Smart Fader – exclusive FLX4 features
Pioneer DDJ-FLX4 has two exclusive unique features that are really fun to use. The first one – the Smart CFX (Color FX) knobs, and the second – the Smart Fader crossfader mode.
Smart CFX works by combining multiple effects into one CFX knob in form of pre-made FX macro presets. With Rekordbox there are lots of CFX presets to choose from, starting from simple hi-pass/low-pass filters, through creative transition FX, up to complex pitch-based FX combinations.
The Smart Fader feature is designed to help beginner DJs mix different genres and track with varying BPMs more easily. It works by slowly synchronizing the tempo of two tracks playing while you move the crossfader to one side, and applying a neat echo effect at the end of your transition.
Both these features one of the largest selling points of the FLX4, as in conjunction with its Beat FX strip and easily accessible Pad FX modes they make this controller a real treat for every beginner DJ who likes to dabble in creative audio FX without much hardware constraints.
Price and availability
If we got you interested, you can find the DDJ-FLX4 here, in the official Pioneer DJ store over on Amazon.
Device:
Pioneer DDJ-FLX4
Photo:
Price:
– Check price on Amazon
– Check price on Ebay
Mixer Channels:
2
Control layout:
Club style.
Dedicated software:
Rekordbox, Serato DJ Lite (possible paid upgrade to Pro), Android & iOS devices support.
Jog wheels:
Capacitive, ~5.19 in (132 mm).
Audio FX:
Beat FX Strip, CFX, Pad FX, Smart Fader.
Finish:
Dark grey, matte.
Pioneer DDJ-FLX4 – features and availability.
Conclusion: Is the DDJ-FLX4 worth the price tag?
In conclusion, the Pioneer DJ DDJ-FLX4 is an excellent beginner DJ controller that offers many unique features, making it stand out in the market as the true replacement for the now discontinued DDJ-400. It's a neat upgrade from its predecessor, with the addition of Smart Fader and Smart Color effects which are great creative tools to have on hand.
Moreover, the controller works with multiple DJ software out of the box, including Pioneer DJ's Rekordbox and Serato DJ. One of the most significant advantages of the DDJ-FLX4 is that it allows beginners to test both most popular pieces of software and choose the one that suits them best. Overall, the DDJ-FLX4 is a great entry-level DJ controller that can help beginners develop their DJ skills with ease and without breaking the bank.
Pioneer DDJ-FLX4 on Ebay: