You might have heard the term "battle style layout" or "battle style DJ controller" lately, especially after the release of the Pioneer DDJ-Rev1 and DDJ-Rev7. We are here to explain what that's all about and why should you care!
[this article features Ebay & Amazon affiliate links]
What is a battle style DJ controller layout?
Simply put, a battle style layout is a way of positioning controls on a DJ controller that resembles a traditional battle style DJ setup. This term refers to a situation in which vinyl turntables in a performance setup are rotated by 90 degrees to provide easier access to turntable platters – this makes it much easier to perform on a vinyl turntable setup as the tonearm doesn't get in your way during your scratch performance.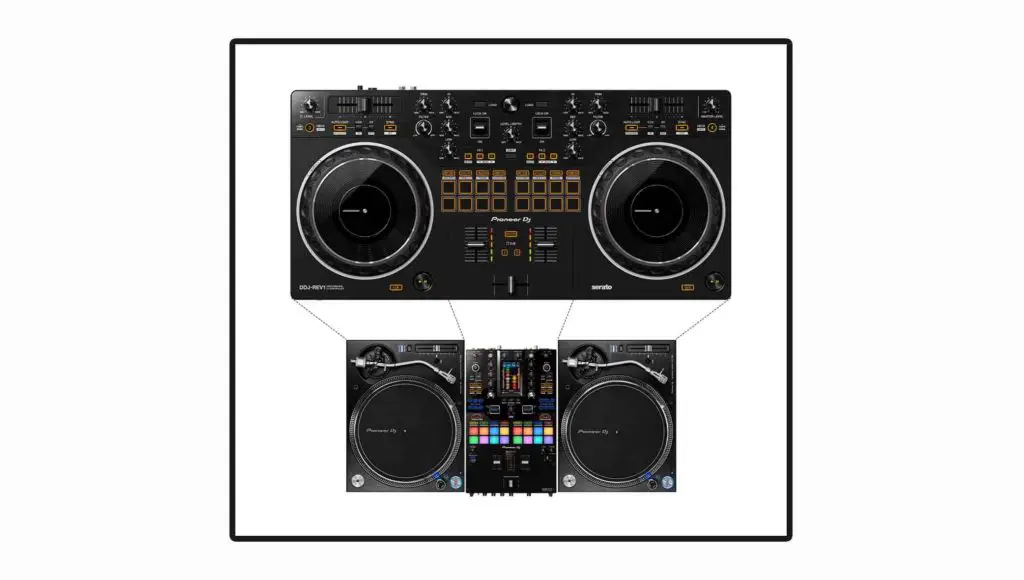 What is a traditional battle style setup?

As we've mentioned, professional scratch DJs will often set up their vinyl turntables and audio mixers in the battle style layout – that is in a way that allows them to easily access the platters without the turntable's tonearm getting in the way and with the play/pause button closer to the user. This is done simply by turning both of the turntables by 90 degrees counter clockwise so that the tonearm is located in the top of the setup alongside with the pitch/tempo fader, and the play/pause button faces the performer.
The battle style setup is just that – a DJ setup consisting of two vinyl turntables rotated by 90 degrees counter clockwise and an audio mixer in the middle.
The battle style layout makes it easier to perform intricate scratches as it gives you more space for your hand to grab the record.

DJ controllers with battle style layout
Pioneer DJ has recently released two new DJ controllers that feature the battle style control layout. Those controllers are the entry-level Pioneer DDJ-Rev1 and the more advanced Pioneer DDJ-Rev7 with motorized jog wheel platters.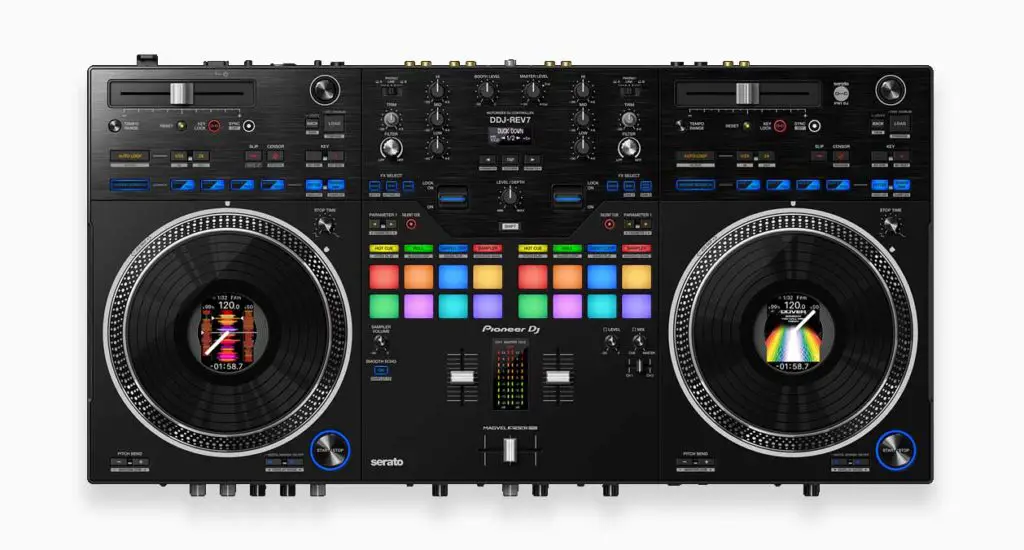 These controllers are great pieces of tech that bring the battle style layout experience to the world of professional all-in-one DJ controllers. You can read more about these in our reviews here:
-> New Pioneer DJ DDJ-REV1 – A Great Choice For Beginners? <-
-> New Pioneer DDJ-Rev7 – DJ Controller Detailed Review <-
What is the most popular alternative to the battle style layout?
The most popular alternative to a battle style control layout is the so called club layout – that is a control scheme that resembles two CD players (like the Pioneer CDJ-3000 for example) and an audio mixer in between them. This kind of CD player setup layout is most commonly used most commonly in club DJ booths, hence the name.
There are many DJ controllers made to resemble club player setups, great examples of these can be the Pioneer DDJ-1000, XDJ-XZ, XDJ-RX3, DDJ-SX3 and so on.
Battle style vs. club layout
When it comes to mixing experience, for beginners it's really similar both on the battle style layout controllers and the ones with the club layout.
In the end it all comes down to your preferences, and if you're just starting out, the choice between the two doesn't really matter that much. Keep in mind however that if you choose to go with the club layout, you might be just a little bit more confident when you'll attempt performing on an actual CDJ setup in a club environment.
Other than that, when it comes to DJ controllers the layout choice is purely an aesthetic and personal preference matter.