Common questions connected with the popular Spotify streaming service are: Can you use Spotify with your DJ apps or software? Can you legally use music from Spotify in any form during your gigs? Are there any legal and efficient ways to use Spotify for mixing music at all? We're gonna quickly go through all these questions now.
Updated: 30.12.22 by TS.
Can I use Spotify in mobile DJ apps or DJ software?
Sadly, nothing changed in that matter – Spotify officially revoked the support for all 3rd party DJ apps and DJ software back in July 2020 and it has stayed like this since then.
This means that as of now you won't be able to connect your Spotify account with any DJ app on Play Store, Apple Store or with any other DJ software on your computer.
Moreover, Spotify in their developer's policy specifically pointed out that implementing kind of audio manipulation or track blending functionality in DJ apps and software by the third party developers is also considered a direct violation on the developer's policy, therefore stating that creating any kind of 3rd party app enabling the user to mix, re-mix or blend Spotify tracks even when technically possible is considered illegal.
Here is a snippet from the official Spotify developer's policy page (17.11.22) containing info regarding this rule.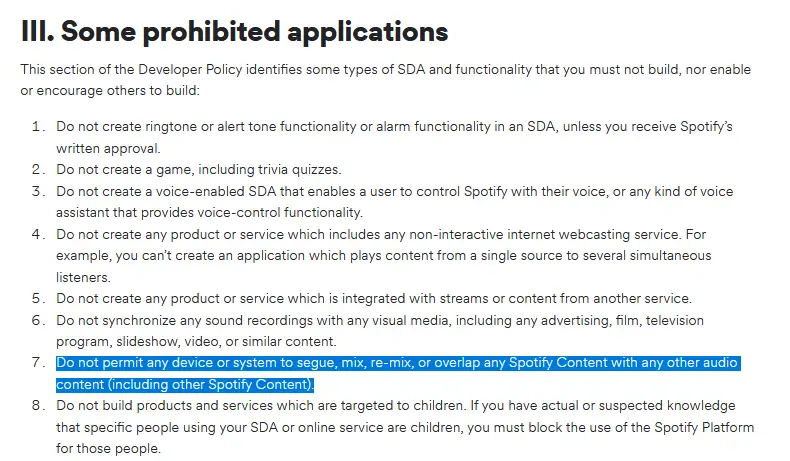 Can I DJ with Spotify at a private house party?
If the party you're attending/organizing is a small private party and you are not being paid for playing the music or charging people for entry, while you still legally could be in kind of a grey area, technically according to answers from Spotify community forums (back from 2012, 2013 and 2017) you are good to go.
According to Spotify TOS it's not legal to share the music from your account publicly but when it comes to small private gatherings of non-commercial nature you shouldn't face any problems.
Spotify even includes a Group Session Mode for collaborative playback management that seems to be crafted especially for those kind of occasions.
Check out the answer on the official Spotify community forum regarding this matter here.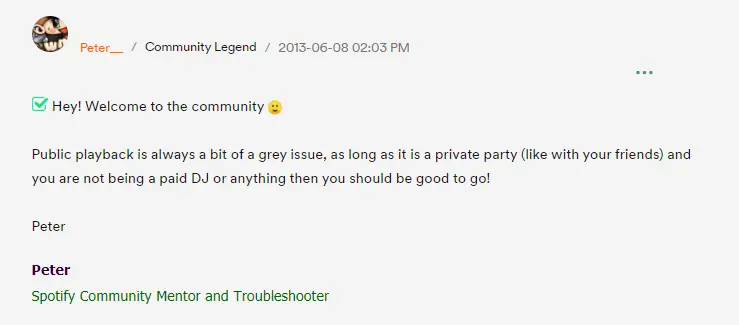 All things considered Spotify is meant only for private use and you are not supposed to play the streamed tracks in public places or broadcast them – this is considered a violation of the Spotify official end user agreement.
Can I use Spotify in my bar/pub or in another small business?
Unfortunately as we've said before according to Spotify TOS any kind of public playback is prohibited.
Personally I've been to many bars and pubs using Spotify as their main music source during the absence of a DJ despite it being a clear violation of the user end agreement. While playing the tracks from your personal account in a venue is an illegal activity many places still continue to do so.
You might save yourself some trouble by finding another source of music for your business. The solution that Spotify themselves offer as an alternative is Soundtrack Your Brand – a company that specializes in providing music for different types of venues.
An official Spotify statement (17.11.22):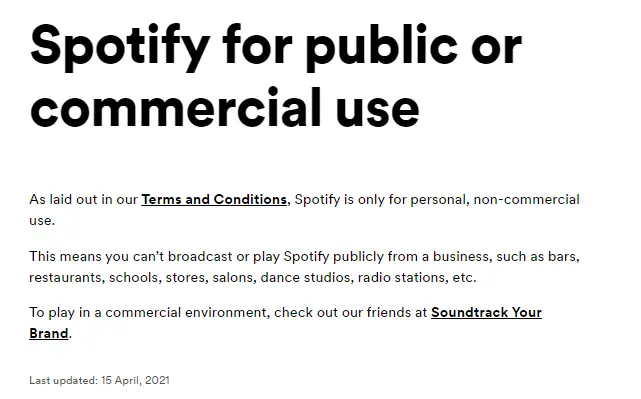 If you have more questions about music licensing for public use many of those are answered in detail on the cloudcovermusic blog, check out their article on this topic here: Top 11 Licensing Questions: How to Play Legal Business Music.
Can you really "mix" music using Spotify anyway?
Short and quite obvious answer is – no, however there are some options in the app that can make achieving the continuous track playback easier.
A thing to keep in mind is while playing music straight from a streaming app at a house party might seem easy and effortless it is also probably the most limiting way of providing people with live music – in fact you won't be able to do anything besides choosing the right tracks and possibly using the auto-crossfade function that can be found inside of the settings menu.
While the choice of the tracks is still one of the most important tasks of a DJ, "mixing" with streaming apps alone without any supporting hardware or additional DJ software is technically unreliable and should be avoided.
Are there any 3rd party apps that still support Spotify?
While Spotify has officially revoked the support for 3rd party apps there are a few apps that still actively make use of the Spotify library. For one you can check out the Pacemaker app project that mixes tunes from your Spotify playlists for you (for now available only for Apple devices).
What are music resource alternatives for DJs?
While nowadays you can't use Spotify in DJ apps anymore, there are streaming services that have special deals with software developers and offer their vast track libraries via various (most often subscription based) services built-in some DJ software.
Your music streaming alternatives are for example Tidal and Soundcloud that at this moment benefit from TOS more friendly towards DJs and that are actually built-in in some DJ software out there as music sources (Tidal and Soundcloud libraries for instance currently can be accessed directly through the Algoriddim Djay app's music library).
For a second example Rekordbox DJ software allows you to integrate tracks from various streaming services into your music library. Currently streaming services supported by Rekordbox are Tidal, Beatport, Beatsource Link and Soundcloud GO+.
If you still search for a good vast tracks resource you might want to research the topic of record pools – a record pool usually gives you access to a huge song library for a small fee (usually paid monthly depending on a chosen record pool provider).
An example of a popular record pool would be the Digital DJ Pool – check out their website here.
How to DJ a house party?
If you are interested in DJing at a typical house party with your university or high school friends you can check out our short and to-the-point guide about mixing music at a private house party!
Keep in mind although those answers are based on our best knowledge and thorough research at djgear2k we do not officially give law advice and you should always consult a certified law advisor when in serious doubt about your particular situation.
Main article picture partial: Yomex Owo