Is Serato DJ Lite any good? What are the major downsides to Serato DJ Lite? The answer to these questions lies in the comparison of Serato DJ Lite features with Serato DJ Pro and other major pieces of DJ software such as Virtual DJ, Rekordbox and Traktor. Here we will lay out 6 most important disadvantages of the Serato DJ Lite software that you really should know about before getting your brand new Serato DJ Lite compatible DJ controller.
4 Hot cues & 1-8 bar loop limitations
This is a major limitation that will be mostly felt by DJs who had previous experience with 8 hot cues per bank and no limitations on loop length in other pieces of DJ software.
In Serato DJ Lite you are limited to 4 custom hot cues per track and you cannot utilize audio loops smaller than 1 bar or larger than 8 bars.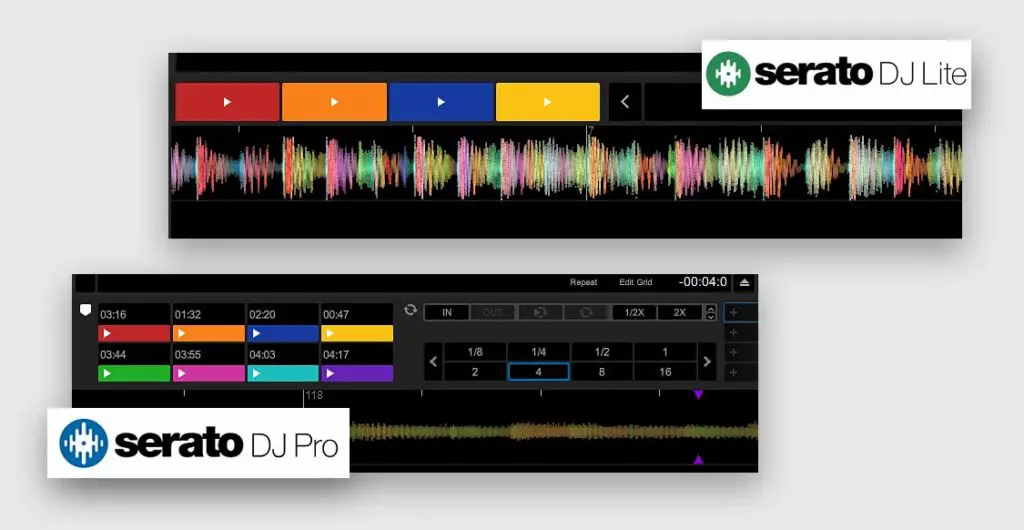 4 hot cues in many cases are just not enough. If you for example wanted to have 1 hot cue set in the beginning of your track and another one at the mix exit point, you would be left with just 2 free hot cue points for other purposes. For us this is truly a major inconvenience.
On the other hand, the loop limitation means, that unfortunately you won't be able to perform any kinds of short loop rolls as the the Serato DJ Lite software simply won't allow you do that with its limited feature set.
Serato DJ Lite vs. Pro (12 Most Important Differences)
After the paid upgrade to Serato DJ Pro software, you gain access to 8 hot cue slots per track, and the loop size limitations are lifted.
Another limitation of Serato DJ lite is the 4 custom audio samples limit – with Serato DJ Pro you can utilize up to 8 audio samples in multiple banks.
Serato DJ Lite limits the functionality of some DJ controllers
Serato DJ Lite is a free product created for the purpose of supporting dedicatd entry-level DJ controllers out of the box, so that you can jump into the Serato DJ software ecosystem for free and right after unboxing your brand new device.
Many of the smaller portable DJ controllers such as Numark DJ2GO2 Touch or the Hercules DJControl Starlight can be upgraded to Serato DJ Pro, however in terms of hardware functionality and capabilities they are made strictly with Serato DJ Lite in mind and don't benefit much from the paid Serato DJ Pro upgrade.
There are however entry level DJ controllers such as the Pioneer DDJ-Rev1 or the Numark Mixtrack Platinum FX that have their full hardware functionality soft-locked when used with Serato DJ Lite and their advanced functions and features can be fully utilized only after doing a paid upgrade to Serato DJ Pro.
Features that are most commonly soft-locked on DJ controllers when using Serato DJ Lite are: loop rolls, slicer pad mode, full 8 hot cues bank, full 8 sampler slots access and so on.
5 Best Pioneer DJ Controllers For Beginners – Which one should you choose?
No mix recording function in Serato DJ Lite
In Serato DJ Pro you are able to record your mixes without any additional effort using the in-built mix recording utility.
When it comes to Serato DJ Lite, there is no such tool available and you will have to rely on external 3rd party software to record the audio coming from the Serato DJ Lite software to record your live performance.
For recording sound from Serato DJ Lite you can use software such as Audacity or OBS (Open Broadcaster Software) to record the system audio during your mix.
See also: Can You Record Your Mixes With Serato DJ Lite? – How To
No access to Serato expansion packs (except Serato Play)
With Serato DJ Lite you don't have access to any of the 6 Serato expansion packs.
This means: no pitch shifting and pitch manipulation on your tracks, no video mixing, no option for DVS support and no additional audio FX (which can be unlocked by purchasing the Serato FX expansion pack).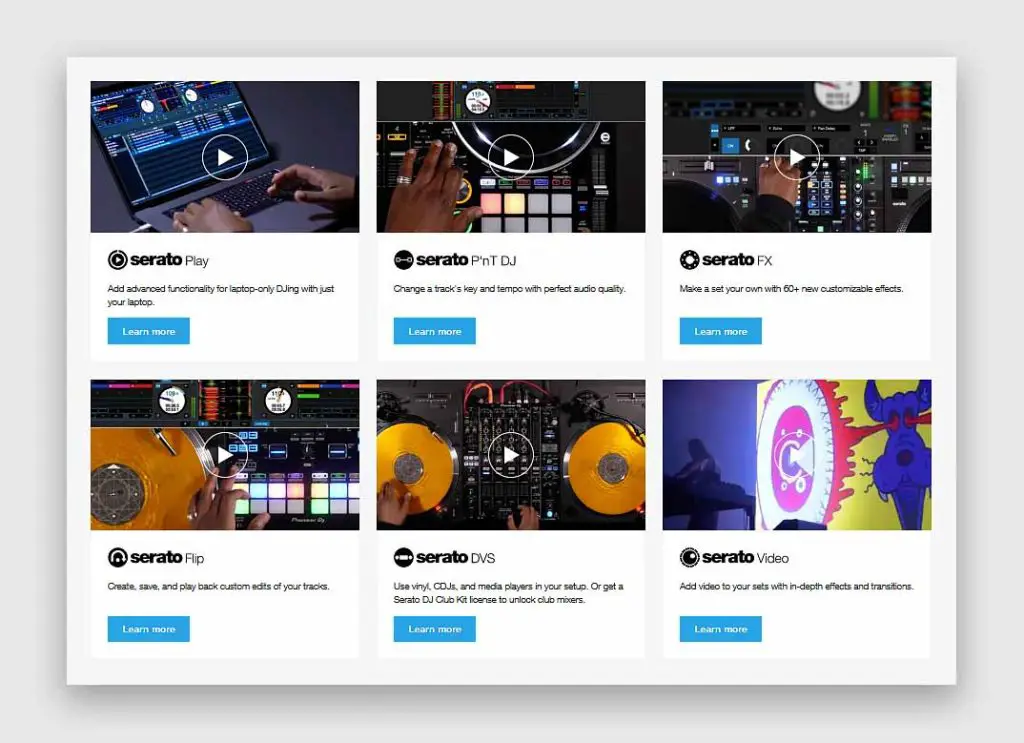 Note however, that you are still able to DJ just using your laptop without a DJ controller plugged in using Serato DJ Lite by purchasing the Serato Play expansion for laptop only DJing and utilizing advanced keyboard macros.
Serato Play expansion surprisingly is available for the Serato DJ Lite software.
Can I DJ With Just A Laptop? – Do You Really Need A DJ Controller?
No 4 waveform view for supported 4 channel DJ controllers

Unfortunately, if you own one of the 4 channel DJ controllers that are compatible with Serato DJ Lite (such as the Numark NS4FX), you won't be able to view all the 4 waveforms at the same time. You will be limited to 2 waveforms visible on your screen.
New Numark NS4FX vs. Pioneer DDJ-FLX6 (Which One Is Better For You?)
Note that not many DJ controllers compatible with Serato DJ Lite actually let you utilize 4 mixer channels to begin with, as some gear manufacturers consider this to be a pro feature.
No track key analysis
With Serato DJ Lite you won't be able to see the track key information in your music library view even if such information is already available in your track's metadata.

While in Serato DJ Pro you have the option to show the musical keys of your analyzed tracks (both in Camelot notation and in the traditional key notation), Serato DJ Lite will not provide you that information.
Track key analysis is essential for harmonic mixing and relying on 3rd party software when it comes to key detection is really inconvenient. DJ software that support key detection out of the box would be to name a few: Serato DJ Pro, Rekordbox, Virtual DJ, Traktor, Algoriddim DJ.
Is Serato DJ Lite free?
Yes, Serato DJ Lite is completely free, as it is essentially the free cut down version of the Serato DJ Pro software. You should remember though, that Serato DJ Lite is really limited in comparison to the full version and it lacks many features that may be essential for highly technical professional DJ routines.
You can download Serato DJ Lite software from the official Serato website here.
You should remember though that you cannot fully utilize Serato DJ with just your laptop, and without a DJ controller plugged in you will only be able to manage your music library and set custom hot cue points on your tracks (Unless you purchase the mentioned Serato Play expansion for laptop-only DJing).
The conclusion – Is Serato DJ Lite any good?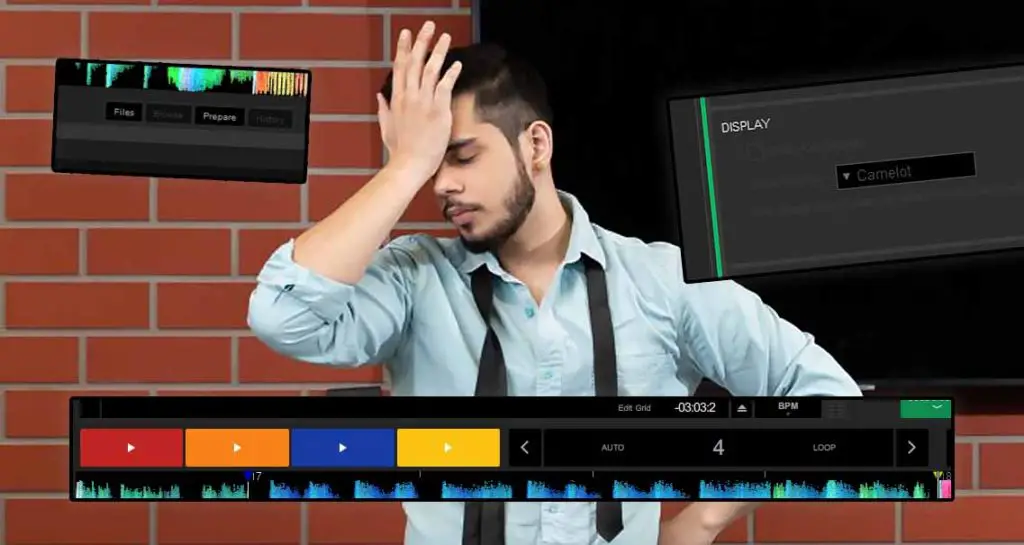 Serato DJ Lite is very limited in terms of features, and while it can most certainly satisfy a beginner DJ for a while, it is not a highly viable option for more advanced users, even on an intermediate level.
Lite version of Serato DJ is meant to be outgrown fast and its made in such a way that in a short time of using it you will start to realize how many important features you're missing by not upgrading to the full proper version of Serato DJ software – Serato DJ Pro.
With that being said, Serato DJ Pro is certainly not your only option when it comes to professional DJ software.
You might also consider checking out other pieces of DJing software such as Virtual DJ, NI Traktor or Rekordbox. Be sure that the DJ software you choose in the end is fully compatible with your chosen DJ controller.
In general Serato DJ Lite gives beginners all the important tools that are needed for performing simple mixes and transitions, but it lacks all the intermediate and advanced features that are crucial when you've already learned all the basics and want to move ahead.
That's why if you know you're serious about DJing using Serato DJ software, we advise to jump straight into Serato DJ Pro or choose another DJ software solution and save yourself the time of adjusting to new software when you inevitably decide to upgrade.
If however, you're not set on DJing just yet and you just want to test things out for a bit, Serato DJ Lite is a nice piece of software that can ease you into the world of DJ controllers in no time. It will do just fine when you're starting out.
If you want to know more you should definitely check out our comparison of Serato DJ Pro and Serato DJ Lite here: Serato DJ Lite vs. Pro (12 Most Important Differences)
You may also like:
Main article photo: Akshay Gupta