Hercules DJ Control Starlight is a pocket-sized portable DJ controller with an audio interface built-in, a simple and efficient controls layout, access to various performance pad modes including audio FX, and creative back lighting onboard. Let's go over all upsides and downsides of this device in this detailed review!
[this article features Ebay & Amazon affiliate links]
Mixer and the EQ

The central section of the controller is occupied by two Volume knobs and two Bass/Filter knobs, one for each corresponding deck.
The volume knobs act just as your regular mixer volume faders would, allowing you to control the levels of currently playing songs.
As generally there are no physical channel faders available on devices in this size, this seems to be a widely used solution seen in similar controller models such as Numark DJ2GO2 Touch.
The Bass/Filter knobs have two functions: when the little bass/filter button on the top of the device is off the knobs act as bass EQ controls letting you cut or boost bass frequencies on a corresponding channel. When the bass/filter button is on, the knobs switch to the high-pass/low-pass filter functionality.
Important thing to note is that when a knob overrides its functionality after a bass/filter button press you need to mind its position in software when switching between different modes.
The two additional knobs on both sides of the mixer section are the standard master volume knob and headphones volume knob.
Beside these knobs you can also find headphone cue buttons, the shift button and the vinyl mode button allowing you to switch on and off the scratch functionality of the jog wheels.
The headphone cue buttons together with the shift button allow you to access a few combinations of cue listening modes.
When it comes to the crossfader, a thing that's easily noticed is that it has quite a long cutting distance of approximately 3mm which can make it somewhat hard to do really quick cuts whilst scratching on this device.
There are also standard Play, Cue and Sync buttons present on each deck.
-> How to DJ: Masterclass – Everything you need to know to become a performing DJ! <-
Performance pads
There are 4 performance pads available on this device for each deck. They are plastic, without any rubber coating and don't feature velocity tracking.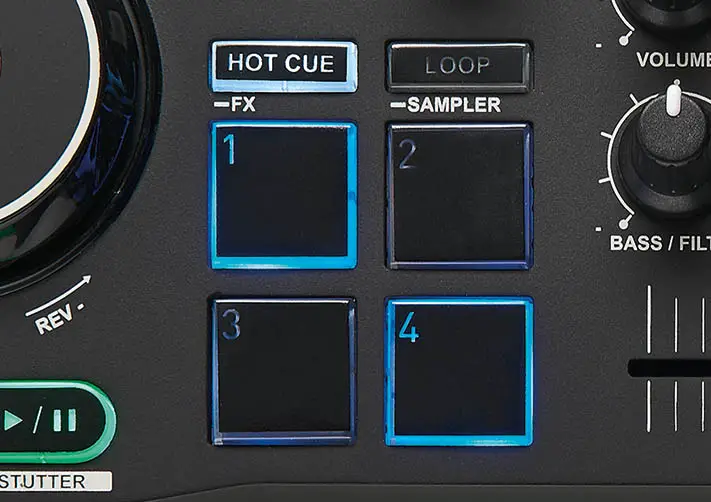 The pads are really clicky and while they feel more like regular buttons rather than for example MPC or Launchpad pads, there are no problems with responsiveness. Again, this type of build is a common thing in all the pocket sized portable DJ controllers.
The performance pads on the Hercules DJControl Starlight can work in 4 modes in total:
Hot Cue – a standard hot-cue mode.
Loop – grants you instant access to 4 fixed lengths of loops (1 bar, 2 bar, 4 bar and 8 bar), you toggle the loops by pressing a pad corresponding to a certain loop length and turn them off the same way.
Pad FX – allows you use 3 pad FX in hold mode (the pad needs to be pressed down for the effect to work), the 4th pad is used for cycling through the FX beat parameter. The effects that are available will depend on the DJ software you'll decide to use with the device.

The Pad FX are set to work as post-fader effects – this means that when you use for example an echo out FX on one deck and move the crossfader to the other side the echo won't cut off but will slowly fade away.

Sampler – a simple sampler mode that lets you access 4 audio samples of your choice (the sampler is mirrored between the 2 decks).
The Pad FX and Sampler modes are activated holding down the shift button and hitting a corresponding pad mode button at the same time.
Lack of library controls
One major thing to note is that the Hercules DJControl Starlight does not feature music library controls – the entirety of the track selection process must therefore be done on your laptop or your mobile device.
On the other hand a major upside is that the device is small enough to be placed beneath your keyboard on your laptop's palmrest area, so you won't have to move away from the device too much while selecting your next track.
Jog wheels
The 3″ jog wheels on the Hercules DJControl Starlight are capacitive and you can use them both for pitch-bending and scratching.
You can switch between the two jog wheel modes using the VINYL button on the right side of the device.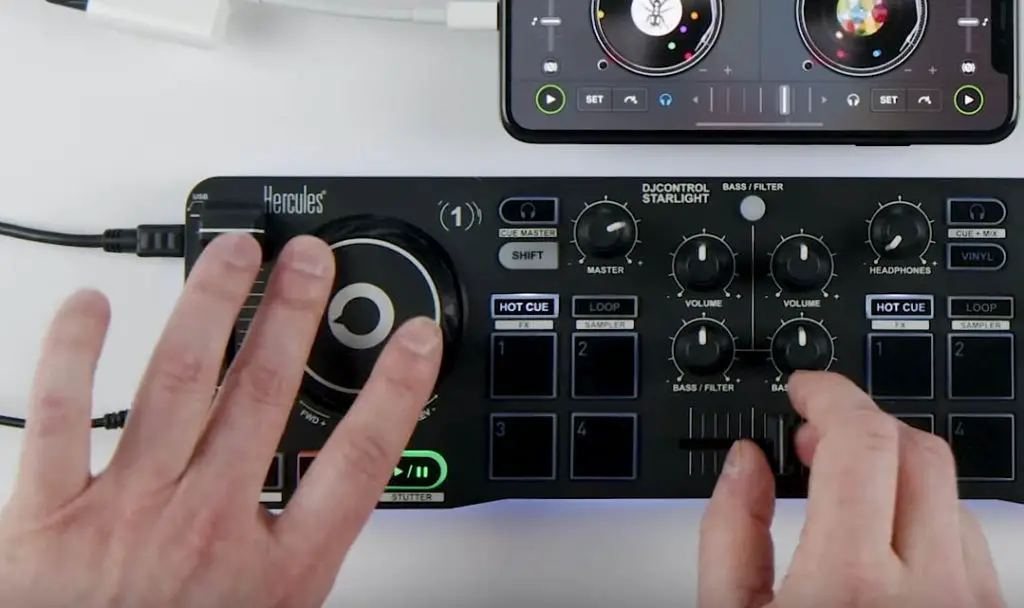 The jog wheels seem to be responsive and smooth when controlling Serato DJ or the Algoriddim DJ App.
Built-in lights
Another feature of the Hercules DJControl Starlight are its built-in LED lights.
Although this might seem like a quirk known from the Numark Party Mix line of controllers, the light show on the Hercules DJControl Starlight actually comes with a few rather useful modes that react to the playing audio:
Off: Lights completely off
On: Lights on (static mode)
Beat Fade: Red light fades in on downbeat and blue light on the rest of the beats
Beat Flash: the same as the one above, with flashes instead of slower fades
Master Volume: White light flashes dependent on the master output volume
Waveform Color: Lights react to waveform colors on each deck (right and left decks react separately)
Cue Point Countdown: Lights illuminate to match the closest Cue point, then fade to white (again right and left decks react separately)
Beat fade and beat flash mode might come in handy for some of you, serving as a visual aid in beatmatching. The cue point countdown is also an interesting feature.
You can set your light mode on your laptop inside the Serato DJ / Virtual DJ software settings once your device is connected. The light support in software other than Serato or Virtual DJ depends on the specific software manufacturer.
Numark Party Mix vs. Party Mix 2 / Live (Which One Is Better For You?)
Software compatibility
Hercules DJControl Starlight is natively a Serato DJ controller and it will automatically unlock Serato DJ Lite when plugged in. There is also an option to upgrade your license to Serato DJ Pro via a monthly subscription or one-time payment.
With Serato DJ Pro you will have the possibility to remap some of the hardware controls while Serato DJ Lite doesn't give you that option.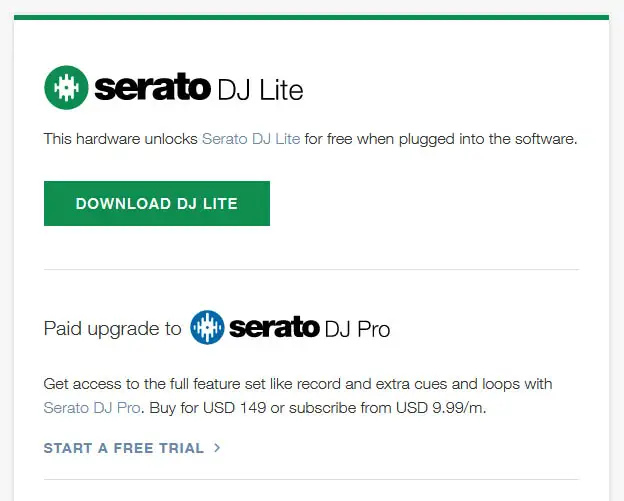 The device is also compatible with Algoriddim Djay app for iOS.
Moreover on the official Hercules DJ website you can find additional MIDI mappings available for the Virtual DJ and Traktor Pro software.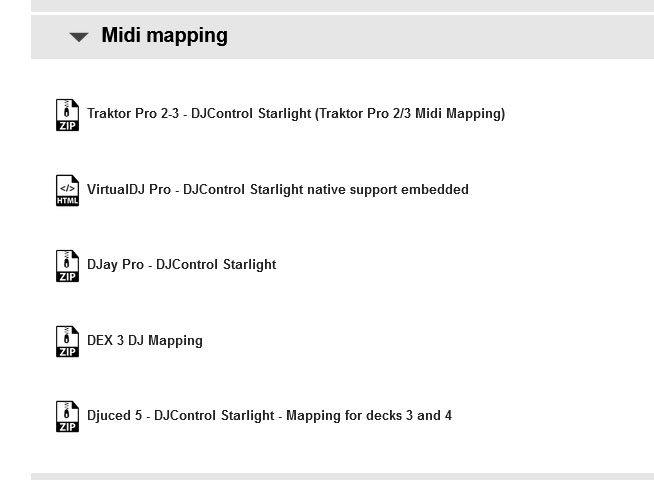 The price
One of the biggest upsides of this device alongside with the access to post-fader pad FX and great quality jog wheels is its price.
You can find the Hercules DJControl Starlight anywhere from $99, and the small protective carrying cases start from as low as $19.
This makes it both a great entry-level controller for people who just want to try out DJing, a great novelty gift, and even a nice backup option for dire situations!
Pros and cons
Pros:
+ Pocket size, fits under your laptop keyboard
+ Access to 3 post-fader Pad FX
+ Decent size of the performance pads
+ Built-in soundcard + headphone out
+ Actually useful light show modes
+ Great quality of the jog wheels
+ Efficient controls layout, good software compatibility
+ Great price!
Cons:
– No music library controls
– No full EQ or at least 2-band EQ present on the device
– Pretty long cutting distance on the crossfader
Conclusion
The Hercules DJControl Starlight is a great travel controller, a cool gift, nice advanced controller for a child who wants to start their journey with DJing, a bit worse but still viable entry-level controller and an interesting form of last-resort backup to have in your bag when heading to a gig.
Best entry-level DJ Controllers – DDJ-200 vs. DDJ-400
At this price point you can't go wrong with the Hercules DJControl Starlight. If you're interested in similar devices, you can also check out the previously mentioned Numark DJ2GO2 Touch – a direct competitor of the DJControl Starlight that we find a tad more suitable for scratching, featuring library controls albeit without audio FX support and large performance pads.
You might also be interested in slightly bigger Numark Party Mix line of small entry-level controllers. Read more about these here:
Numark Party Mix vs. Party Mix 2 / Live (Which One Is Better For You?)