You may have been wondering how to use Serato DJ software on your laptop without a DJ controller plugged in. How can you use all the features of Serato DJ Pro/Lite with just your laptop keyboard? We're here to help!
[this article features affiliate links]
Can you use Serato on your laptop without a DJ controller?
Yes, its possible to control Serato DJ in 2 decks mode using nothing but your mouse and keyboard shortcuts.
There are essentially two ways to do this:
Serato DJ Practice Mode
First option is a free one. In Serato DJ Lite and Pro you can enable the Practice Mode by pressing the button labeled "2" in the top left of the screen.
In the Practice Mode you access to a few fixed keybinds that you can use, and a limited deck display view.

The practice mode is geared towards track preparation and general mix planning and so it doesn't include many essential features such as an EQ or audio FX access.


You can learn more about the Serato DJ Practice mode on the official Serato DJ website here.
Serato Play
This is a much better way of controlling Serato without hardware, offering you a lot more features required for true controler-less mixing, however currently it is not available for free.
If you purchase the Serato Play expansion you will be able to make use of the full functionality of Serato DJ without any DJ controller plugged in (in a similar fashion Virtual DJ works from the get go). More about Serato play right below:
What is Serato Play?
Serato Play is an additional Serato DJ expansion pack / extension that allows you to DJ with just your laptop, without a DJ controller plugged into your computer.
Serato Play lets you use multiple keyboard shortcuts to control the EQ, filters, hot cues, audio FX, the crossfader, track and library controls and much more. This enables you to use the the software without any hardware connected, using just the hotkeys and your mouse or touchpad to control the decks and the track library.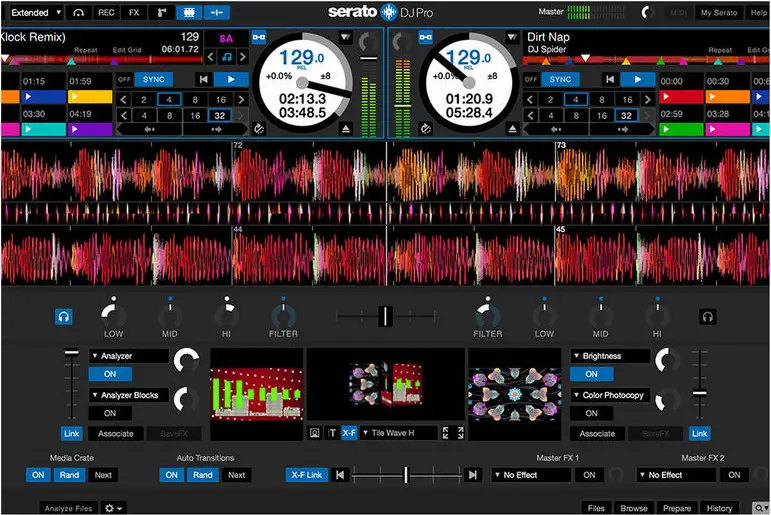 On the screencap above you can see the additional controls that become available to you after purchasing and activating the Serato Play extension.
Serato Play also supports DJ splitter cables for split-cue monitoring.
New DJ Splitter Cables Guide + Troubleshooting
All of the default Serato Play keybinds are customizable and you can freely edit the control layout in the software. The default setting splits the keyboard into two deck sections allowing you to control the playback without using your mouse or your touchpad.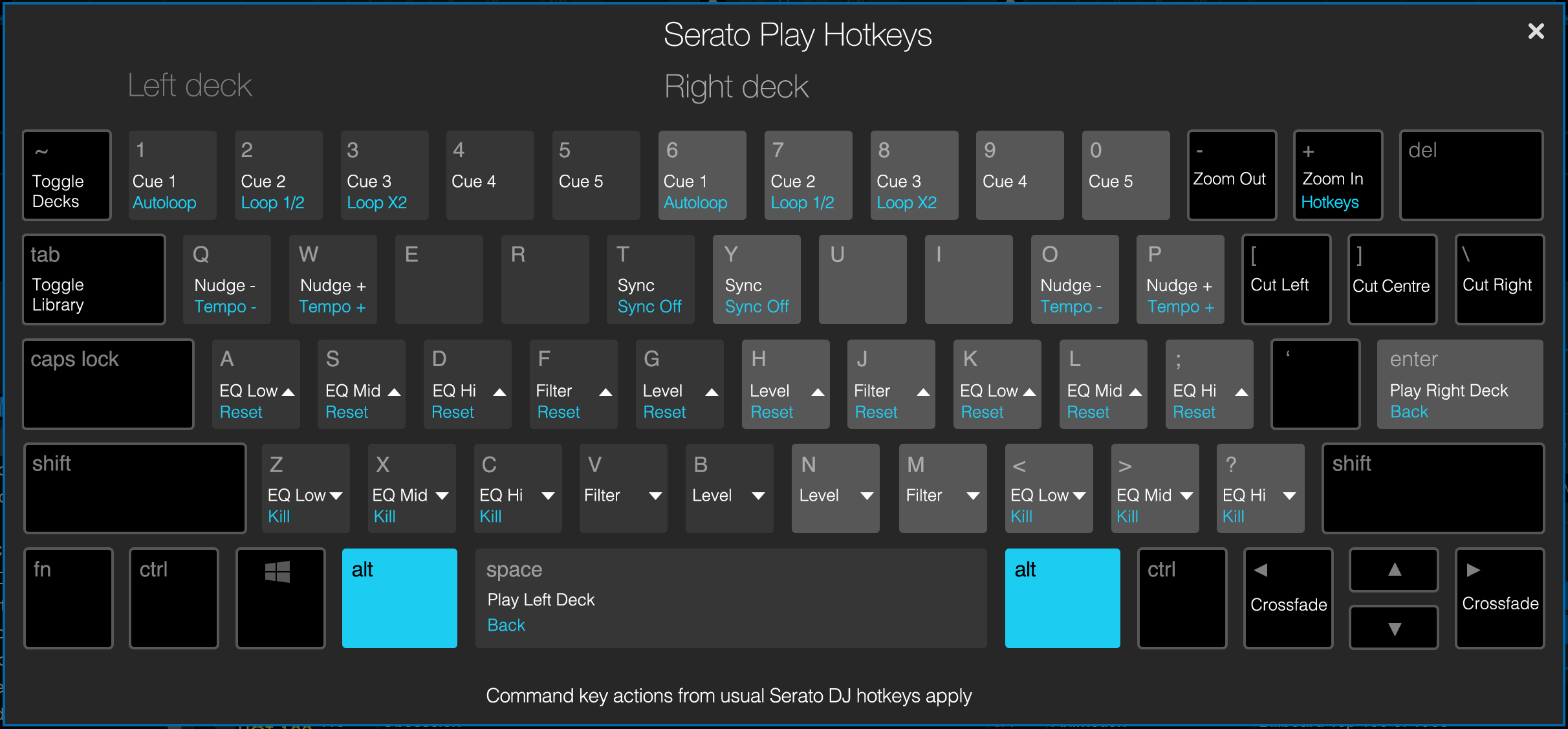 This expansion makes Serato DJ work in a similar fashion to Virtual DJ or Traktor which let you utilize full keyboard and mouse deck control functionality from the beginning.
Is Serato Play free?
Unfortunately Serato Play is only available as an additional purchase. Although it was available for free for a short time in May 2020 now it's back to its normal price of 39 USD. You can purchase Serato Play both for Serato DJ Lite and Serato DJ Pro software versions.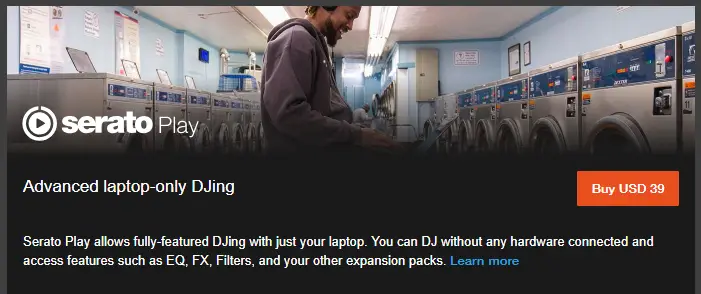 You can check the exact price of the Serato Play extension on the official Serato DJ website here.
Free alternatives to the Serato DJ with Serato Play expansion are for example Virtual DJ and Rekordbox that five you full control over the virtual decks without any controller plugged in from the get go.
Can I still use Serato DJ keybinds without buying the Serato Play extension?
Some of the hotkeys will work without the Serato Play extension in the Serato Practice Mode however as we've said those keybinds are quite limited and geared mostly towards set preparation.
Here is the list of keyboard shortcuts that you can use in Serato DJ Pro without purchasing the Serato Play expansion pack: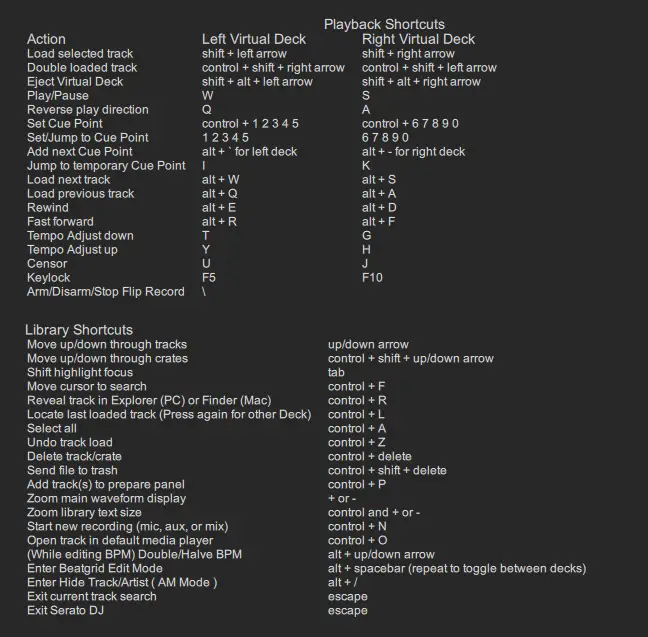 Again, Practice Mode is very limited in terms of features, and its not offering many hotkeys and controls essential for controller-less mixing (as its not really made for that). For instance you won't find an equalizer or a mixer view in here.
What are Serato DJ keyboard covers?
There are various custom sticker covers and overlays made for laptop keyboards that are meant to make the life of laptop-only Serato DJs easier. All the keyboard shortcuts are depicted on the stickers that are placed on each keyboard key.
Keyboard covers are also widely used by DJs that use their laptop alongside their DJ gear – for example for track selection or using additional software controls.
Important: Make sure that the keyboard cover you consider picking up corresponds to your software's keyboard mapping and your laptop keyboard keys layout!
Can you really DJ without a DJ controller?
If you're interested in efficiently DJing without a DJ controller be sure to check out our article about all the possibilities you have as a laptop-only DJ:
Can I DJ With Just A Laptop? – Do You Really Need A DJ Controller?