All Pioneer DJ controllers list – DDJ & XDJ series. In the last 10 years Pioneer DJ alongside with other DJ hardware manufacturers have made tremendous progress in the DJ controller market. Pioneer DJ has been releasing both great entry-level equipment and advanced hardware powerhouses during this whole decade. Today let's take a closer look at the Pioneer DJ controllers evolution process!
[This article is not sponsored by Pioneer DJ] [All the pictures in the graphics come either from the official Pioneer DJ promotion materials or respective Pioneer DJ hardware reseller sites]
All Pioneer DJ Controllers in release order, 2011-2021 – including standalone devices!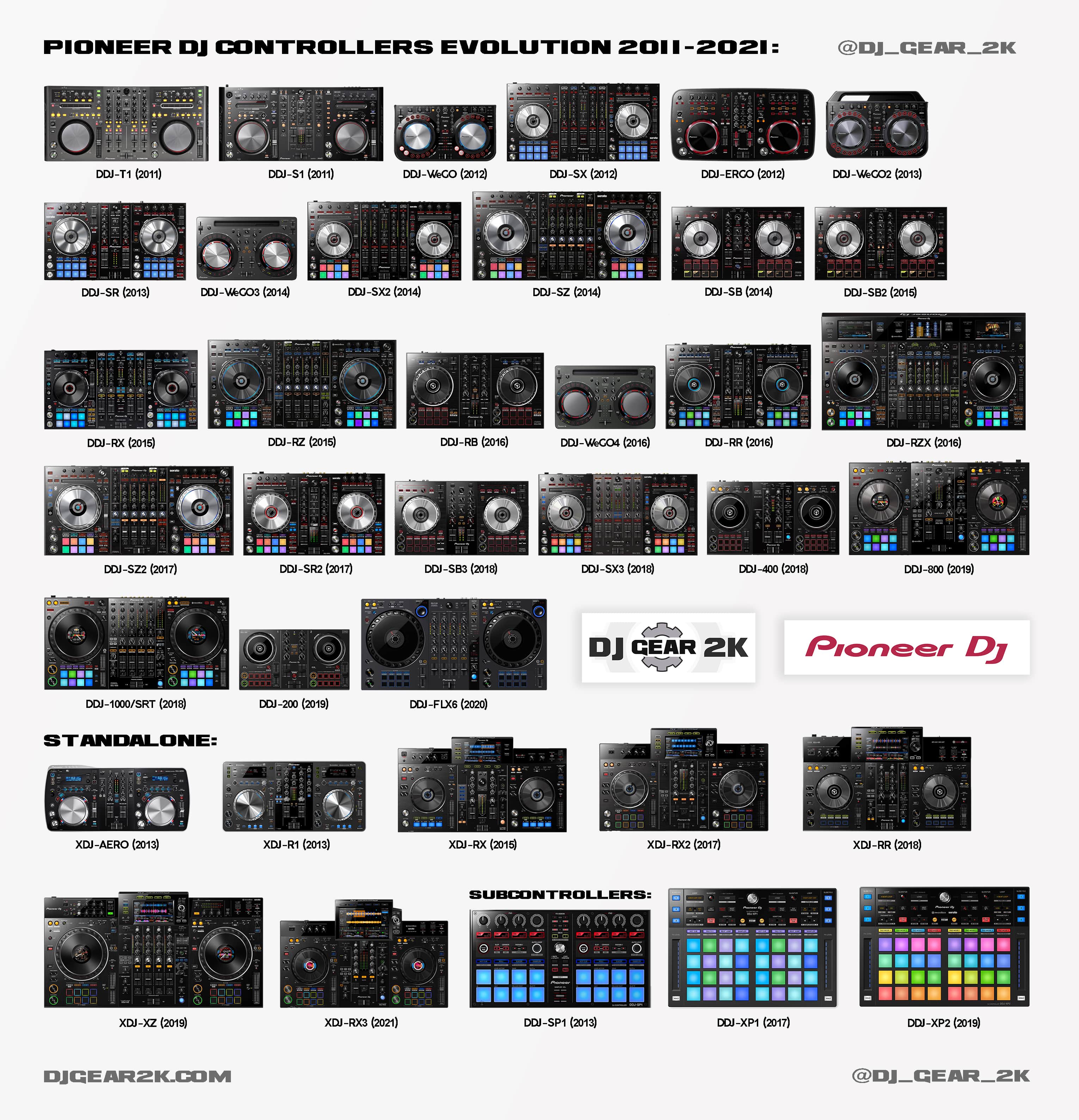 To open the picture in full resolution, click here (may take a second to load).
To jump straight to the Pioneer DJ controllers list, click here.
The very first Pioneer DDJ controllers (DDJ-T1, DDJ-S1)
One supporting Traktor, and its twin brother – the early versions of Serato DJ. These two plug-and-play Pioneer DJ controllers were the first ones to introduce the classic DDJ layout that peaked in the design of the SX controller series. Notice how close current SX-series layouts resemble the decade old T1 and S1 units!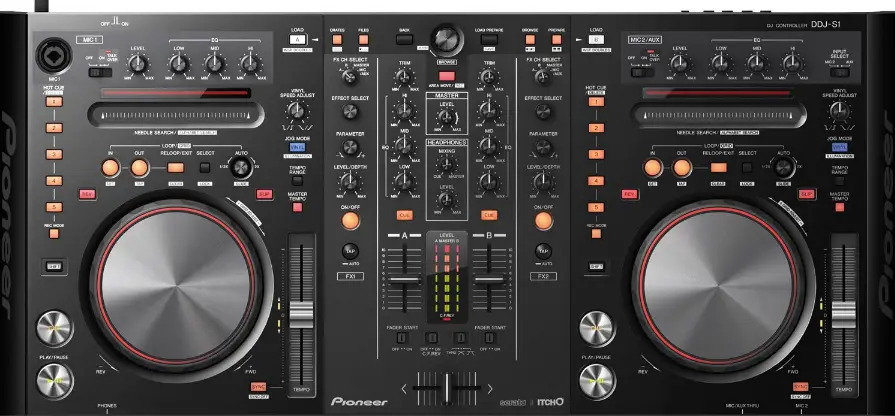 The DDJ-WeGO – Mobile DJing in 2021!
One of the first responses to extreme mobile DJ needs. And we're talking about almost complete mobility – DJing using nothing but your smartphone and a small portable DJ controller that can fit inside your backpack!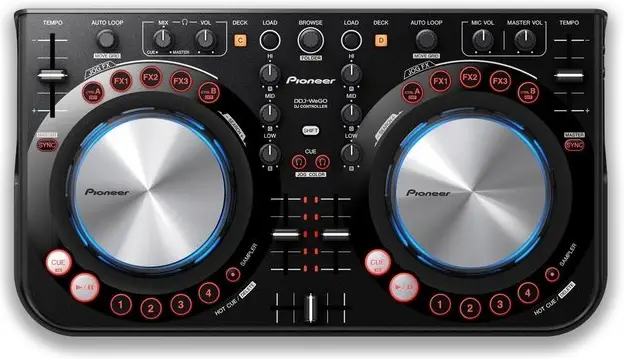 The beginning of the DDJ-WeGO series was accompanied by the rise of many popular DJing apps both on iOS and on Android. DDJ-WeGO series being a huge success had two successors which evaluated on the concept of total mobility in DJing even further.
A large step ahead – the original DDJ-SX
The original Pioneer DDJ-SX was a huge step towards one of the traditional Pioneer DJ controller button layouts optimized for Serato DJ software. This controller was nearly perfect, featuring a standalone mixer, full Serato FX controls, velocity sensitive performance pads and much more. It also served as a great alternative for people who couldn't afford a full 4 deck CDJ setup but still wanted a full 4 deck experience without compromises.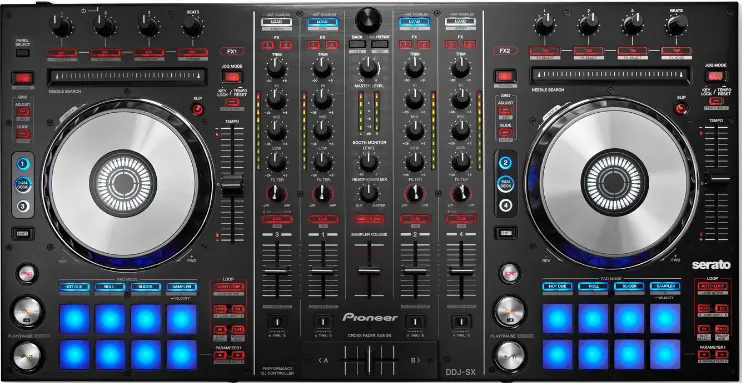 This controller's release proved to be a great success and it has since had two successors – the DDJ-SX2 (2014), and the DDJ-SX3 (2018).
The short-lived DDJ-ERGO
Year 2012 was the official release year for the long-forgotten original DDJ-ERGO controller. This device with its curious looks didn't hold out for long. It was an interesting entry-level unit nonetheless and it shows that not all the ideas catch on to become a controller series in the ever changing and constantly evolving DJ gear market.
A touch of premium quality – DDJ-SZ
A refined SX-series design paired with many additional features and almost full-sized CDJ styled jog wheels. The first DDJ-SZ was a step up from the DDJ-SX, and a step towards larger, premium quality all-in-one plug and play DJ controllers.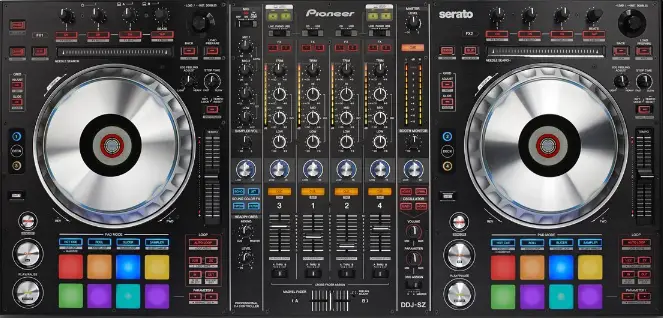 Due to the device's market success in 2017 we saw an upgraded version of this device – the DDJ-SZ2.
Small yet efficient! DDJ-SR, DDJ-SB, DDJ-SB2
Years 2013-2014 resulted with the release of 3 dedicated 2-channel Serato DJ controllers – the DDJ-SR, DDJ-SB, and its successor DDJ-SB2.
All of these small yet powerful devices served a very important purpose – they gave many beginner DJs and people who wanted to simply try out DJing a cost-effective entry point to the amazing world of DJ gear.
There might be some of you here that actually started their journey on one of these devices or their successors. Needless to say their emergence on the market is an important milestone to note.
The rise of Rekordbox controllers
As dedicated Serato DJ controllers seemed to dominate the market, new stars emerged. Dedicated Rekordbox controllers started to populate the market causing a split between the users who preferred one or the other.
Since then many controllers have been built to support solely one of the software giants and the workflow and features gradually started to differ between the two even further.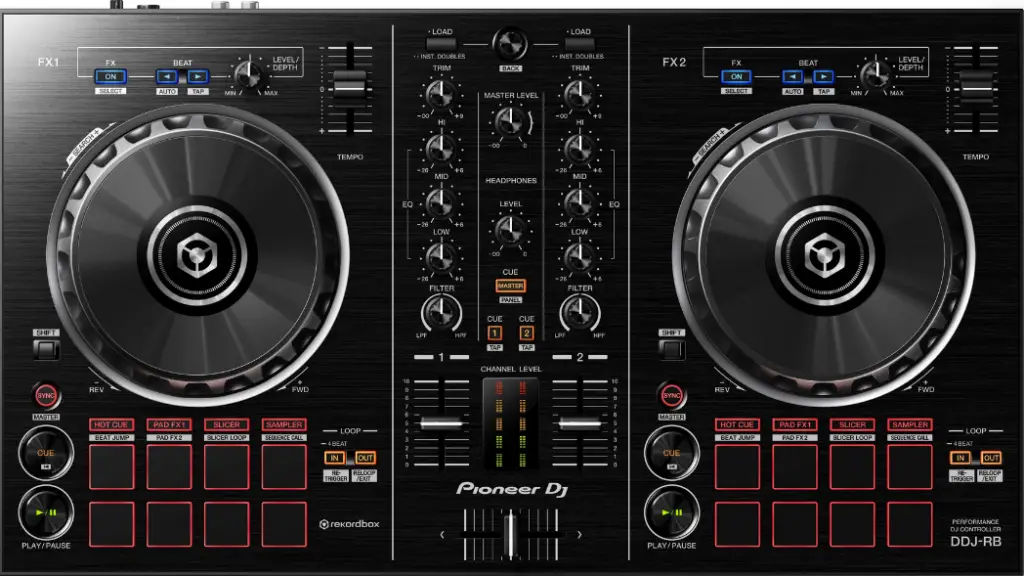 Despite all that, to this day Serato DJ and Rekordbox (alongside with Virtual DJ and NI Traktor) continue to dominate the DJ software market and they have huge active communities of happy users. All that's left is to wonder, will the big two continue their head-to-head rivalry throughout the next decade?
An important milestone – The Pioneer DDJ-400
A device that nowadays is marketed as the go-to entry-level DJ controller was first introduced back in 2018.
The Pioneer DDJ-400 was a large step forward, bringing the simplified professional CDJ/DJM control layout into a cost-effective beginner friendly device that could also be used during more demanding performances.
DDJ-200 vs. DDJ-400 (Which Is Better For You?)
Another device that is also often mentioned alongside the DDJ-400 is the DDJ-200. Despite being closely related by name, those are entirely different. You can check out our extensive comparison between the two to know more.
DDJ-1000 – close to perfection?
Finally, we get to the DDJ-1000. Both the DDJ-1000 and its Serato compatible equivalent (DDJ-1000SRT) are devices that at the beginning of 2022 have taken their place as the flagship models of the DDJ controller line.
Pioneer DDJ-1000 vs. XDJ-XZ (New Detailed Comparison!)
Will we get a new refined version of the DDJ-1000 in 2022? Well, as this device at this point is still pretty new, so our prediction for its successor would be not sooner than winter of 2022 the beginning of 2023.
What about standalone controllers?
Glad you asked! The first standalone controllers from Pioneer DJ were released back in 2013 – those were the XDJ-AERO and the XDJ-R1. These controllers allowed you to mix music without having to connect to your computer.
An important milestone in the standalone controller development was the release of the XDJ-RX in 2015. Since then the XDJ series has evolved to the point of smooth standalone laptop-less DJing experience that is almost comparable with the standard wired controller experience and the fruit of this evolution process is the XDJ-RX3.
The only thing that would be nice to see on the standalone side of things in the Pioneer DJ offer is streaming service integration, but we're sure that 2022 has many pleasant surprises for us in that matter!
As for the long awaited upgrades, we still wait for the new XDJ-XZ controller. Will XDJ-XZ come in 2022? It's quite possible and it's being widely discussed already what features will it introduce and will it be capable of utilizing streaming services beyond the new Rekordbox CloudDirectPlay solution.
All Pioneer DJ controllers (2011-2021) – listed in chronological order:
List of all Pioneer DDJ controllers:
DDJ-T1 (2011)
DDJ-S1 (2011)
DDJ-WeGO (2012)
DDJ-SX (2012)
DDJ-ERGO (2012)
DDJ-WeGO2 (2013)
DDJ-SR (2013)
DDJ-WeGO3 (2014)
DDJ-SX2 (2014)
DDJ-SZ (2014)
DDJ-SB (2014)
DDJ-SB2 (2015)
DDJ-RX (2015)
DDJ-RZ (2015)
DDJ-RB (2016)
DDJ-WeGO4 (2016)
DDJ-RR (2016)
DDJ-RZX (2016)
DDJ-SZ2 (2017)
DDJ-SR2 (2017)
DDJ-SB3 (2018)
DDJ-SX3 (2018)
DDJ-400 (2018)
DDJ-800 (2019)
DDJ-1000/SRT (2018/19)
DDJ-200 (2019)
DDJ-FLX6 (2020)
DDJ-Rev1 (2022)
DDJ-Rev7 (2022)
DDJ-FLX6 (2022)
List of all Pioneer XDJ controllers:
XDJ-AERO (2013)
XDJ-R1 (2013)
XDJ-RX (2015)
XDJ-RX2 (2017)
XDJ-RR (2018)
XDJ-XZ (2019)
XDJ-RX3 (2021)
Pioneer DJ subcontrollers:
DDJ-SP1 (2021)
DDJ-XP1 (2017)
DDJ-XP2 (2019)
List updated: 15.11.22 – TS.
Glad to be a part of this wonderful journey
We've certainly come a long way, the form factors of the units evolved alongside the newly introduced features and new design solutions. The market competition is going strong (we're looking at you Numark and Denon) and it's a great thing for us customers. Let's hope that the year 2022 will bring us further surprises. Rock on!
If you want to check the official Pioneer DJ online products list click here.