Pioneer XDJ-XZ bulletpoint review. Is getting a brand new Pioneer XDJ-XZ in 2023 a good idea? Is the XDJ-XZ still worth it? Is it viable in current year and will it stand up to its competitors in the upcoming one? We will now quickly but thoroughly go over all the features in this updated quick bulletpoint review. Let's begin evaluating the Pioneer XDJ-XZ that retains its position on the market since its release in the year 2019.
Bulletpoint reviews:

In our bulletpoint review series we aim to provide you all the crucial information that you need without long blocks of text, and unnecessary jibber-jabber. Wheter you want to purchase DJ gear or evaluate the features of a certain unit, we found this article form to be the best to provide the largest amount of detailed information within the least amount of time. Let's go!
[this article features Ebay & Amazon affiliate links]
XDJ-XZ Standalone capabilities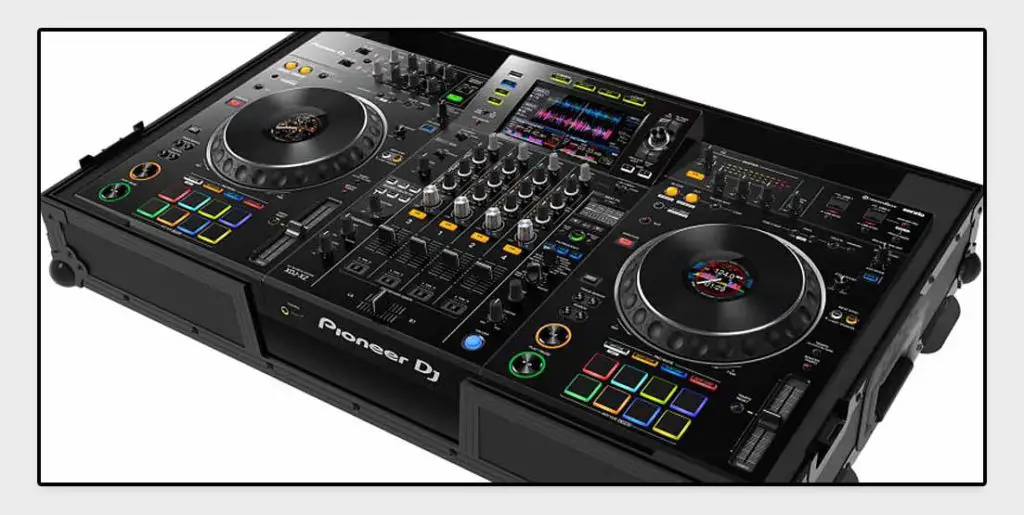 Pioneer XDJ-XZ can function in standalone mode, however:
You can utilize only 2 mixer channels to play tracks when the device is in stadalone mode.
The remaining 2 mixer channels can still be used for plugging in additional audio devices (such as CDJ players, turntables or other kind of audio players).
Following features are not available in standalone mode on the XDJ-XZ:
Sampler pad mode.
Key sync (auto track key matching functionality)
XDJ-XZ's 7-inch display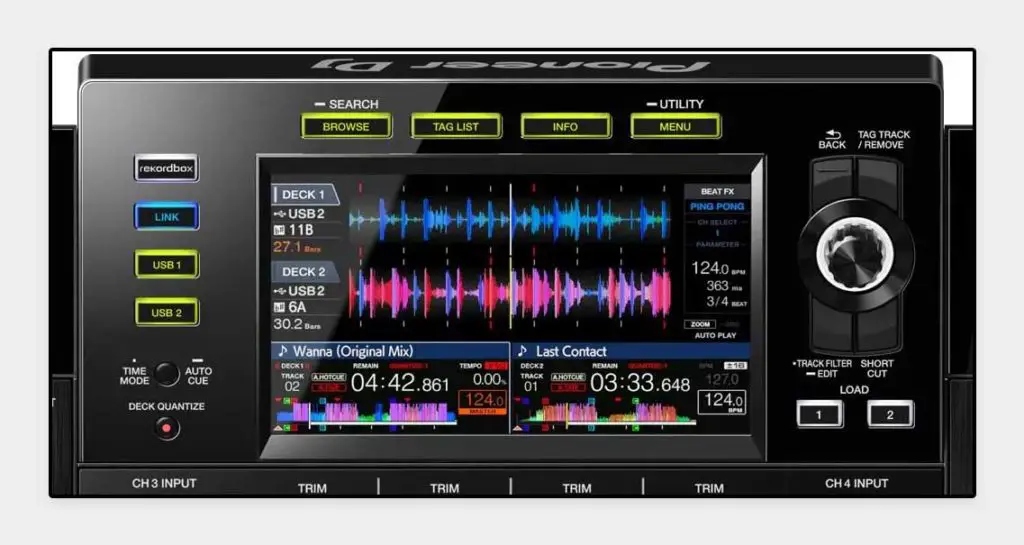 Most important things about the Pioneer XDJ-XZ's touch display panel:
This is a resistive touch screen different from the displays you can find on most of the smartphones on the market.
There is no multi touch functionality here.
On-screen gestures are not supported.
If you're looking for a DJ controller with a much higher quality screen in the similar price range we strongly recommend that you take a look at the Denon DJ Prime 4.
We even have a detailed in-depth comparison of the Denon DJ Prime 4 and the Pioneer XDJ-XZ that you can find right here.
Pioneer XDJ-XZ vs. Denon DJ Prime 4 (Ultimate Comparison)
Available audio FX
The FX section of the XDJ-XZ is designed to resemble an FX section that you would normally find on a professional Pioneer DJM-900NXS2 mixer.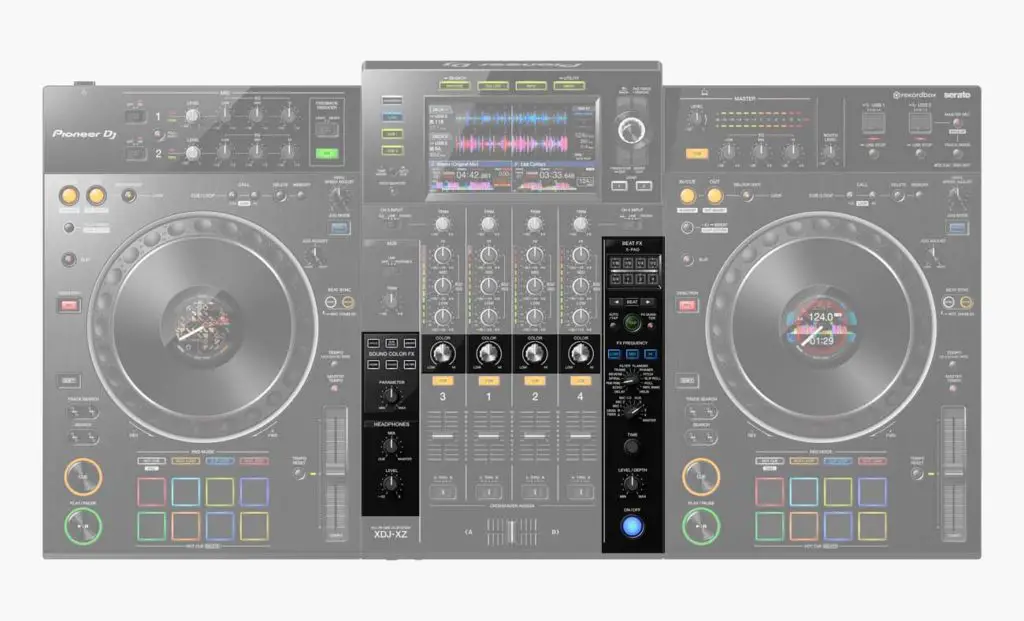 There are 6 Sound Color FX and 14 Beat FX available – so 20 different audio FX in total.
You can use up to 1 Sound Color effect and 1 effect from the Beat FX section – this means that you can have only 2 different FX active at the same time.
In terms of additional FX controls:
Pioneer XDJ-XZ much like DJM mixers features additional FX frequency isolation controls that allow you to set your current audio FX to only affect a chosen frequency range (it consists of 3 buttons – low / mid / hi).
There is also a X-pad available on the right side of the mixer which allows you control the beat parameter of your chosen effect in an efficient way.
Jog wheels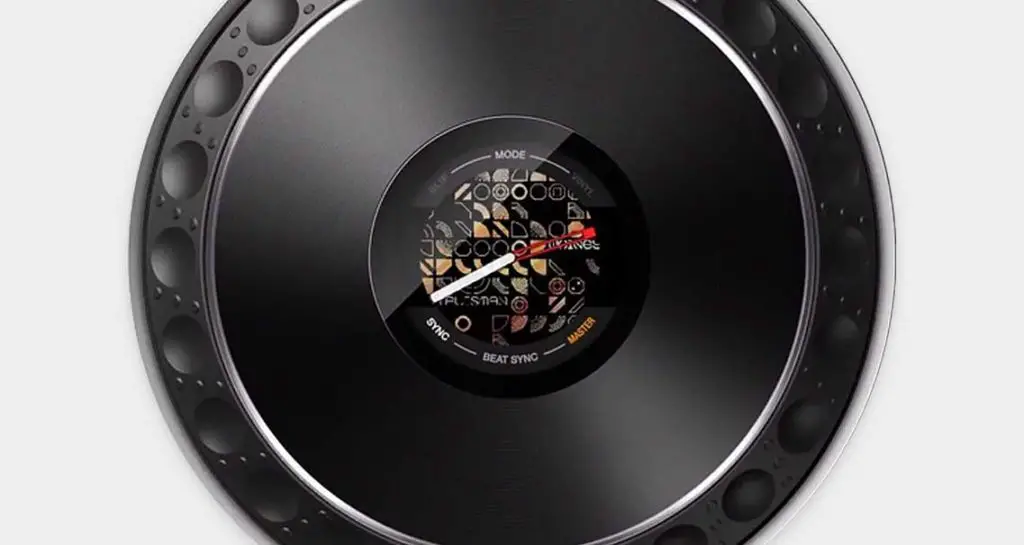 Pioneer XDJ-XZ features 2 full-size ~8.10 inch (~20 cm) mechanical jog wheels.
These are the same jog wheels you can find on the Pioneer CDJ-2000NXS players.
On each jog wheel you can find a display that shows basic track info.
Each deck on the XDJ-XZ features a jog wheel tension adjustment knob. You can use it to set the tightness of the jog wheel mechanism that suits you the most.
Supported DJ software
Pioneer XDJ-XZ supports the following DJ software:
Serato DJ Pro – Fully compatible out of the box, unlocks Serato DJ Pro after being connected to your computer.
Rekordbox – Fully compatible, unlocks the full version when plugged in.
Virtual DJ – With the Pro Infinity or a Pro Subscription License)
Traktor – Can work with custom MIDI mappings, no official support.
Inputs & Outputs
XDJ-XZ inputs and outputs:
Inputs
– 2x LINE (RCA)
– 2x PHONO (RCA)
– 1x AUX (RCA)
– 2x MIC (XLR & 1/4 inch TRS Jack)
Other
– 3x LAN (100Base TX) – for Pro DJ Link support (connecting additional Pioneer CDJ players)
– 2x USB A ports
– 1x USB B port
Outputs
– 2x MASTER (XLR, RCA)
– 1x BOOTH (1/4 inch TRS Jack)
– 2x PHONES (1/4-inch stereo jack, 1/8-inch stereo mini-jack)
– 1x SEND (1/4 inch TRS Jack)
Pros and cons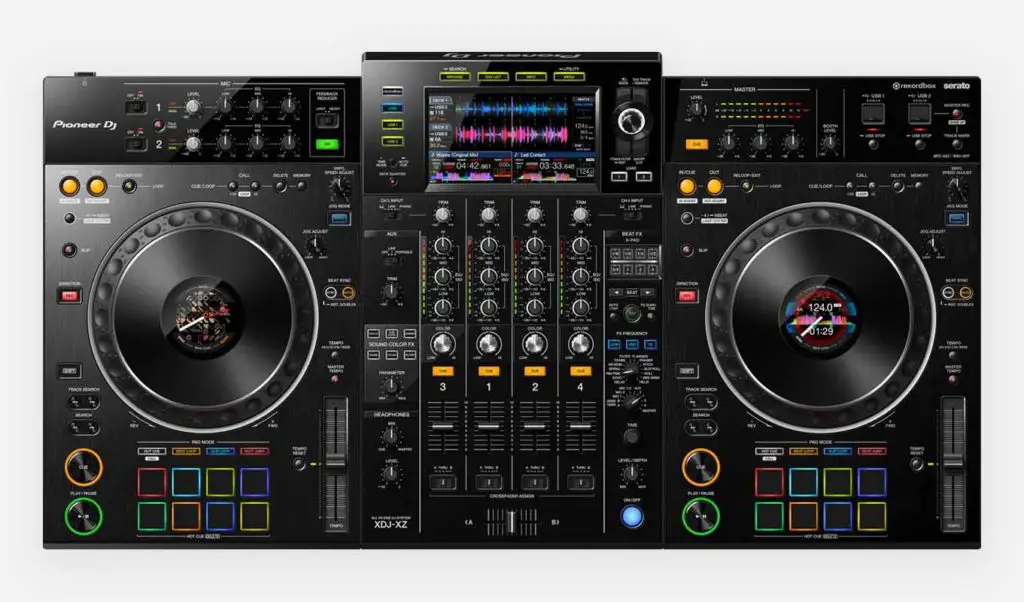 Pros:
Full size mechanical jog wheels.
FX section based on the DJM-900NXS2 effects section with an FX frequency isolator.
Feedback reducer for the mic input, master output equalizer.
Pro DJ Link support (ability to connect CDJ players and fully utilize all of the 4 mixer channels).
Built in power supply.
Cons:
No full support for 4 channels in standalone mode.
Doesn't give you the ability to analyze tracks on the go.
Only mixer channels 3 and 4 feature audio inputs.
No double USB connection – only a single USB port.
Where to get a brand new Pioneer XDJ-XZ?
You can check the price and availability of the Pioneer XDJ-XZ in the official Pioneer DJ Amazon store. For your convenience we've attached the links below.
Pioneer XDJ-XZ availability.
The conclusion – Is XDJ-XZ still worth it in the current year?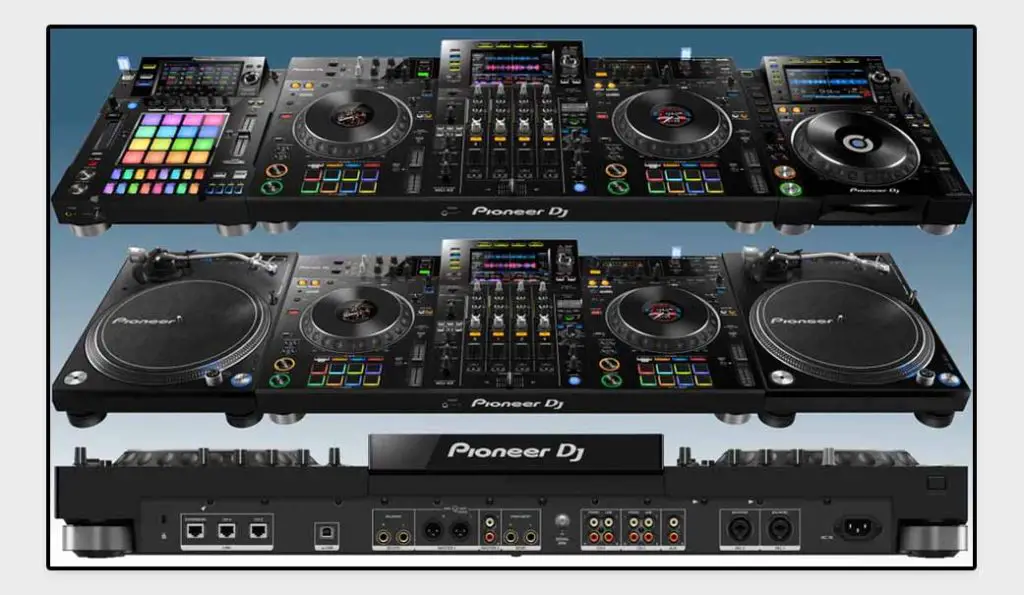 Controllers similar to the XDJ-XZ with a closely matching feature set and in similar price range:
The Pioneer XDJ-XZ is still a viable option for DJs, however you should also be wary of the most popular competitors of this device which in our opinion are really worth taking a look at.
Denon DJ Prime 4 – fully standalone 4 channel DJ controller – direct rival of the XDJ-XZ
Pioneer XDJ-RX3 – younger brother of the XDJ-XZ and successor of the popular XDJ-RX2, feature packed 2-channel standalone solution.
If you're interested in other standalone DJ controllers, you might be interested in the recently released Pioneer XDJ-RX3 – check out our take on this device here.
If you're not really set on getting a standalone DJ controller you might be interested in the Pioneer DDJ-1000 – current flagship device when it comes to Pioneer DJ Rekordbox controllers (it has a Serato compatible version as well). Check our the article in which we compare it to the XDJ-XZ.
Check out also:
– Pioneer XDJ-XZ vs. Denon DJ Prime 4 (Ultimate Comparison)
– Pioneer DDJ-1000 vs. XDJ-XZ (New Detailed Comparison!)
– Pioneer XDJ-RX3 Standalone DJ Controller – 7 Reasons Why You Need To Get One!
– New Pioneer XDJ-RX3 vs. XDJ-RX2 (Direct comparison)