Top free software for DJs? If you're wondering what worthwhile software or applications you can use for mixing your music and doing track mashups on your laptop for free, you've come to the right place. Here we'll provide you with a short straight to the point list of best popular tested DJ software for both PC and Mac with appropriate end ratings. Let's get straight into the topic!
1. Mixxx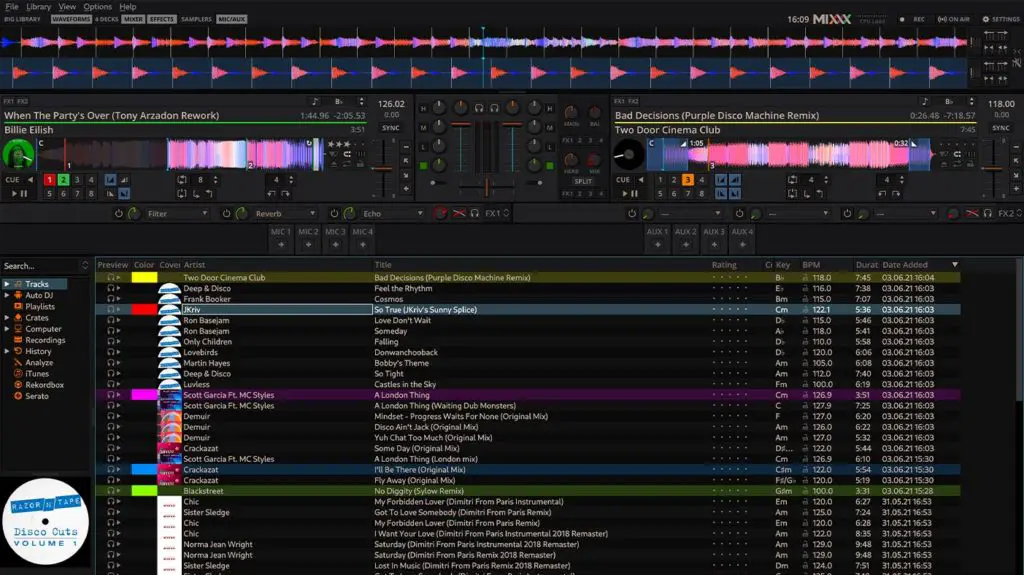 Mixxx is a great and in general lesser known piece of DJ software that is actually 100% free and open-source.
While Mixxx is sometimes critiqued for not being quite as capable in terms of features and hardware support as the "big three" – Serato, Rekordbox and Traktor/Virtual DJ, this has really changed over the years.
Can I DJ With Just A Laptop? – Do You Really Need A DJ Controller?
Today Mixxx offers a wide variety of supported DJ controllers (among them many popular ones such as the Pioneer DDJ-400), and gives the user access to lots of great features that way before were available only in paid versions of the most popular DJing software.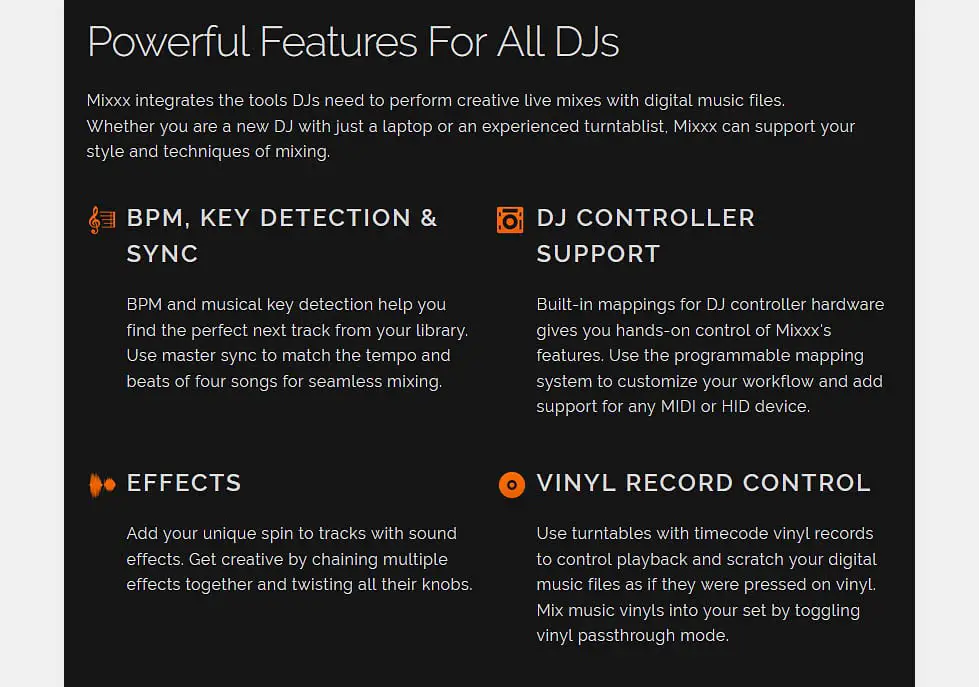 As Mixxx is open-source, it's community is always going on upgrading its feature set and fixing issues that arise on the way. This makes this software a free, fast growing alternative to most popular paid DJ software on the market.
Official website: https://mixxx.org/
Our rating: 8/10 – actually 100% free and fully functional.
2. Virtual DJ Home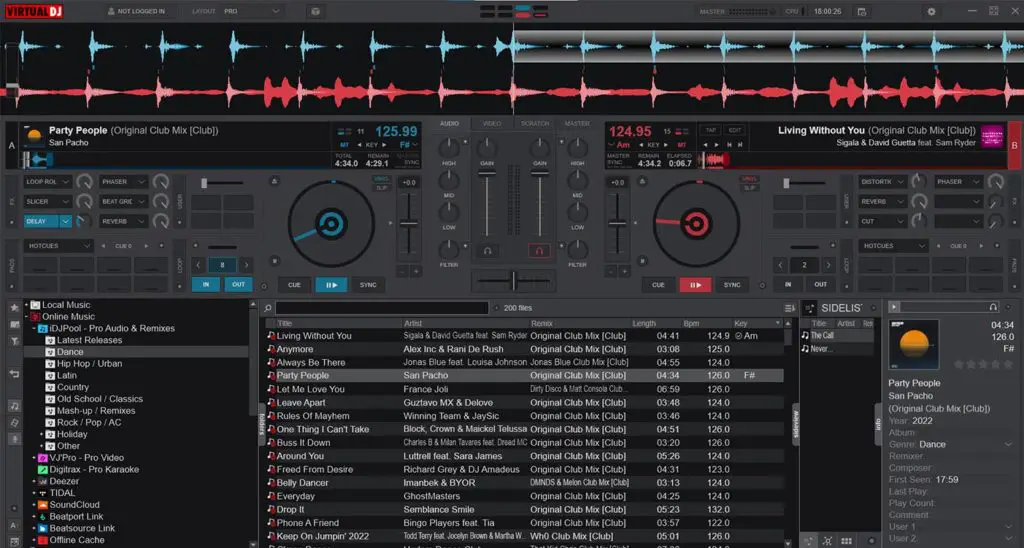 Virtual DJ is free to use – with a twist. According to the official Virtual DJ statement on their site, you can download and use the Virtual DJ software completely free of charge, provided that you:
Don't use the software for commercial purposes.
Don't use it with any external DJ controllers / additional DJ equipment.
If you try and use the free version of Virtual DJ (so basically unlicensed VDJ software) with a DJ controller, the MIDI controls on your device will still work, albeit only for 15 minutes at a time.

This makes Virtual DJ a perfect choice for beginners that would like to try out laptop-only DJing, but makes it inaccessible for free for people already own a DJ controller and want to use it alongside VDJ.
Virtual DJ Software – New Vital Features You Didn't Know About
Nevertheless, Virtual DJ is among the most popular choices for beginner DJs since over one decade, and for a good reason – its extensive feature set can nowadays make even Serato and Rekordbox DJ pale in comparison.
Official website: https://virtualdj.com/
Our rating: 8/10 – free without a possibility to use with a DJ controller, or in commercial contexts.
3. Serato DJ Lite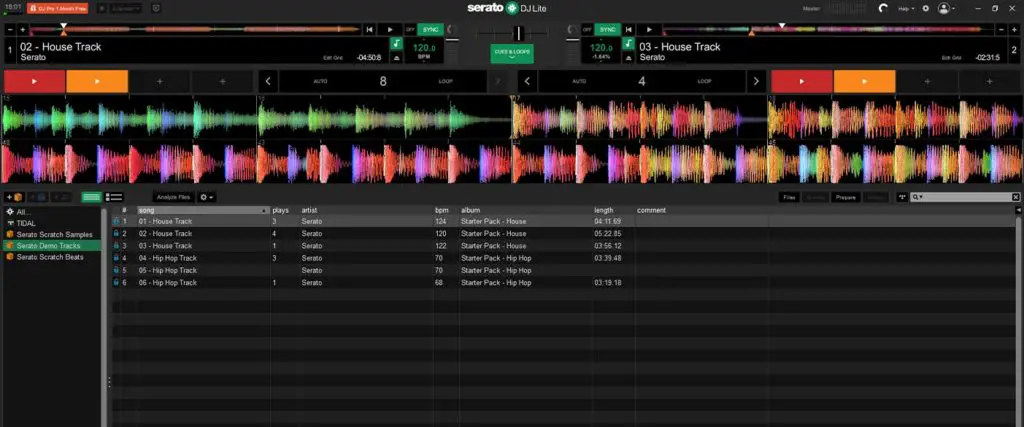 Serato DJ Lite can be used with just your laptop (without access to many features), or with dedicated Serato DJ Lite controllers (and quite frankly even then it's very limited in comparison to Serato DJ Pro).
With Serato DJ Lite and without a DJ controller, you are able to use the basic functionality of the software. You have access to the track waveform view, library view, track management and transport controls, a crossfader, tempo controls, hot cues and loops.
Serato DJ Lite vs. Pro (12 Most Important Differences)
If you do have a Serato DJ Lite compatible controller, you can basically use the very same features and some more (like audio FX) with an aid of physical controls.
Although this doesn't sound half bad, the limitations of Serato DJ Lite software are vast. One example is, in Serato DJ Lite you are not able to utilize audio loops smaller than 1 beat or larger than 8 beats. Every other DJ software on the market, including Serato DJ Pro let you do that.
To sum it up perfectly, it is free, but is sure is extremely limited in comparison to the "full" version of Seratto DJ software – Serato DJ Pro.
Official website: https://serato.com/dj/lite
Our rating: 6/10 – really limited but can get the job done.
4. DJUCED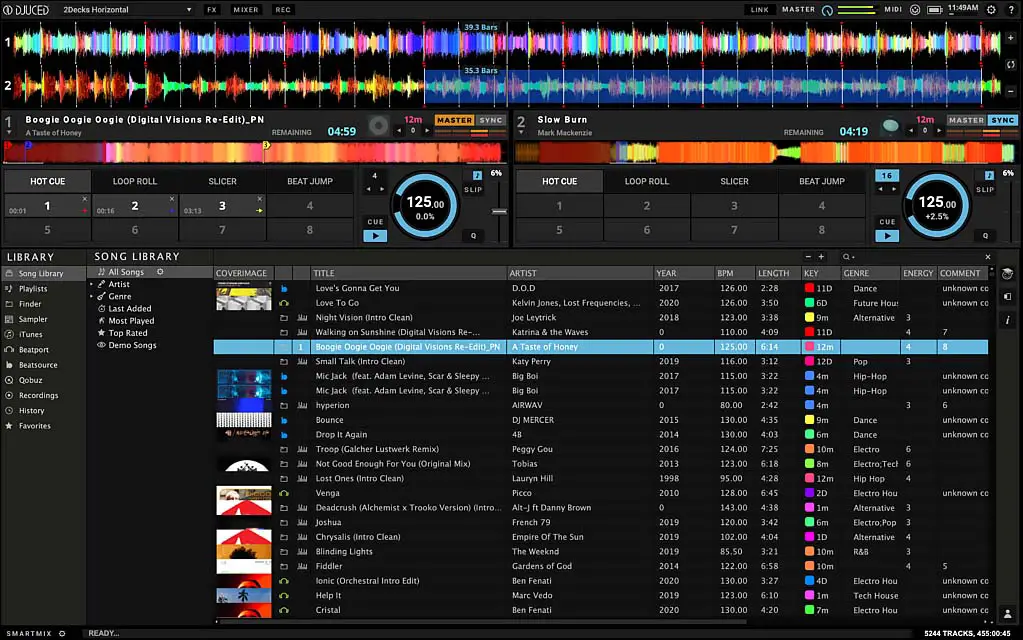 DJUCED is aimed at beginners, but fully capable of aiding DJs of every level of expertise. This one is designed to be compatible with just Hercules DJ brand controllers, but to a certain degree in can function in the so-called "offline mode".
When downloaded and started up without a compatible DJ controller connected, DJUCED software gives you access to the offline mode with music library management section and limited mixing features. Keep in mind that offline mode features are meant to be used for mix preparation, rather than for an actual live performance.
The DJUCED software also features an extensive knowledge base and manual section on their website which can be really helpful if you're just starting out.
Official website: https://www.djuced.com/
Our rating: 5/10 – great support for Hercules DJ controllers, very limited without a compatible DJ controller plugged in.
5. Cross DJ Free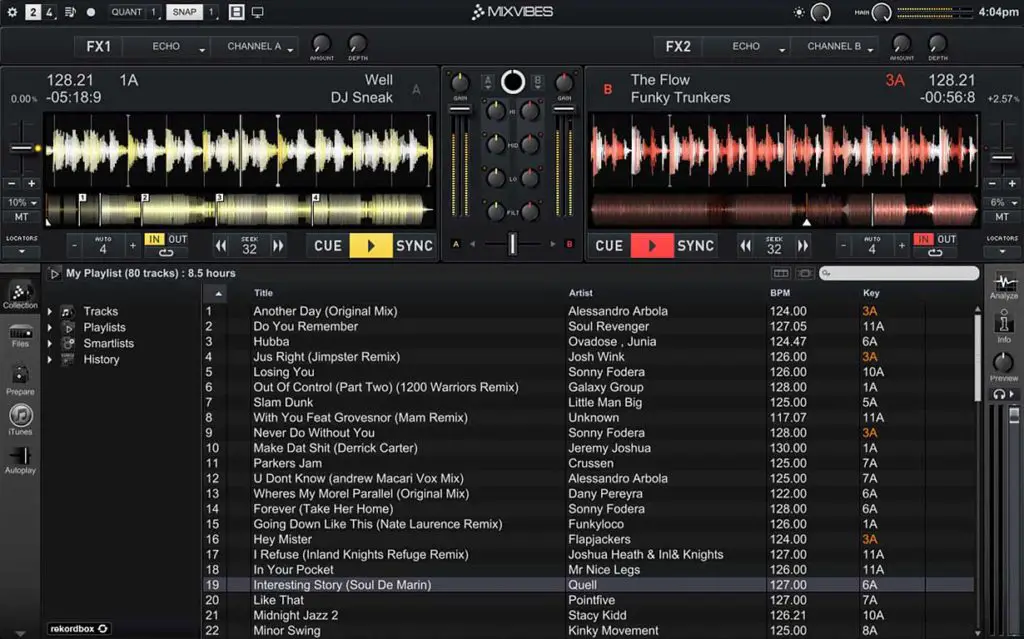 Cross DJ from Mixvibes is a well known DJ app for Android and iOS, which is also available in a PC/MAC compatible desktop version.
Cross DJ features a free version for both mobile devices and your desktop, which while it's certainly an interesting option, is also as you might have guessed really limited when it comes to the features that are available for free.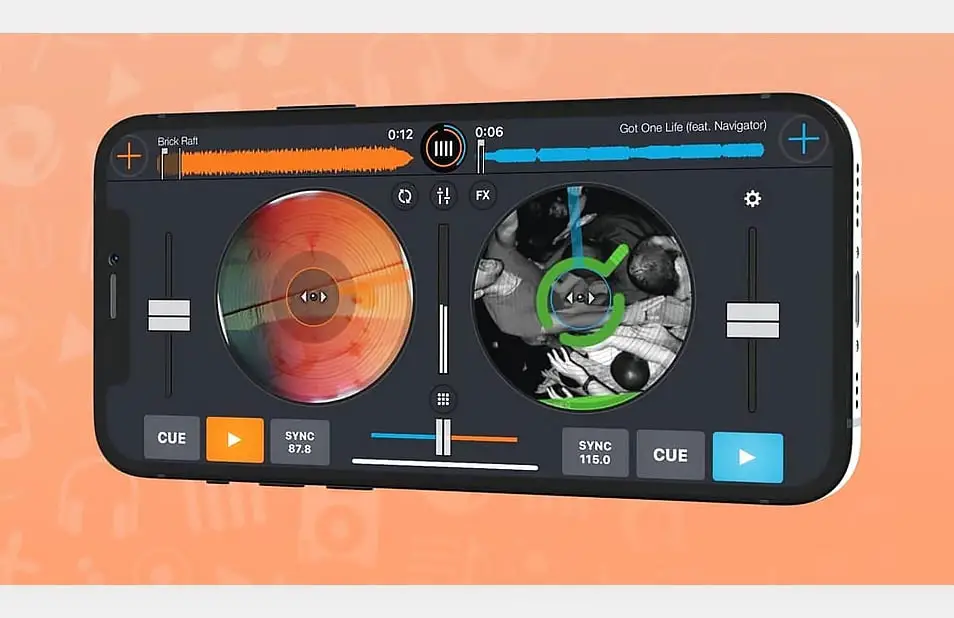 When it comes to the good stuff such as more advanced controls or audio FX, you'd have to do a paid upgrade to the full version of the software.
Official website: https://www.mixvibes.com/cross-free-dj-software
Our rating: 5/10 – free version is again, quite limited in terms of features.
6. YOUDJ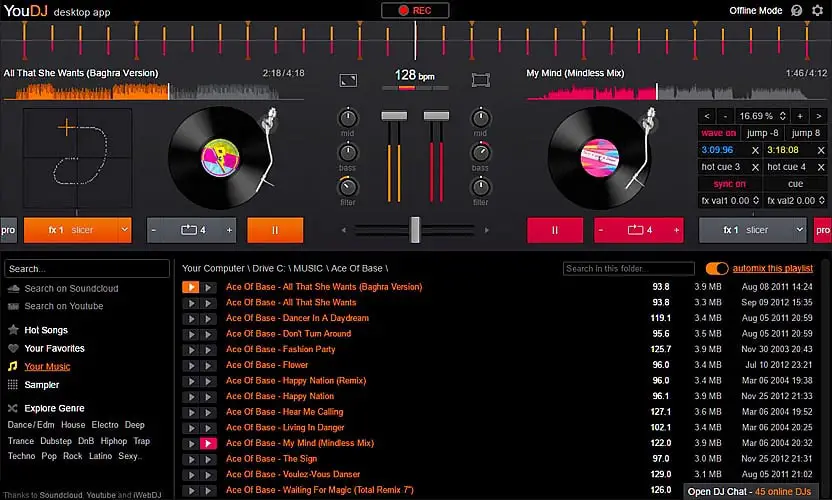 YOUDJ is another example of free DJ software and it's available for many different platforms including PC & Mac. This piece of software much like the others, gives you access to basic mixing controls and library management tools.
The software works really well and overall it's sufficient for simple mixing, synchronizing your tracks and preparing basic transitions.
As expected, there are a few things available as additional purchases here, such as additional audio FX, MIDI device support or more advanced mix controls. These features are acquired by buying bonus "level up" upgrades directly on the youdj site.
Moreover, it has a no-install version available on the youdj website, more about it down below.
Official website: https://you.dj/free-dj-software
Our rating: 5/10 – overall nicely done, functional and has a free variant (available also in the form of a web app).
Can you DJ for free online?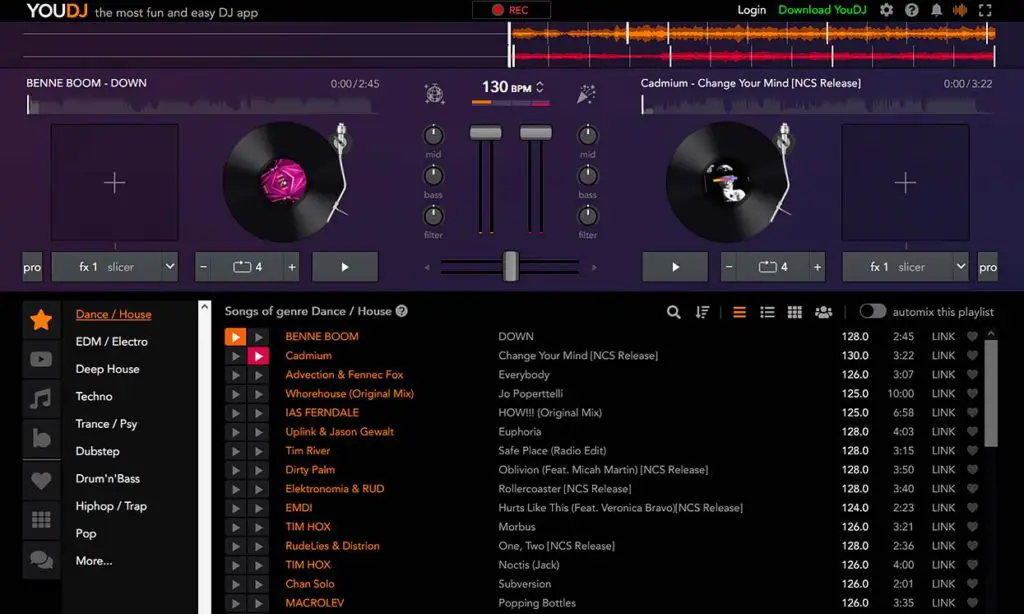 Actually yes, you can! Head over to the online version of YOUDJ software we mentioned earlier (former partycloud.fm), to mix music from various different online sources.
The youdj web app also supports a few nifty audio FX to spice up your DJ set, go give it a try!
Official website: https://youdj.online/
Our rating: 5/10 – completely free and easily accessible online DJ mixing app.
The conclusion – free software for DJs?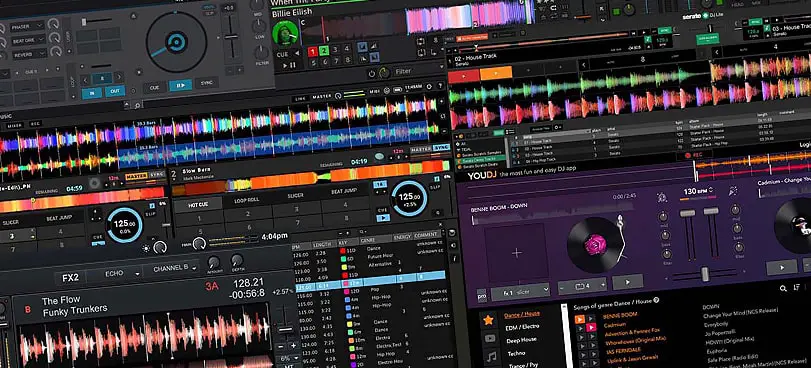 That's about it! We've listed all the free DJ software that we've found worthwhile, great to use by both a beginner and more advanced DJs. As this list features only the most efficient and popular software with large user bases, that doesn't need much tinkering to get started with.
Our final recommendation, if you're just starting out with or without a DJ controller and you're looking for free DJ software would be either Virtual DJ Home, or Mixxx DJ software. Both of these can introduce you to the world of DJing software for free and without trouble.
If you're interested in a complete list of free DJ software for DJs that are up for some more experimentation with older freeware or abandonware mixing software check out this list over on bestdjgear.net: 16 Best Free DJ Software Apps