How to record your DJ set using Rekordbox? Recording your mixes is a great way to evaluate your skills and its essential if you want to share your DJ sets on social media. Luckily, Rekordbox DJ software enables you to record your mix using the in-built audio recording utility. We'll see how exactly to use it, and what to do if you for any reason encounter any problems or issues. Let's get straight into this quick & simple Rekordbox set recording guide!
How to record your DJ set in Rekordbox?
To begin recording your live performance in Rekordbox DJ software, you have to follow these steps:
Click the round "record" button at the top left part of the main Rekordbox screen, and the small recording utility bar will appear.
Click the recording button in the panel to start your recording.
When you want to end your recording, click the recording button again.
That's it! When you'll decide to end your recording, it will be saved to the default Rekordbox recording file location.
If your recording button on the recording bar is locked out, you probably are using the free version of Rekordbox without a hardware unlock DJ controller plugged in. In this case you won't be able to activate the recording utility.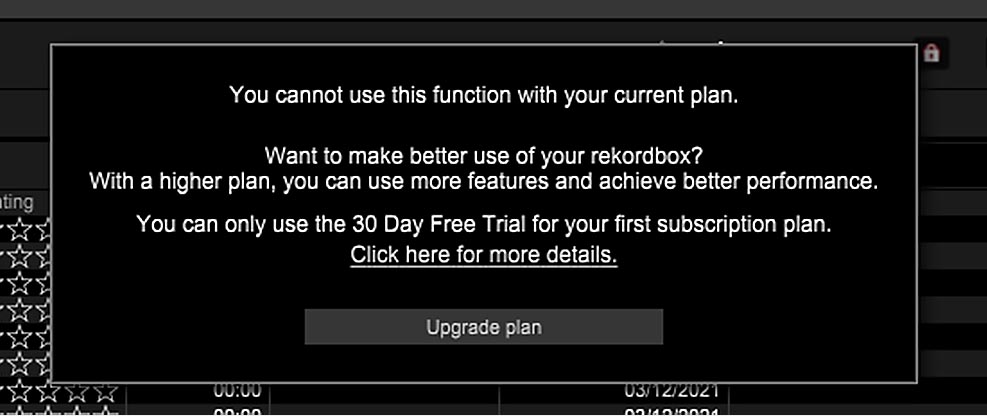 Remember that the recording limit in Rekordbox for one recording audio file is 3 hours. After 3 hours, another recording audio file will be created, and both of the files will be saved once you finish recording.
And what is the format of the recorded mix? By default it's set to .WAV (44.1kHz / 16bit).
What is the default recording location for the Rekordbox mixes?
The default Rekordbox set recording location should be identical for Windows and MAC operating systems. Here is the default recording file path:
On Windows and MAC, your Rekordbox mixes will be recorded to "/Users/YourUserName/Music/PioneerDJ/Recording".
Note: "YourUserName" in this file path will be your actual username on the device you're using. Search for this file path on the drive you've installed Rekordbox on.
You can easily change your recording location by following the instructions in the next paragraph.
How to change the default mix recording location in Rekordbox DJ software?
If you want to quickly change your recording location you have to do the following:
Go over to the Preferences menu (by clicking the File tab in the top left of the screen and choosing Preferences option.
Select the Controller tab if you're in the PERFORMANCE mode (or the Advanced tab if you're in the EXPORT mode), and then click the Recordings tab.
Over there you can set your new recording location in the Location of Files field by hitting the Browse button and navigating to your desired file directory.
Note: If you can't find the Location of Files option, remember that in EXPORT mode it will be located under File -> Preferences -> Advanced – Recordings.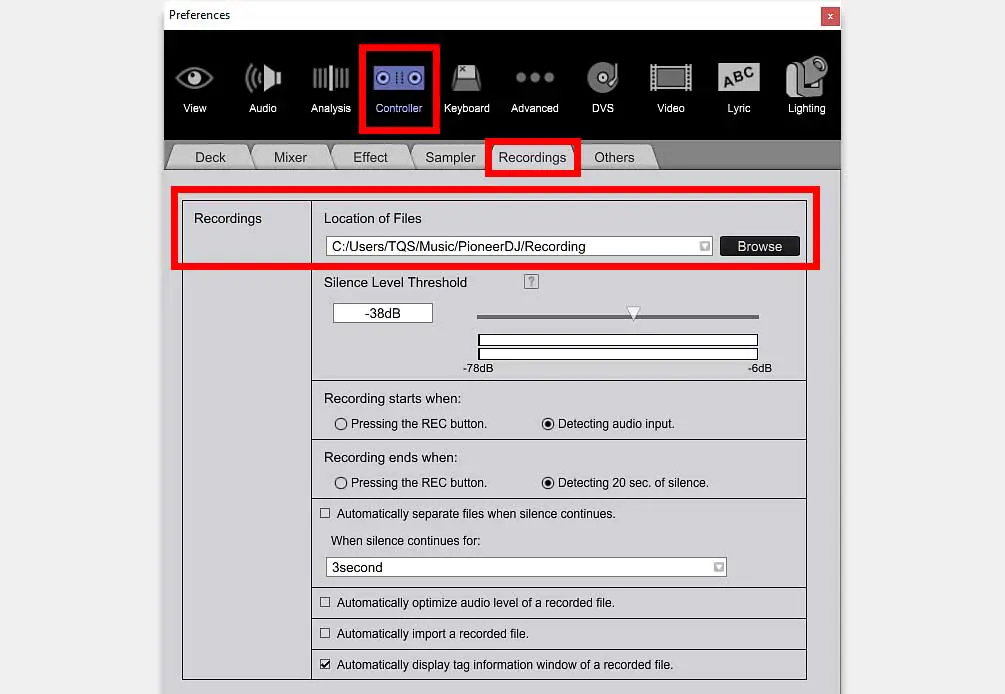 When you change your default recording location, the files you've already recorded won't be moved automatically, you'll have to move them yourself by accessing the old recording files in the old directory from within your system's file explorer utility.
Can you record your mixes in Rekordbox when you used streamed music?
Are you using streaming services as your music source in Rekordbox? If you're unable to record your mix and you're seeing an error akin to the "Invalid action. REC is disabled…" error, it might be because of the way Rekordbox treats mixes with streamed music in them.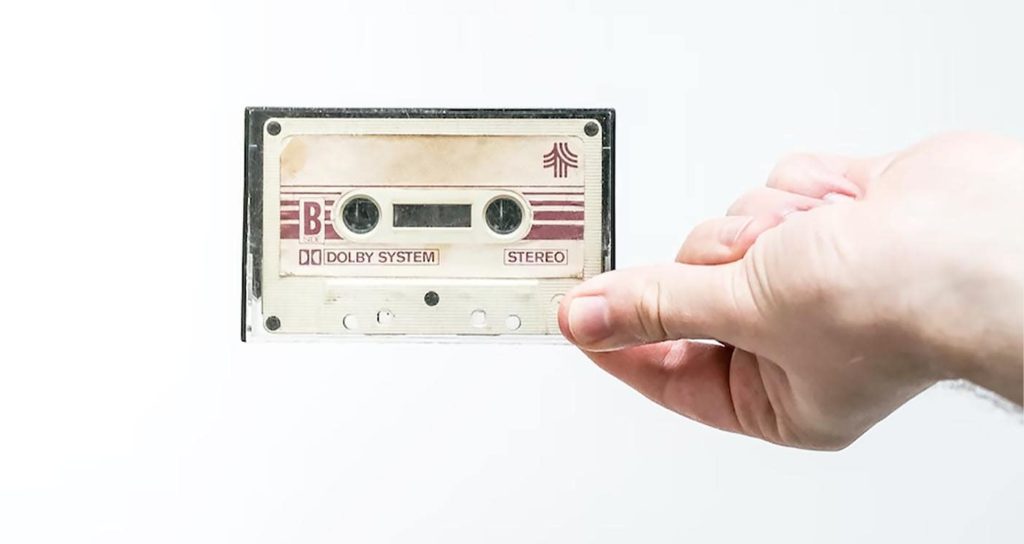 As of now, you can't record mixes that contain any kind of streamed tracks using the in-built Rekordbox mix recording utility. This includes all the tracks that you're accessing using the Rekordbox software streaming service integration with TIDAL, Beatport, Beatsource and Soundcloud Go+.
How To Use Music Streaming Services With Rekordbox?
The reason for that is the specific kind of deal most DJ software manufacturers (such as Serato DJ, Rekordbox and Traktor DJ) have with their music streaming partners.
Currently, none of the above mentioned DJ software will let you register your live mix audio if you're sourcing your tracks for your set directly from their streaming service integration utilities.
How to record Rekordbox mixes with Audacity
There are a few other ways to record your mixes in Rekordbox without an external audio interface, if for one reason or the other you don't want to use the built-in mix recording utility.
One of the best and easiest methods here is to use the free and open-source Audacity audio recording software, available for both Windows and MAC.
Can You Record Your Mixes With Serato DJ Lite? – How To
Once you install the free Audacity software, you have to set your audio inputs before you begin recording. For this you will need to route your audio from the Rekordbox software to Audacity.
For routing your audio properly which is a vital part of this process, you can use any kind of free virtual audio cable software – for example Blackhole for MAC, and VB-Cable for Windows.
It all boils down to installing your virtual audio cable software, setting your master output to your virtual cable, and then over in Audacity setting the input device to the very same virtual cable instance.
This will create a virtual audio link between the two pieces of software, allowing you to route your audio from Rekordbox straight to Audacity in little to no time.
Once you have done that, you can begin recording right away after pressing the red record button once. If it doesn't work yet, you need to make sure that your audio routing is set up properly.

The other way is to use the also free OBS (Open Broadcaster Software) to record your mix in a similar way. The input setting process will be the same, you'll just have to deal with the slightly different OBS software interface.
Here are the links to all the free software you need:
If you have any other questions about recording your live DJ sets in Rekordbox, don't hesitate to ask us in the comments below. Keep on practicing and rock on!