Traktor Pro 3 vs Serato DJ Pro DJ. Serato DJ and Traktor are one of the most popular choices when it comes to advanced DJ software alongside Virtual DJ and Rekordbox. In this article we will thoroughly compare these two pieces of software and point out all of their similarities, differences, upsides and downsides to help you decide which one is better for you and which one to choose in the end. Let's get straight into the topic!
[this article features affiliate links]
Similarities – what both of them can do with ease
Both Serato DJ Pro and Traktor Pro 3 quite obviously give you the ability to mix and blend the tracks together, manage your track library and let you make use of basic additional functions such as audio FX, audio loops and cue point management.
While both Serato DJ Pro and Traktor will be more than enough for both a beginner and advanced DJ on their own, there are a few substantial differences between them that might influence your choice when it comes to your software preference.
Let's quickly go over the most important differences between Traktor Pro 3 and Serato DJ Pro.
User Interfaces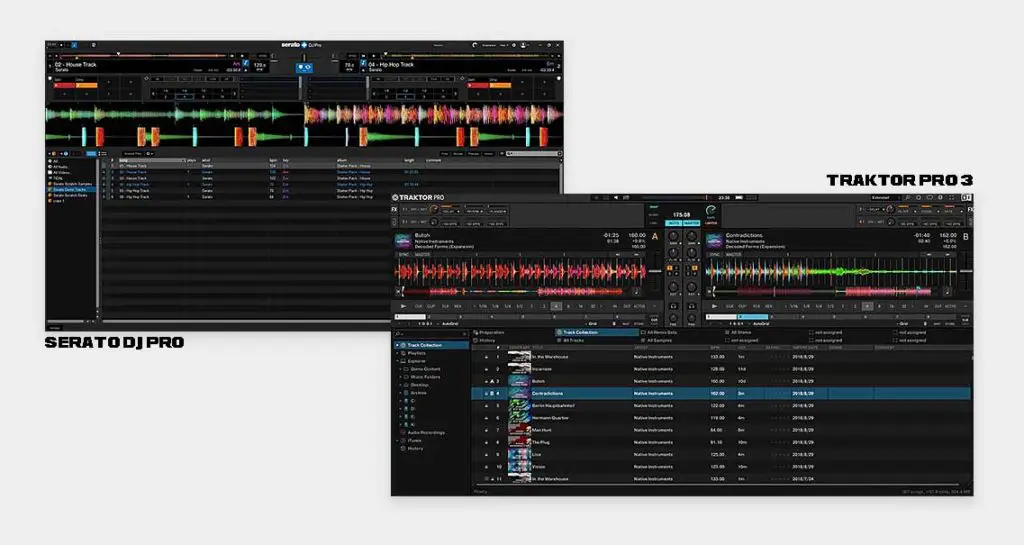 In terms of user interface Traktor Pro 3 looks more technical and is closer in looks to Virtual DJ, when Serato DJ Pro is traditionally a little bit more simplistic in terms of its UI design.
It used to be the case that Traktor lacked support for stacked waveform view, however Traktor Pro 3 is nowadays capable of replicating all waveform view modes that Serato DJ has to offer.
Video Mixing
In terms of video mixing, Traktor Pro 3 lacks video mixing capabilities and there are no expansions that could enable any kind of video mix feature.

On the other hand, Serato DJ Pro also doesn't give you any kind of video mix feature unless you purchase an additional Serato Video expansion.
If you're planning to deal with video mixes a lot, we also advise you to take a look at Virtual DJ software which has extensive video mixing capabilities.
Virtual DJ Software – New Vital Features You Didn't Know About
Remix Decks & Stem Decks in Traktor Pro 3
Traktor Pro 3 has two features that Serato DJ Pro lacks: remix decks and stem decks.
Remix decks in Traktor simply allow you to load short audio clips that you can later use during your mix. You can apply effects, change the tempo of the samples and manipulate them in any way that you would normally do with your standard deck audio output.
It's essentially a sampler with extended capabilities and it works similar to the way Ableton handles audio files in performance mode.
Stem decks on the other hand, enable you to load a track in stem format (track that's already divided into stems – bass, drums, vocals etc.) onto your deck, and then control the volume and FX on each of the stem tracks.
This gives you the possibility to do live remixes and mashups much more efficiently. You can either use your own produced tracks that you're split into individual stems, or acquire pre-separated tracks of other artists.
An important thing to note here is that unlike the Virtual DJ's real time stem isolation feature powered by AI, the stem decks feature in Traktor Pro 3 will not automatically split your regular audio files into stems. It needs to be given a track that is already separated into stems, in a specific format. Only then you can make use of the stem decks feature.
Custom MIDI mapping capabilities + customization
When it comes to custom MIDI mappings there are two kings on the market: Traktor Pro 3 and Virtual DJ. Serato DJ Pro unfortunately falls behind tremendously in terms of changing your DJ controller's mapping, preparing custom keybinds and overall customization. Simply put, there are not many options in Serato when it comes to these things.
There are almost no limits to what you can do with custom MIDI maps in Traktor Pro 3 – and It's not that hard too!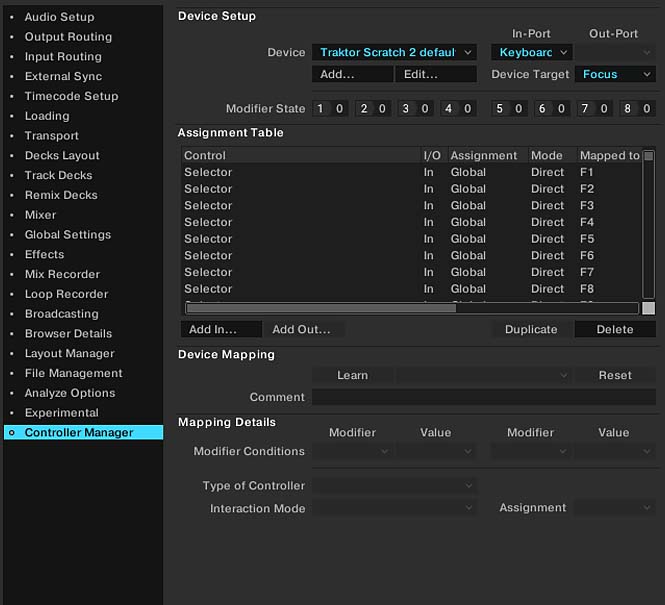 This means that not only you are able to easily customize your DJ controller to your liking, but also you can easily map out virtually any controller that supports sending MIDI signals via USB connection. Novation Launchpad mappings for custom FX controls or sample triggers? No problem there!
DVS support in Serato DJ Pro and Traktor
Serato DJ Pro requires you to purchase additional Serato DVS expansion to let you use your digital vinyl system with the software.
DVS And Timecode For DJs Explained.
In Traktor, DVS functionality used to be available only after purchasing the Traktor Scratch solution, although now its built in the Traktor Pro 3 software and available form the beginning, without additional purchases.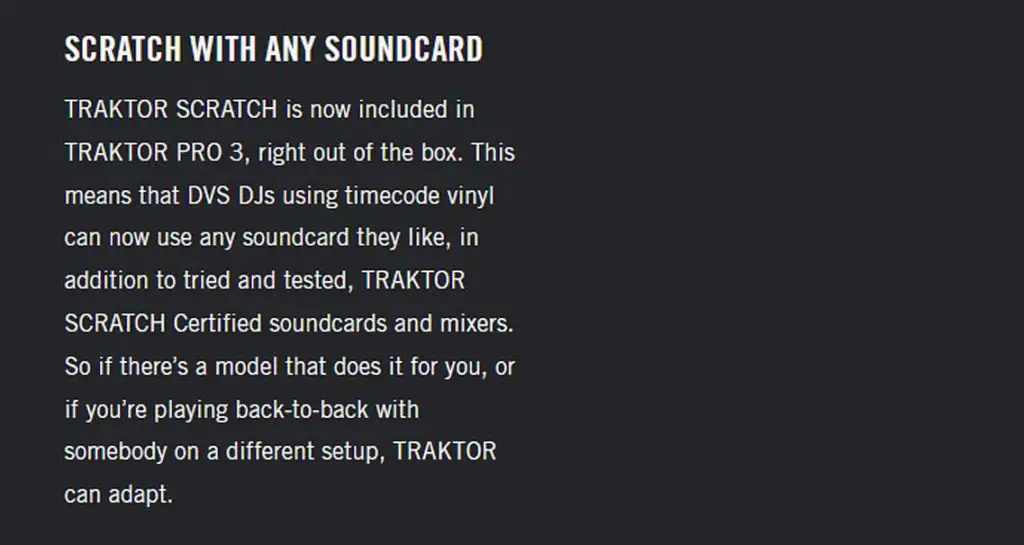 In Serato DJ Pro only certain hardware can be used when it comes to DVS control – here is the updated list of compatible devices. Traktor proudly advertises their DVS control solution as compatible with any soundcard you choose, however they still have an official list of certified soundcards and mixers for DVS.
Mixing without a DJ controller
One of the important differences between Serato DJ Pro and Traktor Pro 3 is that when with Traktor you can mix using just your laptop with custom keybinds from the beginning without any trouble, with Serato DJ Pro it's not that simple.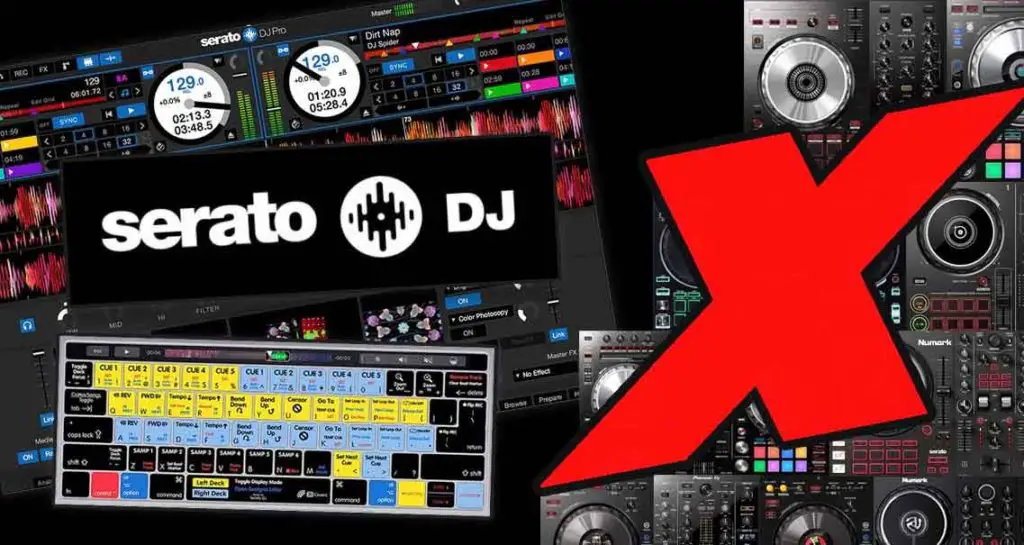 Can You Use Serato On Your Laptop Without A DJ Controller?
When using Serato DJ Pro you need to purchase an additional Serato Play expansion to unlock the possibility to mix using just your laptop keyboard.
No flexible beatgrids in Traktor Pro 3 as of now
Traktor Pro 3 despite its many significant upsides does not let you create and manage flexible beatgrids with ease. This means that you can face quite some trouble if your library contains lots of tracks which BPM changes during the song.
Many DJs use these types of tracks for so-called "transition tracks" for simple BPM change transitions, and many older rock, swing, jazz and even disco songs can feature unexpected tempo changes.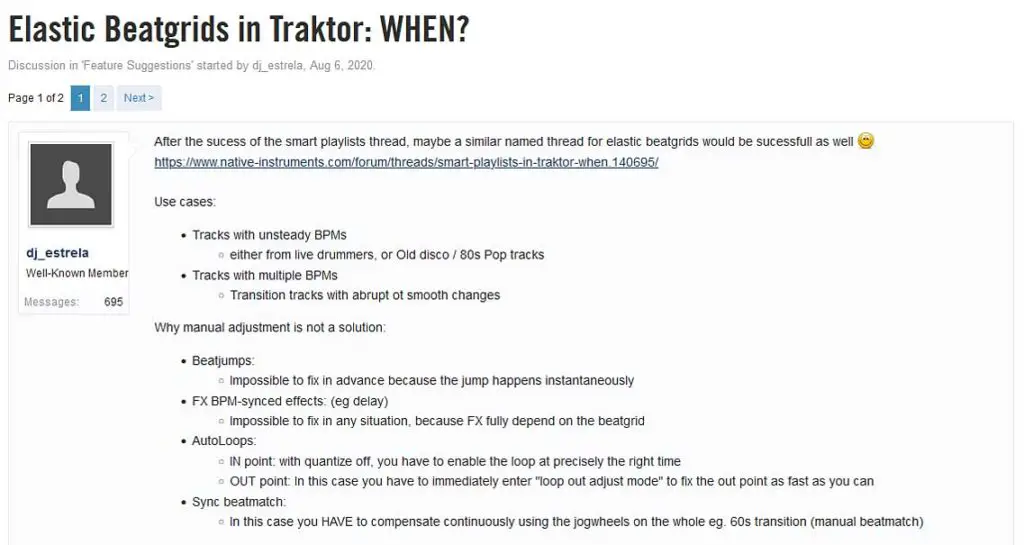 In Serato DJ Pro, you are able to easily customize and edit your beatgrids in a way that they are correctly aligned throughout all the track with varying BPM, and this allows you to utilize auto loops and beat based FX in these kinds of songs.
In a few threads on the official Native Instruments forums, there are mentions of users complaining about the lack of possibility to easily handle flexible beatgrids. While this feature might be added in the future, for now for tracks with varying BPM Serato DJ Pro is a much better choice.
One of the Native Instruments form threads we mentioned: Elastic Beatgrids in Traktor: WHEN?
Music streaming services support
When it comes to music streaming service support – a very important topic for DJs nowadays, long story short Serato DJ Pro & Lite supports the following streaming services:
Beatport
Beatsource
SoundCloud
Tidal
And Traktor Pro 3 supports three streaming services as of now:
Beeatport
Beatsource
iTunes
Yes, you can use your own iTunes library as a track source in Traktor Pro 3.
You can read more about the music streaming services support in Serato DJ here: How To Use Streaming Services With Serato DJ Pro & Lite
Hardware compatibility – supported DJ controllers
Serato DJ Pro has a wide selection of compatible DJ controllers and DJ hardware. The list of officially supported hardware in case of Serato DJ is pretty strict. Mapping of third party DJ controllers although to some extent possible isn't really half as reliable as with Traktor or Virtual DJ software.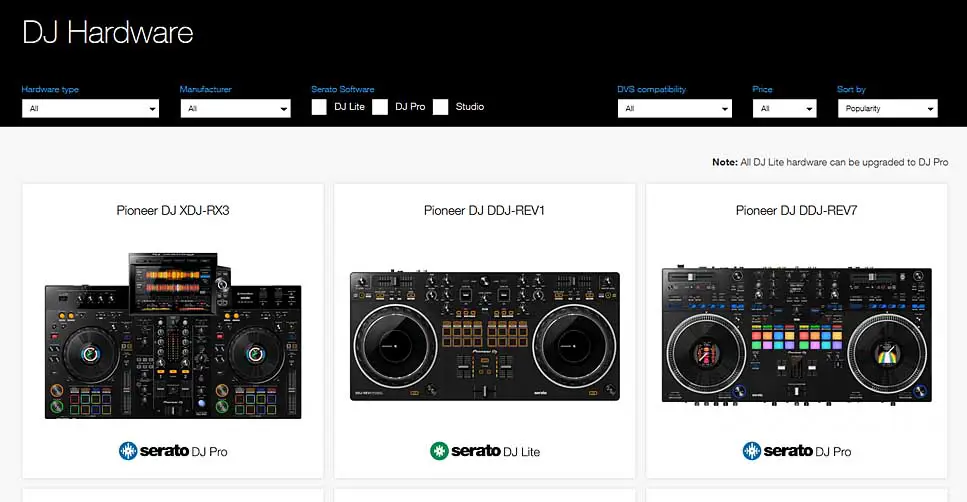 Traktor Pro 3 besides the "third-party Traktor Ready controllers" (their way of saying "DJ hardware"), also takes advantage of dedicated hardware made and designed by Native Instruments specifically with Traktor Pro software in mind. These are for example the Traktor Kontrol DJ controller series.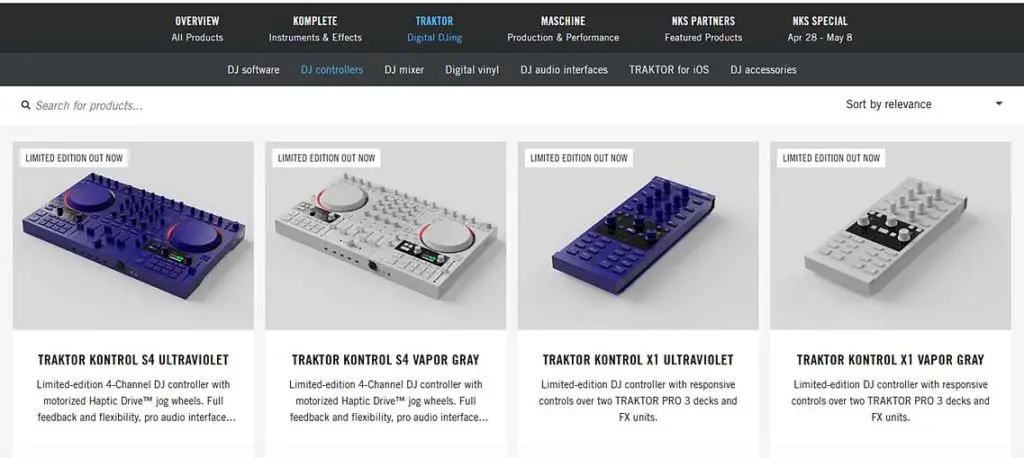 -> Check the Traktor Kontrol DJ controllers on Amazon here! <-
Official Serato hardware compatibility list: https://serato.com/dj/hardware
Official Traktor Pro 3 NI hardware compatibility list: https://support.native-instruments.com/hc/en-us/articles/209557129-Third-Party-TRAKTOR-READY-Controllers-with-Enhanced-TRAKTOR-Integration
The price + expansions
Serato DJ Pro can be purchased as a full product with lifetime license or as a subscription product paid monthly.
Traktor Pro 3 is available only as a one time purchase. It also features a stripped down version – Traktor LE which comes with some of the Native Instruments DJ controllers, and there is a 30 minute demo available for the full version of Traktor Pro 3.
It's also important to mention that for the owners of previous versions of Traktor software, there is a large discount on the new Traktor Pro 3.
When it comes to the exact prices, you can check them on the respective software manufacturers websites here: Serato DJ Pro pricing, Traktor Pro 3 pricing.
After you purchase Traktor Pro 3, the full functionality of the software will be unlocked and there are no further upgrades or expansion packs that you can purchase to unlock more features.
When it comes to Serato DJ Pro however, there are 6 paid optional expansion packs in total that you can check out in detail on the official Serato DJ Pro website. There expansions let you do many things such as mixing without your DJ controller connected, mixing video live, unlocking more software FX and so on.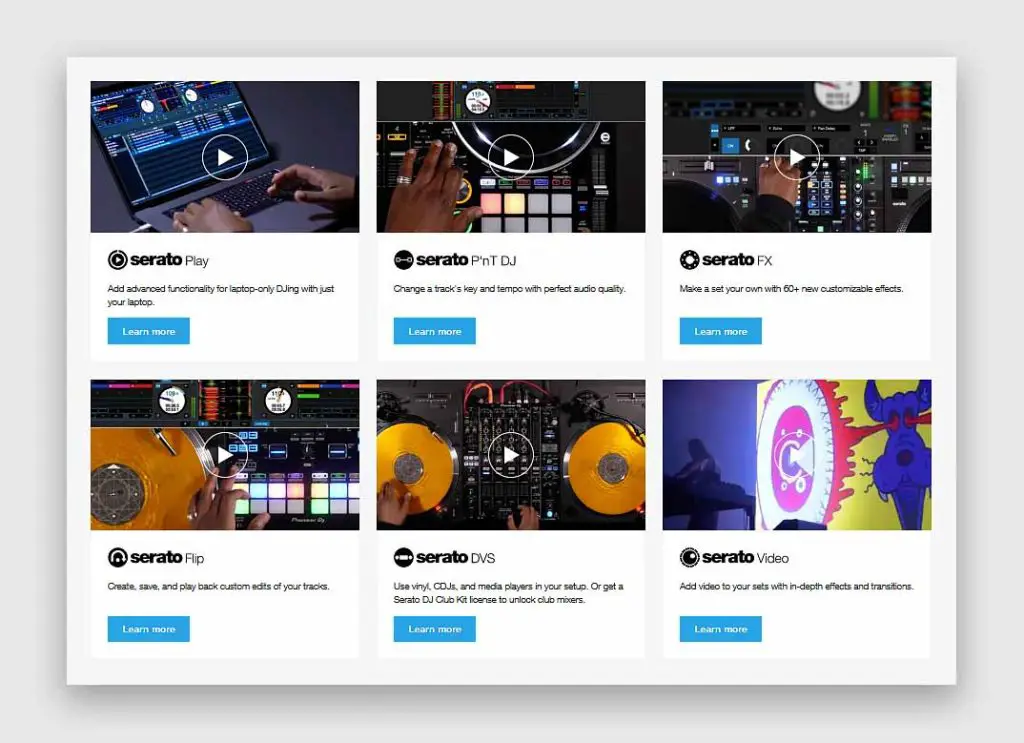 Serato DJ Pro vs. Serato DJ Lite
When it comes to Serato DJ, there are 2 versions of Serato DJ software: Serato DJ Lite and Serato DJ Pro.
Serato DJ Lite is a basic, simplified version of Serato DJ Pro, available for free download, compatible with many entry-level DJ controllers and lacking many professional features.
Serato DJ Lite vs. Pro (12 Most Important Differences)
Serato DJ Pro is the main, flagship version of Serato DJ software giving you the full mixing experience. Many of the more advanced DJ controllers act as a hardware unlock key for Serato DJ Pro – this means that some of them will unlock the full version of Serato DJ Pro when plugged into your computer. This way you don't have to purchase the software separately if you own such a controller.
There are too many differences between Serato DJ Lite and Serato DJ Pro to discuss them in detail here. If you want to know much more about these two, check our extensive comparison of Serato DJ Lite and Pro here!
Pros and cons
Serato DJ Pro: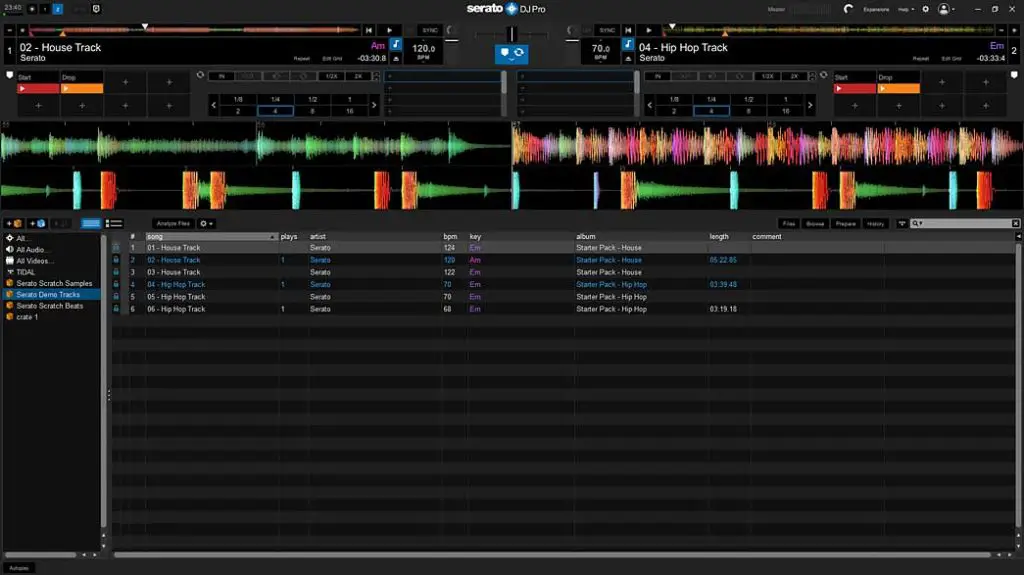 Pros:
Clean, simple and efficient GUI.
"Industry standard" alongside with Rekordbox DJ software.
Handles elastic beatgrids and tracks with tempo changes well.
Supports more music streaming services (SoundCloud and Tidal aren't available in Traktor Pro 3).
Cons:
There are some additional purchases to make if you want to unlock more features (Serato expasion packs).
Not that great at MIDI customization.
No GUI customization – a few premade view modes available.
You can't use it for laptop-only mixes without the paid Serato Play expansion.
Traktor Pro 3:
Pros:
King of MIDI customization (and customization in general).
All the features unlocked and available after purchasing the software (no expansion packs).
More software FX (all unlocked out of the box).
Advertises support for virtually any soundcard in terms of DVS.
Supports iTunes as a music source.
Lots of options for GUI customization.
Remix Decks and Stem Decks – great for mixing your own produced music.
Cons:
No simple elastic beatgrids management.
No video mixing functionality (at all).
Less popular software choice (although the user base is still quite large).
Some popular DJ controllers are not officially compatible with it (but you can find custom mappings for many of these online or make your own).
The conclusion – main differences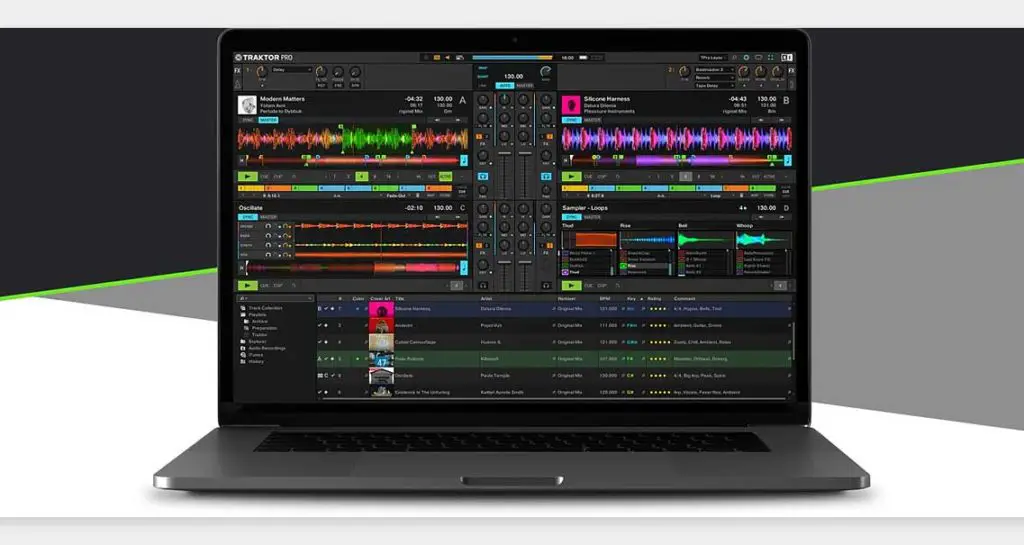 When it comes to the final choice, in our opinion it should rely on the hardware you chose or are going to choose, and on the equipment you plan to use in the future.
If for example you are set on getting a Traktor Kontrol device, are considering usage of many non-standard custom DJ controllers or older DJ controllers in general, you should think about getting into the Traktor Pro 3 ecosystem (or the Virtual DJ one – similar thing here).
If on the other hand you already have a Serato DJ Pro compatible device in mind or are leaning towards scratch DJing, it's probably best that you stick with Serato DJ Pro at least for the beginning.
Remember that as a beginner you don't really have to think about your starting software choice that much. First thing is that the controller you'll get will be most probably made with certain DJ software in mind or will unlock a certain piece of software.
The second thing is that all of the top options on the market (Serato DJ Pro, Traktor, Virtual DJ, Rekordbox) are highly optimized efficient programs that are widely used by DJs all around the world. Don't stress about your choice as with either of these you are going to have a good experience and specific preferences will come with time as you try out different software options. Rock on!
Check out also:
– How To Use Streaming Services With Serato DJ Pro & Lite
– Virtual DJ Software – New Vital Features You Didn't Know About
– Serato DJ Lite vs. Pro (12 Most Important Differences)
– Can You Use Serato On Your Laptop Without A DJ Controller?
Serato vs. Virtual DJ software – Which one is better for you?