Choosing your first DJ controller is a really important matter and we are here to help you out. There are lots of things that you should know about before you decide to purchase your very first piece of DJ equipment that will allow you to pursue your DJ career and engage in your new hobby. Let's go over most important matters when it comes to buying a brand new DJ controller in this detailed guide.
[this article features Ebay & Amazon affiliate links]
2-channels vs. 4-channels decision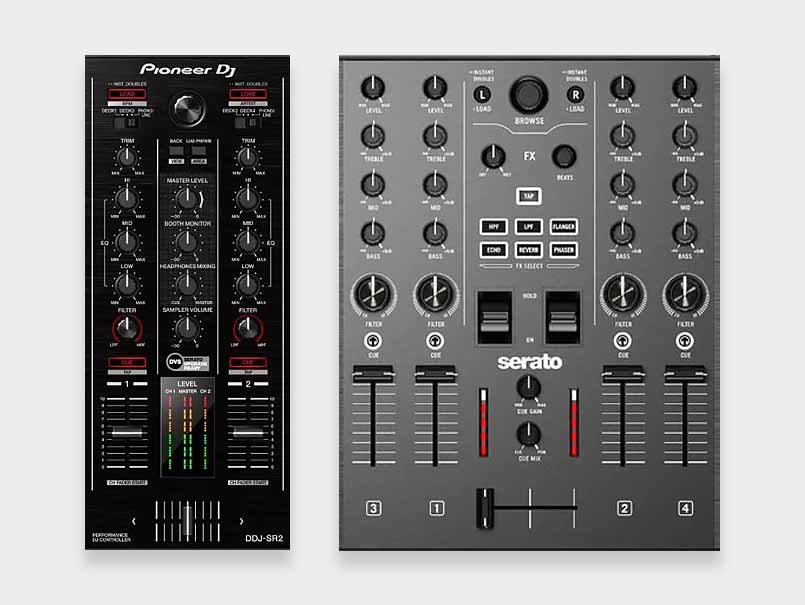 If you're choosing your first DJ controller you first have to choose between 2-channel and 4-channel mixer on your device.
2 channel DJ controllers will allow you to play and mix 2 tracks at the same time at most, in general they will be cheaper than 4 channel units and you will find much more entry level DJ controllers with the 2 channel configuration.
When it comes to 4 channel devices, these allow you to play and mix up to 4 tracks at the same time. 4 channel DJ controllers tend to be more expensive than the 2 channel ones and will often have more advanced features on board (although this is not always the case).
The 2 channel vs. 4 channel debate can be easily summarized like this:
2 channel controllers allow you to play and mix at most 2 tracks at the same time, while 4 channel devices double this number.
Some 2 channel DJ controllers have special buttons for activating virtual decks 3 and 4 (you can then control them using deck 1 and 2 physical controls).
4 channel DJ controllers in general are more feature packed than their 2 channel equivalents.
DJ controllers with 4 channels are more likely to feature additional audio inputs that can allow you to plug in 3rd party audio devices such as CD players, turntables and so on.
Getting an advanced 4 channel DJ controller is in many cases a more future-proof way to go.
Although as we've said some DJ controllers have the capability to give you control over virtual decks 3 and 4, in most cases this feature is tricky to use correctly and is not widely used in professional contexts (except for some highly technical 4 channel performance mixes on controllers with just 2 physical mixer channels).
One of the most important things is that if you're planning to follow through with your DJing hobby or career it may be a better choice to purchase a DJ controller that you won't outgrow that fast. Then, often more advanced 4-channel DJ controllers like the Pioneer DDJ-1000 are the way to go.
Entry-level vs. professional DJ controllers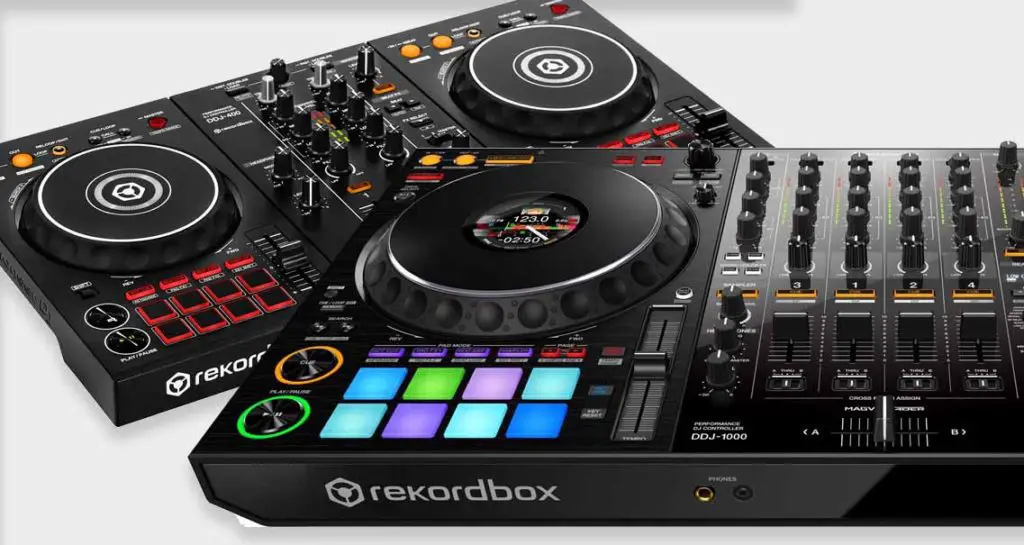 The second important choice in a way dictated by the 2/4 channel decision is choosing between entry-level vs. "professional" grade DJ controllers.
Entry level DJ controllers – a general expression used to describe smaller and usually 2-channel DJ controllers that are limited in terms of features but also usually priced much lower than their "professional" equivalents.
"Advanced" DJ controllers – a term used to refer to the high end DJ controllers that are more often seen in club environments and more commonly chosen by professional DJs. These controllers often have many features that the entry-level DJ controllers lack – these can be simple quality-of-life improvements but also vital features widely used by more advanced performers.
Keep in mind that regardless of what some people may say you can still perform a great DJ set on an entry-level category controller. More advanced gear does however make performing easier and lets you utilize many features that are simply not present on lower end hardware.
A generalization that is most of the time true is that entry-level DJ controllers are usually cheaper, while more advanced gear with more features will be more pricey.
There are also quite a few smaller portable DJ controllers that may be of interest to you such as the Hercules DJ Control Starlight or Numark DJ2GO2 Touch. Mixing on these however in nothing like doing so on a standard entry-level DJ controller. Portable DJ devices are meant to be mobile, not to be exactly convenient or particularly easy to use.
Which brand should you pick?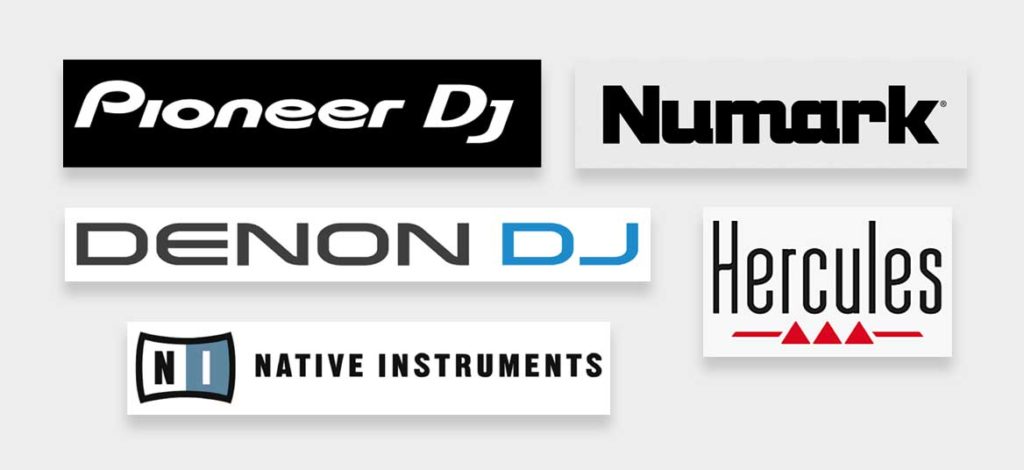 In general as you might have already noticed at some point, the main market players when it comes to DJ equipment are Pioneer DJ, Denon DJ, Numark and Native Instruments with their line of Traktor Kontrol DJ controllers.
Here are the most important things that in our humble opinion you should know about these brands before your further research:
Serato DJ Pro vs. Traktor Pro 3 – DJ Software Ultimate Comparison
Of course this is just a very rough and short description of chosen hardware manufacturers and it should be simply one of the starting points for your further research.
There are also many other manufacturers such as Hercules, Allen & Heath and so on. Here we've decided to list the most popular ones as there is a high probability that a controller suiting your needs will be present in one of their offers. Feel free to check the others too!
DJ software choice and support (and hardware compatibility matter)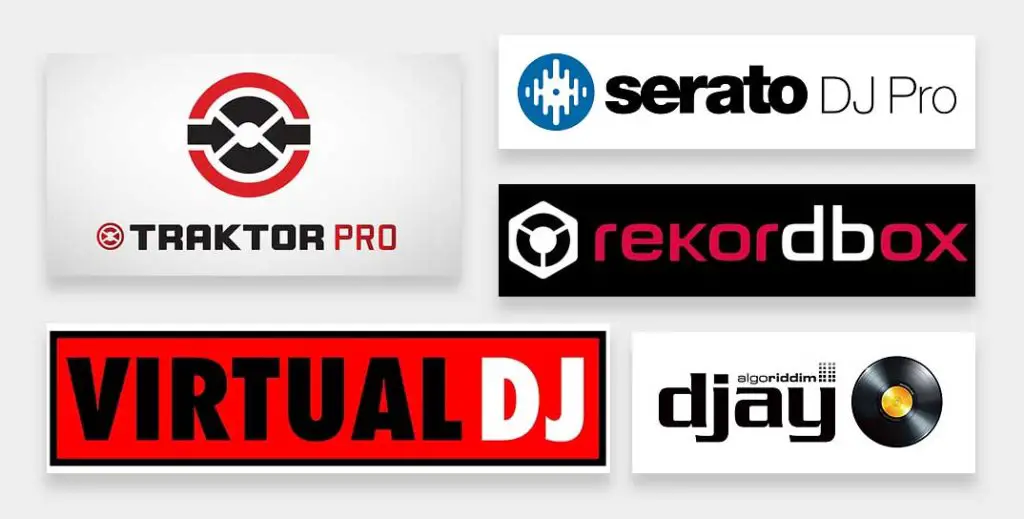 When it comes to DJ software, this choice is often dictated or influenced directly by your hardware choice. Almost all DJ controllers these days are designed with some DJ software in mind, and will tend to work best with that specific software. A good example is the line of Pioneer DJ controllers destined for use with Rekordbox DJ.
Serato DJ Lite vs. Pro (12 Most Important Differences)
In general you can either choose your DJ controller first with a certain supported DJ software in mind, or choose your software first and then look at the list of DJ controllers that specific piece of software supports.
Serato vs. Virtual DJ software – Which one is better for you?
No matter which way you go it's best to research different kinds of DJ software first before making your decision. You can do that either by going through the software category on our page, browsing other web portals for DJs or checking out different DJ software on YouTube in DJ performance contexts.
Ease of use and learning curve + online resources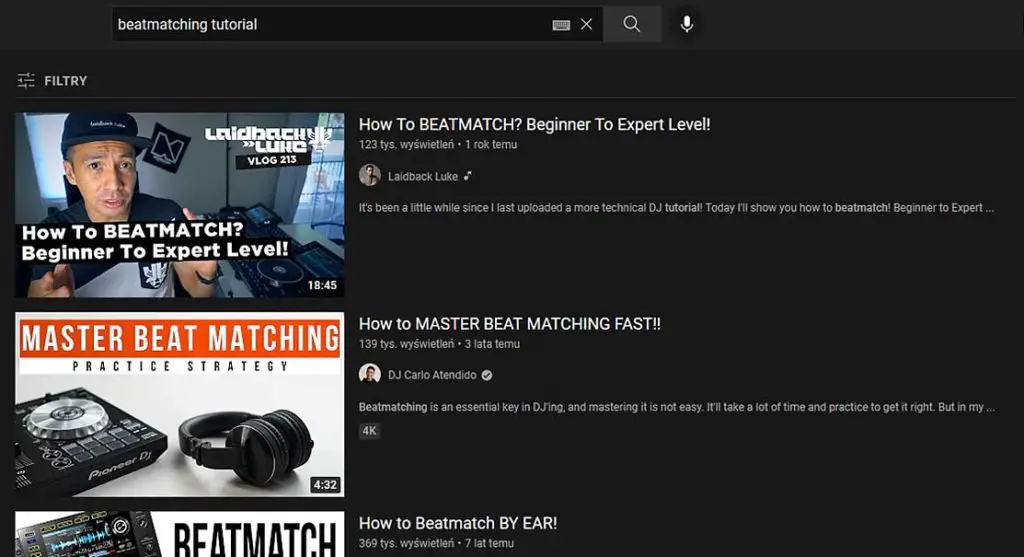 To simplify things, in our opinion each and every DJ controller is equally easy to pick up, despite the so-called "professional" DJ controllers having seemingly more complicated control layouts.
DJ Controllers Explained! (What Do All These Buttons Do?)
If you for any reason would decide to go through the DVS or CD player way instead of getting a DJ controller, it's a different matter. The learning curve then might be a little bit more steep (and so is the price).
In terms of learning resources we can't stress this enough: YouTube is the way to go. There is an abundance of great quality learning material and you can learn pretty much everything you need for delivering an astounding live performance without spending a single dime.
The other way here would be to grab an online DJing course. It's said that you get more motivated when you decide to pay for your learning materials and that is often the case. Also, the quality of paid courses might be (but won't always be) higher than the the quality of free learning resources that you can find all over the internet.
Are there any worthwhile DJ controller recommendations for a beginner?
There are many articles titled something like "best DJ gear for beginners", "top 10 DJ controllers for starting out" and so on, there are even some on our site. No recommendation article however can be a substitute for your own personal research.
The best thing to do is to use the recommendations as starting points, check which DJ controllers are currently popular, glance upon their pros and cons, check out comparisons and then follow through with supplementing your knowledge by researching specific devices that you found most worthwhile and interesting.
With that being said here are some of our carefully curated DJ controller recommendation articles:
And here is a whole category of DJ controller reviews and detailed DJ gear comparisons when you are ready for further research: DJGear2k – Hardware Reviews & Comparisons.
Used DJ controller vs. brand new gear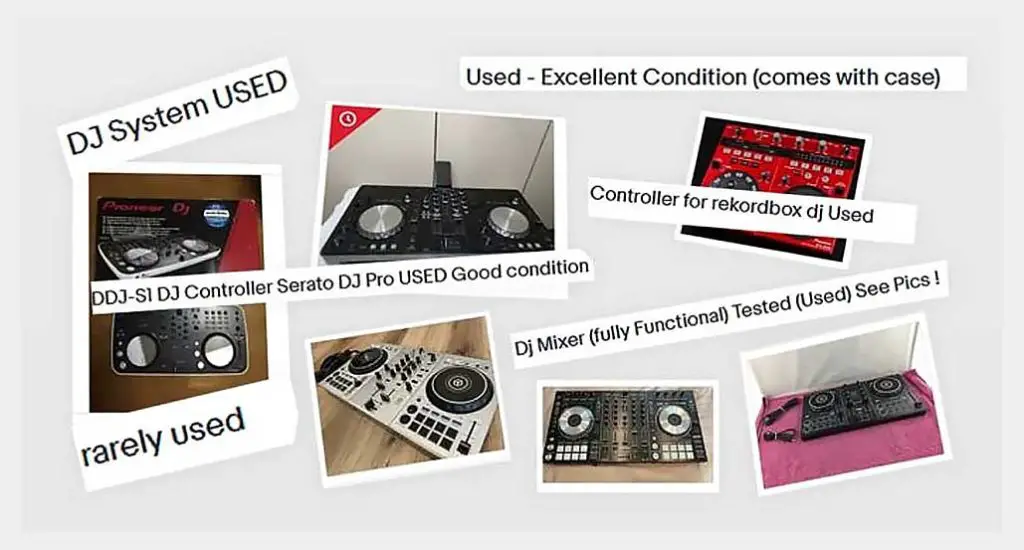 If you're on a tight budget there is always an important question – is it worth it to look for a used DJ controller instead of a brand new one.
The direct answer is – it depends. Most of the times you can find rather nice deals in your local online auctioning services (depending on your country of course). You should however be very careful as there are quite a lot of things that can be overlooked when making this kind of purchase.
Buying used DJ equipment – what exactly to look out for!
DJ controllers consist of many mechanical parts that can simply wear out or break after a certain amount of usage. Many times over if you're not reading the auction description thoroughly, not inspecting the controller in detail in person before purchase or become a victim of a fraudulent seller you can be very disappointed with your purchase.
Luckily we have an article written just for you – in there we explain in detail many things that you should be wary of when purchasing a used DJ controller. Be safe on your bargain hunt!
Are DJ controllers the only way?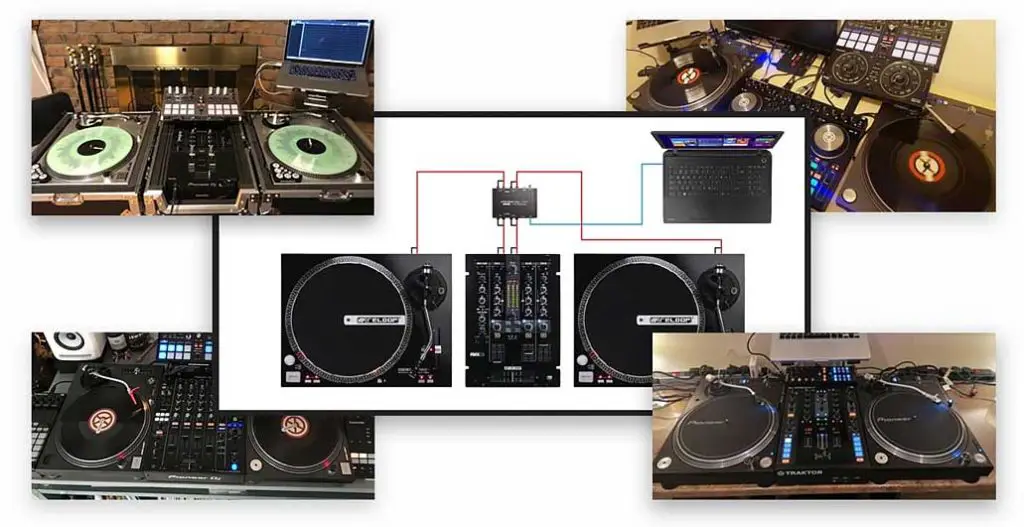 Getting a DJ controller is currently the most popular and cost effective way of getting into DJing. You should know however, that there are also two different popular routes you could take instead.
First one are CD players and a mixer kind of setup. This generally will cost you a lot of money, the learning curve will be a bit more steep here, but in return you will own a fully capable club setup with many great features.
DVS And Timecode For DJs Explained. (A Simple Guide)
Digital Vinyl Systems (DVS for short) are the second way. These are simply turntables and a mixer controlling the DJ software on your laptop. This is a great thing if you're into traditional vinyl scratching, as with this kind of setup you are able to scratch over all your digitized songs stored on your computer.
The conclusion – make your choice!
There are many things you should know about when preparing for your first DJ controller purchase. Luckily there also aren't many things that can go wrong here! All of the most popular devices (both entry level and advanced) that are on the market now will provide you with the tools you need to get into mixing and pursue your DJing hobby and/or career.
Go on, do your research and then pick a device most suitable for you! We hope that we've made some important matters clearer for you in this article. Rock on!
Main article photo: Valentin Salja