Whether you are beginner or a more advanced DJ you probably want to know what are the best of the best DJ controllers you can get in 2023. This list goes by compiling all the crucial information and serves them in a form of short "pros and cons" snippets for your convenience. Read on if you're eager to find out what are the best DJ controllers to buy in 2023!
[this article features Ebay & Amazon affiliate links]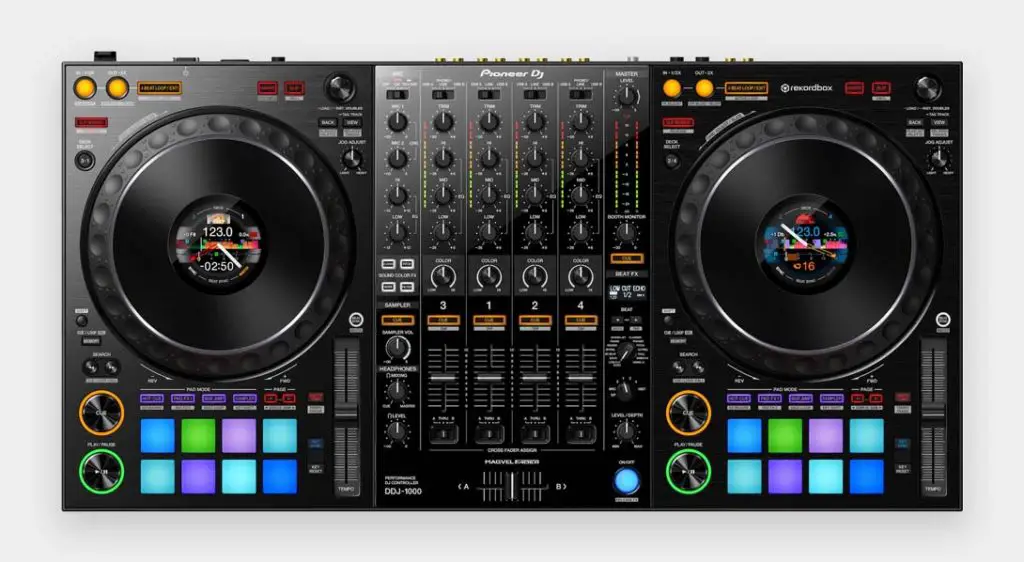 The Pioneer DDJ-1000 is with no doubt the most popular choice for DJ controller users that want a real-deal DJing powerhouse.
This controller featuring full-sized mechanical jog wheels inspired by the jog wheels of the industry standard Pioneer CDJ players line, extensive audio FX section modeled after Pioneer DJM mixer effect sections and a multitude of advanced functions is with no doubt one of the best DJ controllers you can get this year!
Pioneer DDJ-1000 vs. XDJ-XZ (New Detailed Comparison!)
There are two versions of this device available: the Rekordbox software compatible version (DDJ-1000) and the Serato DJ compatible one (DDJ-1000SRT).
Pros:
Big mechanical jog wheels with high quality LCD displays built in.
Great audio FX section – possibly the best alongside with the Pioneer XDJ-XZ when it comes to high-end DJ controllers.
Designed after a Pioneer CDJ x DJM club layout setup.
Makes use of all of the Rekordbox software features to the full extent.
Cons:
The Serato version lacks some capabilities and functionality that the Rekordbox version has.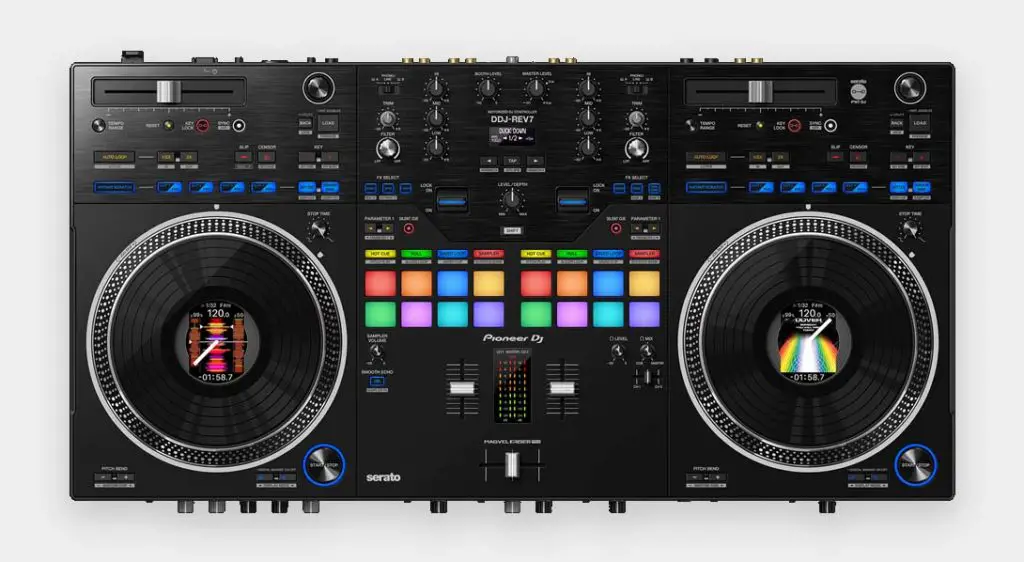 Pioneer DDJ-Rev7 is a brand new device from Pioneer DJ that was released in the beginning of 2022. This absolute masterpiece of a DJ controller is one of the first Pioneer DJ controllers featuring a battle style control layout resembling two turntables and a pioneer DJM-S mixer.
Check out our review here: New Pioneer DDJ-Rev7 – DJ Controller Detailed Review
This is also the first Pioneer DJ controller ever to feature mechanized moving platters!
The Pioneer DDJ-Rev7 is perfect for scratch DJs, but also a great option for club DJs that wish to try out a new control scheme based on a classic battle style turntable setup.
What Is A Battle Style DJ Controller Layout? – Quickly Explained
Pros:
High quality mechanized jog wheels.
Battle style layout perfect for scratch DJs.
Outstanding audio FX section featuring FX control paddles.
Gives you a taste of a turntable setup feel.
Cons:
Not compatible with Rekordbox DJ software.
Doesn't feature an in-built power supply (comes with an external power brick).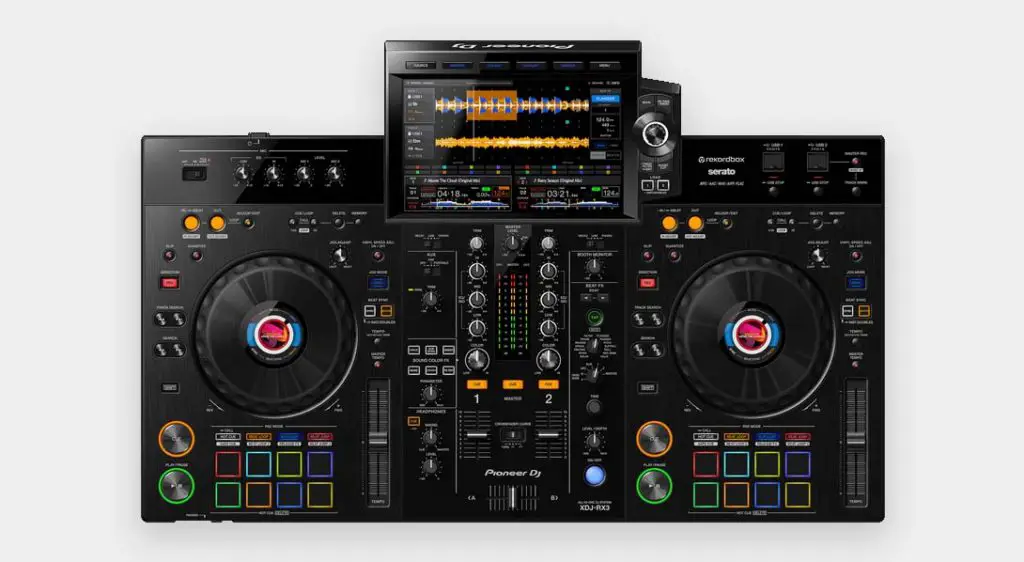 Pioneer XDJ-RX3 is the latest product from the line of XDJ fully standalone DJ controllers. You can use this one without having to drag your laptop around – all the controls and features are baked into the software embedded in the controller.
The 10.1-inch touch display on this device alongside with two smaller jog wheel displays make the mobile DJing experience even more enjoyable. The audio FX section is also a great advantage of this unit, again being modeled after the famous DJM mixer audio FX & color FX strips.
New Pioneer XDJ-RX3 vs. XDJ-RX2 (Direct comparison)
Since the release of the XDJ-RX2 back in 2017, lots of substantial changes and improvements were made and the XDJ controller series started to benefit from a new updated set of qualities. You can check out our comparison between the Pioneer XDJ-RX2 and the Pioneer XDJ-RX3 if you'd like to see what changed and what stayed the same after all the hardware upgrades.
Definitely check the Pioneer XDJ-RX3 out if you ever want to ditch your laptop and rock the decks without getting distracted by your computer.
Pros:
A fully standalone DJ controller.
Great audio FX section for a standalone device.
One of the best quality high resolution touch displays seen on a DJ controller to date.
Additional info displays on the jog wheels.
Efficient control scheme and user interface.
If you wish to, you can still use the XDJ-RX3 together with a laptop.
Cons:
On standalone devices such as this one, some of the features from their non-standalone counterparts may be missing (for example key shift or key sync capabilities).
No streaming services support in standalone mode.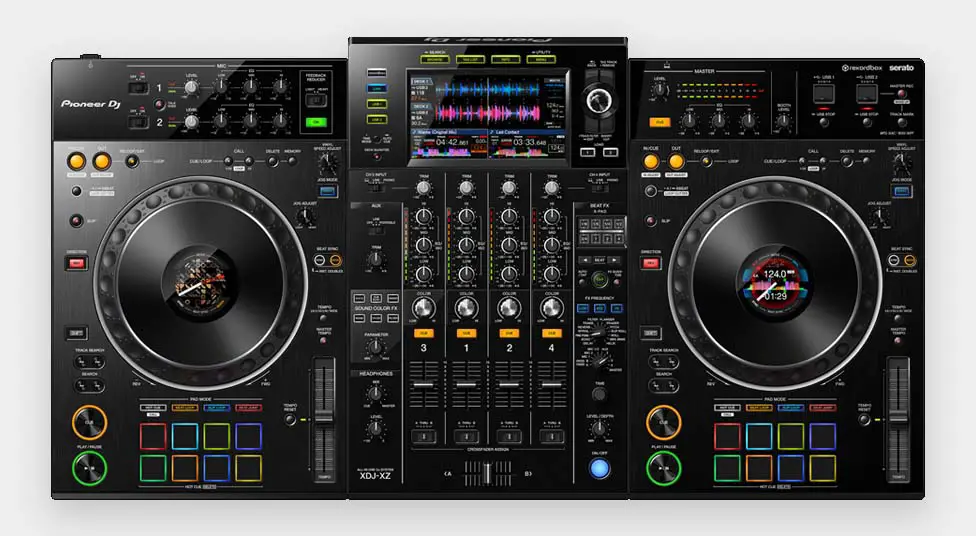 Pioneer XDJ-XZ is the second most popular heavy-duty DJ controller that can function in standalone mode without being connected to a computer. This one has loads of features built in, an amazing FX section comaprable only to the one present on the Pioneer DDJ-1000 and two big mechanical jog wheels with built-in displays.
When connected to your laptop, the Pioneer XDJ-XZ can work with both Serato DJ and Rekordbox software!
Check out our extensive head to head comparison here: Pioneer DDJ-1000 vs. XDJ-XZ (New Detailed Comparison!)
This device while being the main rival of the Pioneer DDJ-1000, is a great compromise between standalone and computer-connected DJ controllers. Just keep in mind that in standalone mode the Pioneer XDJ-XZ allows you to use only 2 of the 4 decks available on the device's mixer.
Pros:
It can function in a standalone mode.
Has a power supply built-in (doesn't require an additional power brick, just a simple power cable).
Once again, great audio FX section – a trait of most of the high-end DJ hardware in this price range.
Supports Pro DJ Link (you can connect your CDJ players to it).
Compatible both with Serato DJ and Rekordbox software.
Cons:
In the standalone mode you can utilize only 2 mixer channels.
Really heavy – in fact almost twice as heavy as the DDJ-1000.
No key shift or key sync capabilities in standalone mode.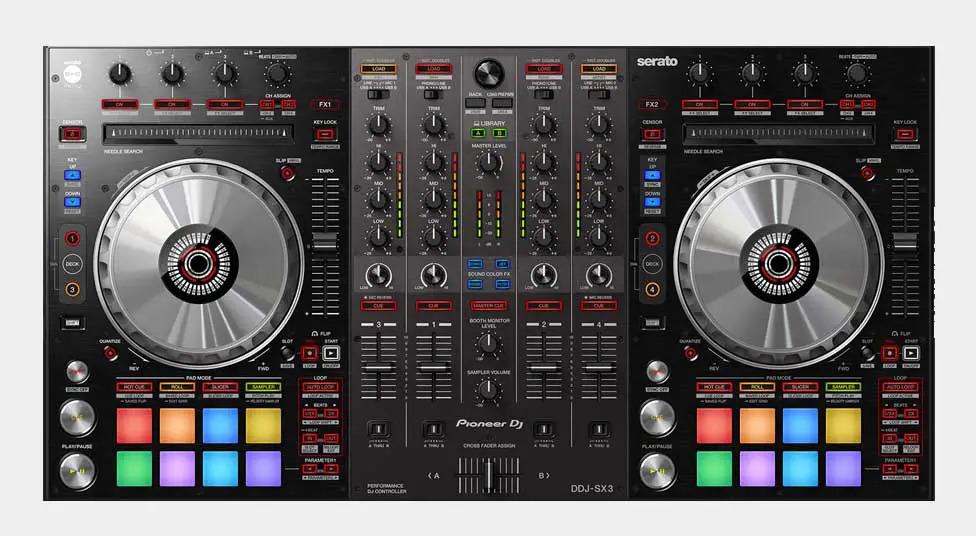 This controller is the latest product from the DDJ-SX line of controllers that first emerged in the market with the release of the first original DDJ-SX back in 2012. Pioneer DDJ-SX3 is a dedicated Serato DJ controller that features a classic Serato-centered control scheme, extensive feature set, 4-deck control capabilities and lots and lots of improvements over the last versions of the product.
SX series is a perfect example of an affordable high end DJ controller line that received lots of upgrades over the years, retained a high position in the market and is still used by many professional DJs all over the world (I still haven't parted with my original DDJ-SX ;).
Pros:
All the controls are highly optimized for Serato DJ software.
The audio mixer can be used in the standalone mode (however the controller itself isn't a standlone device).
Features a stripped down version of Pioneer Sound Color FX.
Has two USB inputs for back-to-back mixes.
In our humble opinion the best choice for Serato DJ oriented users.
Cons:
It's not Rekordbox compatible.
Marketed solely towards Serato DJ users.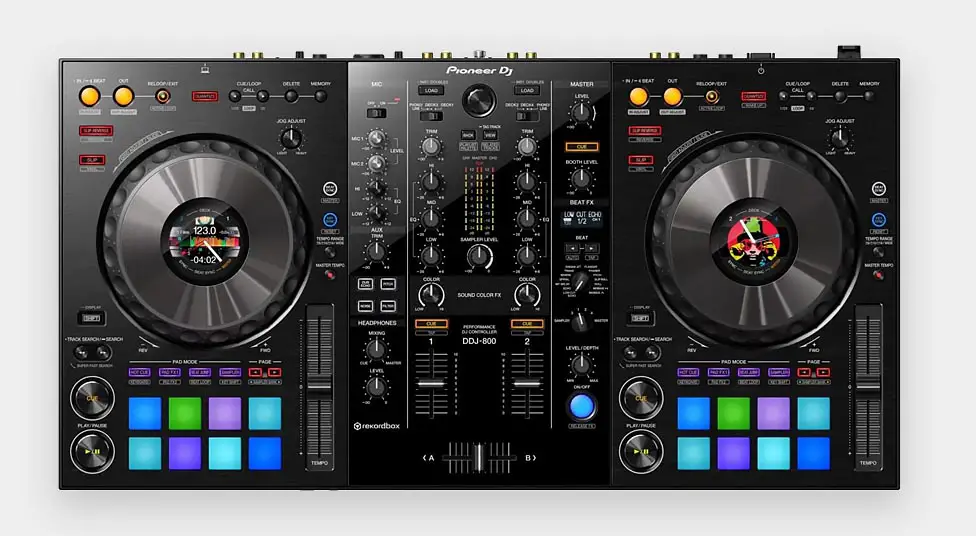 If we want to step down with the price a bit and still retain most of the high-end DJ controller capabilities and features, the Pioneer DDJ-800 could be of interest to us.
This 2-channel Rekordbox compatible device is another popular choice when it comes to DJ controllers without many compromises but at a lower price point (about half the price of a brand new DDJ-1000).
While cutting costs at many points, this device retains many qualities of the higher end DJ Controllers featuring a simplified version of the Color FX effects strip, Beat FX strip and the main Rekordbox performance pad modes.
Pros:
LCD displays on top of the jog wheels.
Beat FX and Color FX strips present on the mixer.
Supports the microphone feedback reducer functionality.
Younger brother of the DDJ-1000 for about half the price.
Cons:
Features only 2 mixer channels.
Cut down smaller sized jog wheels.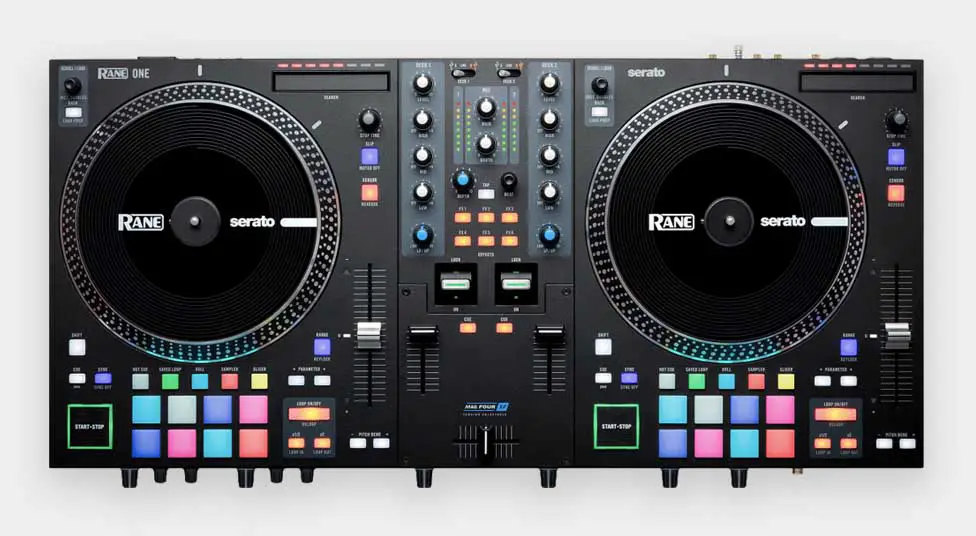 The Rane ONE is the main competitor of the new recently released Pioneer DDJ-Rev7. Rane ONE features big mechanized jog wheels and a similar feature set to the Pioneer's latest product alongside with high quality FX paddles. This is the second most popular DJ controller that has was designed with the battle style layout in mind.
Again, perfect for scratch DJs and for those of you who would enjoy trying out a control scheme different from the club standard.
If you want to know more about the differences between the DDJ-Rev7 and the Rane ONE you can check out this article by digitaldjtips: Head to Head: Pioneer DJ DDJ-REV7 vs Rane One.
Pros:
Large mechanized jog wheels.
Features a battle style control layout.
Has a Paddle FX section.
Uses customized classic style slip mats (the Pioneer DDJ-Rev7 uses slip rings instead).
Cons:
Has a little bit less additional features than its rival – the Pioneer DDJ-Rev1.
Doesn't work with Rekordbox software.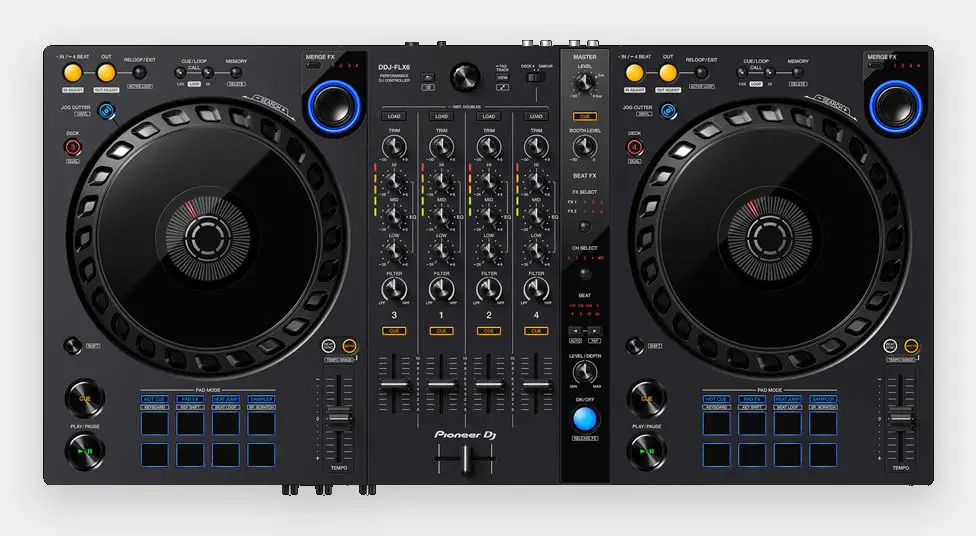 Pioneer DDJ-FLX6 is definitely the most affordable DJ controller on this list. While it may look very similar to the devices mentioned before, it is actually an entry-level DJ controller with many interesting features to get you going.
While being the cheapest on this list, it is also the one with the most simplified control scheme and it lacks many of the features that the controllers mentioned before have on board. Nevertheless it's still a great choice both for beginners and for more advanced DJs that need a nifty efficient practice device.
Pros:
Most affordable DJ controller on this list.
Simplified control scheme good for beginners.
Great as a second controller for home practice.
Cons:
Lacks many "pro" features.
Oversimplified FX section controls, small performance pads and half-size tempo fader.
Cheap build in comparison to the previously mentioned devices.
The conclusion + other choices
All of the DJ controllers we mentioned here are top-notch DJ hardware, the best that you can get to this day. You won't be disappointed with any of these in terms of their feature set, and if you pick one of these you will be in for a high quality future proof DJ controller setup experience.
Feel free to use this list as your reference guide for your research while choosing a suitable controller for you. Rock on!
You may also like: