How can you start DJing for cheap? What are best affordable quality DJ controllers you can get this year? In this article we will list the most cost effective, cheap yet efficient DJ equipment so that you can get your new decks right away. Let's begin!
[this article features Ebay & Amazon affiliate links]
Portable DJ controllers vs. entry-level DJ controllers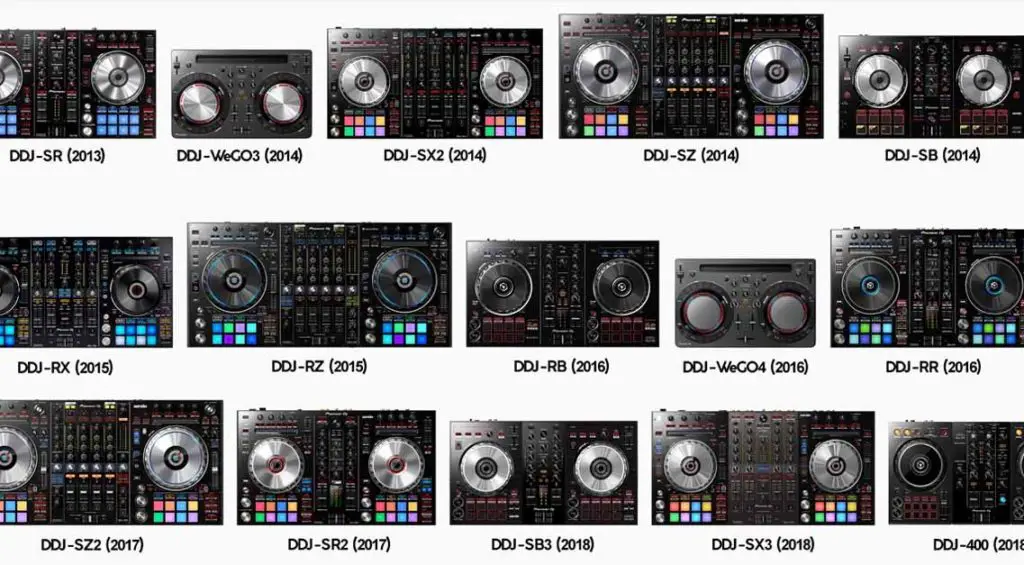 There are basically two ways to get into DJing without spending a large amount of money on a high-end, professional DJ controller right away. These two roads are portable DJ controllers (or in other words mini DJ controllers) and entry-level DJ controllers. We will now quickly get to the quick explanations and best deals in each of these categories!
All Pioneer DJ Controllers Listed – 10 Years Evolution 2011-2021
Portable DJ controllers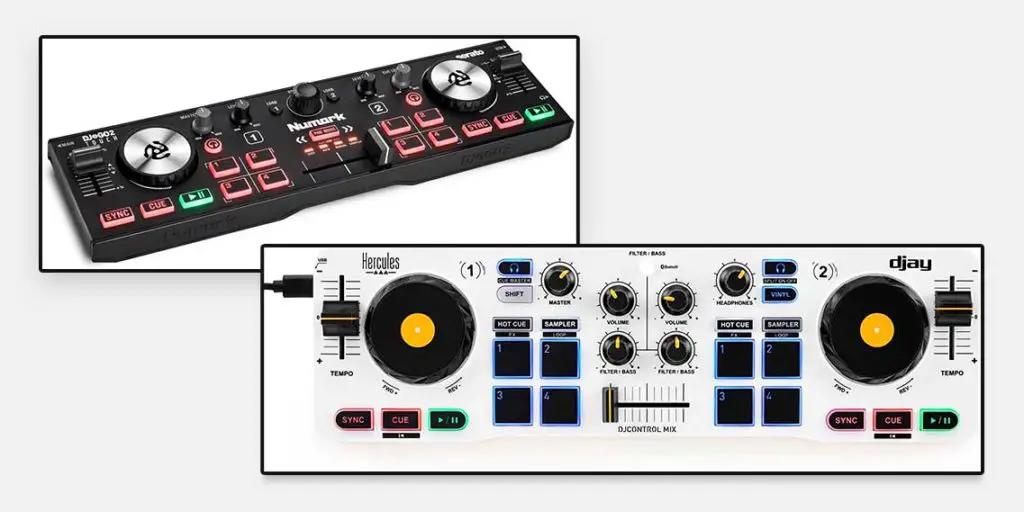 Portable DJ controllers will always be on the cheaper side, simply because of their form factor. The devices from this category are generally meant for DJs that would like to retain at least some of the "real deal" DJ gear functionality on the road, or in any situation you would be left with just your smartphone, a speaker and your mini DJing device. These also can make good practice devices.
The main "problem" with these devices is that while they are certainly capable of giving you all means for preparing and executing a flawless live mix, they lack many of the features that are considered essential and are present even in the simplest entry-level DJ controllers (and we'll cover these in a minute).
These shortcomings might include: smaller or non-existent FX sections, only 4 performance pads instead of 8, and so on. Moreover, because of the portability factor, the controls on said devices will most of the time be really crammed and less comfortable to use for extended periods of time.
In our honest opinion as the owners of a few of these devices such as the Numark DJ2GO2 Touch it's not the most pleasant of an experience compared to regular-sized entry-level controllers (both feature and comfort wise), but it's certainly bearable if you're just starting out.
Entry-level DJ controllers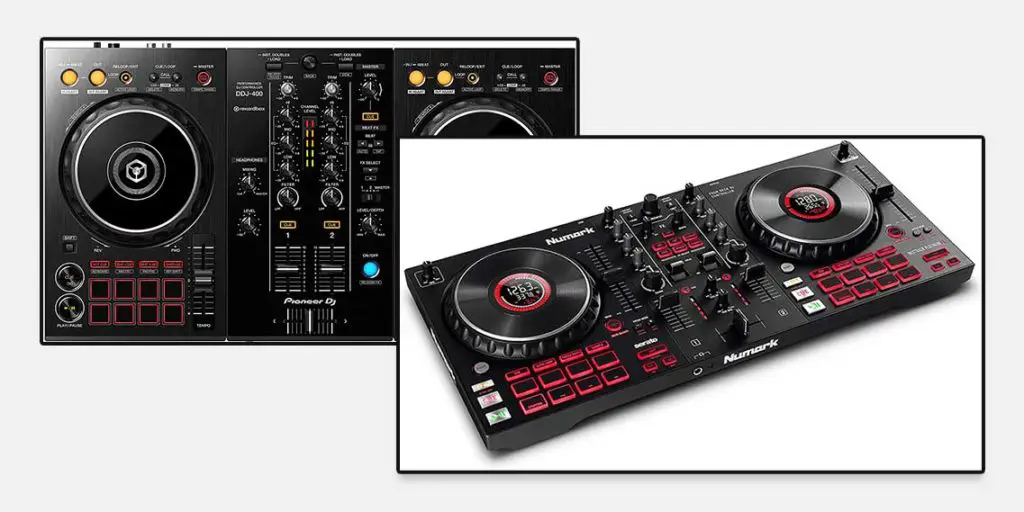 Entry-level DJ controllers are a more common way of getting into DJing on a budget. These devices although made with beginners in mind, are surprisingly reliable when it comes to their feature sets, layouts and workflow.
Compared to the previously mentioned portable DJ controllers, these devices give you much more possibilities for a creative live mix and are in general are much more versatile.
There really is no comparing these two as the entry-level DJ controllers are aimed towards dedicated beginner DJs, or DJs who aim at simple plug-and-play mix practice at home, while portable DJ controllers are more of a "DJ on the go" gimmick that while certainly useful in many cases, feature wise cannot stand up to even most basic entry-level DJ gear.
If you really want to get into DJing on tight budget, the best option will in most cases be getting a proper entry-level DJ controller such as the Pioneer DDJ-FLX4.
Let's now quickly go over quite a few DJ controllers that after our research we've found the most relevant.
Entry-level DJ controllers: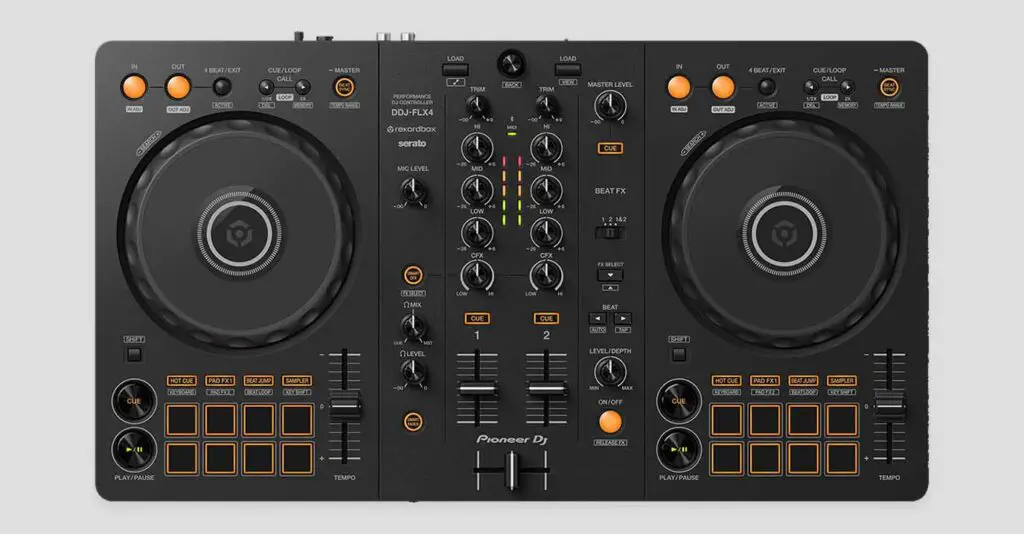 The Pioneer DDJ-FLX4 is the official replacement for the now discontinued DDJ-400, and it's currently one of the most popular and best DJ controllers geared towards both beginners and mobile DJs.
This neat device is not only affordable, but also has all the features to get your DJing journey started (and more!). This is definitely the first one you should check out if you care both for quality and a good price!
The Pioneer DDJ-400 used to be one of the most popular entry-level DJ controllers on the market. This little device is perfect for all beginners that want to get into DJing on a tight budget.
Pioneer DDJ-400 – DJ Controller FAQ – Most Important Things To Know
It features a club control layout, all the controls that are necessary for a creative DJ performance and it also comes with the full version of the ever-popular Rekordbox DJ software (the DDJ-400 itself acts as a hardware unlock key).
Note: This device has been discontinued, but it still can be bought used for a great price!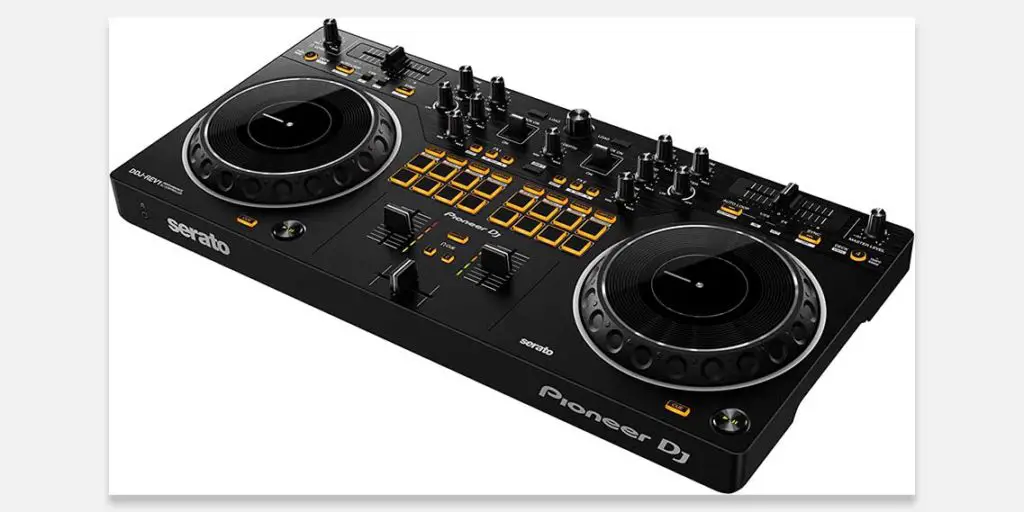 Newly released Pioneer DDJ-Rev1 on the other hand, is currently one of the most interesting alternatives to the DDJ-400. Featuring the so-called battle style control layout and supporting Serato DJ rather than the Rekordbox software, it's one of the first DJ controllers you should consider if reluctant to purchase the DDJ-400 for one reason or the other.
DDJ-Rev1 vs. DDJ-400 (Which Is Better For You?)
When you're considering the DDJ-Rev1 it would also be a good idea to take a look at its predecessor – the Pioneer DDJ-SB3. It may be a little harder to find though, as the DDJ-Rev1 came out as its direct replacement and the DDJ-SB3's production has come to a halt.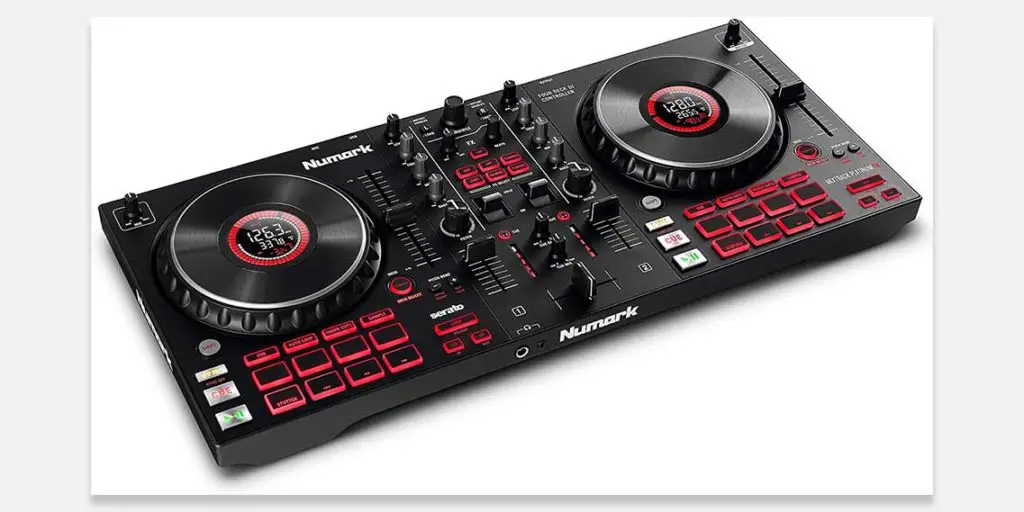 Numark Mixtrack Platinum FX is a DJ controller that is essentially a Numark DJ's response to the Pioneer's DDJ-400 and DDJ-SB3/DDJ-Rev1 entry-level budget controllers. Despite its low price point, it's a great quality 2-channel DJ controller with nifty FX paddles and in-built jog wheel displays.
Numark Mixtrack Platinum FX vs. Pro FX (Which Is better?)
There is also an even cheaper version of this very device still available on the market. Check out the Numark Mixtrack Pro FX – it differs only slightly from its older brother. The lack of the mentioned jog wheel displays on this one makes its price even lower!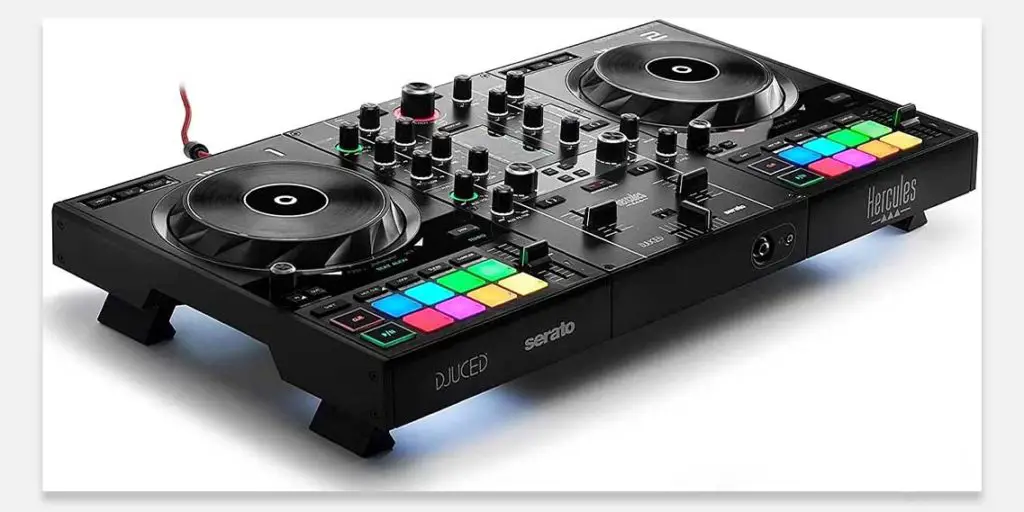 This is a somewhat less popular option, but still a viable choice for beginners. The Hercules DJ Control Inpulse 500 is often considered as an alternative to the DDJ-400.
While it has a similar feature set to the previously mentioned devices in our humble opinion it doesn't really bring anything new to the game, except for maybe the beatmatch assist functionality which is not really that much of a deal even for DJ's that are just starting out.
Portable DJ controllers: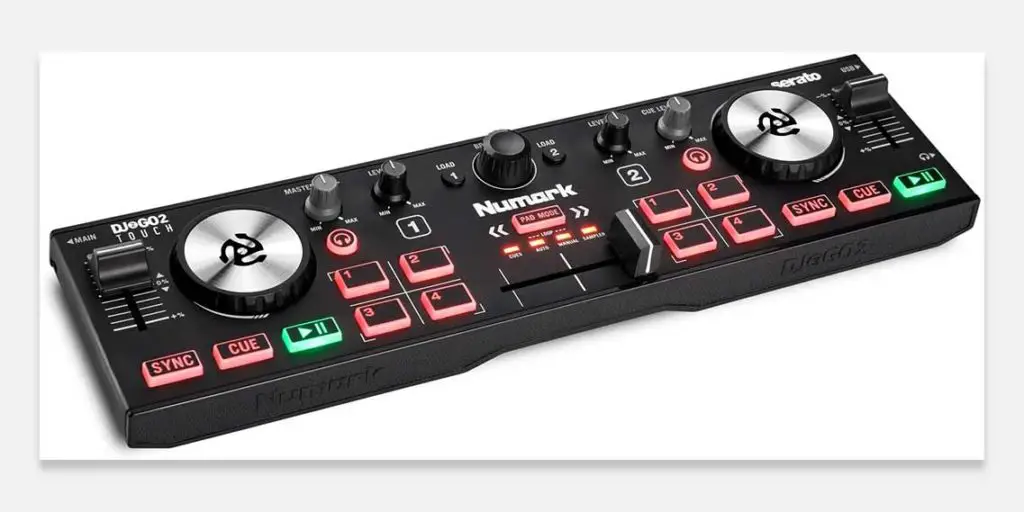 Currently among the most popular portable DJ controllers on the market, the Numark DJ2GO2 Touch tries to mimic the core functionality of "full-size" entry-level DJ controllers and frankly it does it quite well.
Numark DJ2GO2 Touch – Ultimate Portable DJ Controller Overview
The DJ2GO2 Touch allows you to scratch, utilize hot-cues, loops and the likes, however unfortunately it does not feature any kind of FX control section.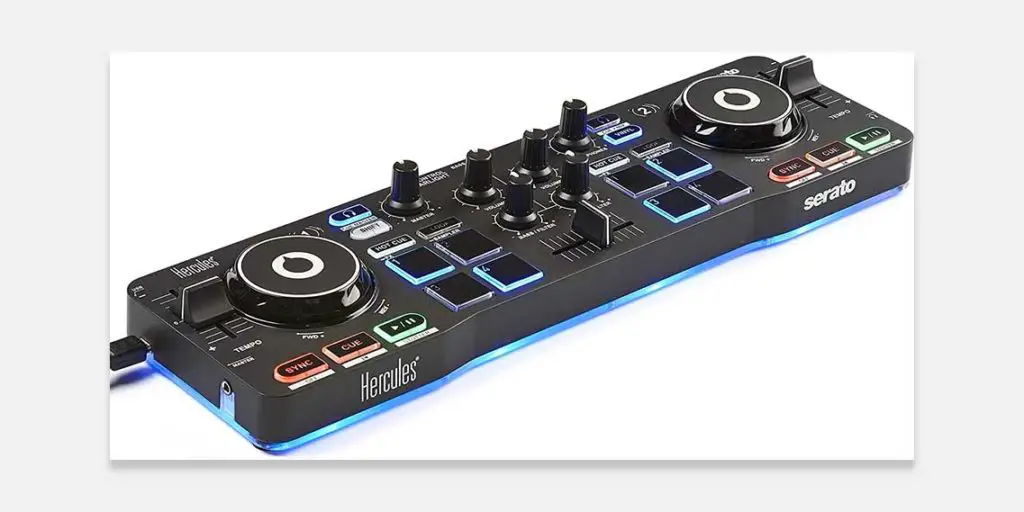 The Hercules DJ Control Starlight is a device similar to the Numark DJ2GO2 Touch, but this time with dedicated Pad FX controls. Once again, it has all the core functionalities of a high quality portable DJ controller, plus the additional FX pad mode and built-in lights that can be used both as a neat visualization and as a beatmatching assistant.
Hercules DJControl Starlight – Portable DJ Controller Review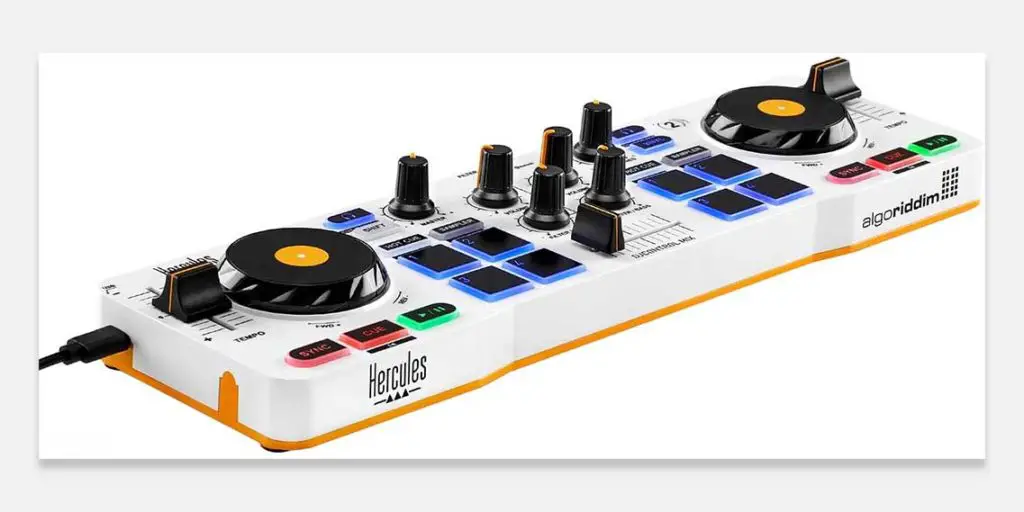 A new proposition from Hercules DJ. The newly released Hercules DJ Control Mix is supposed to be the next generation of the portable DJ Control devices. It does almost everything that Starlight does and offers a bit more interesting options to the user. Be sure to check it out as its currently one of the most recent portable DJ controllers released!
I want more! – More advanced DJ controllers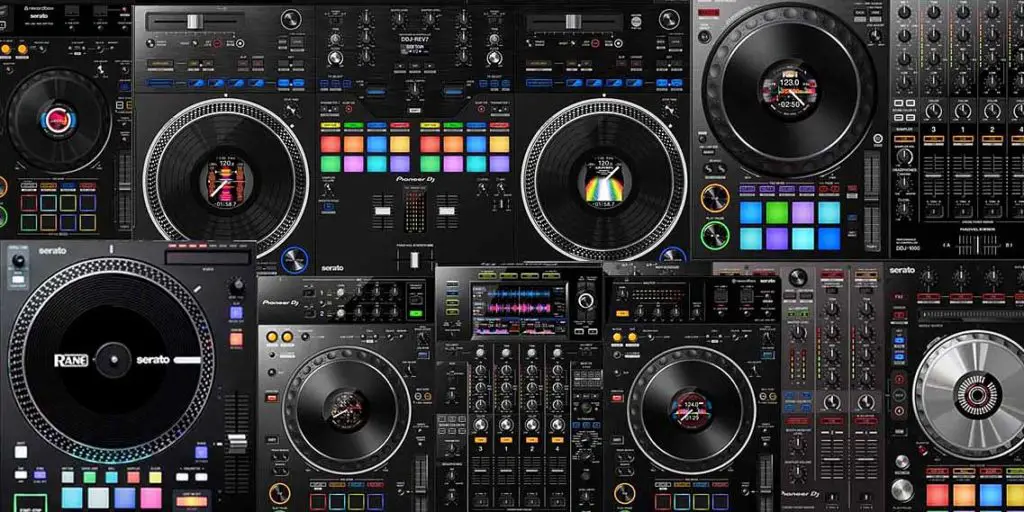 You might be asking yourself: "What if I want to skip entry-level DJ controllers entirely and go straight for a device that will serve me for a much longer time?". It's true that entry-level DJ controllers are meant to be outgrown quite fast.
8 Best Top-Notch DJ Controllers You Can Get This Year!
Although entry-level DJ devices have all the features a DJ might need for a simple live performance, you might find yourself restrained in many ways shortly after learning all the DJing basics.
If you want to jump straight into the "real deal" DJ controllers you can check out our list of the best DJ controllers you can currently get. While still retaining a reasonable form factor, these devices give you much more creative freedom and have the potential to serve you for many years ahead. Check it out here: 8 Best Top-Notch DJ Controllers You Can Get This Year!
The conclusion – DJing on a tight budget?
DJing on a tight budget is perfectly possible. Although you certainly might miss out on many neat quality-of-life features and features such as higher-end audio FX and such, you can begin your DJing journey without putting too much strain on your wallet or bank account.
We hope you've found this little guide helpful, do your research, get your very first DJ controller and rock on!
How To Choose Your First DJ Controller (New Quick Detailed Guide!)
Main article photo: stevepb