If you're looking for a list of worthwhile DJ controllers with motorized platters that emulate that organic vinyl mixing experience you've come to the right place. We'll go over the top 5 DJ controllers with motorized platters that are worth your attention. We'll also list all their pros and cons so that you'll have a better view on which one of these is best for you. Let's begin!
Jog Wheel Types Explained – DJ Equipment Guide
1. Pioneer DDJ-Rev7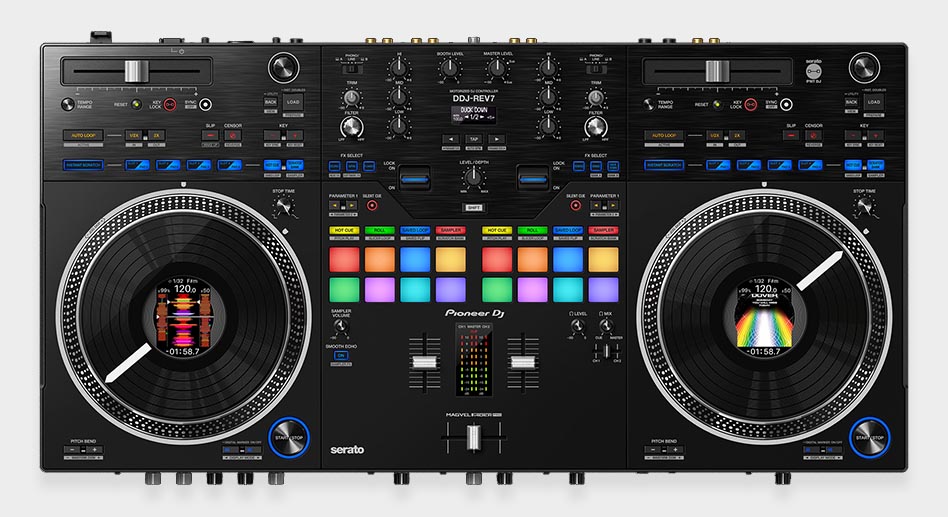 The most recent controller on this list is the newly released Pioneer DDJ-Rev7. This device offers you two 7″ motorized jog wheel platters with built-in displays.
You are able to display track waveforms, bpm, pitch and other track info on top of the jog wheels. This comes at a price of the jog wheels not having a spindle in the middle.
The Pioneer DDJ-Rev7 is a really worthwhile option, with one of its best features being the set of 22 quality hardware effects (Pioneer Beat FX and Sound Color FX set).
The main rival of the DDJ-Rev7 is the Rane One which we're going to cover next. If you're interested in a detailed comparison between these two, you can check it out here: Pioneer DDJ-Rev7 vs. Rane One (Ultimate Comparison)
Pros:
Excellent quality audio FX (set of 22 different hardware FX).
Built-in jog wheel displays.
Comes with the Serato Pitch 'n Time DJ expansion pack.
Mixer modeled directly after Pioneer DJM-S series.
Cons:
No in-built power supply.
Not exactly the cheapest solution on the market.
Pioneer DDJ-Rev7 on Ebay:
2. Rane ONE
The Rane One is the main rival of the previously mentioned Pioneer DDJ-Rev7. This controller features two 7.2″ motorized jog wheel platters with a classic spindle in the middle.
Rane one utilizes slip mats which can be replaced with custom ones with some work. If you want to, you can disable the jog wheel movement altogether. This can be helpful if you'd like to use your Rane One for club mixes without the moving platters getting in the way.
Rane ONE – Is It Still Worth It In 2022? (Should you get it?)
This controller gives you many nifty tools to utilize during your mixes, but in terms of its overall feature set is might be a little bit lacking in comparison to the Pioneer DDJ-Rev7.
Pros:
Great quality motorized platters based on the Rane DJ Twelve.
Features an in-built power supply.
Search strip on each deck.
Really sturdy and well-built.
Cons:
No hardware FX on board – you have to rely on your DJ software FX.
Doesn't offer much when it comes to extra features.
3. Traktor Kontrol S4 MK3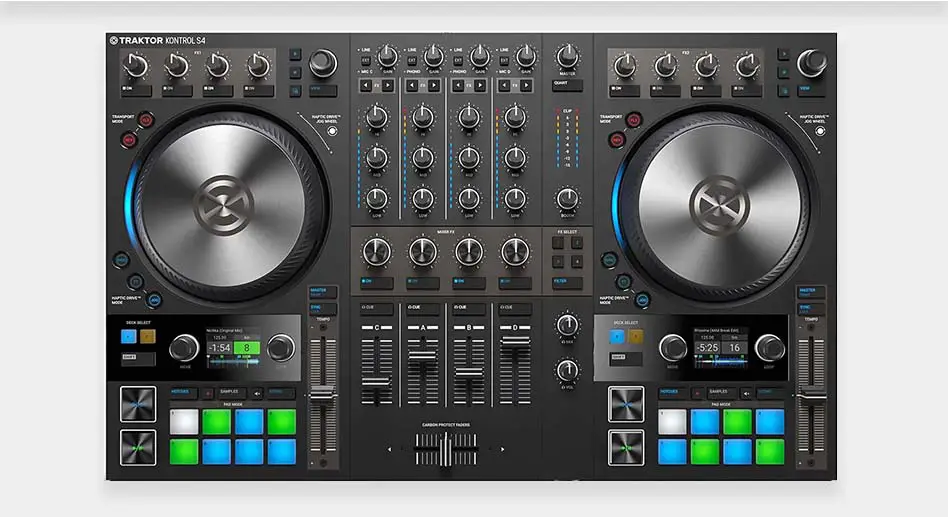 The Traktor Kontrol S4 MK3 is a smaller sized professional 4-channel DJ controller with motorized jog wheels that provide you haptic feedback utilizing the Native Instruments Haptic Drive technology unique to this device. The turntable mode on this device is really something!
Besides the haptic feedback on cue points and loops, the Traktor Kontrol S4 MK3 also features a LED ring around each of the jog wheels and displays beneath them that can show track waveforms and other track info.
If you're into the Traktor Pro DJ software ecosystem and would like to grab a DJ controller with high quality motorized platters, the Traktor Kontrol S4 MK3 is a great choice for you!
Pros:
Unique NI Haptic Drive technology.
4-channel mixer.
High quality info displays under each jog wheel.
Great controls for the Traktor Pro 3 software FX.
Cons:
The jog wheels are on the smaller side in comparison to the rest of the mentioned DJ controllers.
Not natively compatible with Serato or Rekordbox DJ software.
Traktor Kontrol S4 MK3 on Ebay:
4. Numark NS7 III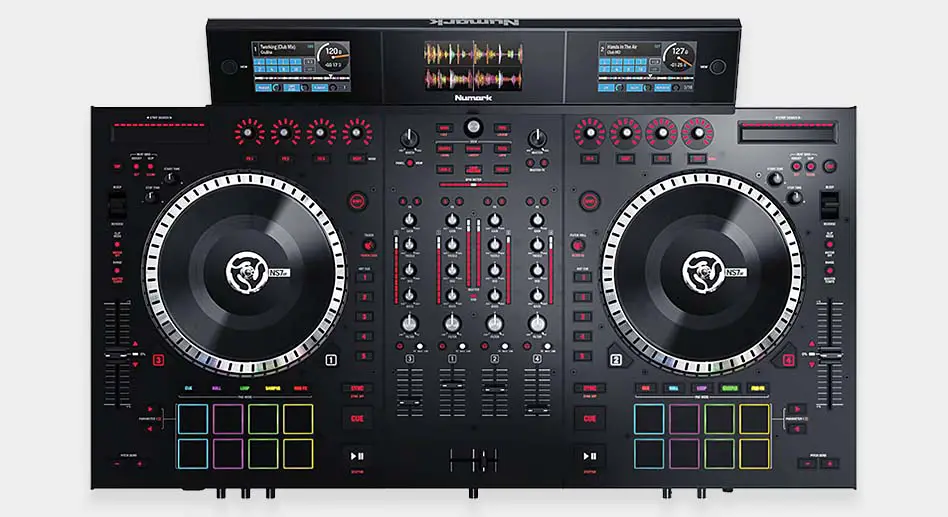 Numark NS7 III is the latest DJ controller with motorized jog wheel platters from Numark DJ. This flagship Numark device features two variable-torque 7-inch motorized jog wheels. Both feel and look of these are really great, and they utilize a real vinyl surface for the most authentic experience.
The Numark NS7 III is also known from its three high resolution screens placed on top of the device. These are able to show you the track waveforms and info regarding the virtual playhead position, audio FX staus and track details. You can also access the Serato library view and the stacked waveform view on the screen in the middle.
Overall, it's a really interesting alternative to the Pioneer DDJ-Rev7 and the Rane ONE.
Pros:
Great quality motorized jog wheels.
4-channel mixer.
Three large displays on top of the device.
Search strip on each of the decks.
Cons:
Can be a bit bulky, especially with the screen addition.
Hard to come by as it has been discontinued back in 2020.
5. Numark NS7 II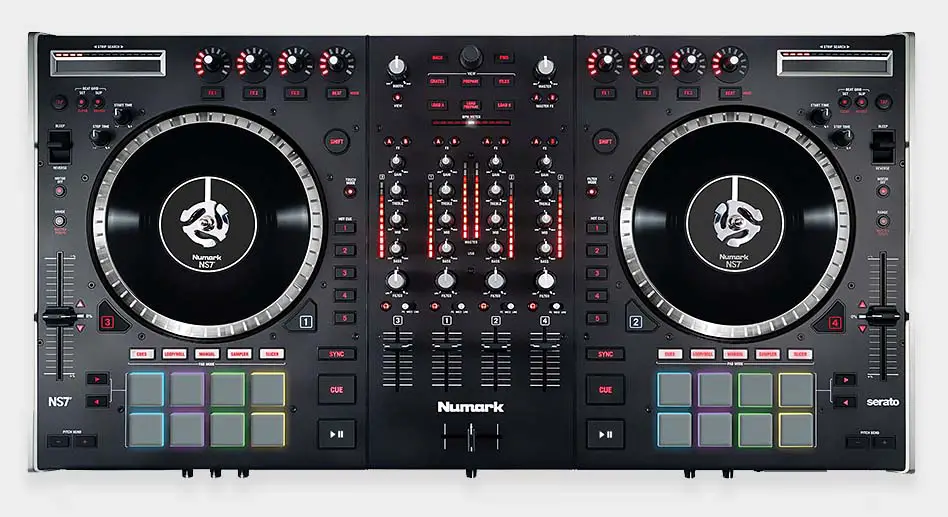 The Numark NS7 II is the predecessor of the previously mentioned Numark NS7 III. It does not feature LCD screens, and it has slight differences in layout when compared to the newer NS7 III. Still, it has two quality 7-inch motorized jog wheel platters almost identical to the ones present on the NS7 III. If you're looking for a cheaper alternative to the NS7 III and you're ready to make some small sacrifices when it comes to the controller's features and support, you can consider getting a used Numark NS7 II.
Buying used DJ equipment – what exactly to look out for!
This device is now almost a decade old, as it came out way back in 2013. While by no means it would be our first choice when it comes to a modern DJ controller with motorized platters, if you come across one of these used for a good price, it can still be an interesting option.
Pros:
Can be found used for a reasonable price.
Still holds up pretty well.
Cons:
By default it doesn't feature the additional LCD screens.
Pretty dated piece of hardware (and long discontinued).
Are DJ controllers with motorized platters worth it?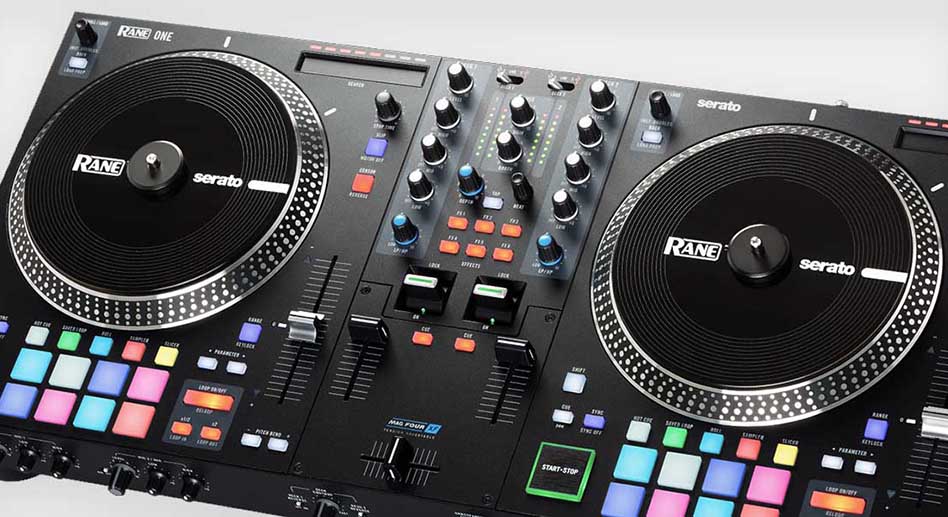 While the mixing experience on motorized platters won't be exactly the same as on a real-deal vinyl turntable set, it gets pretty close.
If you're a scratch DJ or you think about getting into scratching on DJ controllers, getting a controller with motorized platters can be a perfect fit for you.
If however you're more of a "traditional" club DJ, you might also find these type of devices useful. Overall, DJ controllers with motorized jog wheel platters are extremely fun to use, and the mixing experience when using them is in our opinion really smooth and not that much different from a regular DJ controller equipped with capacitive non-motorized jog wheels.
It all boils down to your personal preference, and the best to do here is to go over to your local music store and test out your desired DJ device before purchasing it. This way you'll be sure that the motorized platter experience is suitable for you.
We hope we helped you with your controller choice! Rock on!
Top 10 Best DJ Controllers With Built-In Screens (Full List!)