If you're searching for the full list of all-in-one DJ controllers featuring built in displays, you've come to the right place! In this list, we'll cover all readily available DJ gear with built-in screens to help you decide which one of these is best for you! Some of these have touch displays on board, some feature high resolution screens with extended library browsing capabilities and more! Let's take a closer look.
[this article features Ebay & Amazon affiliate links]
1. Pioneer DJ OPUS-QUAD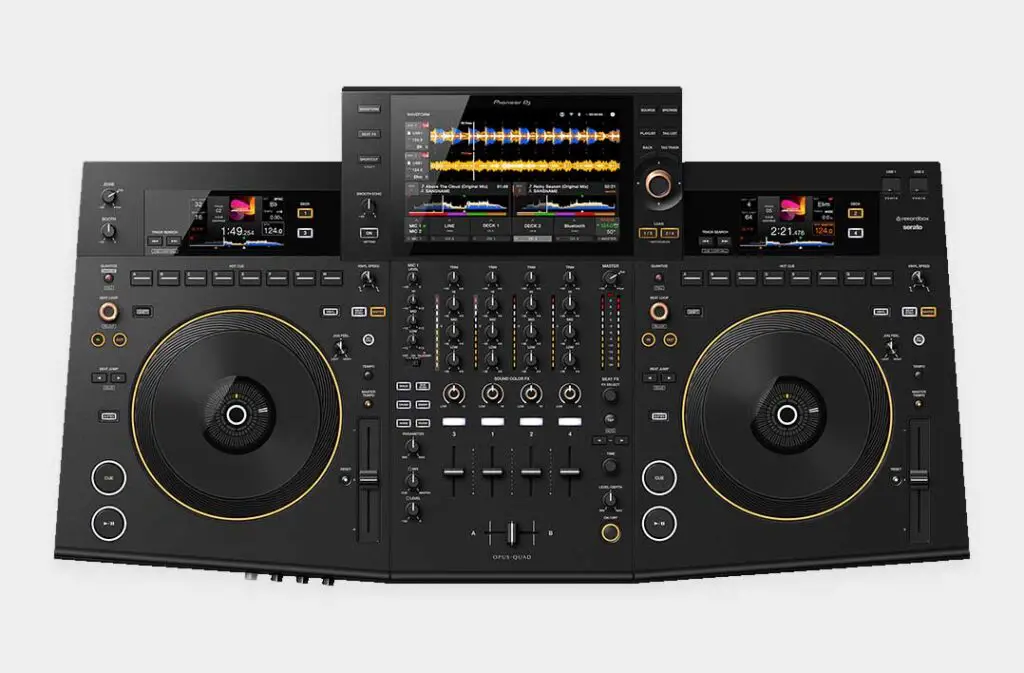 Pioneer DJ OPUS-QUAD is the newest, recently released all-in-one DJ controller featuring a main 10.1-inch capacitive touch screen and two smaller supporting screens for displaying track info.
The OPUS-QUAD gives you lots of creative freedom in terms of effects, 2 full-size redesigned jog wheels with tension adjust, a full set of advanced controls, and it's considered to be a new flagship Pioneer DJ controller in their standalone units lineup.
The main touchscreen quality is definitely the best form all the Pioneer DJ controllers that made it to this list – both in terms of technology and in use! Overall It's a very nice piece of gear with a huge feature set, albeit on the pricier side of things.
See our review of the Pioneer DJ OPUS QUAD here.
2. Pioneer XDJ-RX3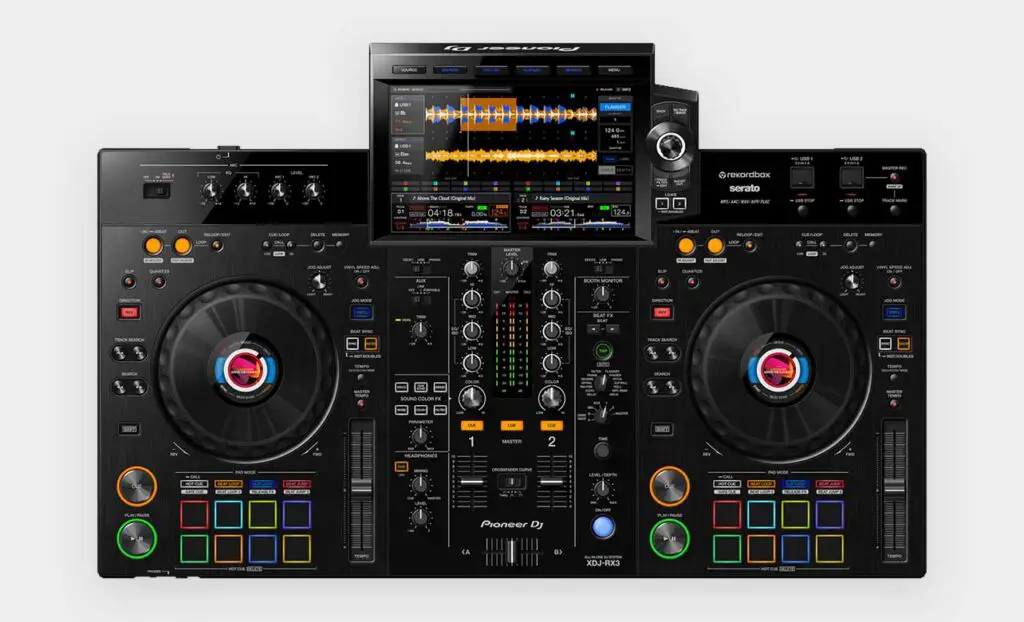 First on the list, there is the new Pioneer XDJ-RX3, featuring 2 mixer channels and an upgraded 10.1-inch touch display, that gives you an ability to:
Display the track waveforms in the 3-color scheme alongside with track info.
Browse your track library and select tracks to play.
Preview tracks (or their parts) in your headphones.
Access the "X-pad" FX control feature.
Activate audio FX Bank and manage audio FX presets.
Utilize the classic "needle search" feature.
The touch screen on the Pioneer XDJ-RX3 is almost identical to the one present on the Pioneer CDJ-3000 players.
See also: New Pioneer XDJ-RX3 vs. XDJ-RX2 (Direct comparison)
The Pioneer XDJ-RX3 is a standalone DJ controller, just like its previous version – the XDJ-RX2. This means, that you can easily use it without a laptop plugged in. You can use your USB drives as music sources.
Overall, the Pioneer XDJ-RX3 is a great standalone device for both beginners and professional DJs, if you're searching for a bit older, yet still relevant alternative to the XDJ-RX3, take a look at the Pioneer XDJ-XZ.
The screens on both the XDJ-RX2 and the XDJ-RX3 are resistive – unfortunately no multi-touch or on-screen gestures will work here like on the OPUS QUAD or Denon Prime 4.
3. Pioneer XDJ-XZ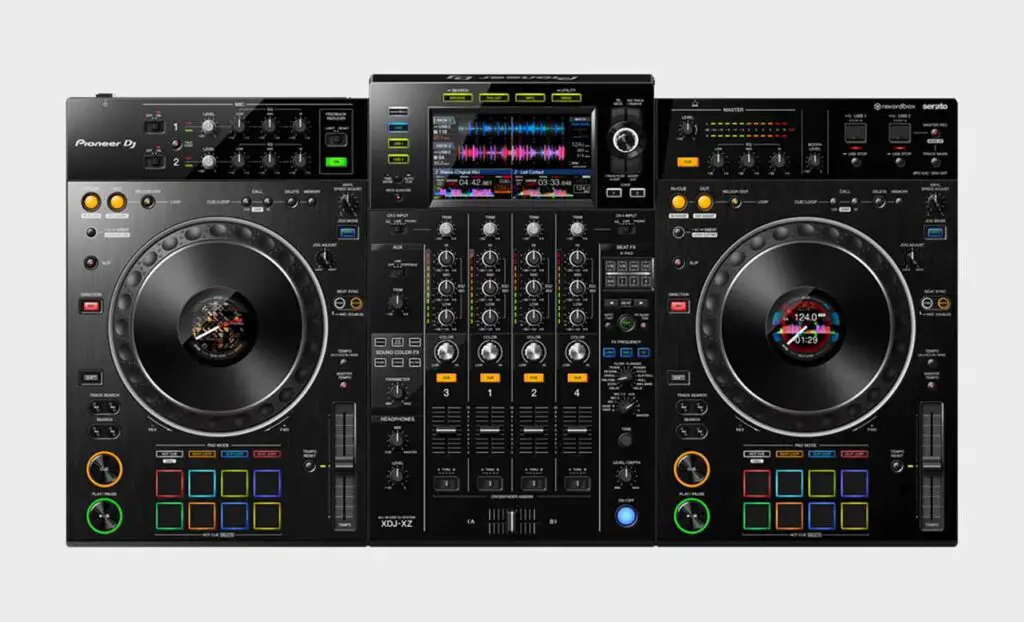 Pioneer XDJ-XZ is one of the Pioneer DJ flagship devices. It features 4 mixer channels and a 7-inch touch screen similar to the one found on the Pioneer XDJ-RX2.
While the touch screen on the XDJ-XZ is a great feature for a standalone DJ controller, this device has much more interesting features (more on that here). Sadly, you can only utilize up to 2 mixer channels for track playback in standalone mode on the XDJ-XZ)
You migh also like: Pioneer XDJ-RX3 vs. XDJ-XZ (Which One Is Better?)
The Pioneer XDJ-XZ is still a great choice when it comes to high-end DJ devices, however in terms of the touch screen quality it cannot really stand up to the new OPUS-QUAD!
4. Denon DJ Prime 4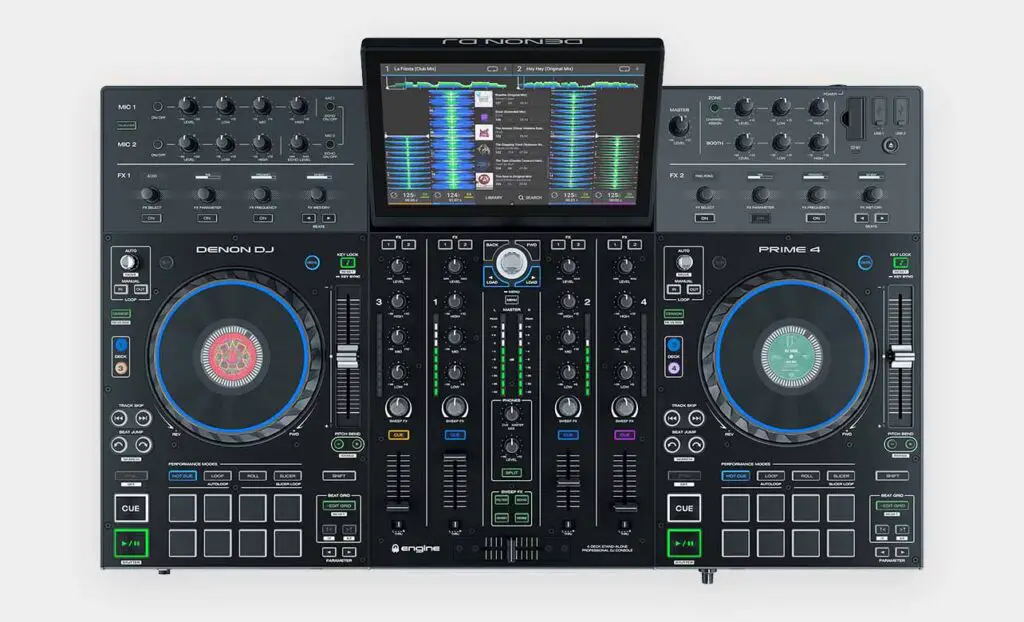 Denon DJ Prime 4, often compared directly with the Pioneer XDJ-XZ, is one of the best standalone DJ controllers on the market as of now.
It features a large 10-inch capacitive touch display with multi-touch gesture support. It is definitely a device with the biggest screen from all those present in this list.
This controller makes use of the Engine DJ OS – a custom made embedded system solution by Denon DJ. Using it is a breeze and it offers lots and lots of quality-of-life features that can make your live performances much easier.
Compare the XZ and the Prime 4 here: Pioneer XDJ-XZ vs. Denon DJ Prime 4 (Ultimate Comparison)
Denon DJ Prime 4 is for sure worth looking at, especially if you're interested in full standalone mixing experience with an abundance of features giving you a lot of creative freedom.
It's also worth mentioning, that the Prime 4, apart from its main touch display, features two additional color displays – one on top of each of its jog wheels.
5. Denon DJ Prime 2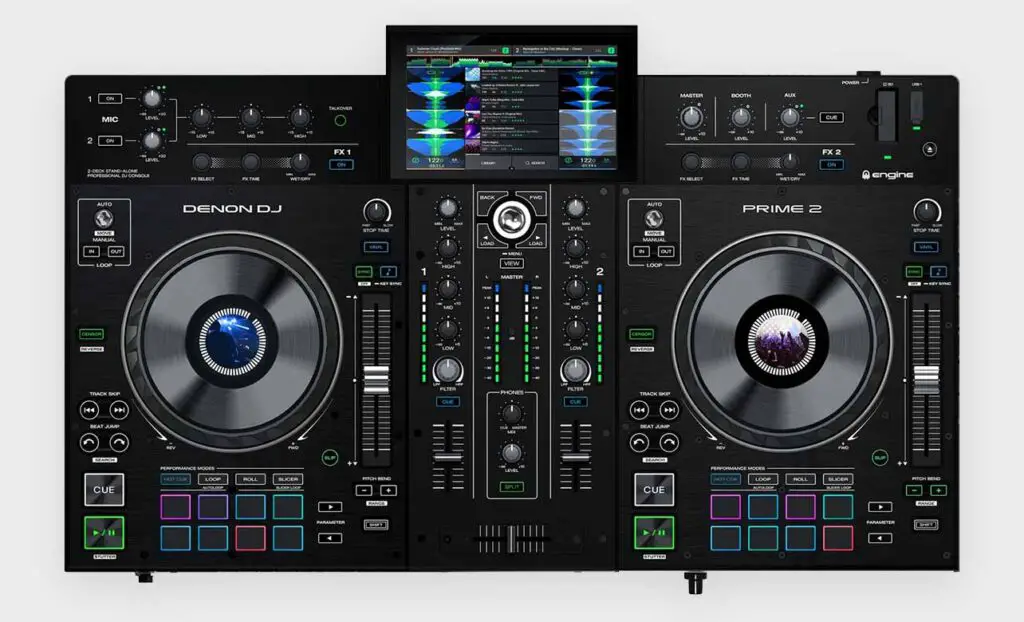 The Denon DJ Prime 2 is essentially a scaled down version of the Denon DJ Prime 4, missing some features and the two additional mixer channels. It features a 7-inch touch display similar to the one present on the Prime 4.
If you're either short on money, or you don't really need 4 channels for your mixing purposes, you should definitely go ahead and check out the Denon DJ Prime 2.
The screen on the Prime 2 is only 3 inches smaller than on its upgraded version – the Prime 4.
6. Denon Prime Go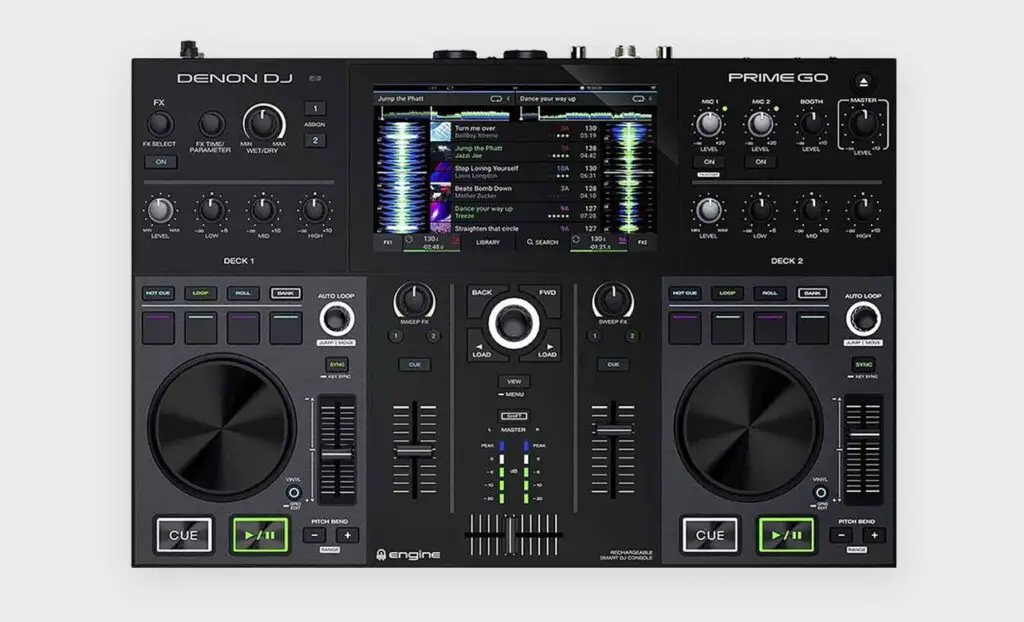 The next controller from the Denon Prime series that has a high quality touch screen on board is the Denon Prime Go.
This device is designed to be a semi-portable standalone DJ controller with music streaming services support. Just as the next controller on this list, it has a built-in Wi-Fi module to help you use tracks from various online sources.
It features a 7-inch capacitive touch screen that is in fact nearly identical to the one present on the previously mentioned Denon DJ Prime 2.
If you're all about the hybrid of standalone and ultra portable DJ controller and you often use music streaming services as track sources, you should feel right at home with the Denon Prime Go.
7. Numark Mixstream Pro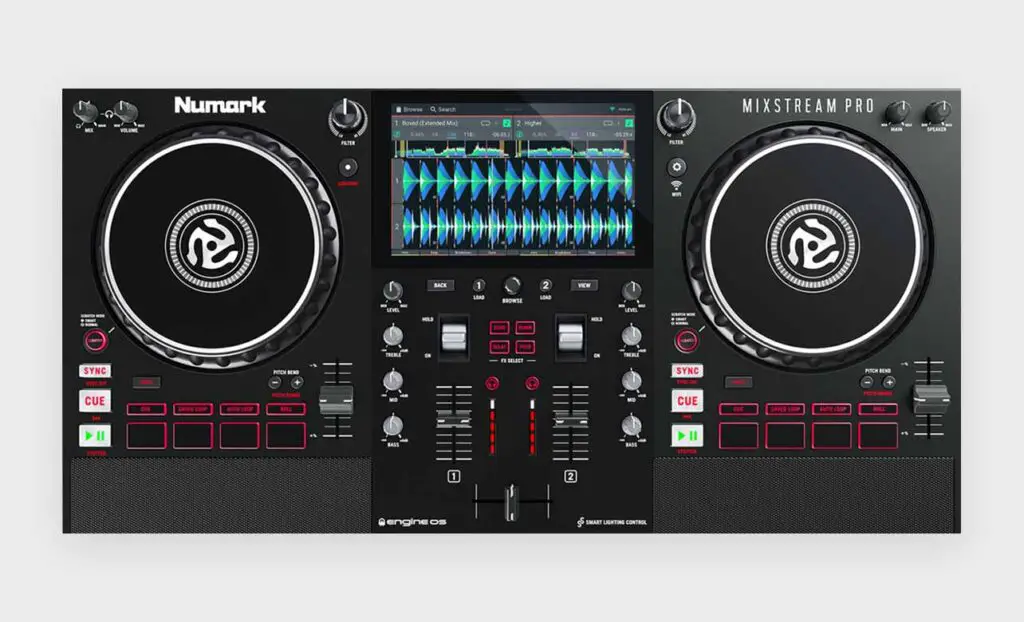 The Numark Mixstream Pro is a 2-channel standalone DJ controller with music streaming software integration and a 7-inch capacitive touch screen supporting multi touch gestures.
An additional quirk of this device, is that it features built-in speakers that are supposed to add to the overall standalone experience with the Mixstream Pro.
The streaming services natively supported by the Mixstream Pro are: Tidal, Beatport Link, Beatsource Link and Soundcloud. You can access these easily, as the device has built-in Wi-Fi capabilities to help you with just that.
The software ecosystem of the Numark Mixtream Pro is the Engine DJ OS – the embedded system known for one from the Denon DJ Prime player series.
There is much more to this one! If you want to know even more about the Numark Mixstream Pro, check out our review here.
8. Traktor Kontrol S4 MK3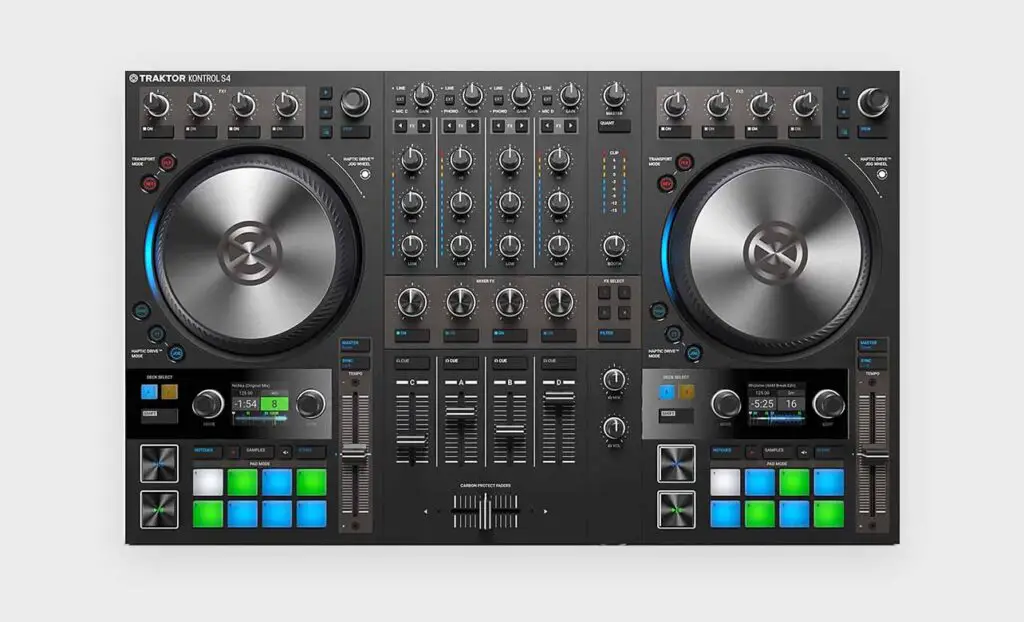 Although the color displays on the 4-channel Traktor Kontrol S4 Mk3 aren't really big, their high resolution lets you easily see and read all the most vital track information and make use of the track waveform view on each of the device's decks.
These two little screens can also aid you with using Stems and Remix Decks inside the Traktor Pro 3 software.
Other than that, the Traktor Kontrol S4 MK3 is a great device with an extensive feature set and a perfect support for the NI Traktor software ecosystem.
9. Numark NS7III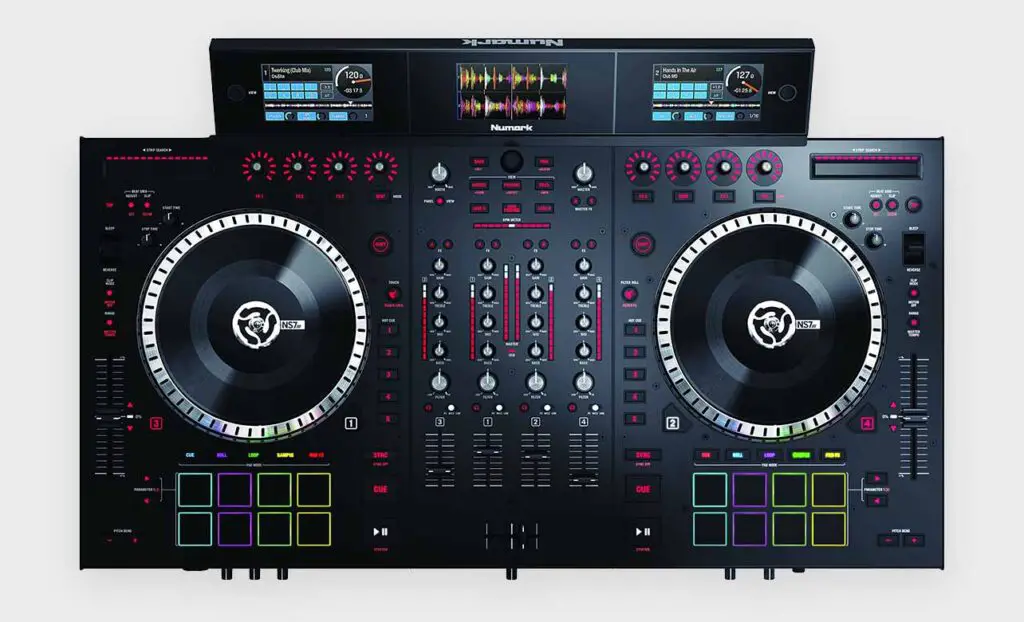 Aside from the fact that the Numark NS7 III is no longer being produced, you can still find some units used on the market if you'd like to try it.
The Numark NS7 III features 3x 4.3-inch color displays that are not touch sensitive. They are alright in terms of their quality and they are able to display quite a lot of useful info during the mix. Their age shows both when it comes to the lack of touch capabilities and their glossy finish that unfortunately gives off quite a lot of screen glare in certain light conditions.
As we've said, although the device is discontinued, it might still be available used (for example over on Ebay) for a reasonably low price. Feel free to check it out!
10. Pioneer DDJ-RZX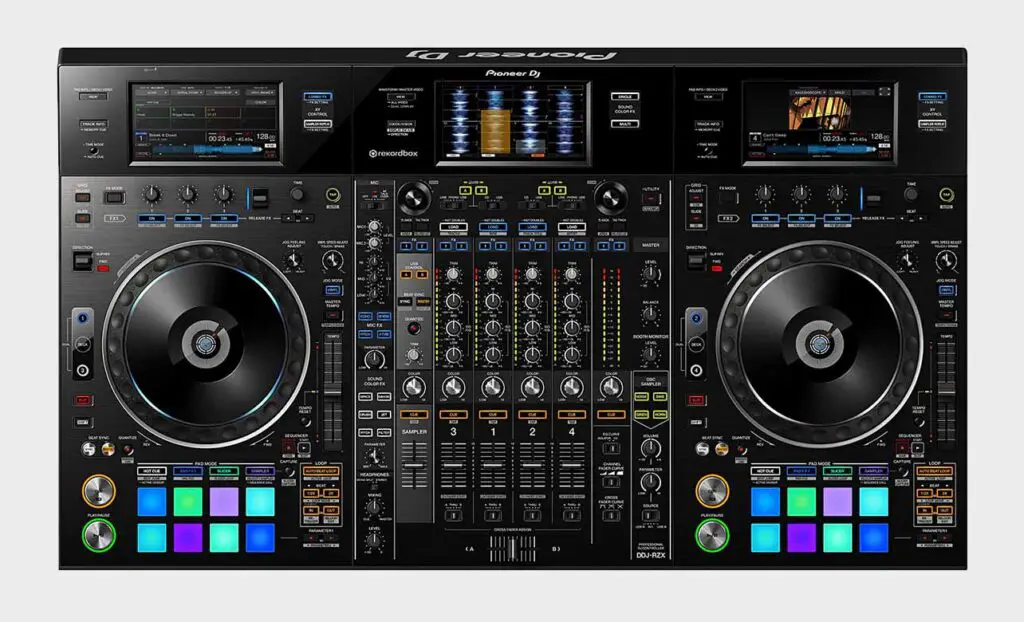 When it comes to more niche DJ controllers with screens that are slowly becoming forgotten, it's not possible not to mention the Pioneer DDJ-RZX.
This massive DJ controller features three 7-inch touch screens with a lot of space to display all the vital track info, your music library and the track waveform view of all the 4 decks at the same time.
It also allows you to control your video stems and certain FX parameters (for example using the on-screen x/y pad).
It's important to mention that although the Pioneer DDJ-RZX might look like a standalone DJ controller akin to the Pioneer XDJ-XZ, it is not a standalone DJ device.
The summary – DJ controllers with built-in displays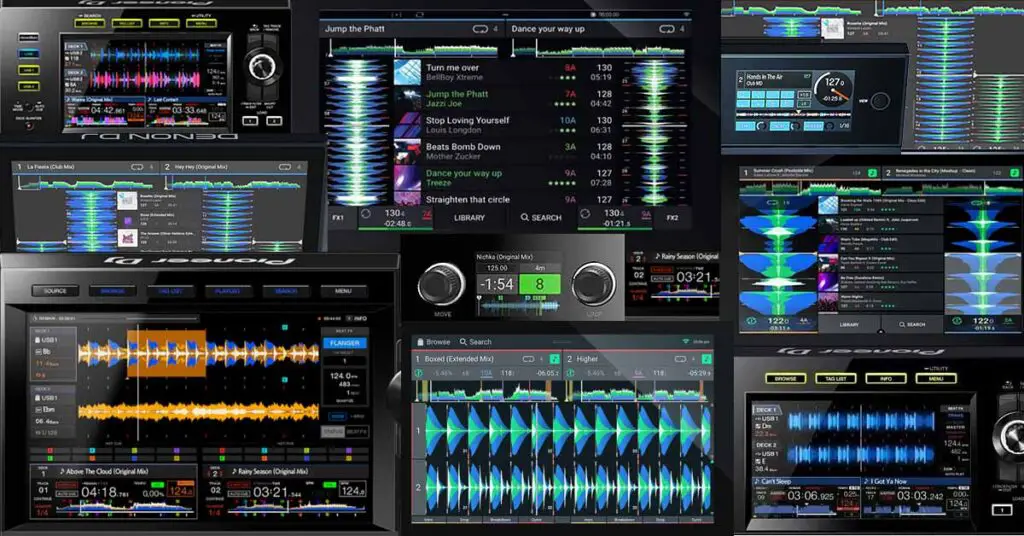 So, if you're searching for a DJ controller with built in screens, which one should you choose? The situation is as follows.
The best models on the market when it comes to their features and quality of their displays would be:
If we're talking about the second tier of devices armed with quality displays, there they are:
Then come the discontinued devices that while still going strong, might not be available in official stores anymore. Luckily we have some Ebay links that can help you find on of these used if you'd wish to try them out:
This ranking has been purely based on 1 – the overall feature sets of the devices in question, 2 – the online sentiment of DJs that have used these devices in the past, 3 – the release order and relevancy of the controllers, 4 – our personal experience with the rated hardware. If you have any other questions, ask away in the comments below. Rock on!