Is the Pioneer DDJ-200 worth to get in the current year? Whether you're a beginner DJ, or an experienced DJ who wants to purchase a portable mini DJ controller for on-the-go use that can be easily connected to your smartphone or tablet, you might be wondering if the Pioneer DDJ-200 is still a good choice. In this article we will take a look at the DDJ-200 and whether or not it's really worth your time and money. Let's begin!
[this article features Ebay & Amazon affiliate links]
Size & feature set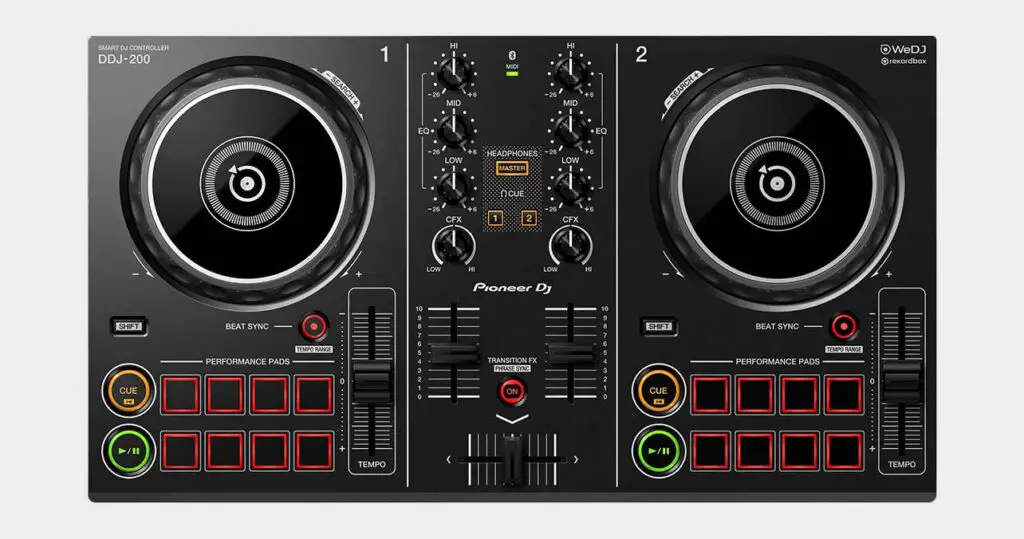 The small size of the Pioneer DDJ-200 is one of its main features and simultaneously, one of its main shortcomings. The device is lightweight, and it can be powered by an external battery or by the USB laptop connection.
The small top surface that the controller offers, while adding to the portability factor of the device, also means that it isn't able to fit a full, standard control on its top panel.
The Pioneer DDJ-200 while being portable, doesn't provide you as much control over your music as its older brother – the Pioneer DDJ-400 does. If you're planning to pick up your very first DJ controller, we would advice you to go for the DDJ-400 instead. Why? Find out in this detailed comparison – it's really worth your time!
DDJ-200 vs. DDJ-400 (Which Is Better For You?)
The portability factor of the DDJ-200 is one of the reasons it doesn't feature performance pad mode select buttons, full-sized pitch faders, dedicated loop controls, or library navigation/track select controls (among other things).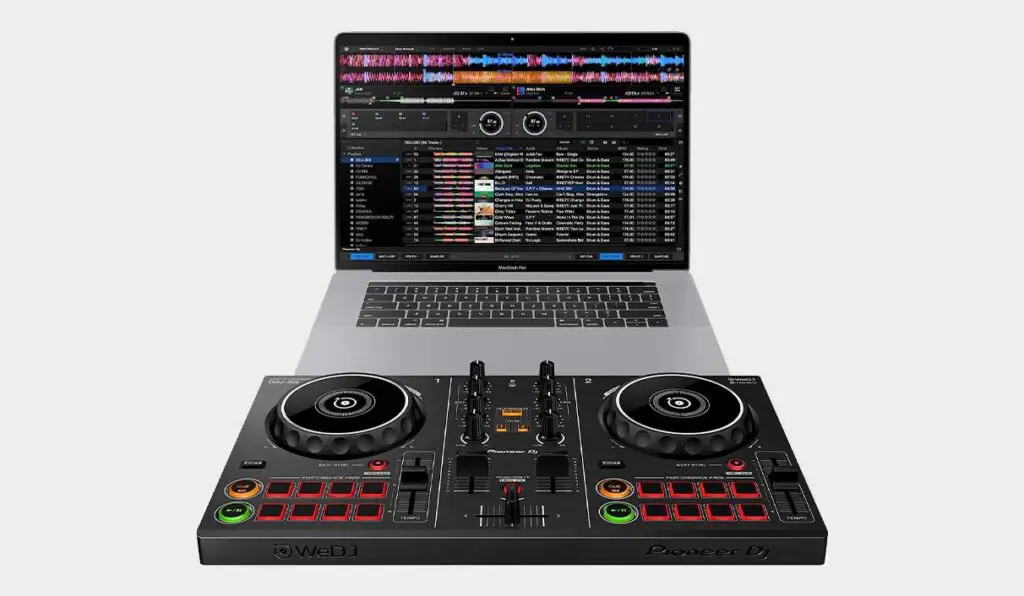 This however also means that the controller will be exceptionally light compared to other, more feature rich DJ controllers. The Pioneer DDJ-200 weighs around 2.65 lb (or ~1.2kg), so really not that much compared to the weight of an average laptop (~2.50-6.50 lb / ~1-3.5 kg).
7 New Best Cheap Affordable DJ Controllers – Quality Low Budget DJing
The main features that the Pioneer DDJ-200 offers are:
2 small capacitive jog wheels (with standard edge touch detection / pitch bend capabilities).
Simple audio FX controls (CFX knobs, Transition FX and access to the Pad FX performance pad mode in Rekordbox).
Basic mix controls – 3 band equalizer, small size pitch faders, beat sync buttons and performance pads.
The Pioneer DDJ-200 is a portable DJ device meant mostly for mixing on the go while using one of its dedicated DJ apps on a smartphone or a tablet (more on that later).
Build quality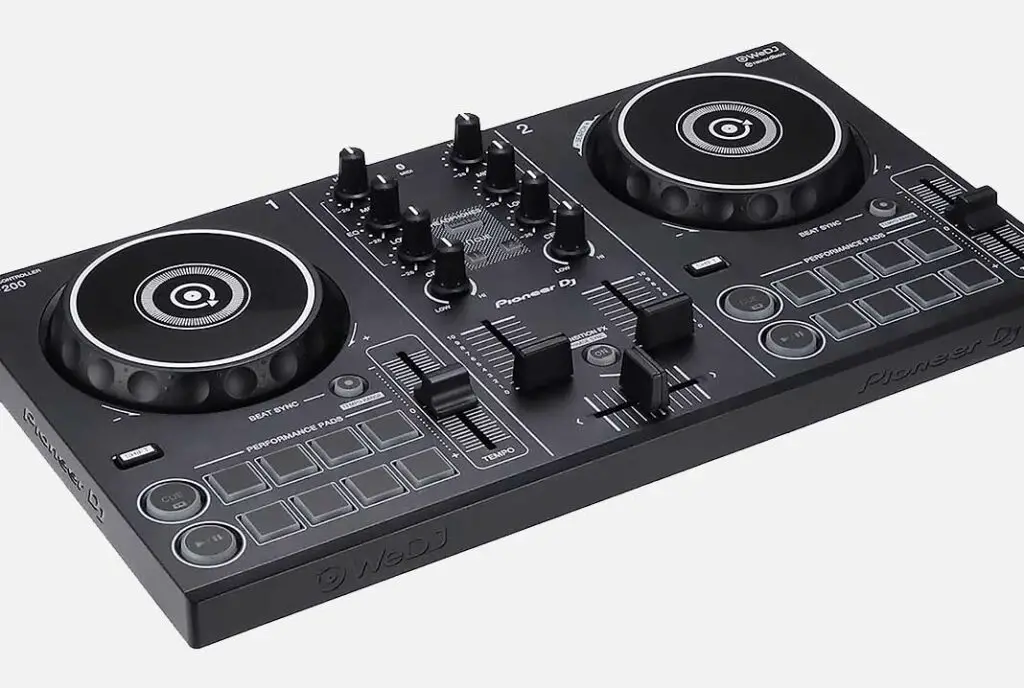 The overall build quality of the device reflects its price range. It's good, but it can feel cheap when compared to other, more expensive pieces of semi-portable gear.
Pioneer DDJ-200 is designed to be portable, so you'll have no trouble putting it for example in your backpack, but we still would advice you to get even a basic soft case for your device if you plan to use it this way. Better safe than sorry!
Numark Mixtrack Platinum FX vs. Pro FX (Which Is better?)
The mixer knobs are certainly not the kind of knobs you'd find on a higher end Pioneer DJ controller. Don't get us wrong here, these are more than enough to get you in the mix and they won't break that easily, but they are simply no match for the components used in DJ controllers such as the DDJ-SX series or any other "professional" grade Pioneer DJ audio equipment.
The small fader caps can wiggle a bit when moved and really don't feel that good when compared to the higher end Pioneer DJ equipment (no surprise here). Nevertheless they are there and if you don't have any comparison you probably won't notice anything weird about them.
Pioneer DJ DDJ-REV1 – A Great Choice For Beginners?
When it comes to the performance pads, they are clicky, they have a plastic finish and there are no problems with their responsibility (at least there weren't in our tests).
The only thing that might be annoying for some is that these are a lot smaller than "traditional" performance pads present on devices such as the Pioneer DDJ-1000 or the Pioneer DDJ-SX3.
Audio outputs?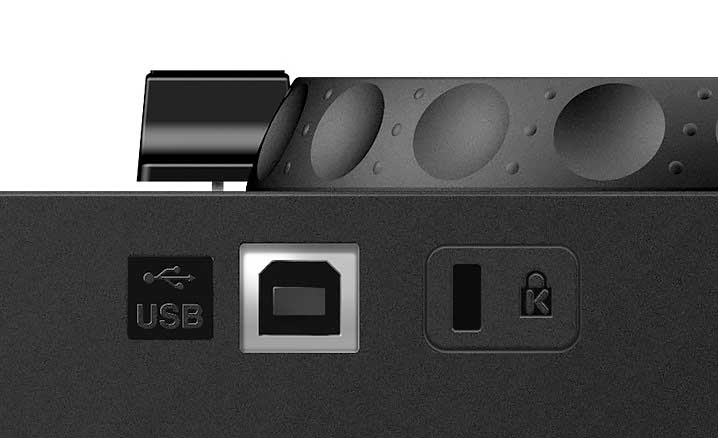 As the Pioneer DDJ-200 doesn't feature a built-in soundcard, it has to rely on your phone/laptop's soundcard to output sound.
This means, that whatever speakers you plan to use with your DDJ-200, you have to plug them directly into your laptop or mobile phone, as there are no audio outputs on the Pioneer DDJ-200 itself.
New DJ Splitter Cables Guide + Troubleshooting
For that reason, the DDJ-200 comes with a special DJ splitter cable that you're going to need to connect both your speakers and headphones to your laptop or your smartphone.
The only output that the DDJ-200 features is the USB cable output – there are no standard audio outputs present anywhere on the device. If you're looking for these, check out the Pioneer DDJ-400 instead!
Note: When it comes to DJ controllers, a "soundcard" might be sometimes also called an "audio interface".
The jog wheels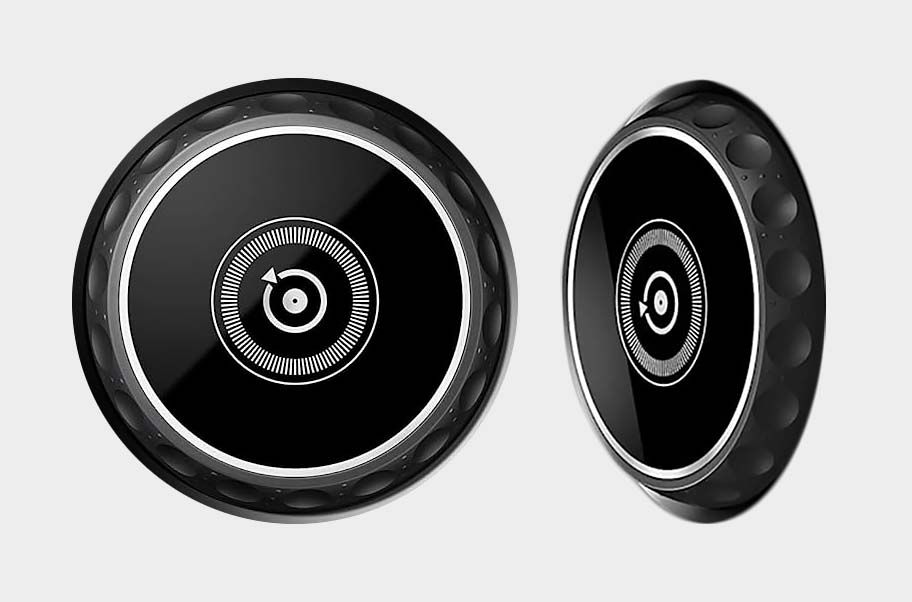 Jog wheels on the Pioneer DDJ-200 are capacitive touch sensitive jog wheels ~3.14 inches (or ~8 cm) in diameter.
They are able to detect whether you're touching their top part or their edge and they can be used for pitch bending, searching through your tracks and with some skill and lots of patience, for basic scratching.
DDJ-Rev1 vs. DDJ-400 (Which Is Better For You?)
If you're searching for entry-level DJ controllers with larger jog wheels, you can't go wrong with the Pioneer DDJ-Rev1 – a device really similar to the previously mentioned DDJ-400, but made with beginner scratch DJs in mind!
Track library controls?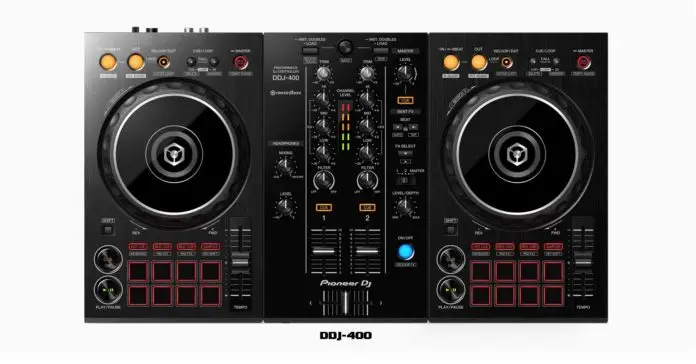 Unfortunately, there are none. The Pioneer DDJ-200 doesn't feature any track search or track select control buttons. The most probable reason for that is the small amount of space avaiable on the device's top panel.
What this means for you, is that you won't be able to search for, pick and select your next song using just your Pioneer DDJ-200 controller. For that, you'd have to use your laptop's keyboard (or your mobile device's touch screen), and that requires you to always have the device you're mixing on in close proximity to browse through your music collection.
DDJ-200 vs. DDJ-400 (Which Is Better For You?)
Again, the Pioneer DDJ-400 mitigates this issue, by having both the track select buttons and music library search knob present and accessible near the middle of its mixer section.
DDJ-200 Transition FX feature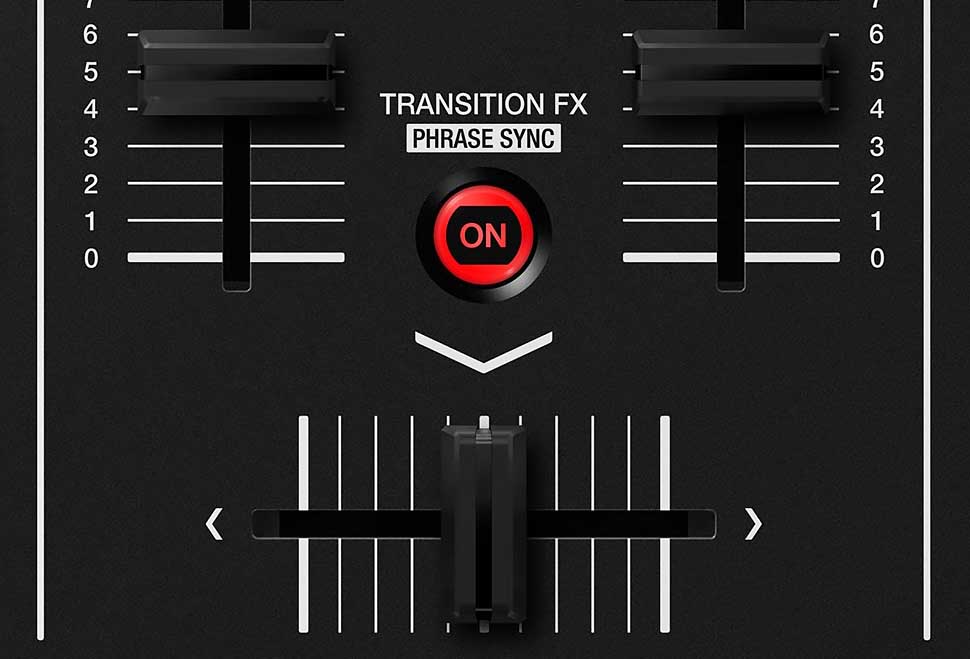 The WeDJ app features 11 transition FX presets that can aid you with basic transitions between tracks.
The transition FX will work with other DJ apps and software, albeit in a slightly different way depending on the particular DJ app or DJ software you'll decide to use with your Pioneer DDJ-200.
If you activate one of the transition effects and move the crossfader, they will affect the transition between the two tracks, apply a pre-set FX combination, and help you to smoothly move from one song to another.
These transitions work when both of the tracks are playing in sync, and when one of the tracks is paused but ready to play.
DJ Controllers Explained! (What Do All These Buttons Do?)
While this is a neat little feature, from a professional standpoint it's simply a small gimmick that can't replace a full set of traditional FX controls (that unfortunately aren't present on the DDJ-200).
The Pioneer DDJ-400 features a scaled down version of the Pioneer DJ Beat FX strip. This gives you a bit more creative freedom when it comes to applying effects to your playing tracks.
Bluetooth connection capabilities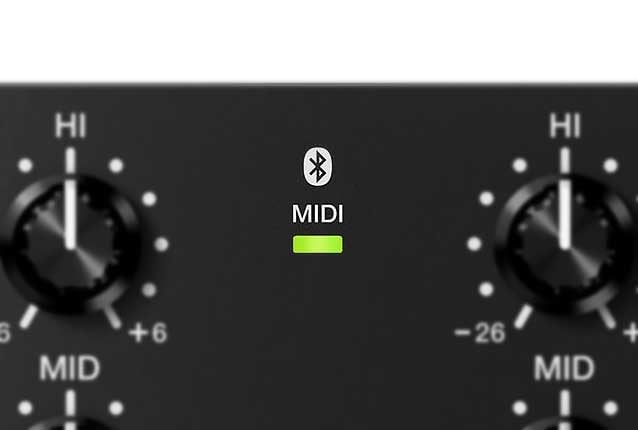 You will be able to connect the WeDJ app or the DJay app to your DDJ-200 using the Bluetooth wireless connection.
For audio connections you'll still need to have a DJ splitter cable on hand. Luckily the DDJ-200 comes bundled with it, so you don't have to purchase the cable separately.
To connect your Pioneer DDJ-200 with DJ software on your PC, you only need the USB cable, no Bluetooth connection is involved here.
It's important to note, that the Pioneer DDJ-200 itself is not capable of sending audio through its Bluetooth connection. In fact, as it doesn't feature a built-in soundcard, technically no sound passes through it at all, and it simply plays the role of a basic set of controls and buttons that can be used to control your DJ apps.
While you theoretically could use your DDJ-200 with Bluetooth speakers by attempting to pair your Bluetooth speaker with your phone or your laptop to carry audio wirelessly, it is generally not advised.
Live wireless audio transfer can introduce a lot of latency, and that can make mixing not only hard but in some cases nearly impossible (especially when it comes to beatmatching).
Compatible DJ apps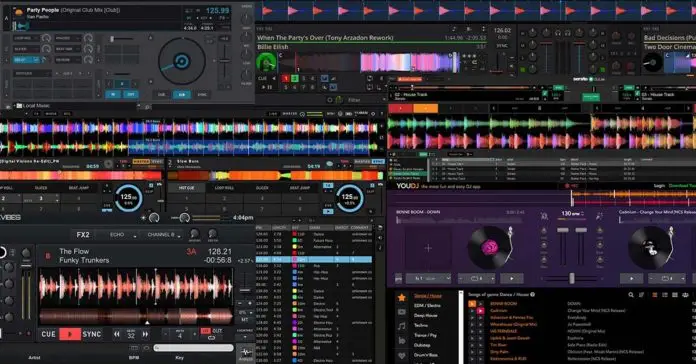 Pioneer DDJ-200 officially supports the following mobile DJ apps:
DJay app (iOS)
Edjing Mix (Android & iOS)
WeDJ (Android & iOS)
These apps will differ a bit from each other when it comes to their specific feature but are otherwise really close when it comes to their overall basic functionality.
Best Free DJ Software (For PC & Mac)
Pioneer DDJ-200 DJ software
On your PC, you can use the following DJ software with your DDJ-200:
Rekordbox DJ (free to use with the DDJ-200) (Windows & Mac)
Virtual DJ (although you need a Pro Infinity Subscription, Pro Subscription, or a DDJ-200 PLUS License to fully utilize it) (Windows & Mac)
DJay app (Mac only)
Once connected to your laptop with the Rekordbox software on, the Pioneer DDJ-200 will automatically and instantly unlock all the Rekordbox features you need to get to work.
In other words, the Pioneer DDJ-200 acts as a hardware unlock device for the Rekordbox DJ software.
In Rekordbox, the controller will give you access to 4 performance pad modes – Hot Cue, Beat Loop, Pad FX, Sampler (which have to be switched around from your laptop as there are no dedicated buttons for that on the controller).
What Is a Hardware Unlock Device? – DJ Controllers
Price & availability
Here for your convenience we shared places where you can get the Pioneer DDJ-200 for a good price. Take a look.
Pioneer DDJ-200 availability.
The verdict – is the Pioneer DDJ-200 worth it?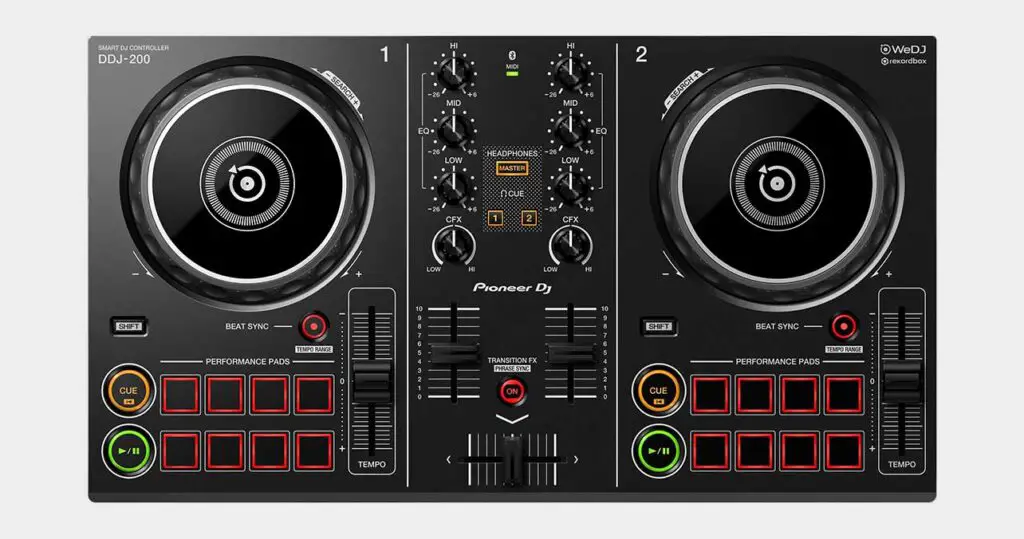 To sum it all up, the Pioneer DDJ-200 is a good choice for anyone that needs a ultra portable, small DJ controller that can be easily carried around, powered by external batteries and used with a variety of popular smartphone DJ apps on both iOS and Android.
With that said, it's also important to note, that the Pioneer DDJ-200 is really limited in terms of its feature set. If you'd like to pick up something a little bit more relevant when it comes to general usability and ease of use, we strongly recommend you to check out the Pioneer DDJ-400.
DDJ-200 vs. DDJ-400 (Which Is Better For You?)
The Pioneer DDJ-400 is a huge upgrade from the DDJ-200, for just a little more money. If you're just starting out and you're searching for your first DJ controller we would strongly recommend you to go for the Pioneer DDJ-400 instead. The differences between the two are neatly summed up here, and they are like night and day!
We hope we helped you a bit with figuring out whether the Pioneer DDJ-200 is worth to get in the current year, and whether or not it is a good option for you. Rock on!
| Pioneer DDJ-200 on Amazon: | Pioneer DDJ-400 on Amazon: |
| --- | --- |
| | |