Today we're going to take a closer look at the Numark Total Control – a plug-and-play DJ controller back from 2007 (!). Grab a cup of coffee and discover what the DJ controller experience was like 15 years ago in our detailed retro hands-on review of this little gem. You will be surprised!
[this article features Ebay & Amazon affiliate links]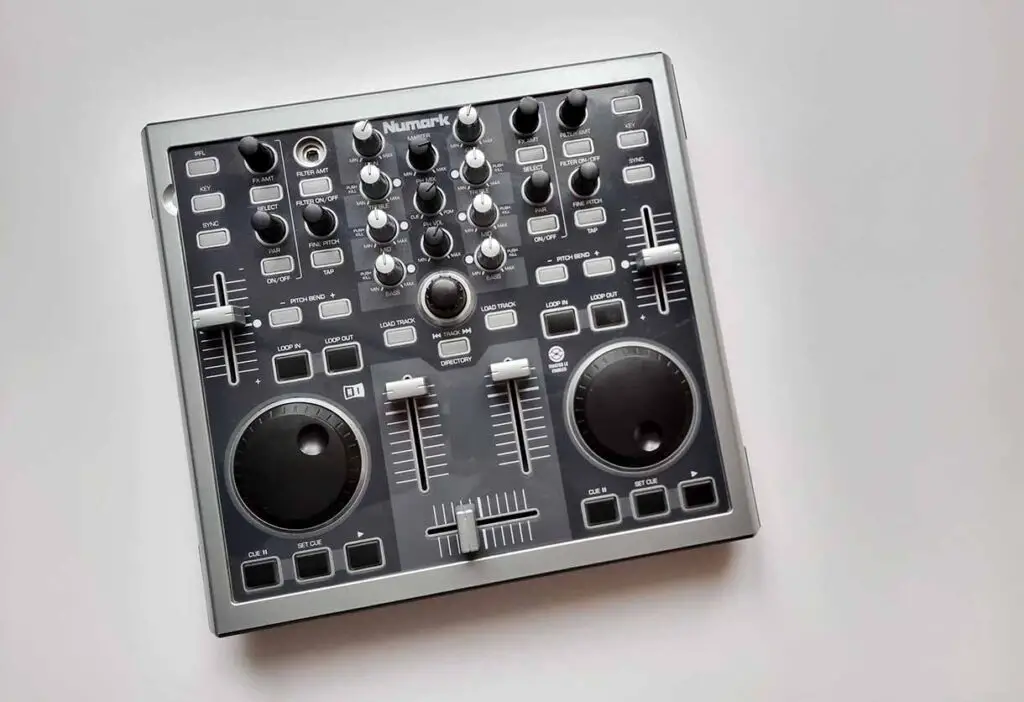 The Numark Total Control was released back in 2007. This controller was one of the first devices for digital DJs preceding the now classic Pioneer DDJ-T1 and DDJ-S1 which were one of the earliest examples of commercially available professional DJ controllers. At the time of the release, it was priced around $249. Nowadays you can get one used for around $50-100 (for example over on Ebay).
While the now dated Numark Total Control may come off as somewhat lacking when compared to modern DJ equipment, it still offers quite a few interesting features and original control layout design solutions. We will now take a closer look at this device using the unit we were able to acquire online for the testing purposes. Let's begin!
Check out also: Buying Used DJ Equipment – Things To Look Out For!
The build quality & size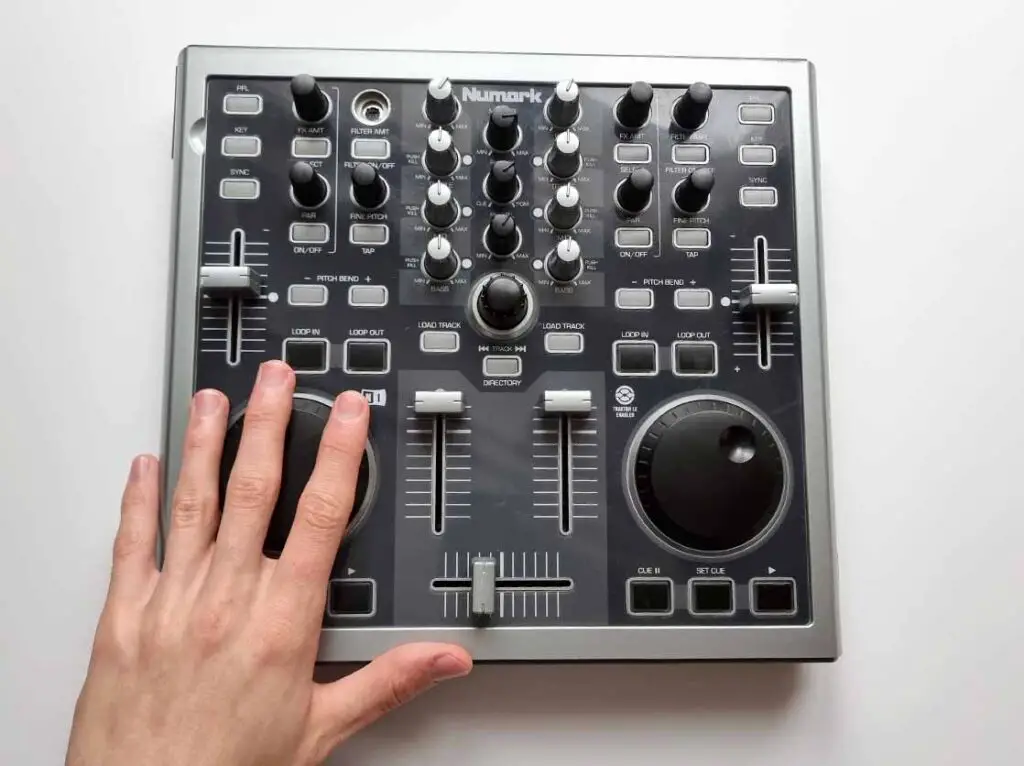 The Numark Total Control is generally a pretty sturdy device with a mostly hard plastic casing accompanied by smaller separable plastic parts (fader caps and knobs). The device isn't really light or portable by todays standards, although it would still fit in an average sized backpack. It also is quite on the heavier side, weighing around 3.7 lbs (1.7 kg).
Total Control features an easily changeable front plastic overlay with all the control names printed on, which is essentially a sheet of plastic covering the top panel of the device, being fixed to the device by the mixer fader caps (and pitch fader caps).
All the software function descriptions near the knobs are printed on the cover, and that means that you could easily make your own replacement cover which would correspond with your custom software MIDI mapping. This also means that re-skinning this device is as easy as it can get.
An important to mention here are that the Numark Total Control doesn't have a built-in soundcard / audio interface – there are no audio inputs or outputs on the device, it relies solely on your computer's audio output.
Another thing is that while the Total Control has a 6V / 1A power supply input on board, the power brick doesn't actually need to be plugged in for it to work. All throughout our tests we used it relying solely on USB power – without any noticeable issues.
Jog wheels – the age shows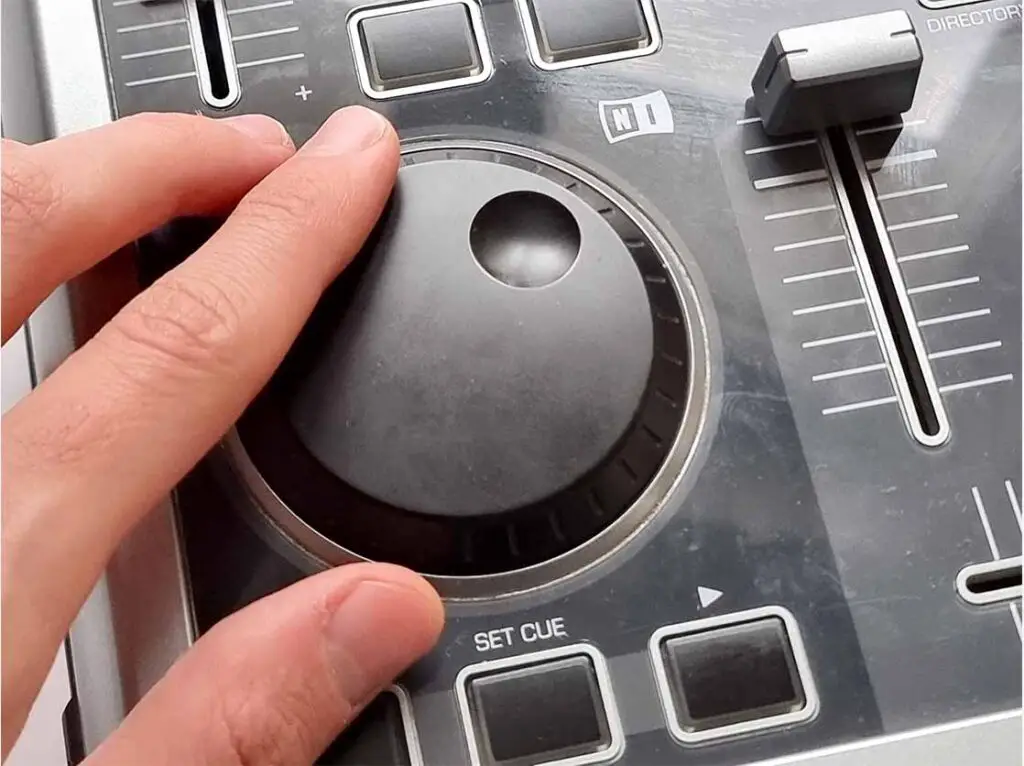 While these jog wheels may not look like much, they actually feel pretty good. When you look at our Numark Total Control photos you may be under an impression that these wheels are simple encoder-like controls – but they actually work amazingly smooth and they have a really nice and long spin.
There is also a small indentation on top of each jog wheel, which brings to mind jog wheels present on professional video editing equipment.
Nevertheless the jog wheels on the Total Control feel pretty good and are really satisfying to use, even if their use is very limited by today's standards. The jog wheels on the Numark Total Control are essentially a variation on the old type mechanical jog wheels (not to be confused with modern mechanical jog wheels on contemporary DJ players).
Learn more about old type mechanical jog wheels and all their limitations here: Jog Wheel Types Explained – DJ Equipment Guide
Old type mechanical jog wheels are not able to register whether or not you're touching their surface, they can only detect the forwards and backwards movement of the "platter".
This sadly means that scratching is nearly impossible on DJ controllers featuring these kind of jog wheels. If you attempt scratching on the Total Control (which we did), you will be faced with an issue typical for the old type mechanical jogs – after you stop moving the platter, the track will stop for around half a second before it starts playing again.
A similar thing will happen when you attempt to "hold the track in place" by holding your fingers on top of the jog wheel – as these jog wheels are not able to detect whether you're touching their surface or not, the track will just keep on playing. This makes the Total Control highly unreliable for scratching.
All in all, during our tests with the latest version of Virtual DJ software we were able to use the jog wheels both in the vinyl mode and pitch bend mode. For basic beatmatching they will do the trick.
Check out also: Pioneer DDJ-FLX4 & The DDJ-FLX6 (Full Comparison!)
The controls and feature set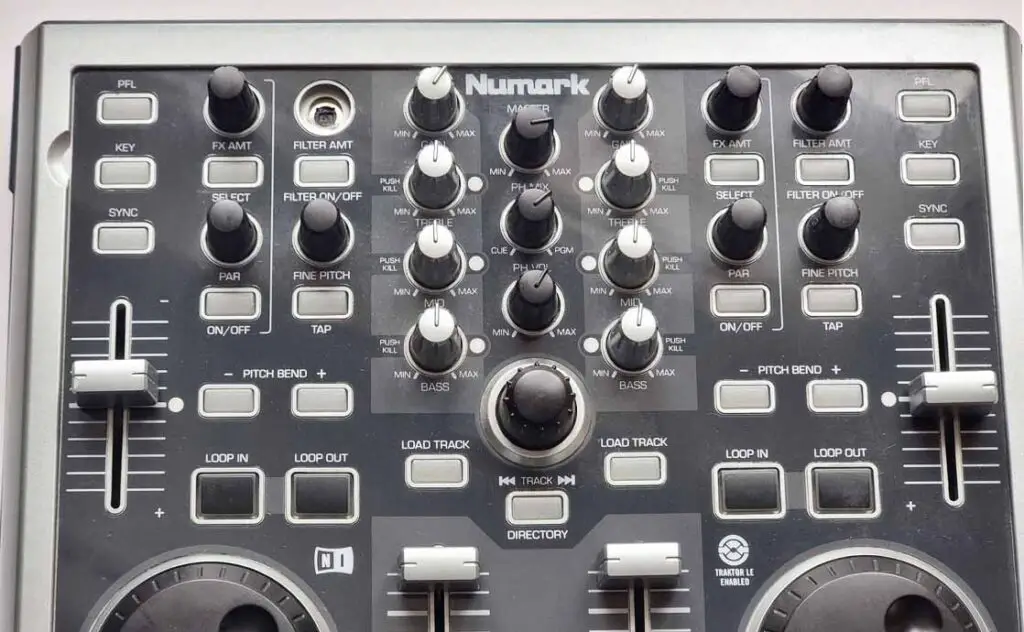 This device presents to us quite a large amount of knobs and buttons cramped on a pretty small surface. Despite that, none of the controls are hard to reach.
Apart from the traditional set of transport controls, the Numark Total Control gives us access to basic loop controls, filter controls and simplified FX controls (FX amount/depth knobs and effect selection buttons). Notably, there is no access to hot-cue points on the Total Control, and the controller does not feature any kind of performance pads or their equivalent.
An interesting thing is, that when we tested our unit using Virtual DJ with the default plug-and-play mapping, the mentioned FX and filter controls (the set of 4 knobs and buttons on top of each deck section) were rather awkwardly mapped to control the sampler and the VDJ FX section. This of course can be easily changed by editing the default MIDI map in the software settings.
The equalizer knobs in the mixer section can be pressed with a nice click to kill the selected frequency range and pressed again to bring it back – quite a neat feature!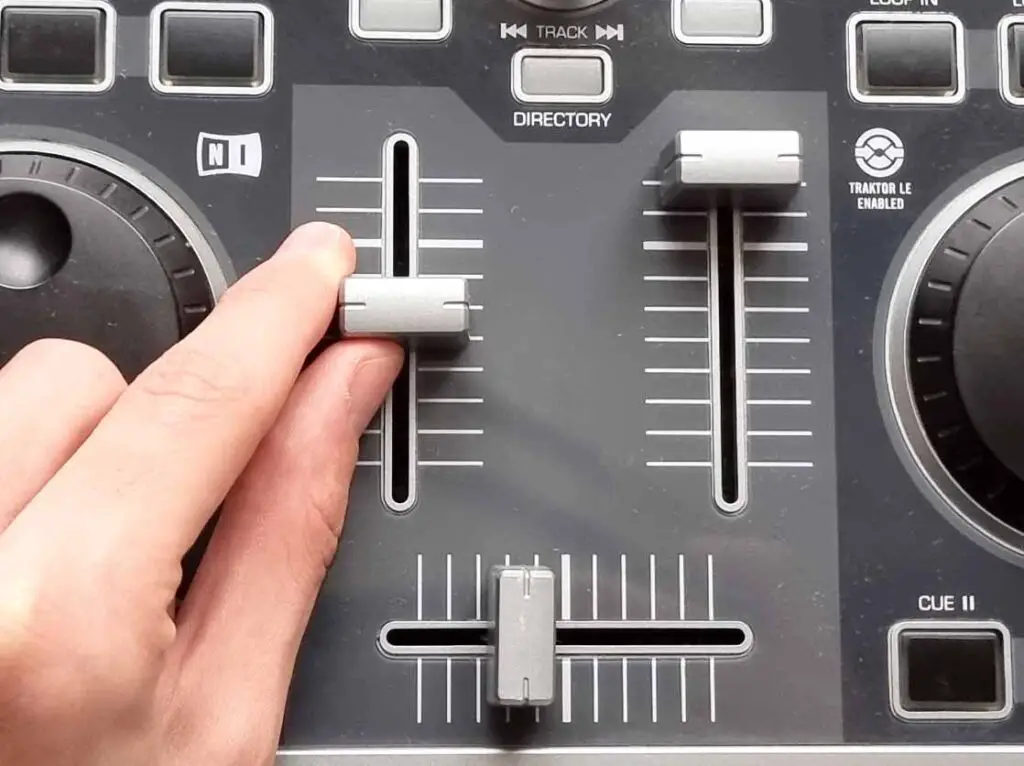 Another nice thing is that although the pitch faders on the Total Control don't have a distinct "click" in the middle, each of them features a small LED light that tells you when the pitch fader is set to the "0" position.
The sync buttons and the keylock function buttons are located on top side of each deck. Curiously, this is also where the headphone cue buttons (the PFL – "pre-fader listen" buttons in this case) have been placed.
There are also pitch bend buttons available on each of the decks if you don't want to mess around with the jog wheel for minor tempo adjustments during beatmatching.
You can load your tracks on each deck using the rotary encoder knob in the middle of the mixer section, alongside with two "Load Track" buttons. A directory change button can also be found here.
Lastly, the mixer faders (and the pitch faders) aren't really that tight, and the crossfader feels almost exactly the same as those. By today's standards, they are close to parts you can find on most cheaper portable DJ controllers.
Software compatibility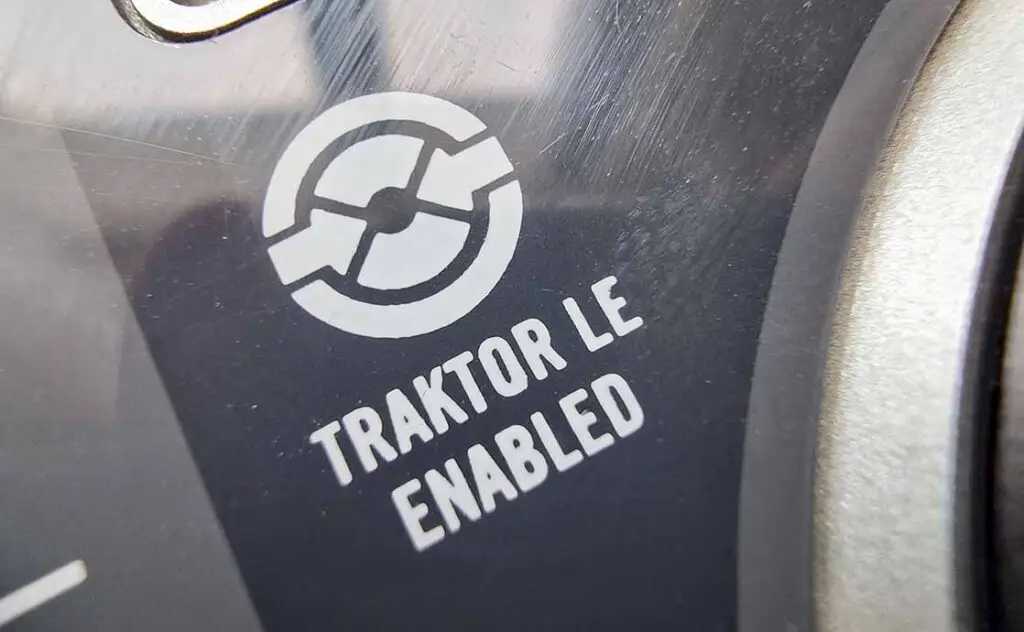 Originally on release, the Numark Total Control was compatible both with the Numark Cue LE DJ software (now long discontinued) and with Traktor LE.
Today, Numark Total Control is compatible with Virtual DJ, Traktor Pro 3 and Mixx DJ software. Keep in mind, that as this is a legacy device, its default MIDI mappings may require some additional tweaks to be more efficient.
We have tested the Numark Total Control with the latest version of Virtual DJ software. Although it works really well and most of the controls work straight away after plugging in the controller without any additional setup, for the best experience the device required some minor tweaking (mainly really basic FX control remapping and jog wheel sensitivity tweaks).
How To Set Jog Wheel Sensitivity In Virtual DJ (VDJ Jog Wheel Settings)
Sadly, besides that, to use the Numark Total Control with Virtual DJ for more than 10 minutes (or any DJ controller for that matter), you will have to purchase an appropriate VDJ license.
Needless to say, the unit isn't compatible neither with Serato, nor Rekordbox DJ software.
Pros & cons
Just for the sake of fun, let's quickly list all the pros and cons of the Numark Total Control, looking at it from the perspective of quite a few years that have passed since its release back in 2007.
Numark Total Control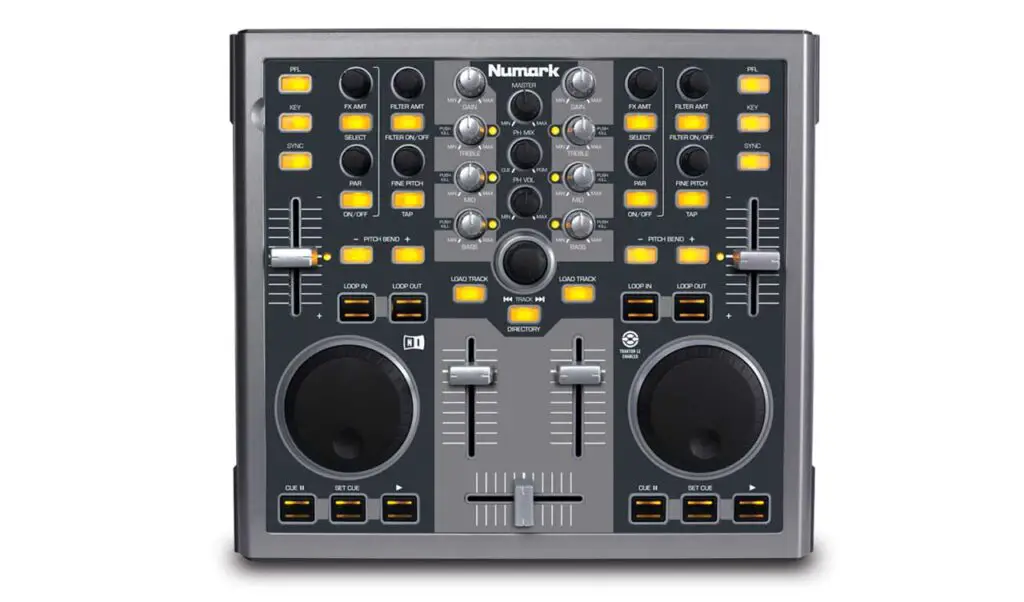 Pros:
Reliable and convenient track selection controls on par with the ones that can be found on much newer DJ controllers.
Equalizer knobs can be pressed in to kill a selected frequency range.
Replaceable front cover with printed on control names.
Pitch bend buttons for when you decide to keep your jog wheels in the vinyl mode.
Has a power supply input but can function on USB power alone.
Cons:
No built-in soundcard – relies on your computer's audio output.
A bit heavy by today's standards.
Old type mechanical jog wheels that make it almost impossible to scratch on.
Average quality mixer faders.
Numark Total Control in 2022?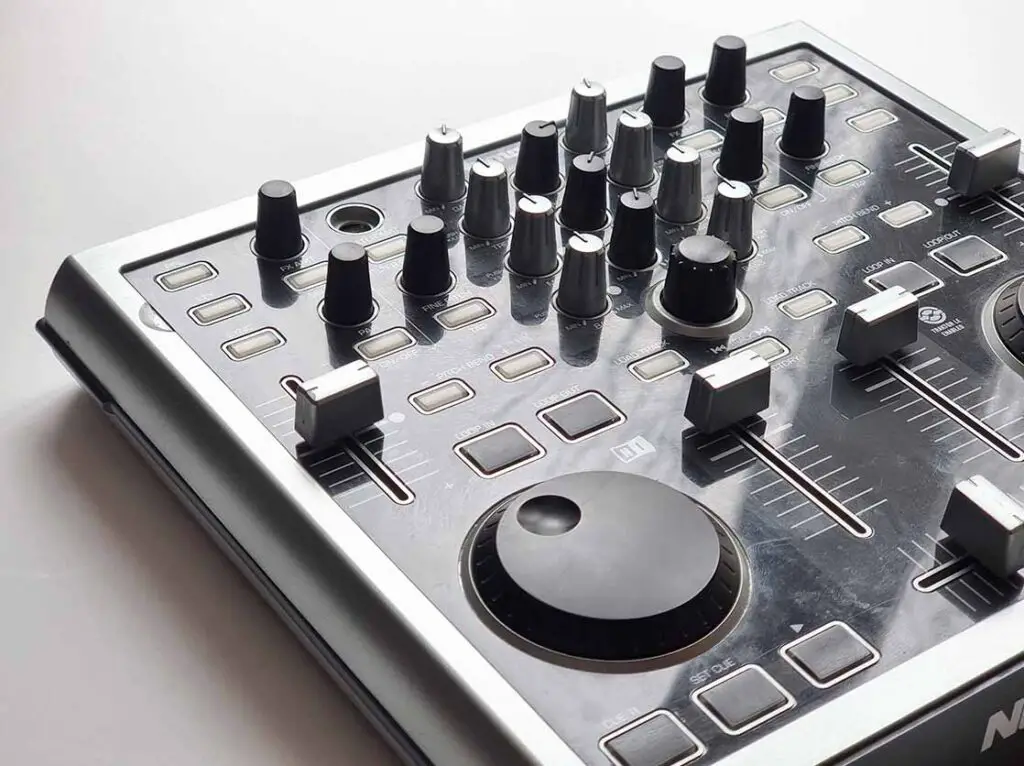 How would the Numark Total Control hold up in the current year? Well, considering that the device is now over 15 years old, it certainly should not be the first choice for an aspiring DJ with a reasonable starting budget.
While you can certainly use Numark Total Control with DJ software such as Traktor Pro 3, Mixx or Virtual DJ (and their compatibility can be surprisingly good), the overall set of available controls and features can hold you back in various ways if you would decide to use this aged controller as your daily driver.
Today, you can try getting the Numark Total Control second-hand on various online marketplaces, for example here, over on ebay. Many old used units become available on the market as the time passes. The price as always will vary with the device's condition.
Numark Total Control isn't really a device that can be used in most professional contexts, but it can be an interesting addition to a retro DJ controller collection, or a original practice device introducing some (hopefully) creativity inducing limitations.
Remember that when getting yourself any kind of a used DJ controller, you should take some precautions. Adhere to our guidelines for purchasing used DJ controllers online to avoid getting a severely damaged or non-functional device!