Are there any DJ controllers compatible with both Serato DJ Pro and Rekordbox DJ software? Well, there are quite a few actually, although they certainly are a rarity. We'll now take a closer look at the set of 5 Pioneer DJ controllers that can support both Serato and Rekordbox. Let's begin!
Check out also: 8 Best DJ Controllers You Can Get In The Current Year!
1. Pioneer DDJ-FLX4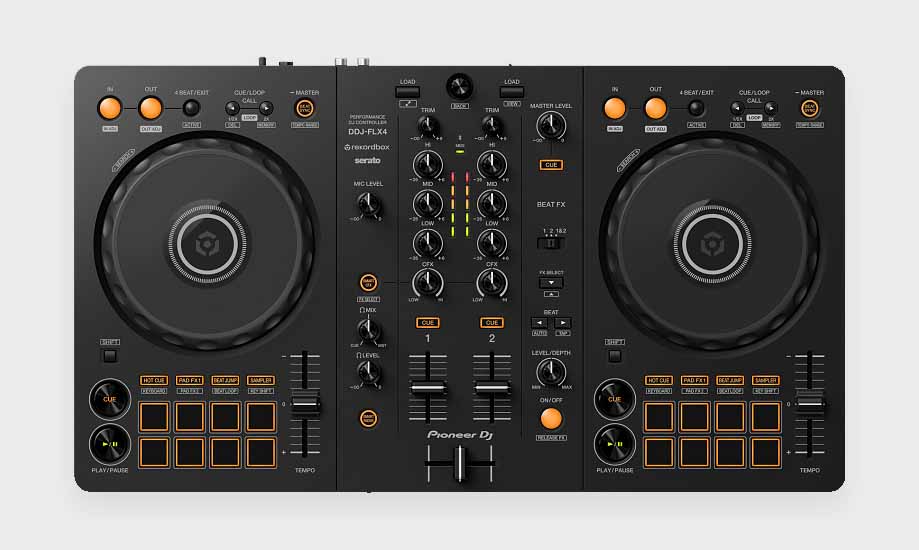 The Pioneer DDJ-FLX4 is a direct replacement for the now discontinued Pioneer DDJ-400. It is also one of the newest Pioneer DJ controllers that will allow you to freely choose between using the Serato DJ Pro software and Rekordbox DJ software.
Currently it's one of the best choices when it comes to DJ controllers for beginners. If you're aiming for an entry-level device suitable for your first DJ device, we highly recommend purchasing the Pioneer DDJ-FLX4 while it's still in stock.
Other than that, it will also allow you to make use of the newest Smart CFX and Smart Fader FX transition features which as of now are exclusive to the FLX4.
We have a neat detailed comparison of the FLX4 and the FLX6, you can check it out here: Pioneer DDJ-FLX4 & The DDJ-FLX6 (Full Comparison!)
2. Pioneer DDJ-FLX6 / FLX6-GT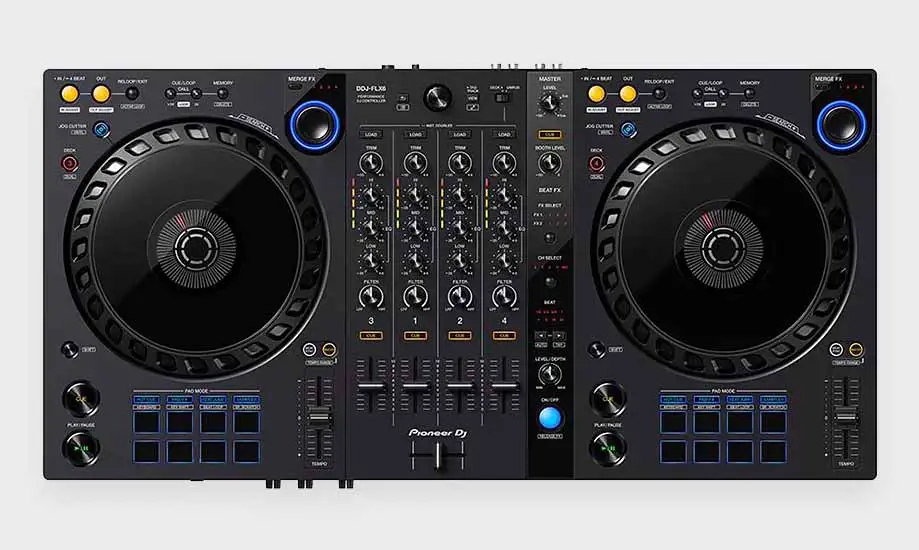 The Pioneer DDJ-FLX6 is a neat step up from a classic 2-channel entry-level DJ controller, offering you 4 mixer channels, large full-size capacitive jog wheels and a bigger casing. It doesn't really go much beyond the feature set of the DDJ-FLX4 (as it was released much earlier), but it's still a nice option if you need a 4 channel device and you're on a tight budget.
Pioneer DDJ-FLX6-GT on the other hand, is an updated version of the original DDJ-FLX6 with a few visual changes implemented. You can read much more about it here:
Just as the Pioneer DDJ-FLX4, the FLX6 and FLX6-GT are compatible both with Serato DJ Pro and Rekordbox.
If you want to learn more about the GT version of the FLX6, this short write-up might be worth your attention: Pioneer DDJ-FLX6-GT – Did Something Change?
3. Pioneer XDJ-XZ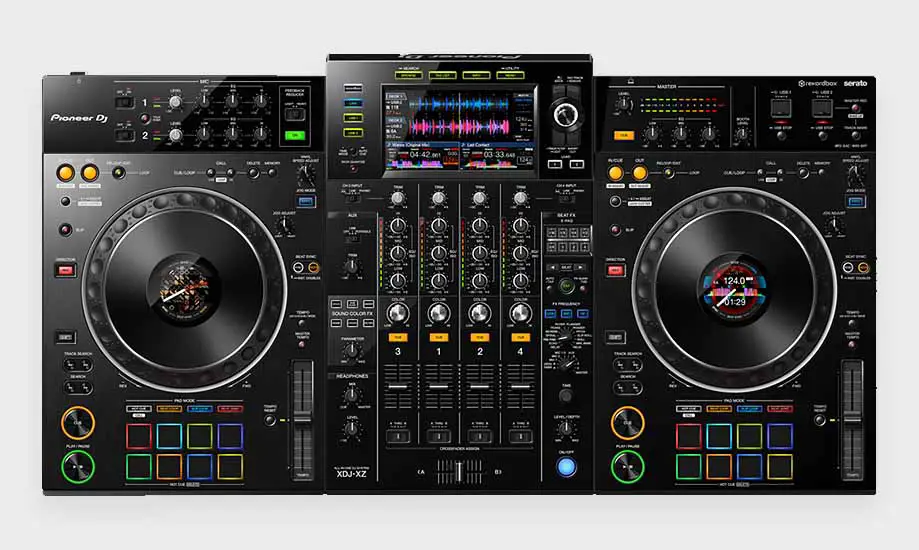 The Pioneer XDJ-XZ is another 4-channel option that supports Rekordbox and Serato DJ. You are free to use the XZ with either of these, or in the standalone mode with only 2 mixer channels available.
It offers much more features than the devices that were listed before, and it also features a neat built-in display on board.
This device is a large step up from the two that we mentioned before, as it is considered a professional-grade controller – its price does reflect that.
With that said it's one of the best options if you want a DJ controller that has all its features based around a CDJ & DJM club setup and at the same time allows you to utilize the two most popular pieces of DJ software.
4. Pioneer DDJ-SX2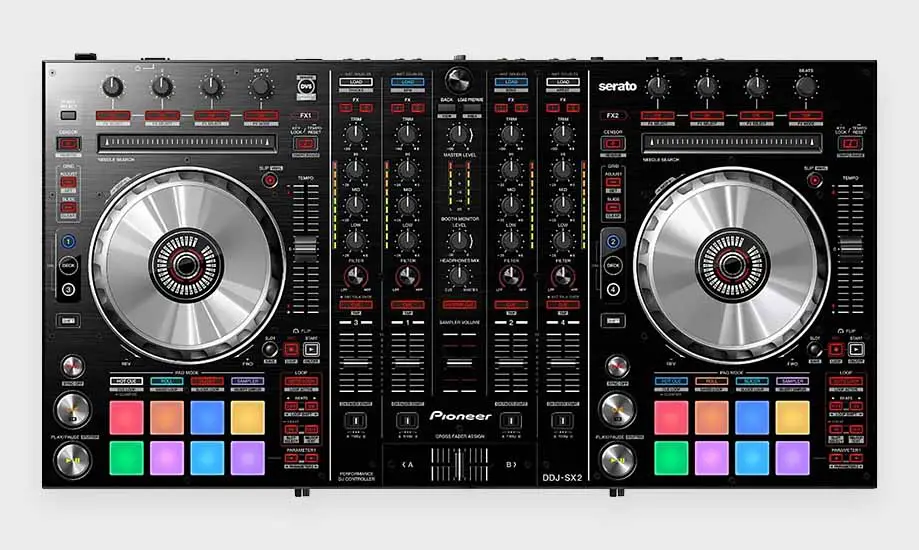 The Pioneer DDJ-SX2 is quite an old device at this point. While it has been discontinued and it's officially labeled as a legacy device by Pioneer DJ, it's a highly capable professional 4-channel DJ controller that is still really worth looking into, regardless of its age.
While the original Pioneer DDJ-SX released a few years before the SX2 also supports both Rekordbox and Serato, it's rather outdated at this point and it doesn't feature all the improvements that were made on the second iteration of the hardware. Therefore we didn't include it on this list.
Note: A much important thing to mention here is that the newer Pioneer DDJ-SX3 does not support Rekordbox at all. That's why this device also didn't make it to this list. See the screengrab below.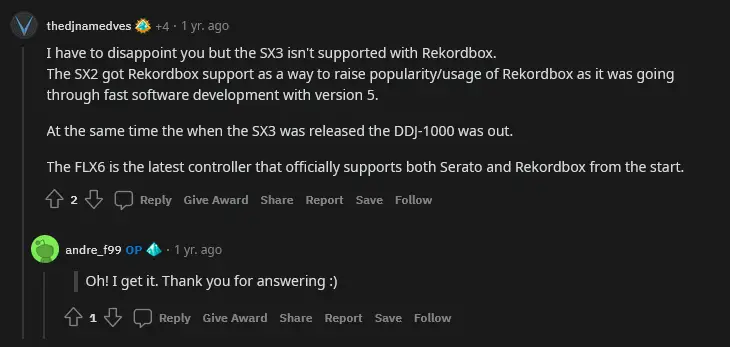 5. Pioneer DDJ-SZ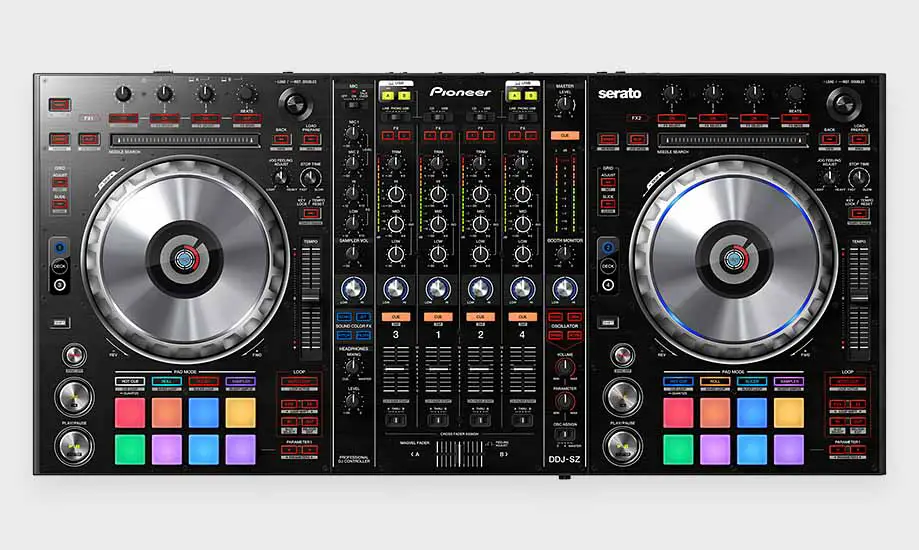 The original Pioneer DDJ-SZ does support both Serato and Rekordbox DJ software. Although it has also been discontinued much like the DDJ-SX2, its feature set is surprisingly still very much relevant.

Note: Although the Pioneer DDJ-SZ2 is newer than the DDJ-SZ and it features quite a few new features compared to its predecessor, it does not support Rekordbox DJ software as the original DDJ-SZ does.
If you feel like you'd want to try out the newer SZ2, this might be quite useful for you: Is Pioneer DDJ-SZ2 Still Worth It?
Bonus: Pioneer DDJ-XP2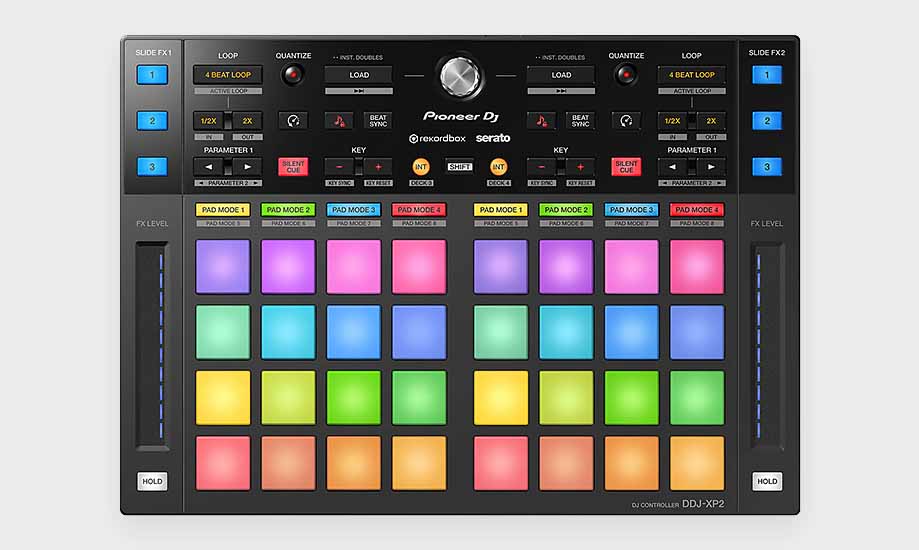 As a little bonus, we should also mention the Pioneer DDJ-XP2. This little device is not a full-fledged DJ controller with separate deck sections and a mixer section, but rather a nice addition to your main controller, further expanding your set of hardware controls.
Using the DDJ-XP2 you get access to 16 performance pads for each deck with access to 8 pad modes each, touch FX sliders and a plenty of additional buttons such as key adjustment controls, loop controls and track library controls.
The XP2 officially supports both Serato and Rekordbox DJ software. It can also be MIDI mapped with software such as Traktor Pro 3 or Virtual DJ. Although it cannot really be used efficiently alone, it's a great little device you can utilize alongside your existing DJ equipment.
Check out also: Rane FOUR vs. Rane ONE (Gear Comparison!)