DDJ-SZ2 detailed review in 2023! The Pioneer DDJ-SZ2 is a professional DJ controller released back in 2017. Its extensive feature set, as well as creative use of Serato style deck FX sections mixed with DJM like approach to the on-mixer FX controls are one of many things that make this device stand out. But is it worth getting yourself a DDJ-SZ2 in the current year and where can you get one? We already figured that out for you, so let's get straight to this Pioneer DDJ-SZ2 review – 5 years from its release!
[this article features Ebay & Amazon affiliate links]
Can You Use Your Serato Control Vinyl With Rekordbox? (Quick Answer!)
Is the Pioneer DDJ-SZ2 discontinued?
First things first, yes: the Pioneer DDJ-SZ2 is officially discontinued, and for quite some time now. This however doesn't mean that it's not still widely used by lots of DJs out there, and that it's not still available on many online marketplaces both new and used.
The sole purpose of this really late product review is to find out whether or not the DDJ-SZ2 is still reliable and worth purchasing in the current year, and if it holds up to the current modern standards of DJ equipment, taking into consideration the rather quick evolution of DJ controllers over the last years. Read on!
The feature set – how does it hold up?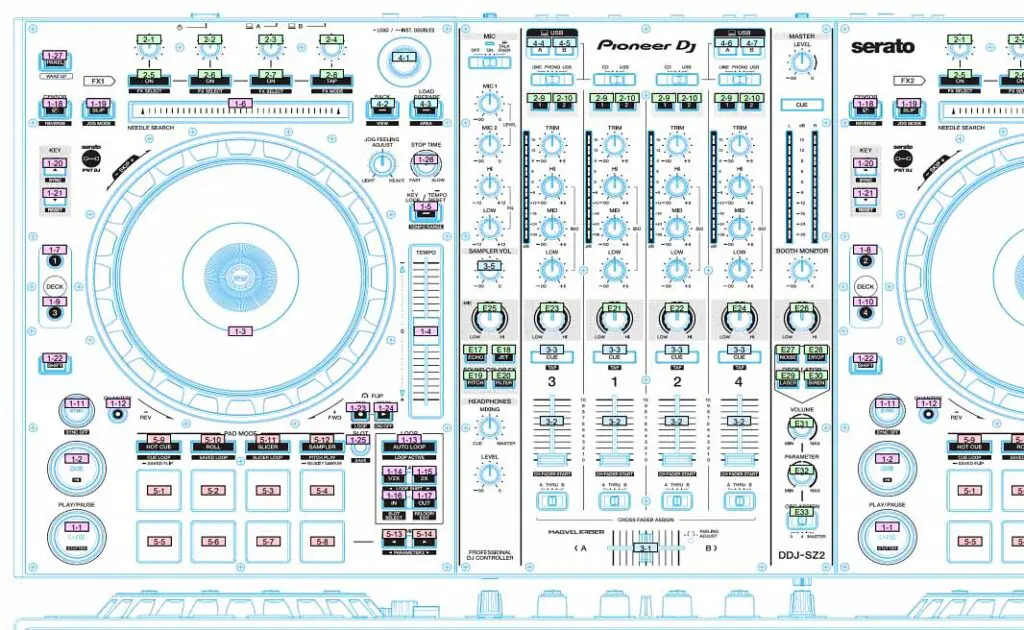 The feature set of the Pioneer DDJ-SZ2 can surprise you even in the current year! The very first Pioneer DDJ-SZ was originally meant to be the long awaited upgrade to the early Pioneer DDJ-SX which was quite a revolution all by itself.
The first, original Pioneer DDJ-SZ which came out in 2014 had 8″ jog wheels similar to these present on the Pioneer CDJ players (albeit still making use of the capacitive touch detection technology), quite a reliable cut-down imitation of the Sound Color FX strip normally found on Pioneer DJM mixers, a built-in FX waveform oscillator, and many other surprising features.
Its successor, the Pioneer DDJ-SZ2 which came out in 2017, extended its functionality even further adding (among other things) the native support for Serato Flip and Serato Pitch Play expansion features.
In short, both the Pioneer DDJ-SZ & the Pioneer DDJ-SZ2 were made to resemble an actual Pioneer CDJ x DJM "club standard" setup as close as possible while still maintaining the classic DJ controller look and feel.
Pioneer DDJ-SX2 incorporates some rather creative solutions such as:
A great early implementation of a cut down Pioneer DJ Sound Color FX strip (significantly upgraded in later Pioneer DJ controller models such as the Pioneer DDJ-1000).
Full-sized 8″ capacitive jog wheels with durable aluminum finish.
A classic Serato DJ style set of FX controls (3 different independent effects per one FX section).
Dedicated track pitch shifting buttons and Serato Flip & Serato Pitch Play feature buttons.
A 4-channel mixer that can function in standalone mode.
And much more!
All these, while quite original in the day of its release, still retain their value today. Compared to other Pioneer DJ controllers at the same price point (at least when taking today's prices into accord), the DDJ-SZ2 holds up surprisingly well!
Audio FX controls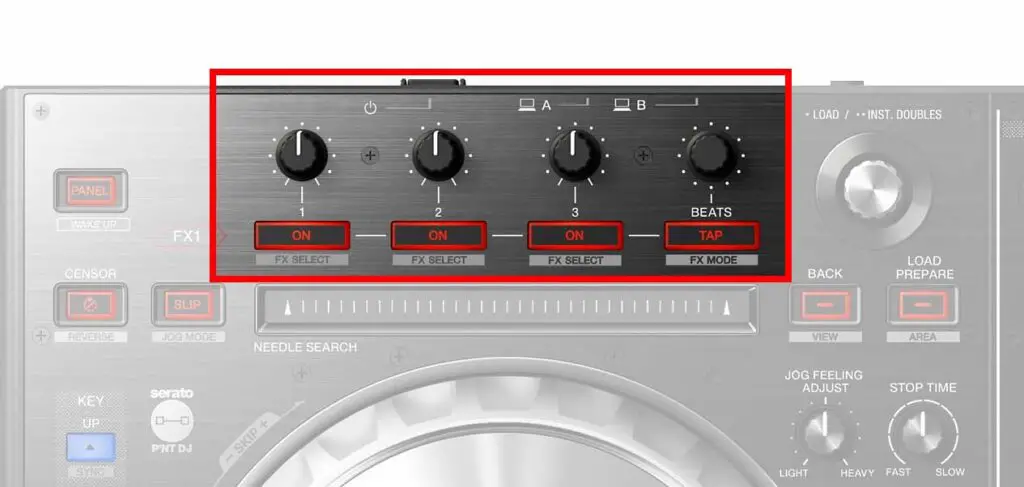 Just like the Pioneer DDJ-SX, DDJ-SX2 and SX3, the Pioneer DDJ-SZ and DDJ-SZ2 make use of the traditional Serato style effect control scheme. But there is more.
Other than this, the DDJ-SZ2 grants you access to a cut down version of the classic DJM mixer style Sound Color FX strip. There are 4 Sound Color FX available here: Echo, Jet, Pitch and Filter.
On the other side of the mixer section you can find the "Oscillator Section" which can be used to generate various sound waves. The ones you have access to are: Noise, Drop, Laser and Siren.
These two mixer FX strips are fully independent on the main, per-deck FX sections.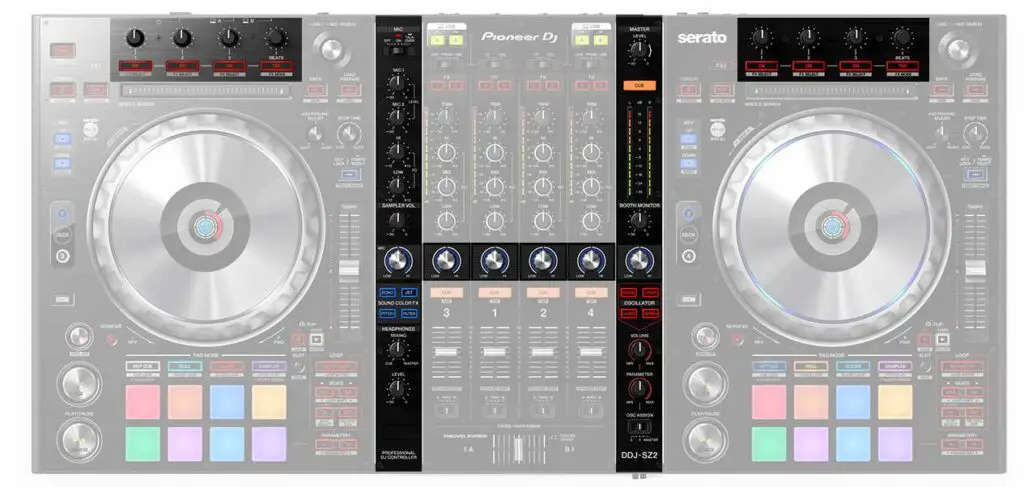 In summary, the Pioneer DDJ-SZ2 offers you a pretty extensive set of audio FX, that while meant to resemble the Pioneer DJM mixer series FX approach, still makes use of the highly reliable Serato style one-per-deck FX banks. Really neat!
Jog wheels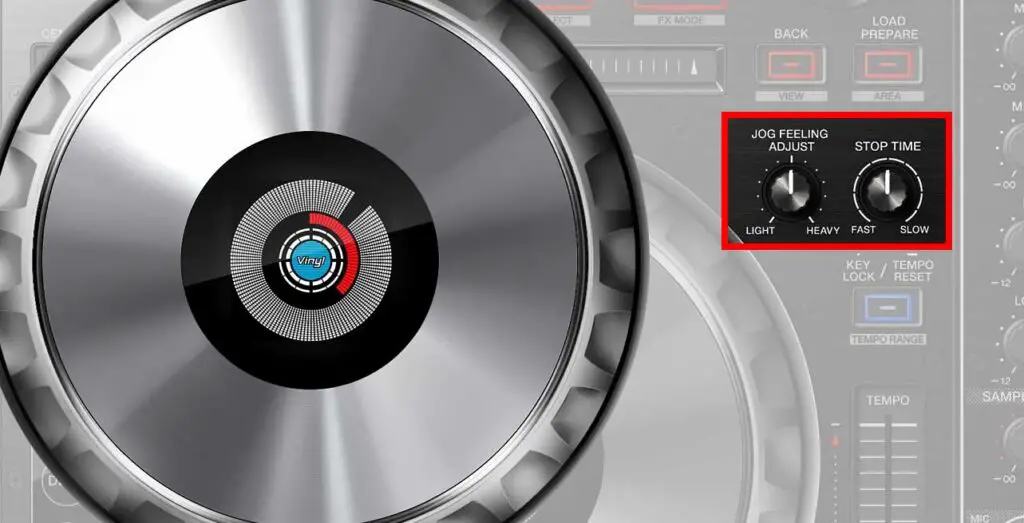 Pioneer DDJ-SZ2 features two full-size 8-inch (~200 mm) capacitive jog wheels, designed to resemble the classic CDJ-style jog wheels present on all the early Pioneer CDJ players such as the Pioneer CDJ-2000NXS.
The platters are incredibly pleasant to use, and the you are given even more control over these with the dedicated "Jog Feeling Adjust" knob, which is essentially the jog tension adjust knob that can be found on some of the other Pioneer DJ controllers.
Denon DJ SC Live 4 vs. Prime 4 (Direct Comparison!)
Moreover, while the platters themselves are not motorized, you also get access to the "Stop Time" adjustment knob that allows you to modify the track stop time after the play/pause button is pressed on the controller. It's pretty neat that you don't have to dabble with the software settings for that.
Performance pads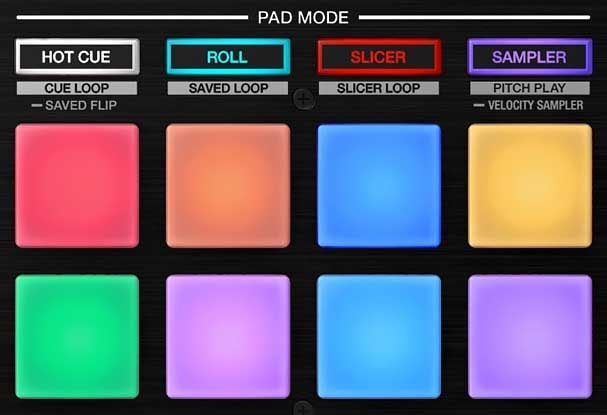 On the Pioneer DDJ-SZ2, you can find 8 velocity sensitive, RGB backlit performance pads on each deck.
On the DDJ-SZ2 used with Serato DJ Pro, there are 8 performance pad modes available by default: Hot Cue, Roll, Slicer, Sampler, then: Cue Loop, Saved Loop, Slicer Loop and Pitch Play – the very last one being a mode dedicated to the Serato Pitch 'N Time expansion features.
The Pitch Play mode functions similarily to the "Keyboard" performance pad mode that you can find on newer Rekordbox compatible DJ controllers. It allows you to easily pitch your cue points for quick tone play routines.
Serato Pitch Play & Serato Flip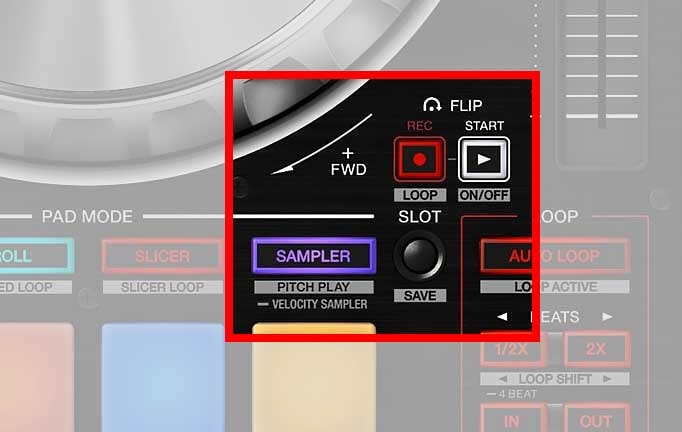 Pioneer DDJ-SZ2 introduced native hardware support for two Serato DJ Pro expansions: Serato Pitch 'N Time and Serato Flip.
On the controller, there is a dedicated performance pad mode that enables you to make use of the "Pitch Play" feature that lets you pitch your cue points in a similar manner you would when using the Rekordbox DJ "Keyboard" performance pad mode.
The Serato Flip integration on the other hand lets you record short hot-cue sequence combinations which in turn makes it possible to save your creative beat juggles and then play them back whenever needed.
Besides that, on each deck you can find dedicated buttons that can be used to pitch shift your tracks and change their original key.
DVS capabilities & standalone mixer
The Pioneer DDJ-SZ2 is fully capable of DVS support. This means that you can easily plug in your vinyl record players with compatible timecode records and make use of all the Serato DJ DVS features with this controller.

Other than that, the DDJ-SZ2's mixer can be used in standalone mode. This means that you can use it when it's powered, but not connected to your laptop (the deck sections will remain inactive).
Another neat feature here is the double USB input support for easier back-to-back mixes management, and a Kensington lock slot on the back of the device.
Is Pioneer DDJ-SZ2 compatible with Rekordbox?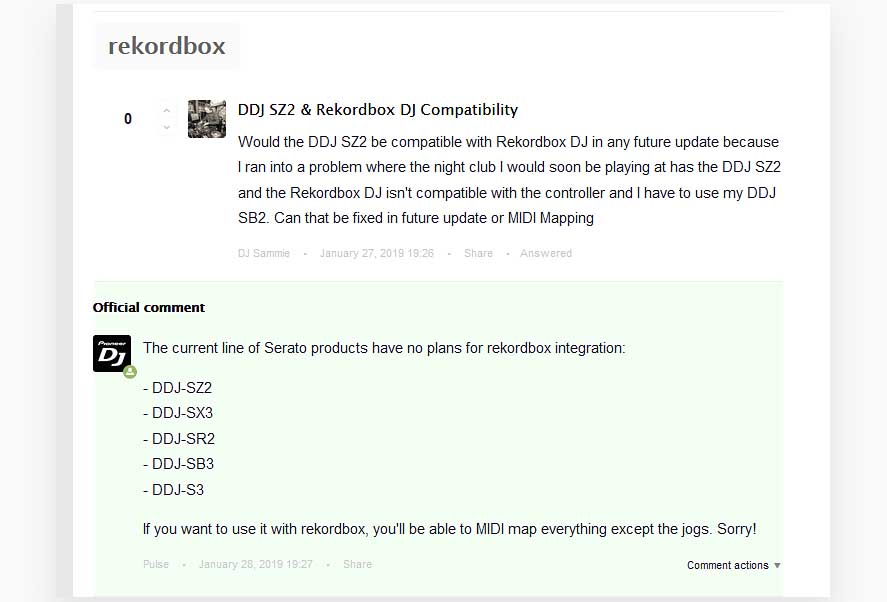 Pioneer DDJ-SZ2 sadly is not compatible with Rekordbox DJ software, as it was made solely with Serato DJ in mind.
The indirect Rekordbox compatible alternative to the DDJ-SZ2 would be the Pioneer DDJ-RZX – quite an interesting piece of DJ equipment made as a dedicated Rekordbox DJ controller (utilizing 3 built-in color displays!). Unfortunately, the Pioneer DDJ-RZX is also a discontinued device, so if you're interested, your best bet would be to get one used (for example over on Ebay).
Compatible DJ software
When it comes to the DJ software compatible with the Pioneer DDJ-SZ2, it is first and foremost compatible with Serato DJ Pro software (which it unlocks while being plugged into your computer). Originally it should also come with two Serato DJ expansions that are normally available as paid Serato feature extensions: Serato Pitch 'N Time and Serato Flip we mentioned earlier.
What Is a Hardware Unlock Device? – DJ Controllers
Historically, the first 3000 DDJ-SZ2 units also came with a free lifetime access to the Serato Video expansion, although that's not the case anymore.
The Pioneer DDJ-SZ2 is also fully compatible with Virtual DJ software, although you need a Pro Infinity or a Pro Subscription License to use it for more than 10 minutes.
Sadly, as we've mentioned before, the Pioneer DDJ-SZ2 is not compatible with Rekordbox software and no further Rekordbox support is planned.
Pioneer DDJ-SZ2 firmware updates?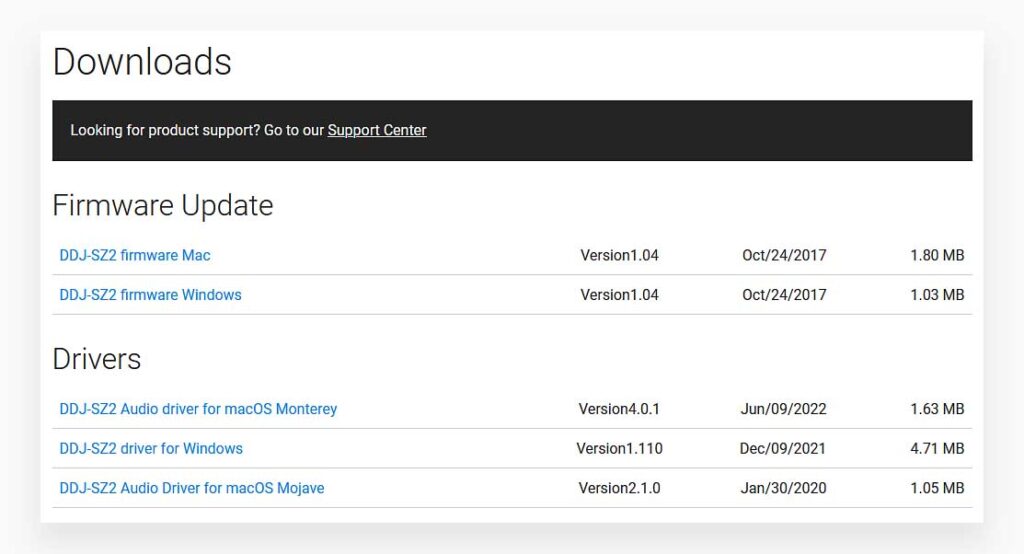 Although the official support for the Pioneer DDJ-SZ2 has ended shortly after its discontinuation, the last version of audio drivers for the SZ2 were still being released up to June 2022, which means that they are still maintained and kept up to date by Pioneer DJ. The device's firmware on the other hand, was last updated in October 2017.
As of the time of writing this article, all the drivers alongside with the original firmware files are available for download on the official Pioneer DDJ-SZ2 legacy product page.
Pros and cons
Now, for the sake of the integrity of this review, let's list all the most notable advantages & pros and disadvantages & shortcomings of the Pioneer DDJ-SZ2 looking at it from today's quality standards.
Pioneer DDJ-SZ2: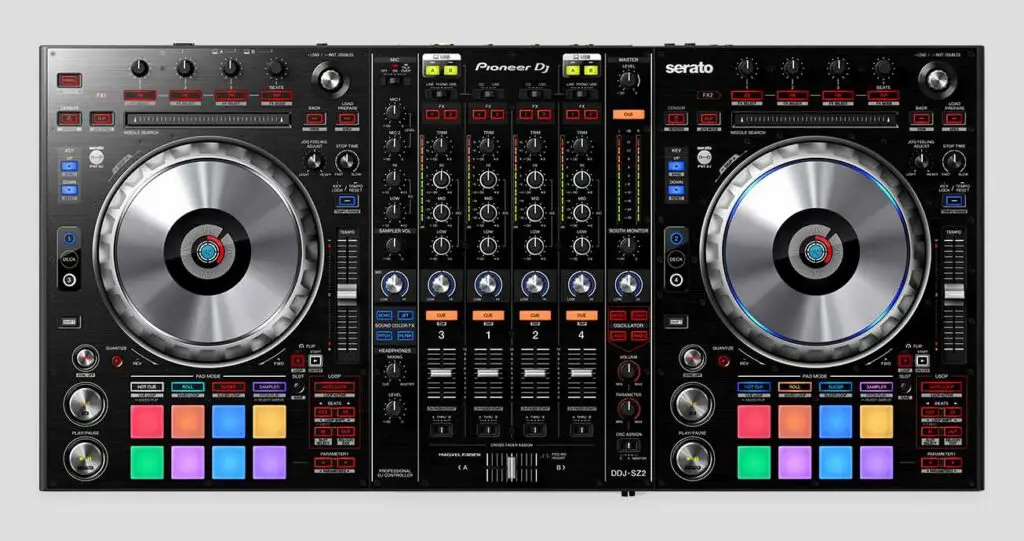 Pros:
Two full-size 8″ capacitive jog wheels styled after the clasic Pioneer CDJ jog wheel design.
A cut-down yet still quite useful version of the Pioneer DJM Sound Color FX strip.
Dual deck control capabilities.
A neat oscillator section for waveform generation.
Track search strip present on top of each deck.
Dedicated jog wheel tension and vinyl stop time knobs on each deck.
Serato style FX control scheme – rarely seen on newer released Pioneer DJ controllers.
DVS compatible + featuring a mixer with standalone capabilities.
Cons:
Because the product is discontinued, depending on your region you may no longer have access to official hardware repair services.
The replacement parts for the SZ2 will gradually become more and more scarce.
Little to no new units available on the market (you could potentially still find a few if you search in right places).
The updates for the firmware won't last forever – although this is not a real problem considering the rather long average lifetime of discontinued legacy Pioneer DJ controllers.
Price and availability
So, where can you get a new DDJ-SZ2 today? Because the device has been long discontinued, the only way of getting your hands on a SZ2 is getting it used online, or finding it in stock in a local music store.
Second hand DJ gear market is booming, and hundreds of professional and entry-level DJ controllers are circulating on resale sites such as Ebay. You can still find units in great condition for a good price, you just have to look around for a bit!
The other way to get a Pioneer DDJ-SZ2 now (although with a slightly lesser success rate), would be to check your local music stores. Some of them might still have some old units (or refurbished ones) in stock.
The verdict – is the DDJ-SZ2 still worth getting?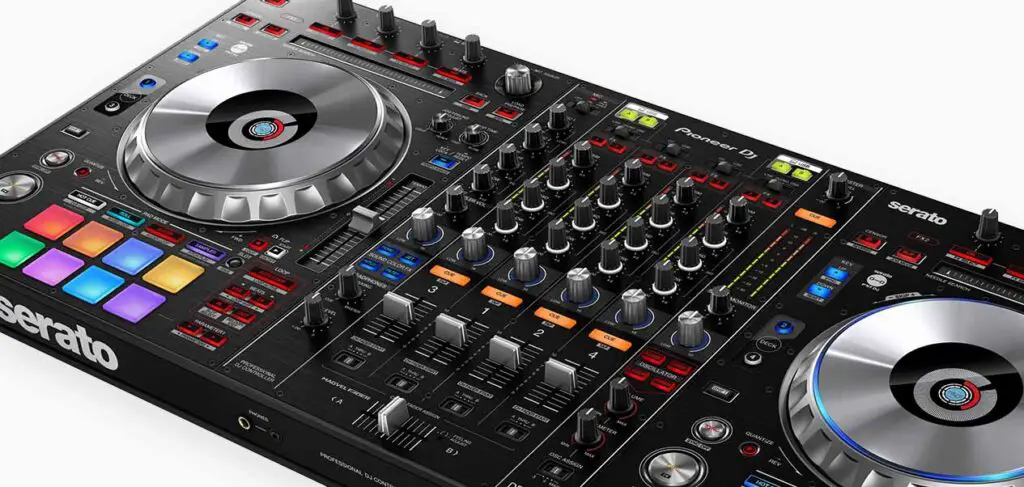 Although most of the time the problem with aged DJ gear lies in the lack of up-to-date capabilities and limited feature sets in comparison to today's standards, with the Pioneer DDJ-SZ2 the problem lies in its relatively high resell value (and so, a relatively high price on the second-hand DJ equipment market).
A used Pioneer DDJ-SZ2 is still a capable, professional DJ controller and so its price on the used DJ gear market hasn't really fallen that much since its discontinuation.
Our final verdict is – if you find a used DDJ-SZ2 in a good condition for a price that doesn't make it nonsensical to get it instead of a newer and more up-to-date piece of DJ equipment – go for it! Otherwise, it might be wiser to invest some more money and go with a DJ controller with a similar feature set that will last you longer (both in terms of hardware durability, and official support).
The very best DJ controllers you can get this year: 8 Best Top-Notch DJ Controllers You Can Get In The Current Year!
Check out also: Pioneer DDJ-FLX4 & The DDJ-FLX6 (Full Comparison!)