So you've decided to sell your used DJ controller – you're in luck! DJ controllers nowadays have amazing resale value, but there are some things that your should know before you start creating your first product listing on the online marketplace of your choice. Let's go over all of the most important points together!
Check out also: Buying Used DJ equipment – A Complete Guide!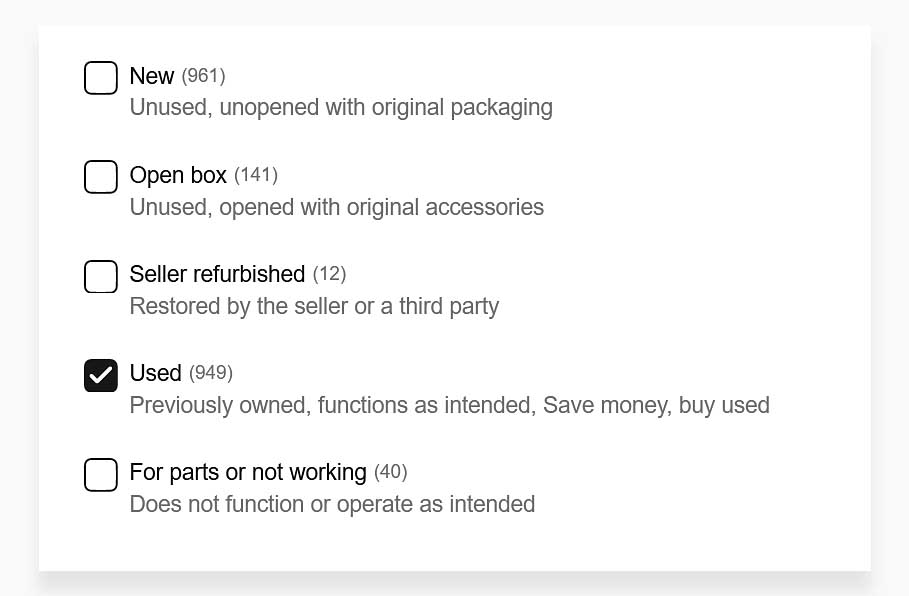 1. Properly clean your device (takes just a few minutes!)
Cleaning your device before attempting to sell it not only will ensure that your DJ controller will look great on your marketplace listing photos, but is also a common courtesy when selling virtually any kind of music equipment.
The most dirt and debris tends to accumulate in the fader gaps, on the knobs and in the small gaps around the button edges. If your device was laying around unprotected and without any cover for a long time, you definitely need to thoroughly clean it before selling. Make sure that you give your DJ controller a proper wipedown!
Don't forget to wipe the screens (if your DJ controller features them) and the places on outer casing which might've accumulated fingerprints and grease marks over time.
If you're unsure on how to properly clean your DJ controller without risking damage, check out our extensive guide on cleaning various types of DJ gear here: How To Clean DJ Equipment? (Simply explained)
2. Check for possible hidden damage
You wouldn't like to purchase your device damaged, and neither do people who are eventually going to buy your used device off you. Before or during the initial cleanup, you have to check every nook and cranny of your DJ controller for damage which might be:
Scratches on the chassis or on the displays (if present).
Marks on the jog wheel surfaces (such as small indents made by dropped objects).
Noisy jog wheel operation, or any kind of unusual platter resistance (especially with mechanical jog wheels).
Damaged screw heads (this kind of damage can often happen accidentally during disassembly).
Busted or missing mixer knobs or fader caps (including faders that may have trouble moving).
Noisy or non-functional audio inputs or outputs (no other way to find out but to test each one separately).
Control LEDs, performance pad backlight, or any other kind of light indicators not working.
In general, light damage such as very light scratches is often to be expected from used devices, but the right practice is to always disclose these in a listing.
After the initial visual check, be sure to also check that all the controls are properly responding in your DJ software (if all the assigned buttons, knobs and faders actually function properly).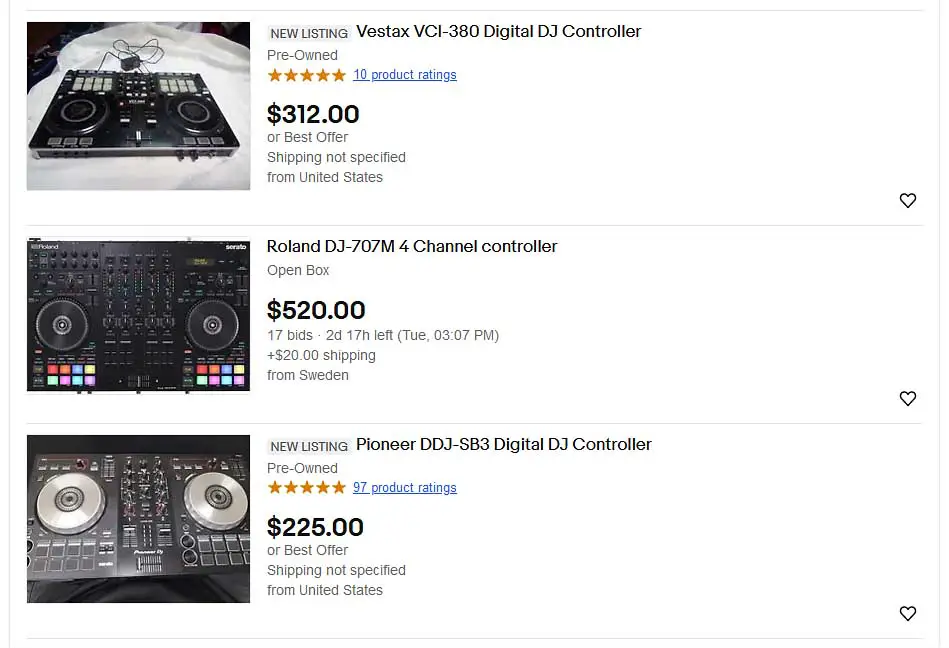 3. What about the software & warranties?
Software licenses and warranties are both things that cannot always be easily transferred to the next gear owner. Make sure that you either can transfer both of these to the person you're selling your DJ controller to (if they are part of the offer in the first place), or that you're communicating clearly in your listing that the buyer won't get the benefit of transferred warranty & DJ software keys.
This gets much easier in the era of newer, hardware unlock DJ controllers, which mitigate the need for software license keys. If your DJ controller functions as a hardware unlock device, in most cases you don't need to worry about software licenses transfer al all.
Learn more about hardware unlock DJ controllers here: What Is a Hardware Unlock Device? – DJ Controllers
When it comes to standard DJ software licenses, the transfer process might either involve de-registering your instance of DJ software and passing the key to the buyer alongside with the gear, or emailing the DJ software support to initiate the key transfer (if it's possible at all – some software manufacturers won't support any kind of key or license transfers).
Warranties, depending on the initial seller, country, state or the type of warranty itself, and the documents involved, are either easily transferable with passing the the proof of purchase and warranty papers with the controller, or not transferable at all. You have to figure this out by yourself.
This point is very important, as both a DJ software license and leftover warranty can potentially affect the final price of the used DJ controller if they are present in the final offer.
4. Collect the original accessories (or don't)
As you're probably aware of, DJ controllers can originally come with various accessories such as:
USB cables.
Audio cables and audio adapters.
Power bricks and power adapters.
User manuals.
All these (and sometimes some others) original accessories ideally should be sold alongside with your DJ controller. If they are not, be sure to inform the buyers in the listing, which parts of the original accessory set are missing.
At the same time, if you are going to replace, say the original USB cable or an audio adapter with its non-original counterpart, it's also a common courtesy to let the buyers know about that in the used product description.
New DJ Splitter Cables Guide + Troubleshooting
On the other hand, if you'll decide to include some things that wouldn't originally come with the controller (such as headphones, replacement parts, skins and so on), this can be a nice way to bring the price up just a bit. A good practice however is to always be ready to sell just the controller without any additional, non-original accessories – some buyers aren't interested in extras they may already own and have on hand.
5. Estimate the final resale price
There are many ways to figure out what the final price of a used DJ controller should be. Regardless of that, some people may try to bargain a bit. If you don't want to negotiate with people wanting to get your device, you should include the information that the listing price is final. Remember that if you do, you may lose some potential buyers.
Here are some tips on estimating the value and the resale price of your used DJ controller.
The final price of your DJ controller on an online marketplace should depend on:
The general state of the device (see the point about gear damage assessment).
Overall time of usage (DJ controller that has been used for a few months will generally be more expensive than the same controller used for +3 years).
The supplied/transferred software licenses and additional accessories.
Missing original set parts and missing accessories.
The best tip here is to always check the marketplace you're selling on (and preferably a few other online marketplaces) for the average price of a particular piece of DJ gear you're trying to sell. The prices present there are the best indicators of what your final product price should be.
6. Take quality pictures of your DJ controller (important!)
One of the most important things when selling your used DJ controller online is to attach clear, quality photos of your DJ controller in the marketplace listing.
These photos will be the only way the buyer will be able to glance into the actual condition of your DJ equipment, and this oftentimes ends up being the most important decisive criteria for many if not most buyers.
Avoid re-using pictures you can find online at all costs! This not only might seem fraudulent, as many times over dishonest sellers try to sell gear they actually don't own using these kind of images, but also it may drive off lots and lots of potential buyers. Nowadays almost no one takes auctions with non-authentic pictures into consideration when it comes to second-hand music equipment.
How to take good listing pictures of your DJ equipment with your phone? Just follow these tips and you'll have them ready in minutes:
Get your DJ equipment in a well lit place. If you're in a slightly darker room, turn on the lights.
Take a few different pictures – the best way is to take pictures from top-down perspective and from at least two different angles. In most cases 4 main photos are just enough, but the more the better.
The listing should have at least one photo showing the entirety of the DJ controller. Detail, close-up photos are fine, but you should also include pictures showing the whole thing.
If your DJ equipment has any significant scratches or is damaged in some way, it's best to take pictures of these details and include them in the listing, just after the main photos of your gear.
Don't worry about the background that much. The pictures don't have to be pretty, they have to be authentic and insightful for the buyer.
If the photos are blurry or otherwise bad quality, re-take them. Remember that this is the most important part of the listing, besides the final price and the description of the product.
8 Best Top-Notch DJ Controllers You Can Get This Year!
7. Formulate a coherent & honest product listing description
Now we get to the point in which we have to formulate a clear and transparent description of the used product we're trying to sell. Don't focus on the controller's qualities as you would when selling this device brand new to a person who doesn't yet know what that particular piece of gear does. Most buyers will already know well what they are looking at, and those of them who don't, will be able to find this information online in a matter of seconds.
Rather than describing the actual functionality of the device, you should focus on these things:
First and foremost describe the general state of the controller, and for how long was it in use in total (for better transparency you can include information on how exactly it was used – club sets, bedroom practice, occasional parties, etc.)
List all the things that the buyer will receive, be very specific. You can do this like so: 1x Pioneer DDJ-FLX4 DJ controller, 1x USB cable, 2x RCA to Jack cable adapter… (etc.)
Include the information about the DJ software licenses and warranties that are or aren't transferred alongside the DJ controller.
Let the buyers know whether or not you still own the original packaging, and if you're able to send the equipment in it.
If the device has been taken apart at some point (either in a service, or by yourself), you should include this information in the listing. If the device had gone through an official manufacturer's service it might even be good news for some buyers.
In the end, you can reassure the buyer that the DJ controller will be packaged in a way that it'll be less prone to damaging during transport (be sure to do just that).
Moreover: If your DJ controller has been serviced recently, you may include the service receipt somewhere in the listing (remember to blur out your personal information).
8. Choose an online marketplace
Where to sell a DJ controller? The final choice of the marketplace should be the easiest thing to take care of. Nowadays depending on your country, state, or region you have access to a plenty of online marketplaces that all are as good as their overall popularity and user base.
When it comes to online marketplaces available in most places, these are the most popular options out there when buying or selling used DJ equipment:
Facebook Marketplace
Facebook groups designated for selling used DJ equipment.
Your chosen and trusted local online marketplace.
Your choice should always rely on your trust in the chosen marketplace, and its general reliability in the public opinion.
A quick summary – selling your DJ controller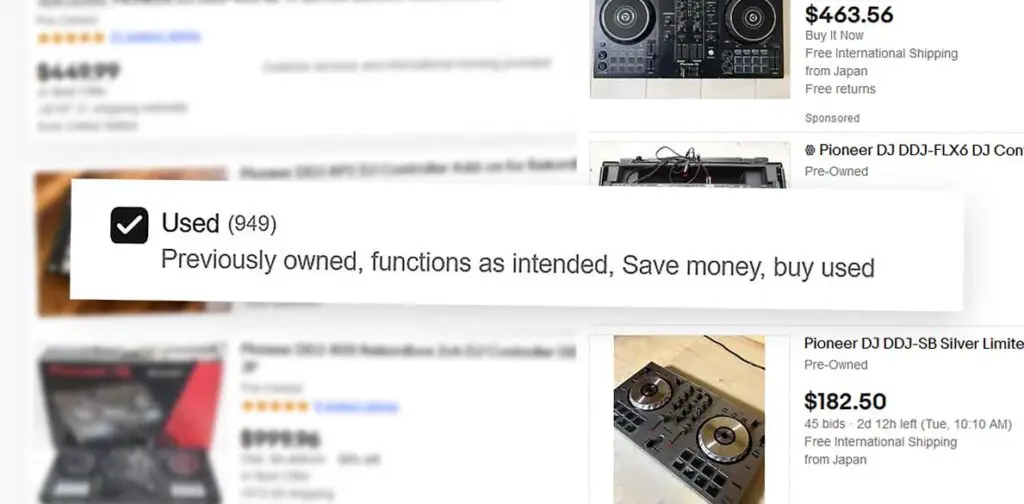 Remember, as they say, the used DJ controller is only as good as its previous owner. Make the next owners go "wow" after they receive their gear in the exact state you advertised it to them!
If you ever find yourself on the other side of the spectrum trying to buy a second hand DJ controller online, you also should know about quite a lot of things to avoid making a bad deal. If you're interested, we have a great resource on that here on djgear2k.com, you can check it out over here: Buying Used DJ equipment – A Complete Guide!
Remember too, that in the late 2022 and in the early 2023 there will still be notable shortages when it comes to DJ equipment and music electronics overall. This can affect the price of used gear, as now people often stand before a hard choice between getting a second-hand controller immediately, or getting into a long queue of unrealized backorders in official DJ equipmentstores. Adjust your prices accordingly!
Check out also: Serato DJ Pro vs. Traktor Pro 3 – DJ Software Ultimate Comparison