Is SoundCloud Next Pro subscription worth it in the current year? If you're an aspiring SoundCloud artist, or if you simply want to step up your online social media music sharing game you might be considering following through with a SoundCloud Pro subscription. In this article we'll cover all the benefits and all the disadvantages of Soundcloud Next Pro plan to help you make your final decision. Let's begin!
What is SoundCloud Next Pro & SoundCloud for artists?
SoundCloud for artists is a service for music artists thtat enables them to publish and share their music online and monetize and promote their track plays (on paid plans only).
There are 3 tiers (levels) of SoundCloud for artists account plans available:
Next – the default free plan – you're on this one if you've just setup a SoundCloud account for artists.
Next Plus – the mid-level plan enabling you to monetize and promote your music.
Next Pro – the plan with all the features of the previous plans plus a handful of new ones (we'll get to these).
You can find all the info on these plans on the official SoundCloud site here.
From these three, the Next Pro plan is the plan with most features made available to you after subscribing. So, lets get to the features themselves.
What are the main benefits of the SoundCloud Next Pro subscription?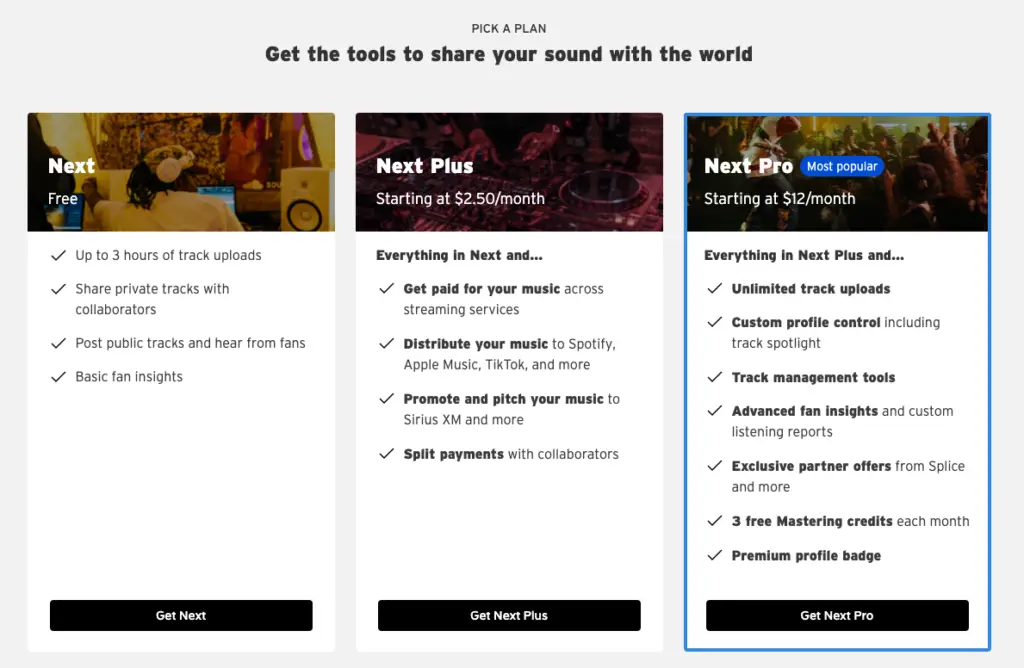 If you're a music artist and you already share your tracks on SoundCloud, you probably know that you're somewhat limited both in terms of the maximum length of tracks that you can actually upload to SoundCloud, and in terms of extra features that are available to you for free.
SoundCloud Pro subscription will unlock a few nifty features and lift up the track upload limits.
Here are the most important advantages you'll get with the Pro subscription.
A premium profile badge.
No limits on track uploads (as opposed to 3h limit with the free account).
More profile customization options + ability to highlight a track in your profile (track spotlight).
Ability to replace a track while retaining its play count and comments.
All the music distribution/monetization options available.
Ability to plan track and album releases in advance.
More track management tools (plus ability to turn off comments on your tracks).
Access to an advanced listener statistics dashboard and listening reports.
3 free auto track mastering service credits every month (Dolby AI mastering tool).
Last things last, SoundCloud is still one of the more popular online places for people to discover new music in. While this is not exactly a Next Pro subscription related advantage it's still important to mention that while the glory days of SoundCloud maybe over, it still has an extensive user base of people ready to listen to new, yet undiscovered music.
How To Use Streaming Services With Serato DJ Pro & Lite
It's also notable that with the Next Pro subscription, you'll also be able to track more track statistics and you will have more valuable insight into your actual audience.
The main benefits of Pro are simply unlimited track uploads, access to more advanced statistics and ability to monetize and promote your tracks to all the SoundCloud partners (basic track monetization is already available with the Next Plus plan).
Disadvantages of SoundCloud Next Pro
While SoundCloud Pro plan has many notable upsides and offers you much more than the default free plan does, there are also some reasons why SoundCloud Next Pro might not be the best option for you:
If you're a beginner you most probably won't earn any significant income through the Next Pro plays and track distribution.
The main Next Pro features might simply not be beneficial (or be less beneficial) for you if you don't have any other additional means of music promotion or an already existing listener base.
SoundCloud, besides all its advantages and active audience of users is unfortunately still filled with DM bots, comment bots and repost spam bots and it's up to you if this is enough of a disadvantage to make you not consider a paid SoundCloud subscription.
How To Use Music Streaming Services With Rekordbox
Should you get subscribe to SoundCloud Next Pro?
So, in conclusion, is SoundCloud Pro really worth it? Well, the Next Pro subscription will definitely bring some new features to your track publishing game.
If you don't want to rely on any other third party music publishers / promoters such as DistroKid or TuneCore (or you don't consider this in the nearest future) a SoundCloud Next Pro subscription might be just the thing for you.
Besides giving you the ability to share your tracks on popular online platforms, SoundCloud Next Pro will also lift the 3h upload limit enabling you to publish and share all your tunes on your profile without worrying about any time limitations.
It's up to you to decide whether or not your should go for the Next Pro subscription, however if:
You're searching for a way to monetize and promote your music in popular music streaming services;
You want to have insight into detailed track statistics and play reports.
And you want a premium profile badge to be visible next to your name;
You might want to consider getting the SoundCloud Next Pro subscription.