Pioneer DDJ-1000 vs. DDJ-Rev7 detailed DJ controller comparison. Which one is better for you? Which one should you choose? What are the advantages and disadvantages of both devices? In this article we will go over all most important differences and similarities and all the vital features when it comes to these two top notch professional DJ controllers. Let's start our detailed comparison!
[this article features Ebay & Amazon affiliate links]
Control scheme layouts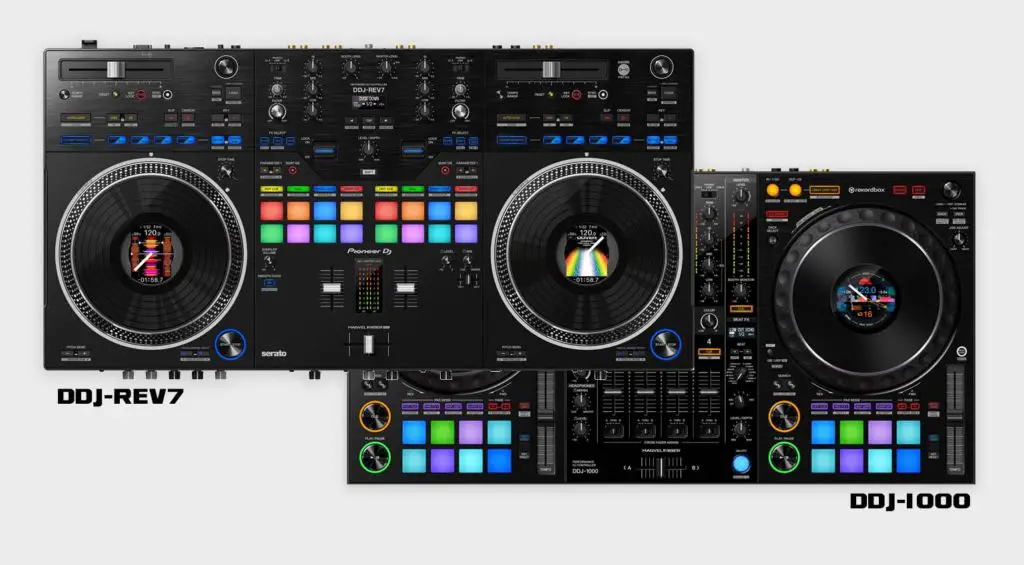 Pioneer DDJ-Rev7 and Pioneer DDJ-1000 feature vastly different control scheme layouts. DDJ-Rev7 is designed in such a way that it closely resembles two turntables turned 90 degrees clockwise and a DJ mixer placed in between. This kind of layout is called a battle style layout commonly used by scratch DJs – more on that here.
What Is A Battle Style DJ Controller Layout? – Quickly Explained
Battle style turntable setups and battle style layout DJ controllers are usually used more by scratch DJs and performance DJs rather than club DJs, but in the end it's just a matter of personal preference.
Pioneer DDJ-1000 features a control layout commonly referred to as club layout and you would be correct if you assumed that this kind of layout is generally used by club DJs, as it is designed to resemble two CD players (usually Pioneer CDJ players) and a DJM mixer in between.
If you don't have a personal preference regarding a DJ controller layout yet, you don't have to overthink your choice. Both layouts can be easily used in almost any live situation you can imagine. Your choice should be then based around the features that each of the controllers offer, rather than on where each of the controls is placed on the devices.
Mixer sections
Because of the general control layout differences between the two controllers, the control layout of the mixer sections differs too. On both these devices, the mixer sections are designed after specific existing pieces of hardware produced by Pioneer DJ.
New Pioneer DDJ-Rev7 – DJ Controller Detailed Review
Mixer section of the DDJ-Rev7 is based on the standalone mixer designed for scratch DJs – the Pioneer DJM-S11 that is most commonly used alongside turntables in a classic scratch DJ setup.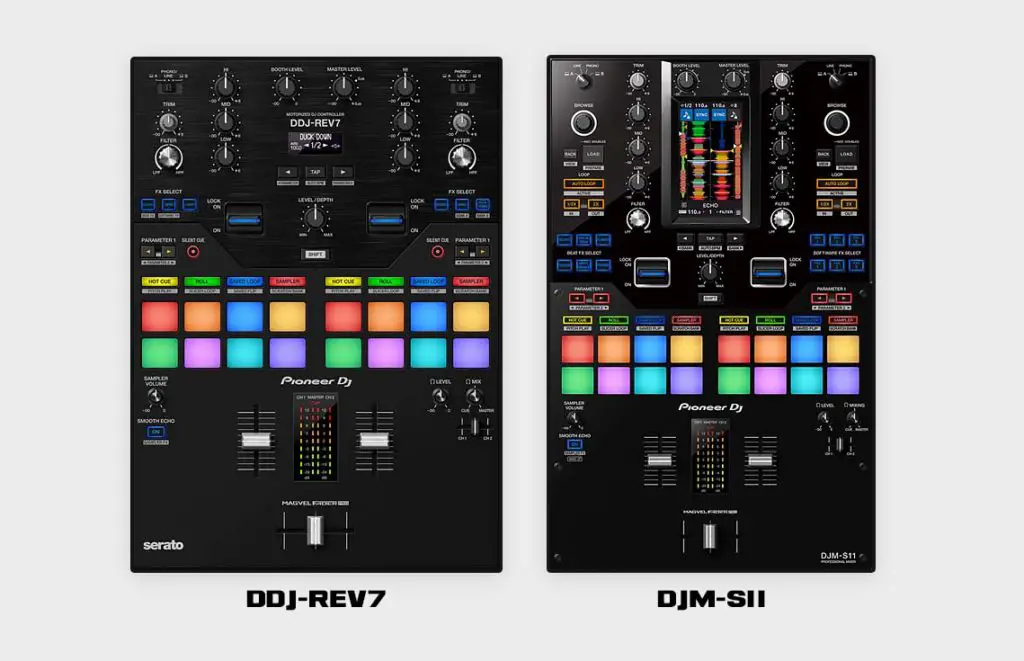 The most important things to note here are the performance pads located on the mixer section rather than on each separate deck and the presence of the FX paddles that we will talk about more later on.
The mixer on the DDJ-Rev7 lacks a full-format LCD display that the DJM-S11 has because the waveform view is already available to you on the Rev7's jog wheel displays. Other than that the features of both mixers remain very similar.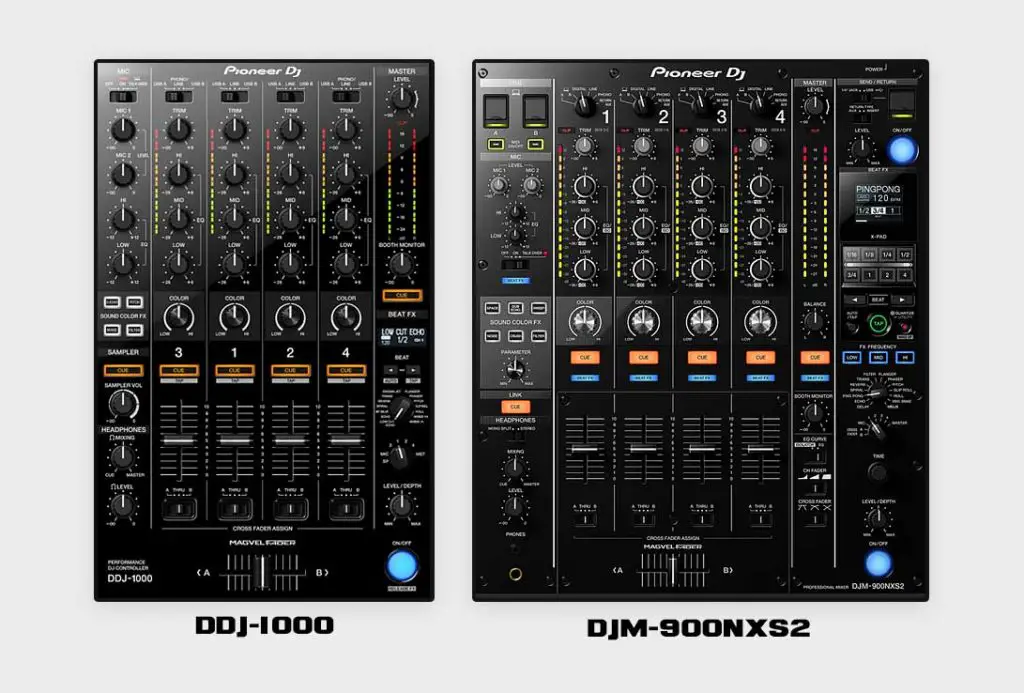 The mixer on the Pioneer DDJ-1000 is designed after a popular line of Pioneer standalone DJM mixers designed with club DJs in mind (such as the DJM-900NXS2). Both the audio FX section and the Sound Color FX strips are featured in the DDJ-1000 mixer section.
This is a real benefit for beginner club DJs, because if after using your DDJ-1000 for a while you will be faced with a regular standalone DJM mixer you will be able to use it with ease, being already used to the controls placement.
Both DDJ-Rev7 and DDJ-1000 mixers can be used in a standalone mode (they can function as standard plain audio mixers without being connected to a computer). Note: neither DDJ-Rev7 or the DDJ-1000 are standalone DJ controllers!
The crossfader
Both DDJ-Rev7 and DDJ-1000 feature a high quality Magvel Pro Crossfader, however there is one key difference here.
On the DDJ-1000 you can only adjust the crossfader curve setting, while on the DDJ-Rev7 you can adjust both the curve and the feel/tension of the crossfader. A real treat for professional scratch DJs.
FX sections + audio FX list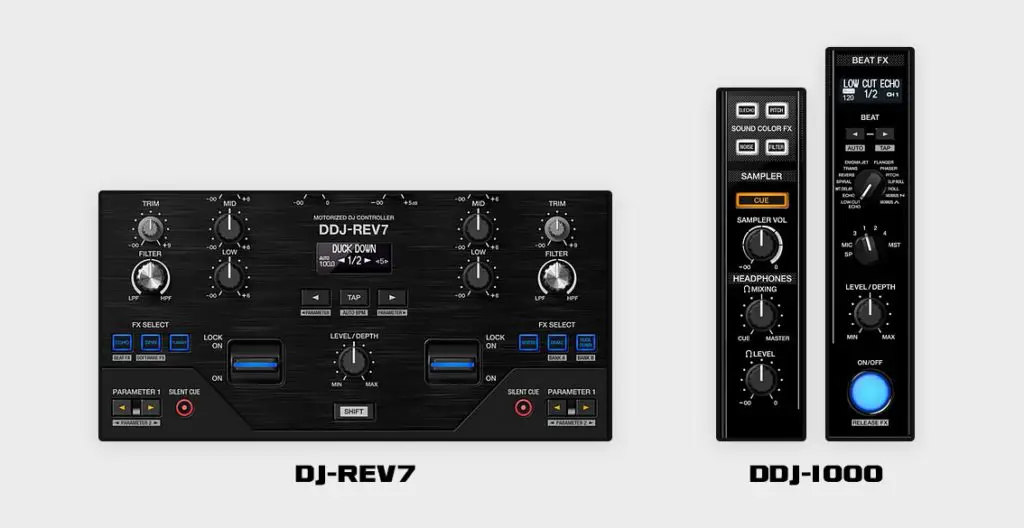 FX controls are very different on both devices. Pioneer DDJ-1000 features a standard Beat FX strip and a Sound Color FX strip that are located on both sides of your mixer, in the same way they would be placed on any mixer from the DJM product line.
This FX control scheme has proven to be a great and simple way of managing your audio FX in a live situation, and its only disadvantage would be that you are not able to use different FX on two different mixer channels at the time.
Pioneer DDJ-Rev7 offers a different way of controlling your audio FX. Here we are presented with an FX section armed with FX paddles, which are widely used and generally preferred by scratch DJs.
FX paddles have two active positions, you are able to either push the FX paddle up to lock it in place, or push it down to activate it momentarily. This is a very convinient way of triggering audio FX and many prefer it over the classic FX strip. DDJ-Rev7 allows you to use 23 hardware FX alongside with all the audio FX available inside Serato DJ software.
Here are the lists of audio FX available on both the devices:
DDJ-Rev7
DDJ-1000
FX:
– Echo
– Time Sweep Echo
– Ducking Echo
– Echo Out
– Fill Echo Out
– Spiral
– Helix
– Helix Out
– Delay
– Reverb
– Oneshot Spin
– Oneshot Brake
– Duck Down
– Flanger
– Phaser
– HP Filter
– LP Filter
– Trans
– Roll
– Fader Sine
– Fader Saw
– Fader Square
Sound Color FX:
– Filter
– Noise
– Pitch
– Dub Echo
– Wide Filter


+ Serato software FX

Beat FX:
– Flanger
– Phaser
– Pitch
– Slip Roll
– Roll
– Mobius Saw
– Mobius Triangle
– Enigma Jet
– Trans
– Reverb
– Spiral
– MT Delay
– Echo
– Low Cut Echo
Sound Color FX:
– D. Echo
– Pitch
– Noise
– Filter


+ Rekordbox software FX / Pad FX
Audio FX available on the Pioneer DDJ-Rev7 and the DDJ-1000 – comparison.
Performance pads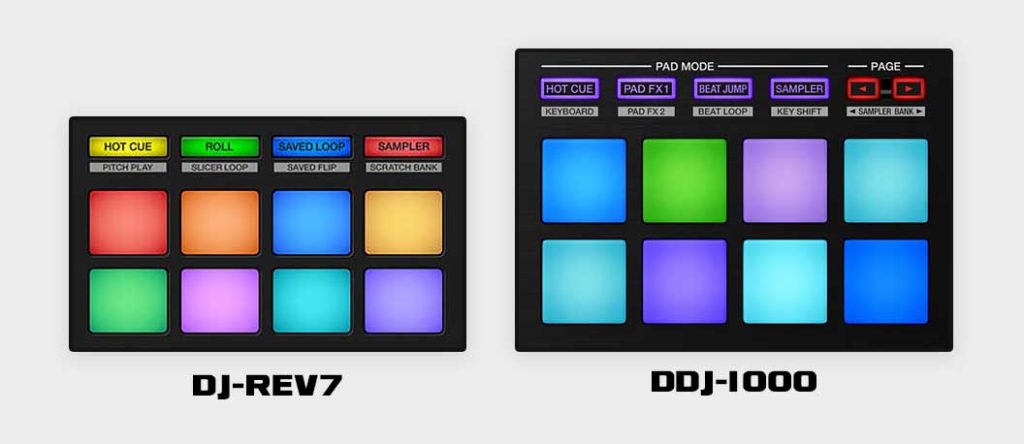 Performance pads on both DDJ-Rev7 and the DDJ-1000 are the same high quality non-clicky pads that you can find on each of the high end professional Pioneer DJ controllers. The main difference between the two is the pad size, as on the DDJ-Rev7 the pads had to be made a little bit smaller to fit in the narrow mixer section between the two decks.
DDJ-Rev7 also has an additional set of buttons acting as performance pads located on each deck above the jog wheel (these small blue backlit buttons). These buttons are also used for the Instant Scratch feature unique to the DDJ-Rev7 that we will talk about later on.
Let's quickly compare the pad modes available on both devices. The differences between the pad functions will mostly arise from different software features (the DDJ-Rev7 is a native Serato DJ device, while the DDJ-1000 is a dedicated Rekordbox controller).
DDJ-Rev7
DDJ-1000
– Hot Cue
– Roll
– Saved Loop
– Sampler
– Pitch Play
– Slicer Loop
– Saved Flip
– Scratch Bank
– Hot Cue
– Pad FX 1
– Beat Jump
– Sampler
– Keyboard
– Pad FX 2
– Beat Loop
– Key Shift
Performance pad modes on the Pioneer DDJ-Rev7 and the Pioneer DDJ-1000 – comparison.
Pad modes on both controllers share the standard Hot Cue and Sampler features, looping functionalities and basic pitch manipulation functions (Pitch Play on the DDJ-Rev7, Keyboard and Key Shift on the DDJ-1000).
What is different is that the DDJ-1000 also makes use of the Rekordbox Pad FX feature that lets you assign customized audio FX macros to two FX banks activated by the performance pads. This is a really nifty feature that is sadly missing on the DDJ-Rev7, as Serato DJ does not support any kind of Pad FX mode as of now.
Another difference is that the DDJ-Rev7 lets you access the Serato Scratch Bank – a fully customizable bank of scratch samples that you can quickly access using the performance pads. DDJ-1000 doesn't have that feature.
Jog wheels
Jog wheels are one of the main things that make these two controllers very different. The Pioneer DDJ-1000 features standard mechanical jog wheels, the very same that can be found on the Pioneer CDJ-2000 players. These jog wheels are well built and moreover, they feature an LCD screen for displaying track info and optionally a digital needle indicator.
Jog wheels on the DDJ-Rev7 also feature a built-in LCD screen but this is where the similarities end. The platters on the DDJ-Rev7 are fully motorized and will spin during track playback emulating a real turntable behavior. You can choose between the 33⅓ or 45 rpm speed and you have an option of using a needle indicator sticker provided with the controller. You can also adjust the stop time of each platter separately.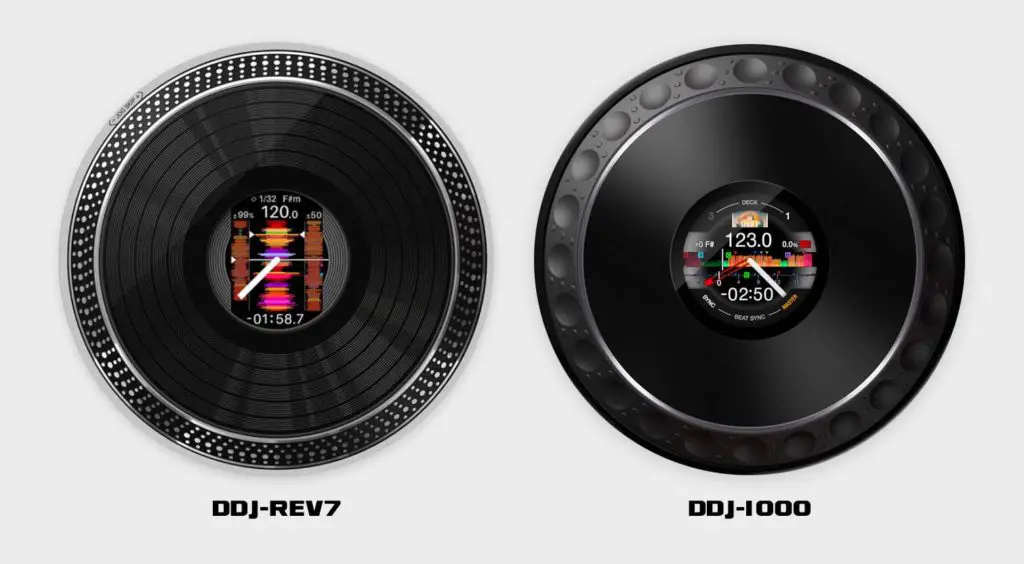 While you can certainly scratch on the DDJ-1000 jog wheels without much trouble, the platters on the DDJ-Rev7 are made explicitly with scratching in mind. Being one of the main selling points of this controller they try to provide an experience as close as possible to using real turntables.
Instant Scratch mode on the DDJ-Rev7
The Pioneer DDJ-Rev7 has one function that the Pioneer DDJ-1000 doesn't have, that is – the Instant Scratch feature.
Instant scratch is basically a set of 3 scratch samples and one example drum beat that is stored in the DDJ-Rev7's internal memory and can be accessed even when the controller isn't connected to your computer. You can activate the instant scratch mode with a press of a button to instantly use one of the scratch samples stored on the device.
Sadly for now there is no way of customizing the in-built samples, so this feature is used mostly for standalone practice purposes.
We've already explained the basics of the Instant Scratch mode in our review of the DDJ-Rev7 – check it out here.
New Pioneer DDJ-Rev7 – DJ Controller Detailed Review
Software compatibility
DDJ-Rev7 software compatibility
Pioneer DDJ-Rev7 is a dedicated Serato DJ Pro controller, and will not work with Rekordbox software, however it will work with Virtual DJ. When connected to your computer the DDJ-Rev7 will automatically unlock all Serato DJ Pro features.
Moreover, your DDJ-Rev7 should come with a free voucher for Serato Pitch 'n Time DJ expansion pack, one that normally is available to Serato users only as an additional purchase.
Pioneer DDJ-1000 vs. XDJ-XZ (New Detailed Comparison!)
DDJ-1000 software compatibility
Pioneer DDJ-1000 is natively a Rekordbox controller and will work only with Rekordbox, however there exists a Serato version of this unit called DDJ-1000SRT. Both DDJ-1000 and DDJ-1000SRT are compatible with Virtual DJ software.
DDJ-1000 will unlock all features of Rekordbox when connected to your computer, and respectively the DDJ-1000SRT will unlock the full version of Serato DJ Pro.
Serato DJ Lite vs. Pro (12 Most Important Differences)
DDJ-1000SRT does not come with any additional Serato expansions.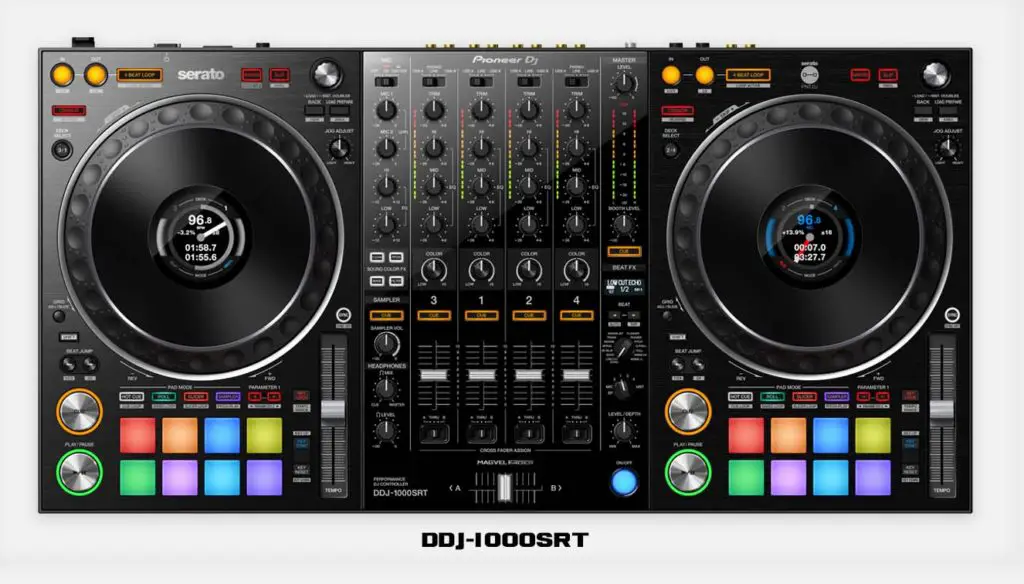 It's important to note that some of the Rekordbox unique features will be missing from the DDJ-1000SRT – a good example is the Pad FX performance pad mode which isn't available in Serato DJ software.
Inputs and outputs

DDJ-Rev7:
Inputs
– 2x PHONO/LINE (RCA)
– 2x MIC (XLR & 1/4 inch TRS jack, 1/4 inch TRS jack)
– 1x AUX (RCA)
USB
– 2x USB B ports
Outputs
– 2 MASTER (XLR, RCA)
– 1x BOOTH (1/4 inch TRS jack)
– 2x PHONES (1/4 inch stereo jack, 1/8 inch stereo jack)
DDJ-Rev7 inputs and outputs.
DDJ-1000:
Inputs
– 2x LINE (RCA)
– 2x PHONO/LINE (RCA)
– 2x MIC (XLR & 1/4 inch TRS Jack)
USB
– 2x USB B ports
Outputs
– 2x MASTER (XLR, RCA)
– 1x BOOTH (1/4 inch TRS jack)
– 2x PHONES (1/4-inch stereo jack, 1/8 inch stereo jack)
DDJ-1000 inputs and outputs.
New Pioneer DJ DDJ-REV1 – A Great Choice For Beginners?
Pros and cons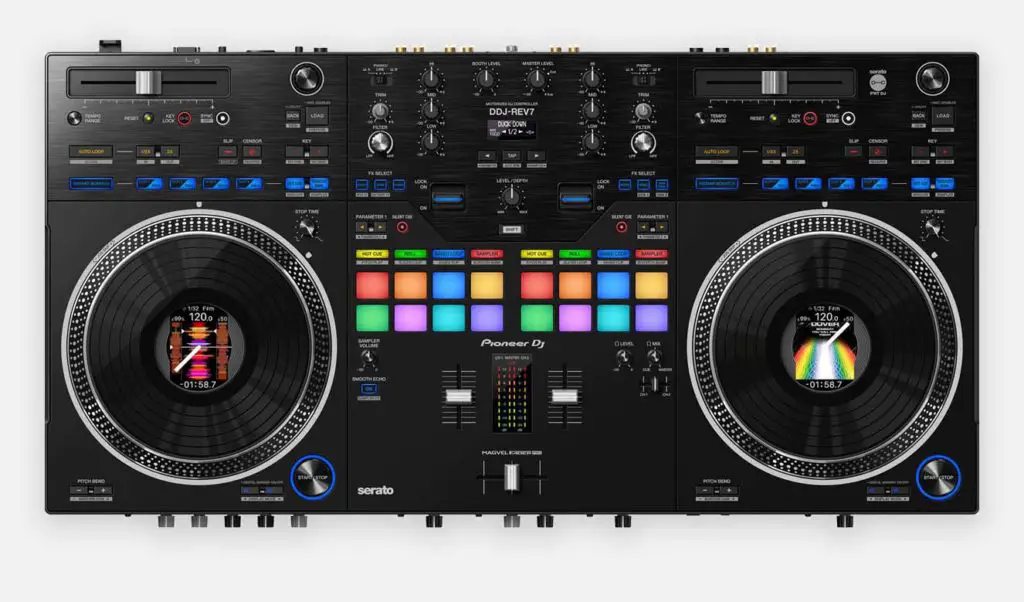 Pros:
Top notch motorized platters perfect for scratching.
Battle style layout on a DJ controller.
Instant Scratch functionality + Serato Scratch Bank access.
Crossfader with modifiable tension/feel.
High quality FX paddles.
Separate platter stop time adjustment for each jog wheel.
Cons:
You can't customize the in-built Instant Scratch sample bank.
Not compatible with Rekordbox software.
Doesn't feature an in-built power supply (needs a power brick that comes with the controller).
All things considered the price is pretty high.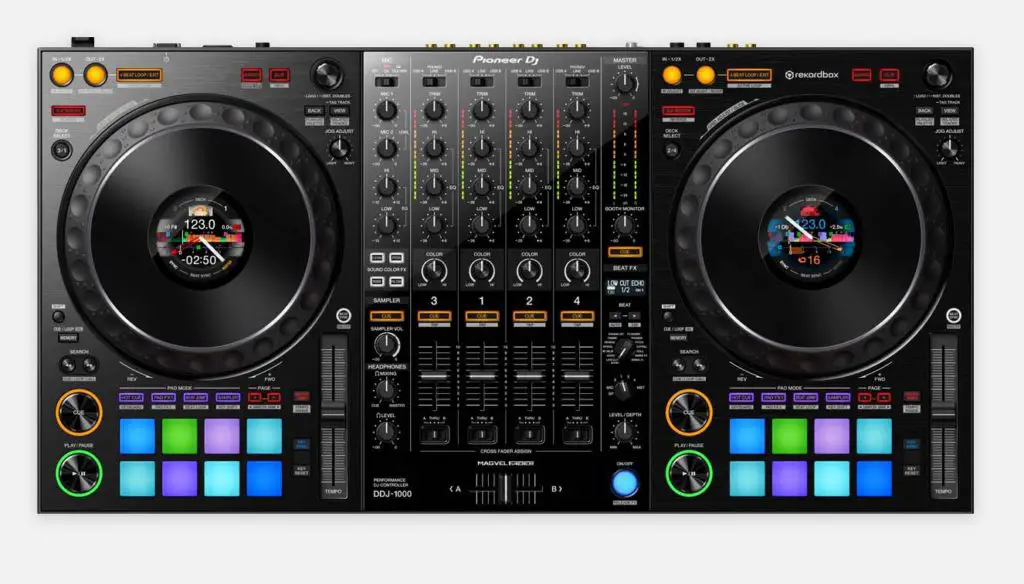 Pros:
Layout resembles a full CDJ players x DJM mixer club setup.
Access to Rekordbox Pad FX feature.
Comes both in Rekordbox and Serato compatible variants.
Features quality mechanical jog wheels that are pretty much the same as the ones on the CDJ-2000 line of players.
Cons:
No crossfader tension/feel adjust option.
Beat FX can target only 1 channel at the time.
Where to get the DDJ-Rev7 and the DDJ-1000?
You can get your Pioneer DDJ-Rev7 or Pioneer DDJ-1000 in the official Pioneer DJ Amazon store linked here:
The conclusion
Pioneer DDJ-Rev7 is a great choice for scratch DJs and DJs who'd like an experience similar to mixing on actual turntables, but while using a professional all-in-one DJ controller. The Pioneer DDJ-1000 is geared more towards aspiring club DJs who want top notch DJ hardware resembling a standard club setup at their fingertips.
Both these devices can do a great job in almost any situation you'll throw them in and you certainly won't be disappointing getting any one of these as at the moment. These two pieces of tech are right now among the best DJ hardware you can get on the market. Pick up your brand new controller and rock on!
| DDJ-Rev7 on Amazon: | DDJ-1000 on Amazon: | DDJ-1000SRT on Amazon: |
| --- | --- | --- |
| | | |
Pioneer DDJ-Rev7 on Ebay:
Pioneer DDJ-1000 on Ebay:
Pioneer DDJ-1000SRT on Ebay:
Check out also:
– 8 Best Top-Notch DJ Controllers You Can Get This Year!
– New Pioneer DDJ-Rev7 – DJ Controller Detailed Review
– 5 Best Pioneer DJ Controllers For Beginners – Which one should you choose?