This is a list of top handpicked cool and useful VST instrument plugins. Instead of listing every single minor VST that comes into my mind I decided to list out just the ones I use almost on a daily basis in my production process. Here are 10 VST Plugins that are super interesting and moreover are available for free download!
All of the VSTs that are presented here are available for free download (Links included in the article will open in a new window). Many of the downloads in this article are hosted on plugins4free.com – a resource that we covered in our Free Legal VST Resources article.
-> 5 Best Free Legal VST Plugin Download Sites! – djgear2k <-
1. Tone2 FireBird – amazing soft synth with stunning presets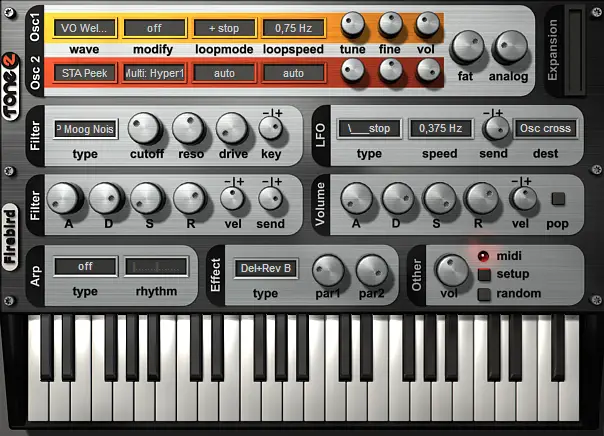 The Tone2 FireBird is a virtual instrument that uses Harmonic Content Morphing Synthesis. It features many waveforms, FX, two oscillators, LFO and a great filter section.
The Tone2 FireBird comes with around 300 unique presets that are great sounding and can be easily modified.
Pros:
+ Lots of waveforms to choose from
+ Great filter section
+ Amazing selection of factory presets
+ Not complicated yet capable of interesting sound modifications
Cons:
– FX section without much customization options
– Abandonware so no more updates
2. Spitfire Audio LABS – a gentle orchestra in a single free plugin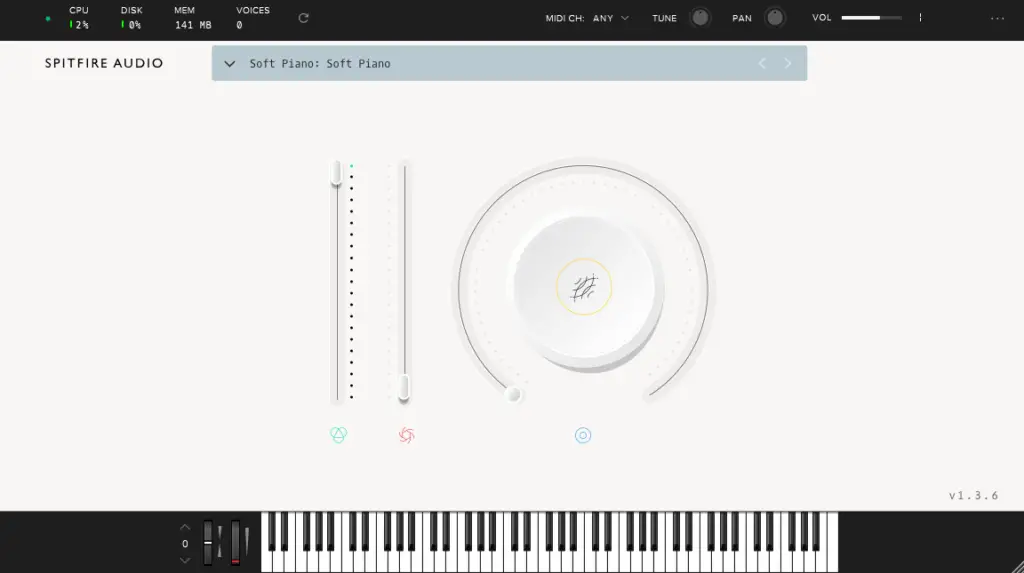 LABS by Spitfire Audio is a virtual instrument that features lots of great sounds ranging from piano and strings to abstract pad textures. All the sounds are based on great quality samples but you cannot really customize a given preset. The only controls in this VST are
Pros:
+ Many real instrument sample-based sounds inbuilt
+ Great for movie music (background textures, drones etc.)
Cons:
– Large size (ROMpler)
– Contains mostly "slow and gentle" instruments such as pads, gentle pianos and washed out strings – great for some genres, for some not really usable.
3. Bitsonic TB-303 – free TB-303 emulation VST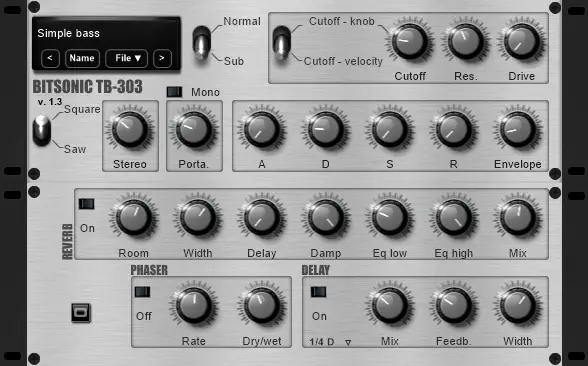 The Bitsonic TB-303 is a great attempt at emulation of the classic Roland TB-303 hardware synth. This plugin is capable of mimicking the crisp and deep acid basslines and features a simple great sounding filter section that allows the user to dial in the desired TB-303 specific basses really easily. The FX section and the filter distortion compliment the whole plugin providing you with some more ways of spicing up your acid basslines.
This plugin is available for free download, but according to Bitsonic you should own at least one Bitsonic product to use it for free.
Pros:
+ Decent Roland TB-303 emulation
+ Extremely easy to use
+ The filter actually sounds pretty good
+ Great pre-made acid bass presets available from the start
Cons:
– The simplicity of the emulation interface goes with limited sound customization options
– You are better off using an external distortion plugin than the built-in filter distortion
– You should own at least one Bitsonic product to use this plugin for free
4. BTS SuperTheremin V1 – a VST theremin emulation!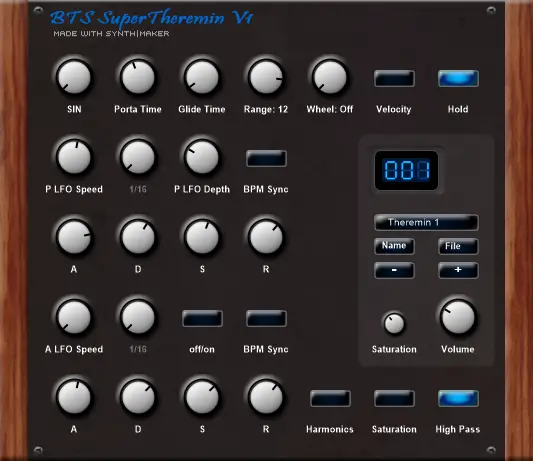 This little VST plugin allows you to emulate the sound characteristics of an instrument called a theremin, which allowed you to control the frequency of the outputted sound with one hand, and volume with the other without touching any kind of physical controls.
The VST emulation is really on-point, and the plugin allows you to control all of the core components of the famous theremin sound including the glide and portamento time and a simple LFO. It also has a few useful presets to get you going!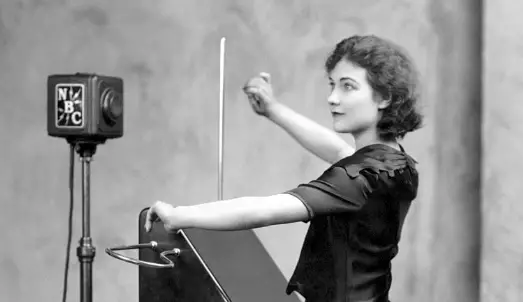 Pros:
+ Great emulation of the distinct theremin sound characteristics
+ Simple to use, straightforward interface with the most commonly accessed settings on top of the plugin window
+ Has the additional saturation and harmonics options to easily brighten up the sound
Cons:
– The final sound output could do with some external effect tweaking
– The built-in presets are so-so in terms of usability
Get BTS SuperTheremin V1 here.
5. Maxsynths DR-910 – Roland TR-909 drum machine emulation
This free VST plugin emulates the world famous Roland TR-909 drum machine, and it does it pretty well! It lets you control the basic parameters of each drum sound such as pitch, level, pan and decay, and moreover it has decent reverb presets and a compressor built in.
There are also a few premade drum kits based on the original 909 samples available to try out in the preset menu. Be sure to check those out!
Pros:
+ Clean emulation of the original with additional customization options
+ Supports multi-channel mixer audio output
+ Decent built-in reverb and a compressor (not much customization in that matter though)
Cons:
– No full control over each ADSR drum parameter
– The FX presets are good but lack customization options
6. DSK ChoirZ – a free synthetic choir VST
Even if your skeptical about free layered voice synthesis VST's you should try this one. It is certainly not a accurate choir representation, but it can provide great quality vocal pads when tweaked properly. Be sure to try out the Ethereal preset first!
This plugin really shines when you use right external FX, then you can make the layered voices make up for an amazing pad background for your project.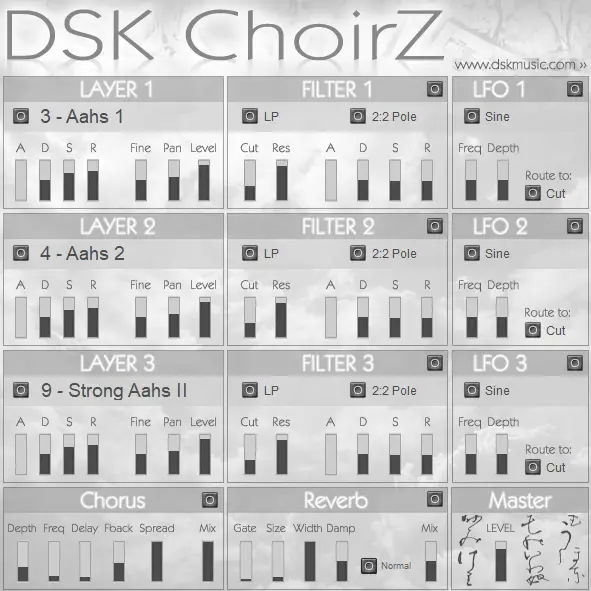 Pros:
+ Perfect for creating soft synthetic background vocal pads
+ The LFOs allow you do introduce some variation into the sound
Cons:
– The built-in chorus and reverb are really not that good
– This isn't going to sound like an actual choir, but it can help create great quality background textures with aid of external audio FX
7. Keyzone Classic – a must have free piano VST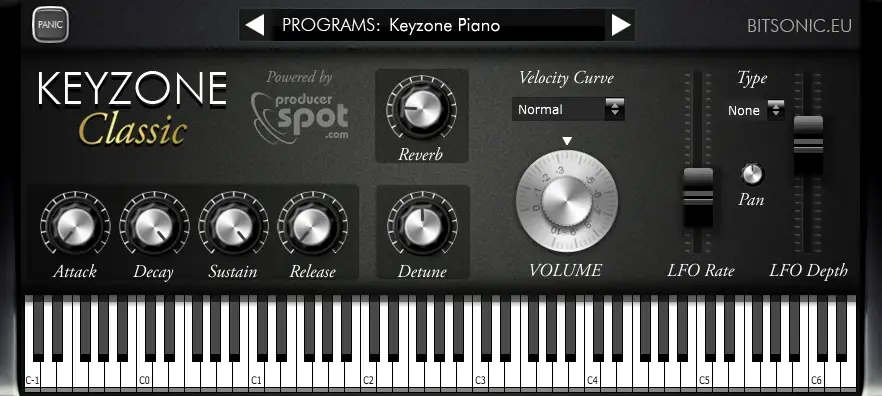 Keyzone Classic is a Keyzone 1 VST successor. This VST features 5 natural sounding piano sample sets with many pre-recorded key velocities. It has 5 basic presets that you can modify using the built in ADSR controls, one knob reverb and detune FX and a single LFO.
These are all the available presets:
Keyzone 1 Piano
Yamaha Grand Piano
Steinway Grand Piano
Basic Electric Piano
Rhodes Piano
This plugin just as the previous Bitsonic product is available for free download, but you should own at least one Bitsonic product to use it for free.
Pros:
+ Great quality piano sounds
+ A nice variety of presets (3 types of grand pianos and 2 electric pianos)
+ Simple and efficient controls
Cons:
– You should own at least one Bitsonic product to use this plugin for free
8. Medusa 2 – Quick 8-bit lead handy tool
Medusa 2 VST is a neat handy plugin that lets you synthesize and modify a pulse wave to create creative 8-bit lead sounds.
The built in customization options consist of basic pulse wave characteristics settings, ADSR envelope editor, vibrato and pitch attack effects and an arpeggiator that allows you for some funky sound design.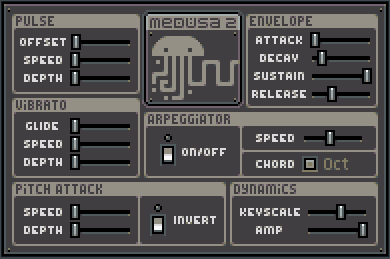 Pros:
+ Great for instant sharp and bright 8-bit lead sounds
+ Extremely nice and intuitive controls
+ Simple and efficient arpeggiator (just try it!)
Cons:
– Contains only a pulse wave waveform
– Sadly you can't sync the arpeggiator to your project's BPM
– There is no built-in filter of any kind
9. MT Power Drum Kit 2 – HQ rock & metal drum kit for free!
Certainly one of the best free rock/metal drum kit plugin I've had the pleasure to test out. It's a shame that it features only one kit in total, but the sample quality is seriously really good and you are presented with lots and lots of pre-made groove loops (I would say close to a hundred).
You have a few basic sound customization options alongside with the simple mixer for balancing each drum component available in the plugin settings.
MT Power Drum Kit 2 is a VST plugin that is distributed for free, however you can donate to the plugin creator if you wish to do so (there is a donation prompt coming up each time you start up the VST).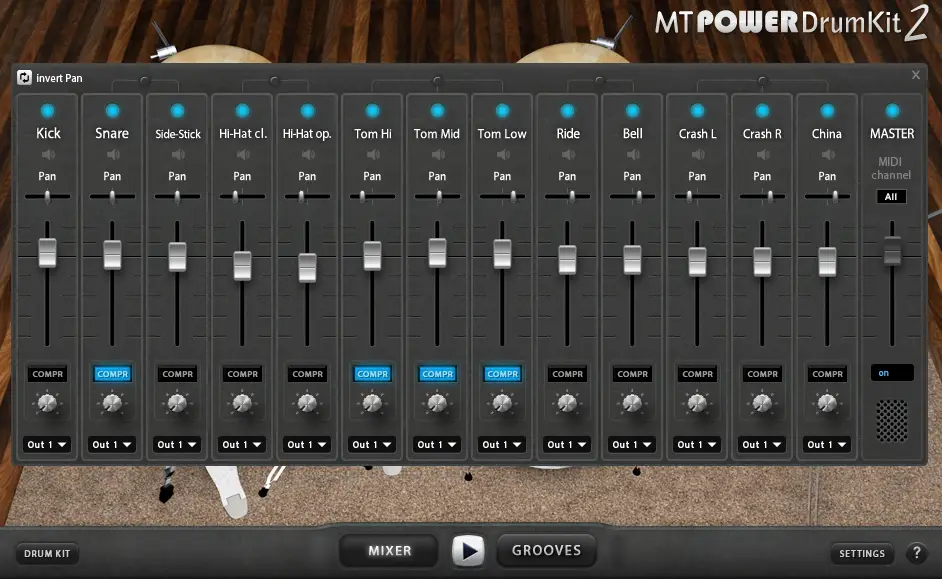 Pros:
+ Allows multi-channel mixer audio output
+ Amazing quality of the recorded samples
+ Great sounding built-in one knob compressor (albeit without any customization options)
+ Lots of pre-made groove patterns come with the plugin
+ Tight sounds perfect for harder rock and metal projects

Cons:
– Only one drum kit available
10. Bonus plugin: VST Speek – Commodore 64 robotic TTS plugin!
This text-to-speech voice plugin emulates the Software Automatic Mouth (SAM) vocal synthesis software created for the famous Commodore 64.
It allows you to type in the desired voiceline and modify 4 basic parameters before hearing the output. You can then record your newly created voice sample and use it in your project.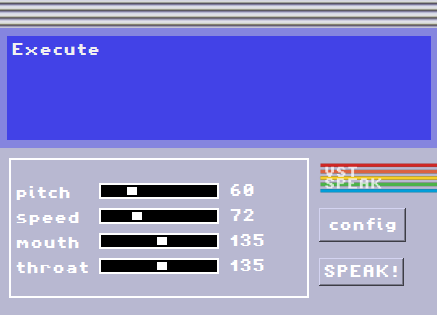 Pros:
+ Simple to use, many creative combinations of parameters possible
+ Takes in simple plain text input
Cons:
– Can only play the sound once for sampling, no keyboard mode or built-in pitching available