With all the "DJ laptop" rankings out on the internet it's time someone compiled an actual guide on buying a laptop for DJing. As a tech savvy person I thought I had to address some myths and misconceptions about laptops for DJs that are advertised left and right all around the web. What qualities should a laptop for a DJ have? What to look out for in a laptop you're planning to use with your DJ software? Let's quickly take a closer look at the matter.
See also: Can I DJ With Just A Laptop? – Do You Really Need A DJ Controller?
[this article features Ebay & Amazon affiliate links]
CPU, RAM and minimal system requirements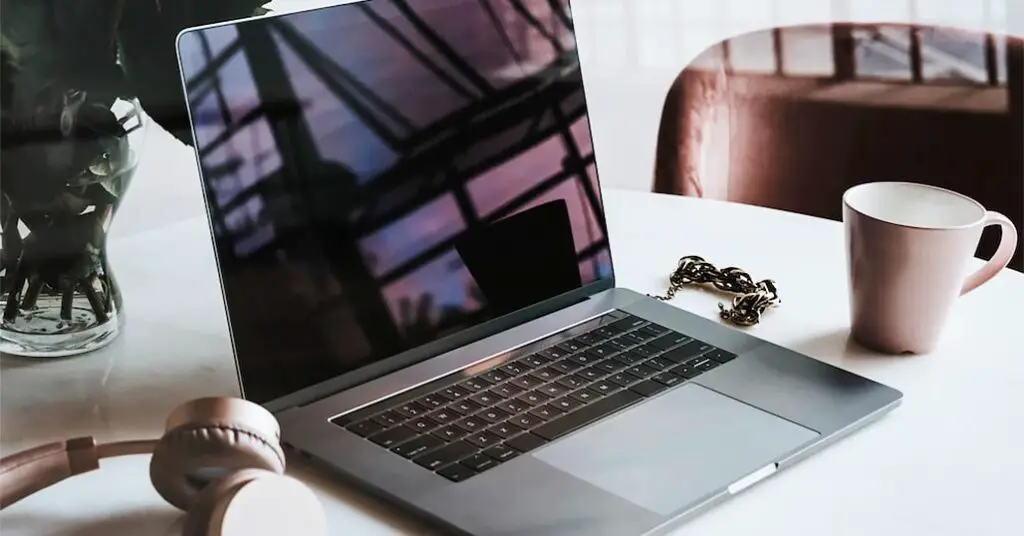 There are many takes on how powerful a "DJ laptop" should really be. Our take on this, is that it should be at least powerful enough to support all the most popular pieces of DJ software without stuttering or unexpected hang-ups.
The following estimates are based on the minimal requirements of the most popular DJ software on the market – Serato DJ, Rekordbox, Traktor Pro 3 and Virtual DJ.
In general, a laptop that you plan to use for DJing should have at least:
2-4 CPU cores, around ~2.5-3 GHz each – preferred: Intel – i5 and above, Apple – M1 and above, AMD – Ryzen (if you're planning to use Serato DJ software you may want to avoid certain AMD processors alltogether and go with Intel instead).
At least 8 GB of RAM.
Most integrated graphic chips should be sufficient, although for any kind of video mixing you may want to get a laptop with a dedicated graphics card.
These are minimal requirements and should be treated as such, your mileage may of course vary.
Best Free DJ Software (For PC & Mac)
Note: If you want to make use of the Virtual DJ AI live track stem separation feature, according to the official VDJ hardware requirements you need to make sure that your chosen laptop features an Nvidia graphics card, model 950 or above or its equivalent.
Battery life
We don't advice to mix while your laptop is unplugged, even if its a brand new device and you're pretty confident that it won't die on you during your important gig.
In any kind of live context, mixing on battery isn't really a good idea. When absorbed in your performance you might simply miss the right moment to plug in your power supply in time, or you might easily underestimate the amount of juice you need to carry on with your mix until its end.
Can You Use Serato On Your Laptop Without A DJ Controller?
There are of course situations in which you'll have to rely on your laptop's battery, and they mostly have to do with portable, mini DJ controllers meant for practice or for mixing on the go. For these you'll have to rely either on your battery or on an external battery pack sufficient to supply additional power to your laptop.
Anyhow, when choosing your laptop for mixing you should pay some attention to the general estimated battery life of your device. In general, anything between 2-4 hours is perfectly acceptable and most consumer grade laptops fall right in that range.
Remember that every battery can and will deteriorate over time (and after a certain number of completed charging cycles). The battery life shouldn't really be a decisive factor when choosing your perfect laptop for live mixing.
Operating system
A rule of thumb is to get the newest chosen operating system release you can with your new computer and always go with the 64-bit option.
Every major DJ software is compatible with the newest versions of MAC OS and Windows, so it makes perfect sense to jump into the newest release of your desired OS straight away.
A good example here, is that Serato DJ Pro software, since the version 2.3.3 (around 20 versions back as of now) has dropped support for Windows 7 and 8 operating systems. It's always best to keep your system up to date for ensured best software compatibility.
It's best to avoid getting into any Linux-based OS if you don't know what you're doing. The software compatibility here will depend on your chosen Linux distribution and it is not guaranteed that every piece of DJ software will work with your chosen distro with no trouble.
Of course, you should always double check the operating system compatibility of your chosen DJ software before purchasing your laptop.
Can you use an old laptop for DJing?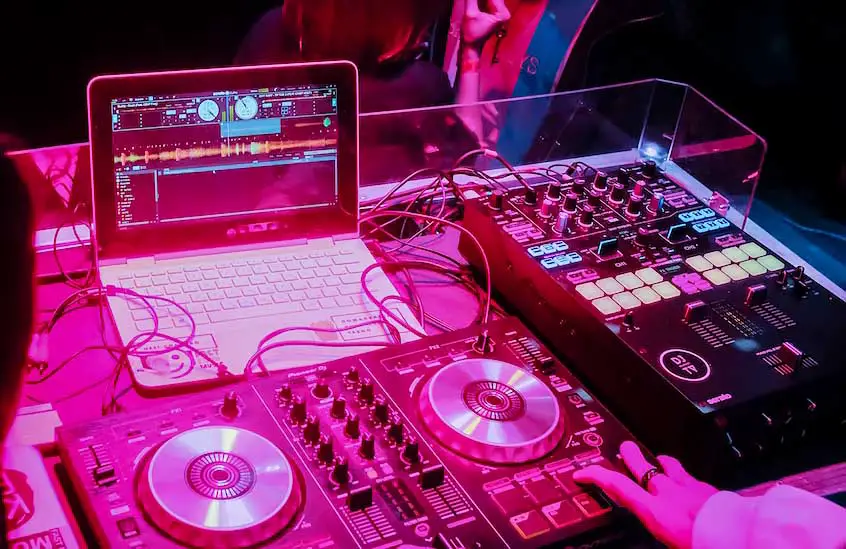 Can you use your older laptop for mixing? Well, in most cases you can easily repurpose an old laptop to use it with your DJ controller as long as it fits within the minimal requirements of your chosen DJ software.
Keep in mind however, that older hardware might sometimes either not be able to run certain software at all, or behave unexpectedly in certain situations. It's best not to rely on an old laptop for an important live performance and always have a backup solution.
Older hardware such as laptops made earlier than ~5 years ago at times might be either incapable of running DJ software with desired speed and desired level of reliability, or pose a much higher risk of live hardware faults.
DJ software crashes – what causes them?
All kinds of audio stutters, software crashes and other hardware related live mix disturbances can be really frustrating, especially in the context of a live performance. Luckily, most modern above-business-class laptops are able to handle every kind of DJ software you throw at them with ease.
What are the most common causes of DJ software crashes?
Hardware is too weak – if you have less than 8 GB of RAM and less than 4 CPU cores below ~2.5 GHz each on board (or an older, less capable CPU in general), you might experience random stutters and hang ups during DJ software operation.
Too many applications open in the background (either visible or hidden).
Laptop overheating – a common problem with more powerful laptops and with older laptops alike.
Audio device drivers that are not up-to-date.
Physical damage to the hardware (for example a faulty sound card).
Internal DJ software fault – you might have simply encountered a bug in the software – you should restart the program and consider updating your DJ software to the newest version before a gig.
Troubleshooting of these issues would require a whole other article. The best tip here, if you're experiencing any of these, is to check for the source of your issue and try to resolve it using some Google-fu – sometimes the solutions are easier than you'd think!
Soundcard / audio interface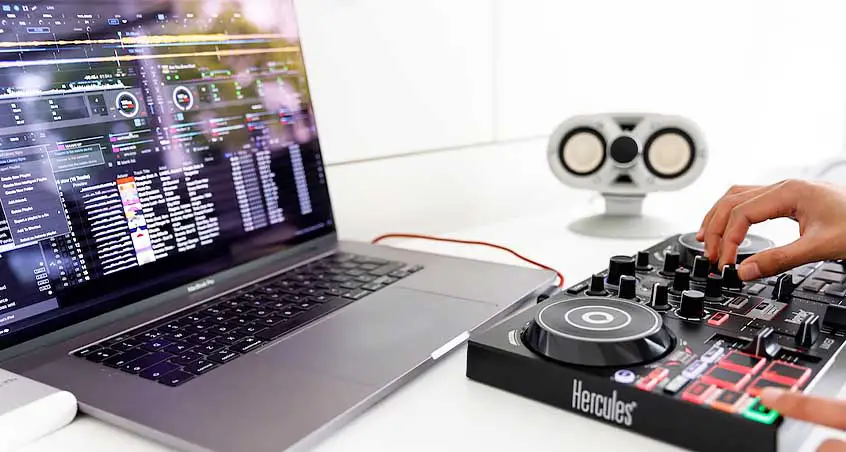 Most professional grade DJ controllers already have a built-in soundcard on board. If you own an entry-level DJ controller that doesn't feature an built in audio interface however, you'll have to rely on your laptop's soundcard for sound output.
Tip: the terms "soundcard" and "audio interface" are often used interchangeably.
New DJ Splitter Cables Guide + Troubleshooting
What this means, is that if your DJ controller does not feature a soundcard – and so, doesn't have its own physical audio output, you'll have to plug your speakers directly into your laptop's audio jack.
In that case, before making a purchase you should make sure that the laptop you're about to choose has appropriate audio outputs and a soundcard that can handle a relatively low latency audio output just right (tip: nowadays it would be really hard to find one that doesn't).
If you're set on a DJ controller that doesn't have a built-in soundcard and you'd like to use your headphones when mixing (and you really should) you'll have to get a special kind of cable called a "DJ splitter cable". Buying a correct one that will actually work may be tricky, so make sure you adhere to our DJ splitter cable purchase guide here.
Can You DJ Without Headphones? – And How To Do That
Laptops – separate vs. combo jacks for DJing
As you might have noticed, some laptops feature a separate microphone input and output somewhere on the side, and some, have a simple single "combo" jack output that is able to support both headphones/speakers and a microphone on one connection line.
Audio Jack Sizes – Inches To Millimeters – New Jack Cable Guide
Both these outputs are able to support DJ splitter cables, so the choice between the two is left up to you – choose whichever is more convenient.
Are gaming laptops good for DJing?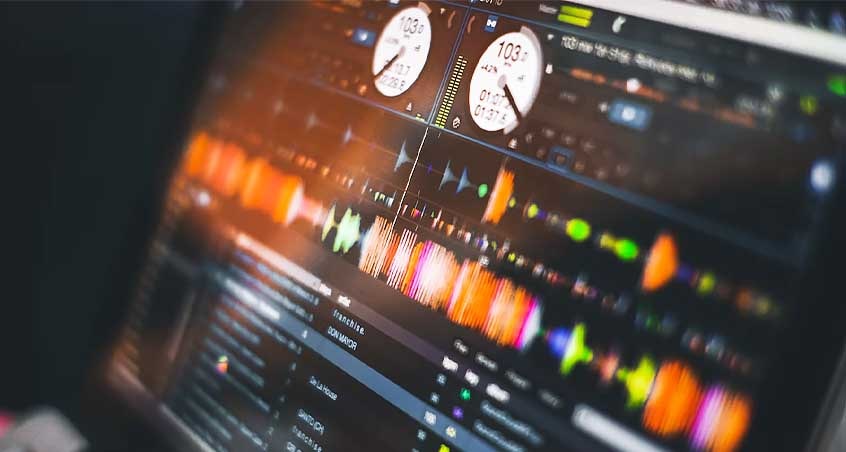 You might be wondering if a device advertised as a "gaming laptop" will cut it for DJing and live mixing. The answer is: most likely yes.
Various laptops advertised as gaming devices have more than enough horsepower to support modern AAA games and most kinds of demanding software you throw at them.
Check out also: Best Free DJ Software (For PC & Mac)
If I – the author of this guide might speak from my personal experience, I used my Lenovo gaming laptop with my DJ controllers for a really long time and it was certainly a pleasant experience.
Running Serato DJ Pro, Virtual DJ and Traktor was a breeze, although the hardware had the tendency to overheat during extensive use.
You shouldn't have any trouble using your gaming laptop for mixing, just consider using a laptop cooling pad if you're worried about your device getting to hot over time.
The Verdict – a perfect laptop for DJs?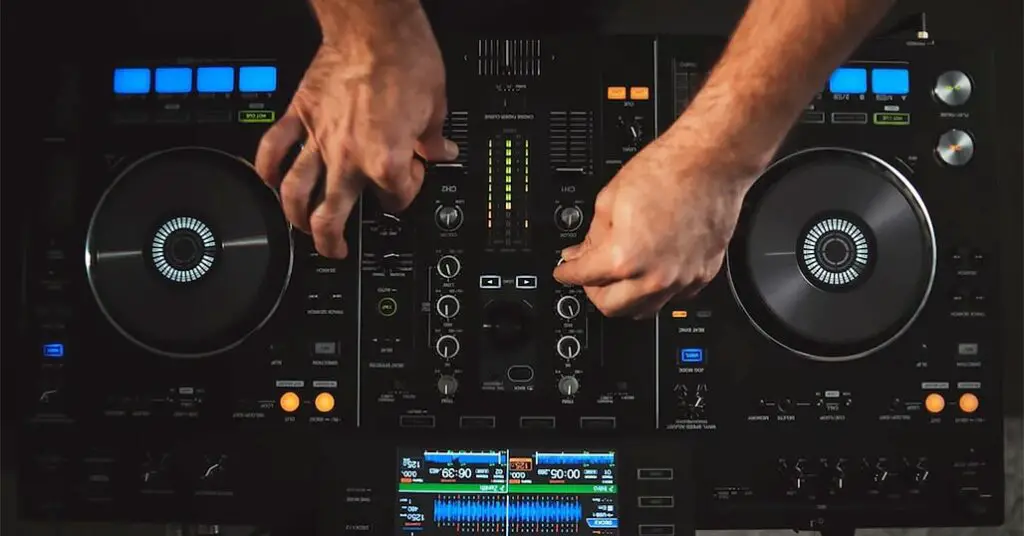 The verdict might be a little bit anticlimactic for some. And here it is: there isn't such a thing as a perfect laptop for DJing, however there are minimal requirements for a good DJ laptop that's safe to use during a live performance.
Any device that adheres to the "minimal requirements" of most popular DJ software on the market will most likely be more than enough to rely on during an important live performance. Just be sure to take a one quick glance at the laptop's soundcard and audio outputs before purchase to check if everything is in order.
The most popular pieces of DJ software on the market aren't really that demanding (except maybe Virtual DJ with its real-time AI stem separation feature on). Most hardware will be able to deal with them just fine. Just don't use a laptop older than say ~5 years during your live mixes without testing it first, it might not be worth the risk.
We hope we helped you a bit and you'll be able to purchase your new "DJing laptop". If you have any questions, please do ask in the comments below. Rock on!
You might also like: Best Free DJ Software (For PC & Mac)