How to use the cue button on a DJ controller? As a beginner DJ and DJing adept you might have been wondering – what is the purpose of a cue button on a DJ controller and what is it actually for? What does a cue button do and how is it used? How to set your temporary starting cue point on a track and how it differs from hot cue points? We are here to quickly answer all your questions, let's get straight into the topic!
What does the cue button do on a DJ controller?
Simply put, the cue button on a DJ controller is used to set a temporary starting point for the track loaded on your deck. A cue point is a custom point from which you can play your track.
A set cue point lets you "cue in" (play) your next track from a specific chosen moment.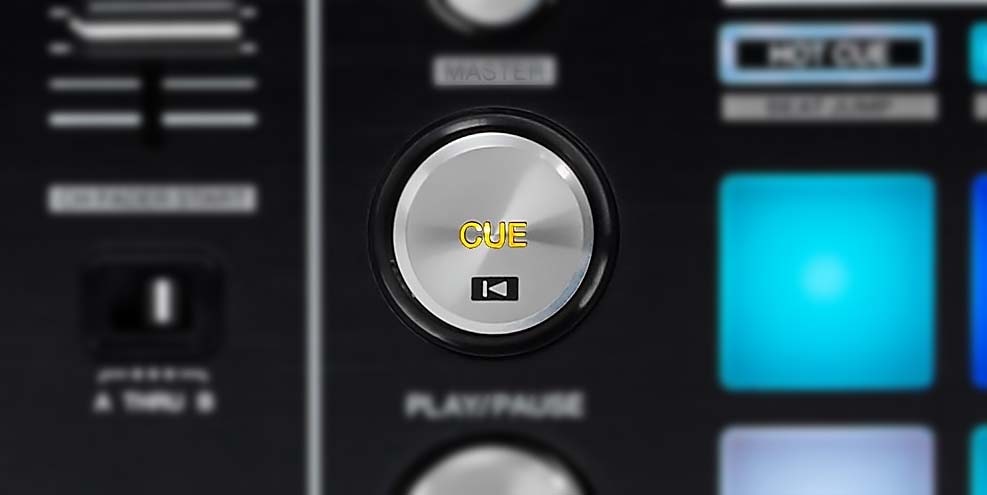 How does a cue button work? / How to use the cue button?
The way a cue button works is really simple. This is how to use it:
Move to your preferred track starting point using your jog wheel and press the cue button once to set your temporary cue point. It should appear on your track in the waveform view.
After pressing and holding the cue button once again when the track isn't playing, your track will play from your set cue point, however once you release the cue button it will stop again.
To play the track from your cue point, hold the cue button, and then while still holding it down, press the play/pause button which traditionally should be placed just below the cue button. After this you can release both the buttons and your track will keep on playing.
If you press your cue button while your track is playing, the playback will stop instantly and the playhead will jump back to your set cue point. Be careful with that!
Remember: when you set your cue point by pressing the cue button once, then move your jog wheel platter and press the cue button again while the track isn't playing your previous temporary cue point will dissapear and a new one will be set in the place.
And once again, if your track is playing and your temporary cue is set, hitting the cue button will stop your track and instantly jump to your set cue point. Be careful not to hit it by accident!
Common usage of the cue button
When you're beatmatching you might want to try and cue in the track a few times in your headphones before you will eventually play it with the right timing, correct the phase using your jog wheel and then finally bring it up using your appropriate channel fader. This is where the cue button is can be helpful.
The cue button might also be used for more advanced mixing techniques such as cue play or cue drumming in which the DJ taps the cue button in a certain rhythm pattern (sometimes over the track playing on another deck), and simlutainously changes the track's pitch using the tempo fader for a creative effect.
Why do DJs tap the cue button repeatedly at times?
As we've just learned, the cue button sets a temporary starting point in your track. Many DJs actually tap the cue button many times before they eventually let their track play. This is because each DJ has his own method of cueing in the tracks and beginning the beatmatching process and cue-tapping is one of the most common ones.
Common cue button practices are:
Trying to start the track perfectly in time with the track on the other deck by tapping the cue button a few times in sync with the second track before actually cueing in your new song. This can help you count the beats properly.
Correcting the tempo of your upcoming track using your pitch fader, then with your volume fader down tapping a cue button and holding it while checking in headphones if the new song plays on beat with the currently playing track – if it does not, tapping and holding the cue button again until the tracks are playing in sync and then finally pressing the play button while still holding the cue button and releasing both buttons. Then correcting the phase using your jog wheel and bringing your new track up using your volume fader.
The cue button is also often repeadedly pressed to check if the temporary cue is set on beat. By giving it a few quick taps you can easily hear whether the cue alignment is good and for example a drum on said beat isn't cut off in a weird way.
Cue button is a great help when beatmatching and you should learn to use it properly. Vinyl DJs don't have the comfort of using a cue button, as because of the way traditional DJ turntables work they have to cue in their tracks by hand.
Bonus: Reddit explains the cue button functionality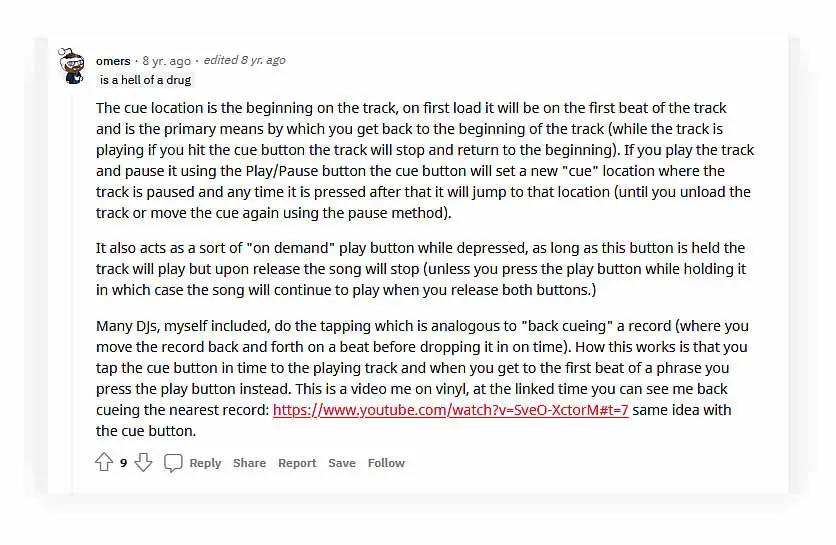 Do DJ turntables have cue buttons?
No. Because of the way a DJ turntable works, a vinyl DJ cues in his tracks by pressing the play button on the turntable, holding the record with his hand, moving it to a marked cue point (marked in software or physically on the vinyl record) and then releasing the record on beat so that its synchronized with the track playing on the other deck (of course tempo of both tracks has to be close to the same).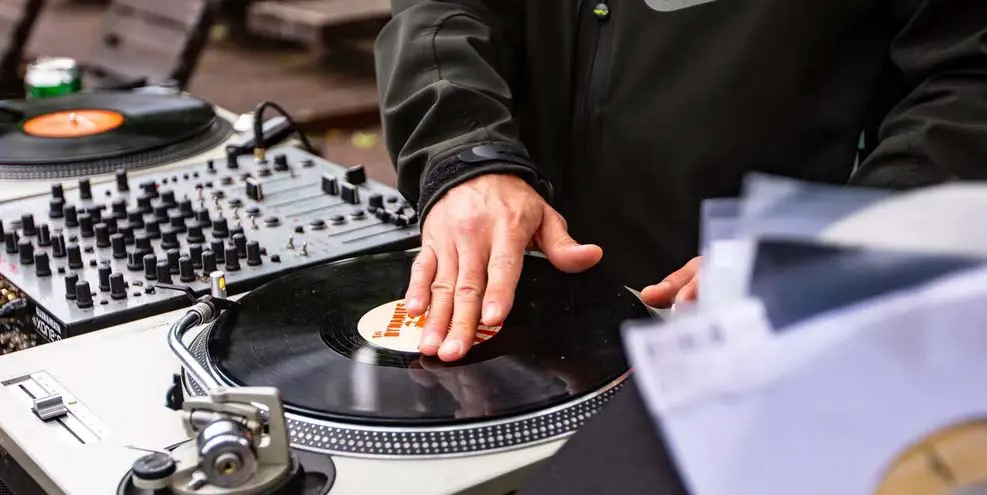 There are no cue buttons on classic DJ turntables, however some DJ controllers with motorized platters that try to emulate the traditional vinyl experience often feature some kind of temporary cue button, as DJ software naturally supports temporary cues in contrary to a classic analog vinyl DJ turntable.
Rane One is a great example of a DJ controller with motorized jog wheels that features an additional temporary cue button for a digital DJ's convenience.
Pioneer DDJ-Rev7 vs. Rane One (Ultimate Comparison)
Temporary Cue vs. Hot Cues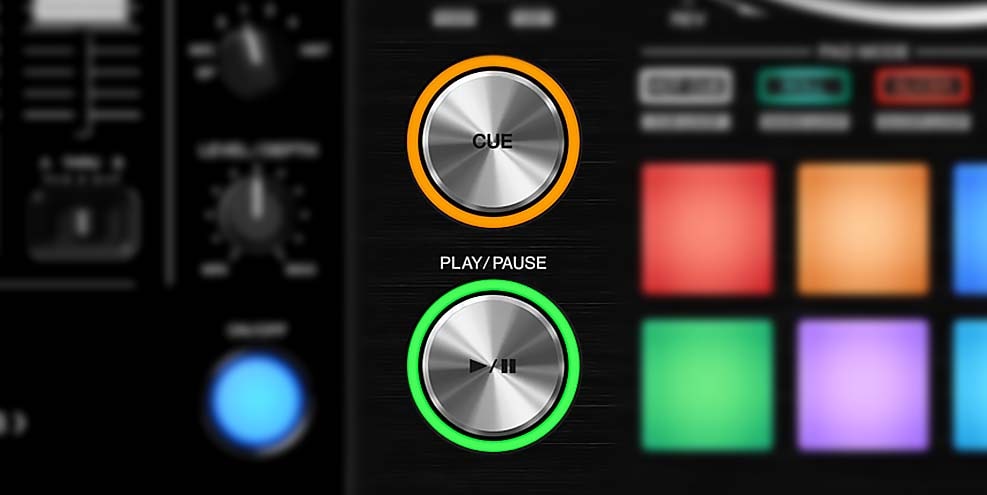 Cue vs. Hot Cue: While the Cue button sets a simple custom temporary starting point in your track, the hot cue buttons allow you to set multiple cue points that are accessible at all times and in case of most modern DJ software saved within each track's metadata.
More about hot cues here.
This means that if you set your hot cues on a track and unload it from your deck and then load your track again another day, your hot cue points will still be there. Very convenient!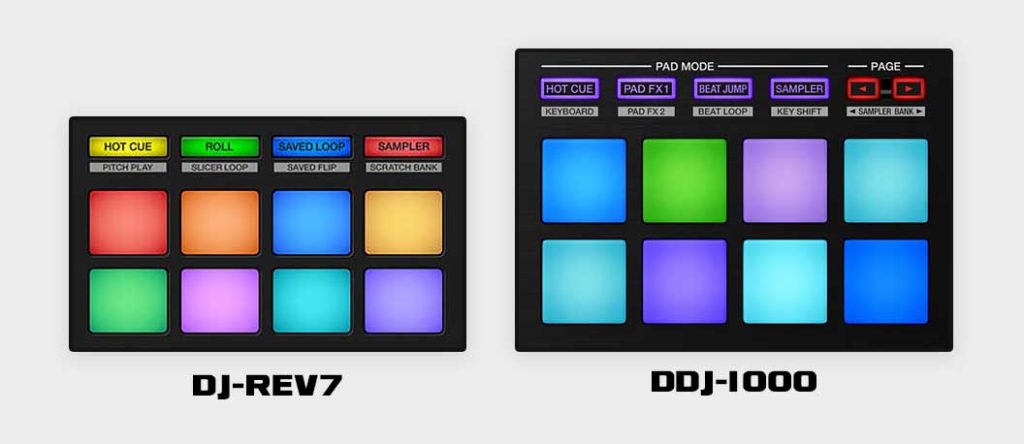 A most common number of available cue points for each deck on an average DJ controller is 8. On smaller, pocket DJ controllers on the other hand you can often see only 4 hot cue buttons.
The standard temporary cue button on both entry-level an profesional DJ controllers is almost always located above the play/pause button on each deck, while the hot cues are commonly set using your controller's performance pads.
Hot cues can be used in many creative ways including tone play, finger drumming and much more.
Check out our simple DJ controller guide for beginners – DJ Controllers Explained! (What Do All These Buttons Do?)
The conclusion
Cue butons are used to set a temporary point from which you will be able to start your track. They can aid you with beatmatching, cueing in songs just at the right time and also interestingly they can be used in many creative ways during complex live performances.
Hot cues are essentially upgraded cue points that are saved with your track's data and accessible to you at all times. We hope that now you have a better idea of what do cue points actually do and how DJs make use of them. Check out our Beginners zone if you have other questions. Rock on!
Check out also:
– DJ Controllers Explained! (What Do All These Buttons Do?)
– 8 Best Top-Notch DJ Controllers You Can Get This Year!
– How To Jumpstart Your DJ Career – 8 Valuable Online Promotion Tips
– 5 Best Pioneer DJ Controllers For Beginners – Which one should you choose?