Is Pioneer XDJ-RX3 a good choice? Is the XDJ-RX3 worth it? The New XDJ-RX3 standalone DJ controller is a device that offers you the full standalone mixing experience in the highly efficient form factor closely resembling a traditional Pioneer CDJ club setup. Here are 7 solid reasons why you should be interested in getting a brand new Pioneer XDJ-RX3 this year!
[this article features Ebay & Amazon affiliate links]
1. Full standalone mixing experience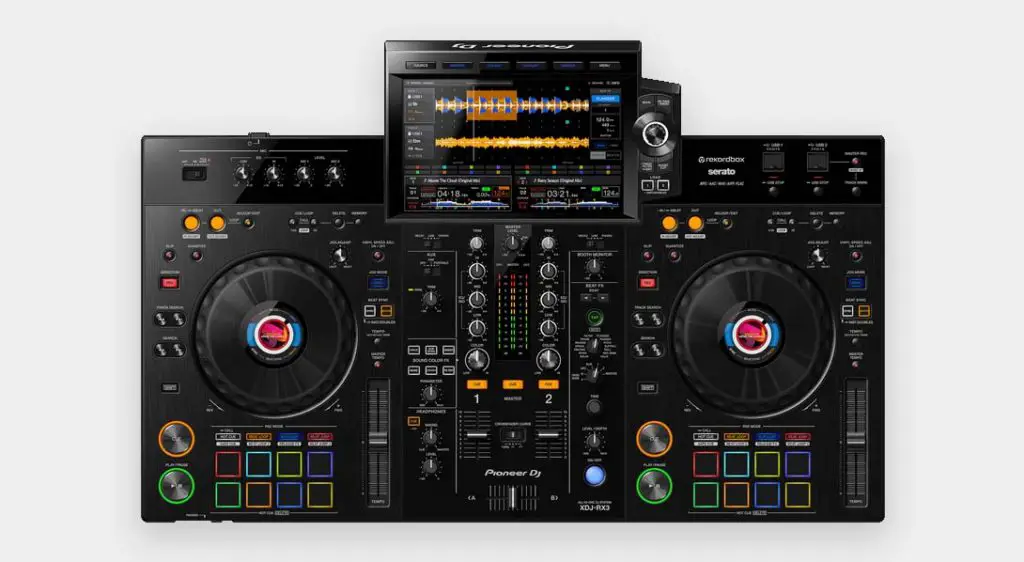 The Pioneer XDJ-RX3 lets you use all its controls without the need for a computer connection. All the track management, FX processing and other operations are done internally on the device.
This means that you are able to ditch your laptop completely during your live performances and focus more on your gear and on the people.
A big part of the standalone experience on the Pioneer XDJ-RX3 is the 10 inch touch screen that allows you to manage your tracks and playllists live and organize your songs with ease.
2. 10 inch touchscreen + built in jog wheel displays
The 1280×800 10.1-inch touch display on the XDJ-RX3 is a multi touch screen that lets you access the graphical user interface you might already recognize from the Pioneer CDJ-3000 flagship players.

With the help of this screen you can manage you track library, choose and schedule your tracks and built user playlists. In our humble opinion It's much more convenient than it used to be on the previous controller from the XDJ line – the Pioneer XDJ-RX2.
New Pioneer XDJ-RX3 vs. XDJ-RX2 (Direct comparison)
The jog wheels on this device also feature built-in displays that are able to show basic track playback info. These also add to the standalone experience on the XDJ-RX3.
3. Easy effortless live track management experience
On the Pioneer XDJ-RX3 the touch screen controls double with the physical track selection knob and library control buttons. You can use these if you don't want to interact with the touch display that much. This makes it really easy to manage your tracks live and browse through your music playlist in an efficient manner.
The responsive UI and well designed controls make the live track selection process on the XDJ-RX3 a really enjoyable and effortless process.
The double USB storage device input and mix recording capabilities add to the whole experience.
4. Great FX controls + an on-screen X-pad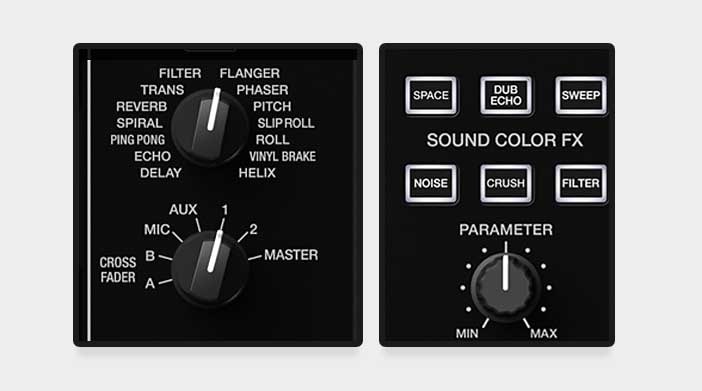 Just as on Pioneer DJ controller models such as the DDJ-1000 or the XDJ-XZ, on the Pioneer XDJ-RX3 the FX control section on the mixer is based on the one present on the DJM line of Pioneer DJ mixers.
This means that you are presented with a Beat FX strip and the Sound Color FX strip which are your main way of controlling audio FX on the device.
This setup is highly efficient and has been proven useful by countless live performing DJs that make use of it on their DJM mixers.
There are 6 Sound Color effects and 14 Beat FX + 8 pad release FX available to you on the Pioneer XDJ-RX3.
Another great thing is that with the use of the on-screen X-pad you are able to control the beat FX parameter of your chosen effect by using the slider on the display.
This works similar to the x-pad present on the DJM-900NXS2.
5. Jog wheel tension controls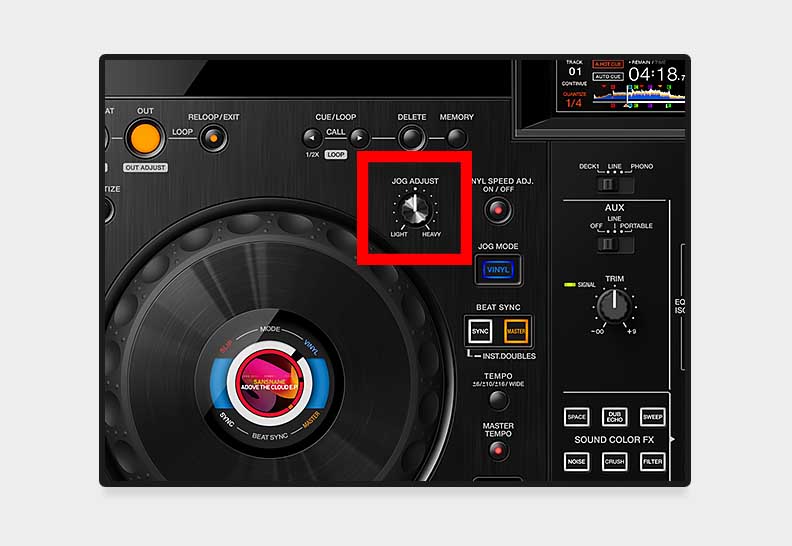 Each deck on the XDJ-RX3 features a jog wheel tension control knob. This little knob lets you control how far the jog wheel will travel after release.
On the lowest tension setting you can perform surprisingly long backspins while on the other end of the scale your jog wheel sits almost perfectly tight on its bearing, and will be much harder to move.
What makes this setting so great, is that it helps you adjust your controller to your specific scratching / transport control preferences with ease.
If you only had experience with jog wheels locked in one tension setting before (and this is the case with most DJ controllers), you will be pleasantly surprised with the ability to control this setting.
6. Release FX pad mode
Pioneer XDJ-RX3 features an additional performance pad mode which lets you use pad release FX similar to those present in the Rekordbox DJ software.
Audio FX in pad release FX mode are activated by pressing down a performance pad corresponding to your chosen effect when the release FX pad mode is on. Your chosen FX will be active for as long as you keep holding the pad down and will disengage when the pad is released.
Following release FX are available on the Pioneer XDJ-RX3:
Vinyl break (turntable stop)
Short backspin (vinyl backspin)
Echo out (fixed 1 beat loop slowly fading away)
Mute (mutes channel audio while pressed down)
Long vinyl break (longer vinyl break effect)
Long backspin (longer backspin variant)
Buildup (loop that changes its length from 1 to 1/16 beat and then releases)
Ducking (fades the audio on each following beat)
7. Pioneer XDJ-RX2 vs. Pioneer XDJ-RX3 – MAJOR improvements!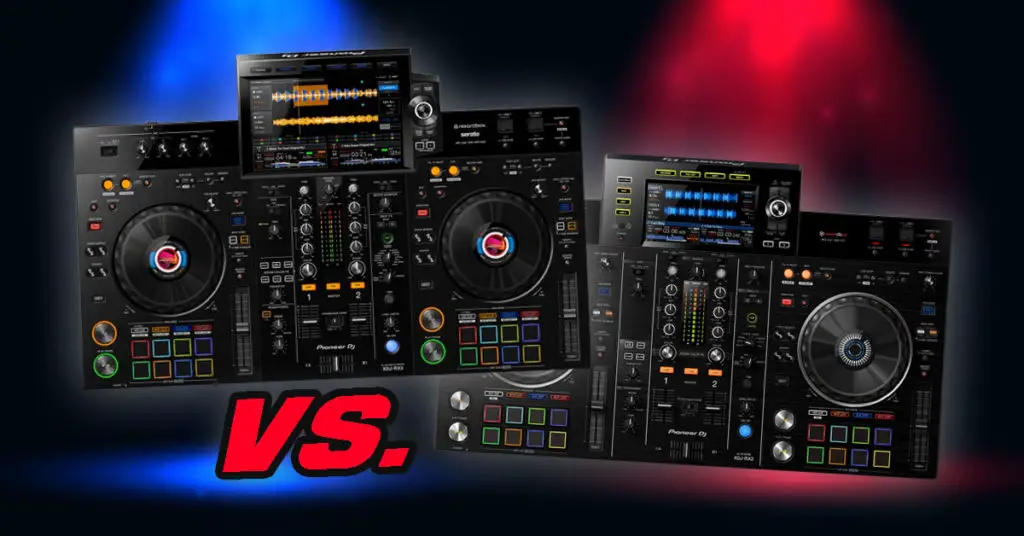 Lots of substantial changes have been made in the upgrade process and because of that the Pioneer XDJ-RX3 can benefit from the amazing LCD display with new re-designed user interface, various additional controls, better audio FX, high quality jog wheel displays and much more.
How does the Pioneer XDJ-RX3 compare to its predecessor, the XDJ-RX2? What are the most important changes and hardware upgrades?
New Pioneer XDJ-RX3 vs. XDJ-RX2 (Direct comparison)
We have an extensive comparison article which goes through all the most important differences between these two devices, check it out here: XDJ-RX3 vs. XDJ-RX2 DJ Controller Comparison.
Pioneer XDJ-RX3 availability.
The conclusion – should you get a brand new XDJ-RX3?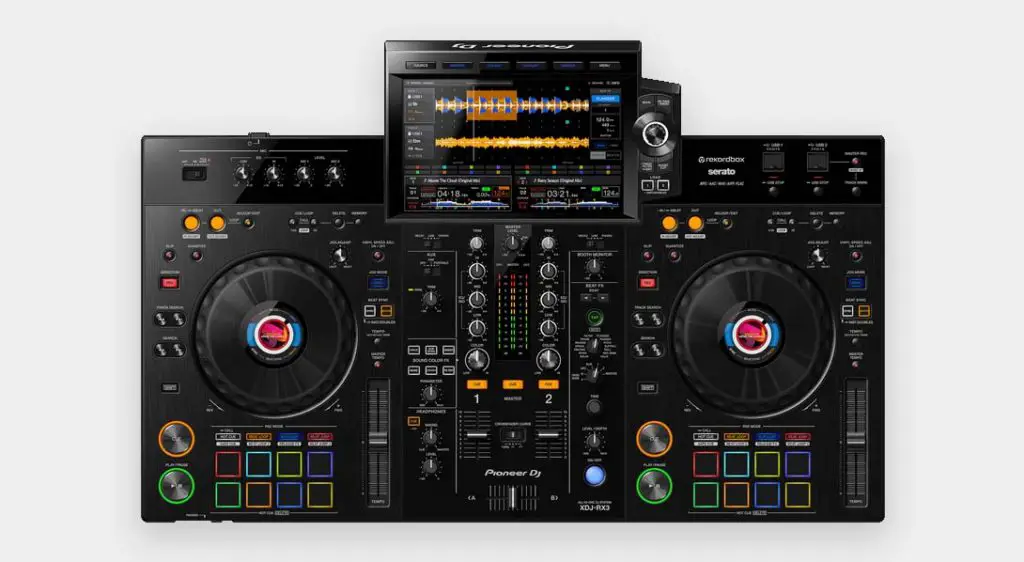 Whether you're a professional mobile DJ, a curious beginner or you simply want to ditch your laptop during your live mixes and gigs, you should definitely take interest in the Pioneer XDJ-RX3. This new flagship fully standalone device from Pioneer DJ is a great unit capable of full laptop-less performance and makes for a great upgrade if you already own some of the earlier standalone Pioneer DJ controllers. Get your Pioneer XDJ-RX3 now and you won't regret it!