Every famous DJ is known by their name, their music and their own brand logo. If you're a musical artist, you'll use your logo all the time on your social media platforms, in your promotional materials, flyers and event posters. In this article we want to show you how you can actually get your very own DJ logo design that will help you get recognized!
[this article features affiliate links]
A DJ logo – how hard is it to make one yourself?
Making your own DJ logo design really isn't that hard, there are however some things you absolutely need to prepare to begin the process of creating your DJ logo design from scratch.
To create your own DJ brand logo ideally you should have:
Image editing software and/or a vector graphics editor (Adobe Photoshop/Gimp, CorelDRAW/Adobe Illustrator).
Some basic image editing/vector graphics design skills.
General idea of what you want your logo to look like (Ideally a few simple ideas to kickstart your creative session).
A plenty of time on your hands.
During the process, try to experiment a little bit and create a few starting versions of your logo featuring different fonts, different colors and different positioning of the logo elements.
Consider that an ideal artist brand logo should be:
Easily readable if it features text.
Simple when it comes to structure.
Eye-catching and easy to remember.
You can create your logo either as a standard raster image (think a simple photo with a fixed size), or, if you possess skills to do so – a vector image (a type of image that can be freely scaled without quality loss). Most professional logo designers would/should save their designs as vector files, as handling them later when it comes to further edits or print is be much easier.
If all this seems pretty daunting, don't lose hope! There are plenty of ways to either get the skills you need to create your DJ brand logo yourself, or get it done by someone else.
DJ logo ideas and inspiration
If you need some inspiration for your initial DJ logo designs, take a look at this image by Back94, compiling many of the most popular famous DJ logos. As you can see, while simplicity is good, it's not the only way you can go.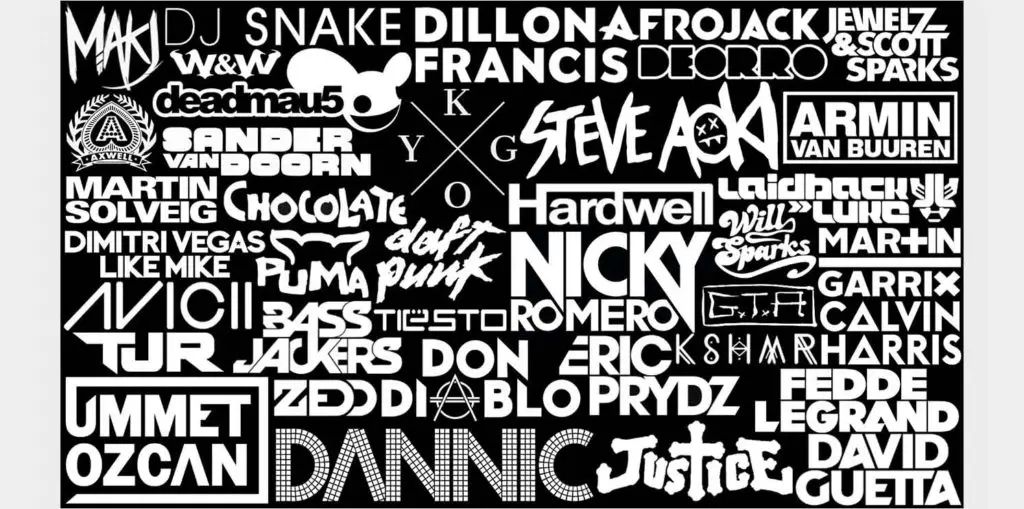 There are hundreds of not yet discovered element combinations that together can create a unique look for your very own DJ brand logo. The best way to find them is through patient experimentation and repeated design sessions.
If you need even more inspiration, go and check logos of the world's most famous music bands. Maybe you'll find some elements you'd like to incorporate in your DJ logo design?
Where can you get quality DJ logos for cheap?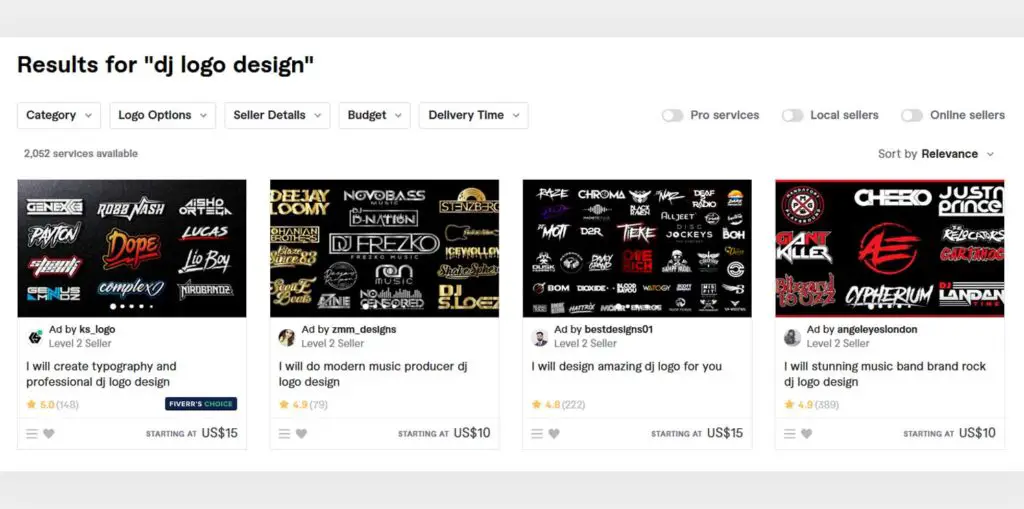 One of many places you can actually get your DJ logo designed specifically for you by a graphic design artist is fiverr.com. After you register on fiverr.com, there are lots and lots of professional freelancer designers available for you to hire right away.
We will share with you a few tips on how to order a personalized DJ logo design safely and without worries:
Always check the reviews under each offer you consider choosing. These often feature examples of the designer's work and hint whether this particular offer will suit your needs.
Try to choose a designer that already has some written reviews and has reasonably good star ratings.
Always check if the designer you've chosen offers revisions – if that's the case, you can request some corrections if you want something changed or rearranged in your final design.
If you already have some idea on how you want your logo to look like, be sure to describe it in detail when placing your order. There will be a special box for the information you want to provide the designer with after you pay for the service, and you will be given the ability to contact the designer directly through the built-in fiverr chat.
It's often better to pay a little bit more for a premium service if you want even better results.
Here you can register for free on Fiverr.com and check out all of the DJ logo design examples before making a purchase.
There are lots of great, professional designers available on freelance sites like Fiverr or Upwork, that are able to offer quality DJ logo designs even if you don't have any initial ideas on what your logo should look like. Feel free to search through the top rated offers regarding DJ logo design to decide whether or not you want to take a shot with getting your personalized DJ logo on fiverr.com.
If you're interested you can go ahead and hire a DJ logo designer right now!
How much does a DJ logo design cost?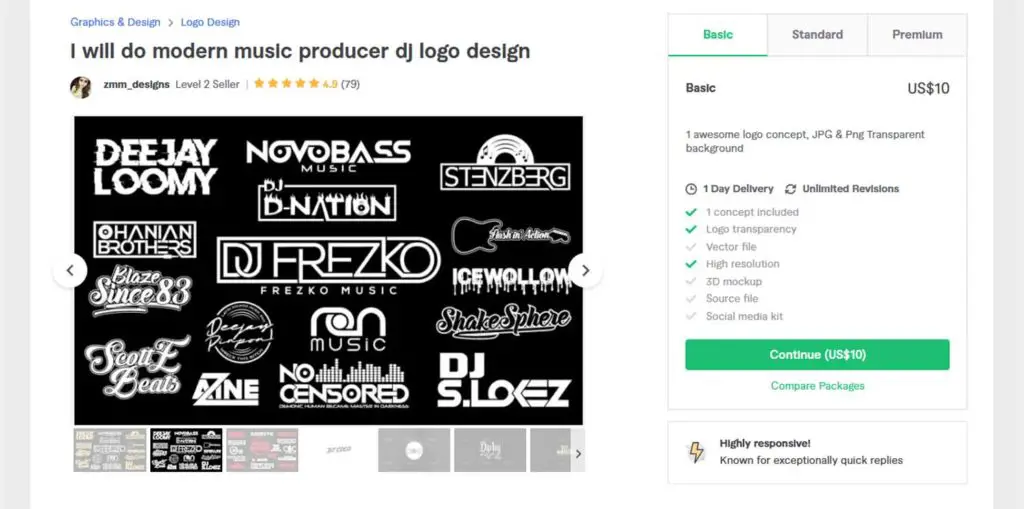 Hiring a professional graphic designer can be really expensive. It can cost you anywhere from around $100 to a few hundred dollars. Luckily, there is an option we've already mentioned – using the power of sites for freelancers to get the job done for you for a much lower price.
When ordering your DJ logo on Fiverr.com, you are expected to pay $15-$90, either per one design, or a whole set of social media ready designs. Much better price range if you ask me.
For the freelancers offering their services online it's a great way to get themselves out there, build a portfolio of their works and show that their designs are actually used by people in the wild. For you as a DJ, it's a great opportunity to get your professional logo for a much lower price than you would if you were to hire a designer from an established design agency. Check out affordable DJ logo designs on fiverr.com now!
The conclusion – should you order your DJ logo online?
A DJ brand logo is a crucial part of both the DJ's image and online presence. A logo is a vital part of your social media kit and your branding, a part that together with your DJ name makes you recognizable and memorable as a music artist. Your growing audience is much more likely to remember you if they associate your music not only with your name or your DJ drop, but also with your distinct DJ brand logo.
As with every freelancing site, the results can of course be hit or miss. While my personal experience with Fiverr.com was positive, you should always describe your needs in detail to the seller, use all you available revisions, and if you have any further requests, be sure to let the designer know. You can get great results if you do so.
So what you're waiting for? Get your professional DJ logo done for you now, and get recognized out there!
Main article photo features logo examples by bestdesigns01.