Korg Minilogue vs. Monologue – which one is better for you? Whether you're doing your research to get your first true analog synthesizer, or you are looking to expand your existing analog synth collection with one of the Korg analog synth solutions you've come to the right place. In this article we'll compare these two devices and take a closer look on their main differences, similarities and all their pros and cons, pics included for your convenience! Let's dive right into the topic!
[this article features Amazon and Ebay affiliate links]
Mono vs. poly synth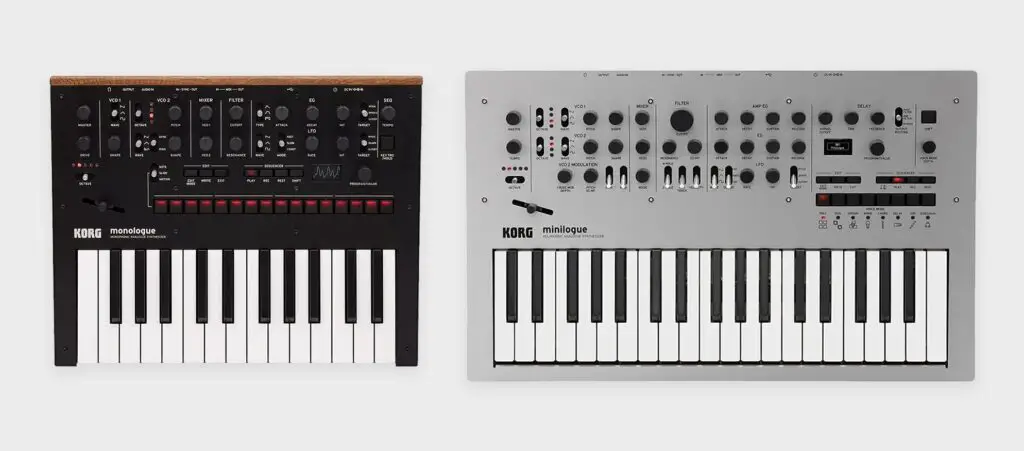 The main difference between the Korg Monologue and the Korg Minilogue, is that the Monologue as the name suggests is a monophonic synth, while the Minilogue is polyphonic. So what does this mean?
Monophonic synthesizers can only generate one note at the time – this means that using a mono synth, you won't be able to play chords, and when you try pushing two keys at the same time, only the one that's been pushed last will sound. Korg Monologue works just like that.
Korg Minilogue on the other hand, is a 4-voice polyphonic synth. This means that using it, you'll be able to play up to 4 notes at the same time, which will enable you to play full chords with addon bass notes without trouble!
Although there are some valid arguments about advantages that monophonic synthesizers may have over polyphonic ones, in this case the Korg Minilogue objectively gives you much more creative freedom with its four-voice polyphony capabilities.
If you're considering getting the Korg Monologue, there are some things you can do to make it sound somewhat more like a polyphonic synth would. A great tip here is to experiment with complex fast-paced sequences and external effects, such as long-tail reverbs and delays!
Mono or Stereo?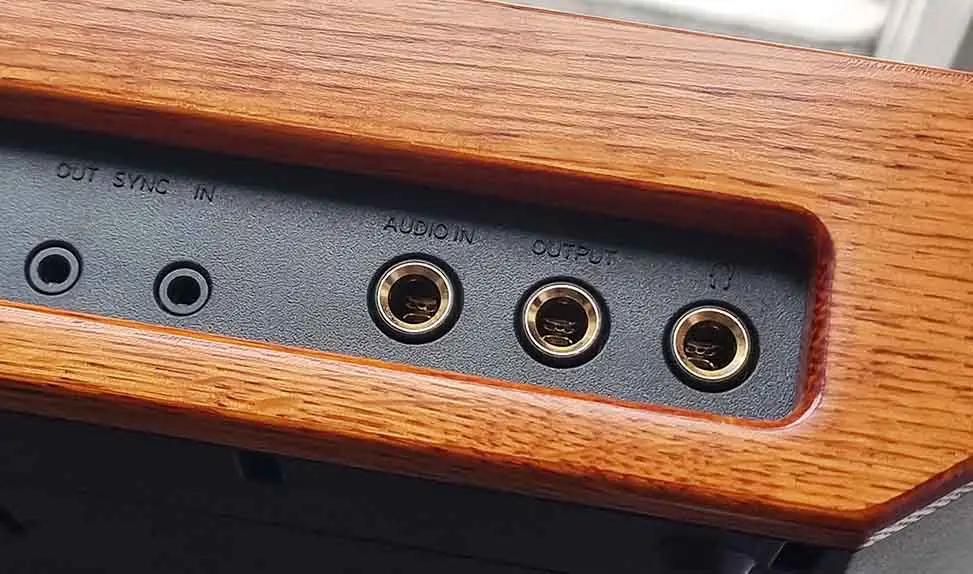 Korg Monologue and Korg Minilogue are mono synths in terms of their audio outputs – they both feature a simple single monophonic output (1/4 TRS jack connection).
What this means for you, is that neither of these synths will output sound in stereo, and for any kind of wideness or stereo-fullness of the sound you'll have to rely solely on external audio effects (be it audio FX in your DAW software or external FX processors).
When it comes to the Korg Minilogue XD, that in comparison to the Monlogue and the regular Minilogue features on-board set of quality digital audio FX, the situation is different. Because the Minilogue XD has its own internal FX processor, it is also able to support stereo audio FX, and it features a standard stereo audio output. We'll come back to the Korg Minilogue XD later on.
The mysterious "audio in" input is present on both Korg Monologue and Minilogue. It essentially allows you to put other external audio sources through your Korg synthesizer (you can use a guitar, mp3 player, a microphone or any other audio device). Using this neat feature you can achieve lots of surprising and quite unique sounds!
Build quality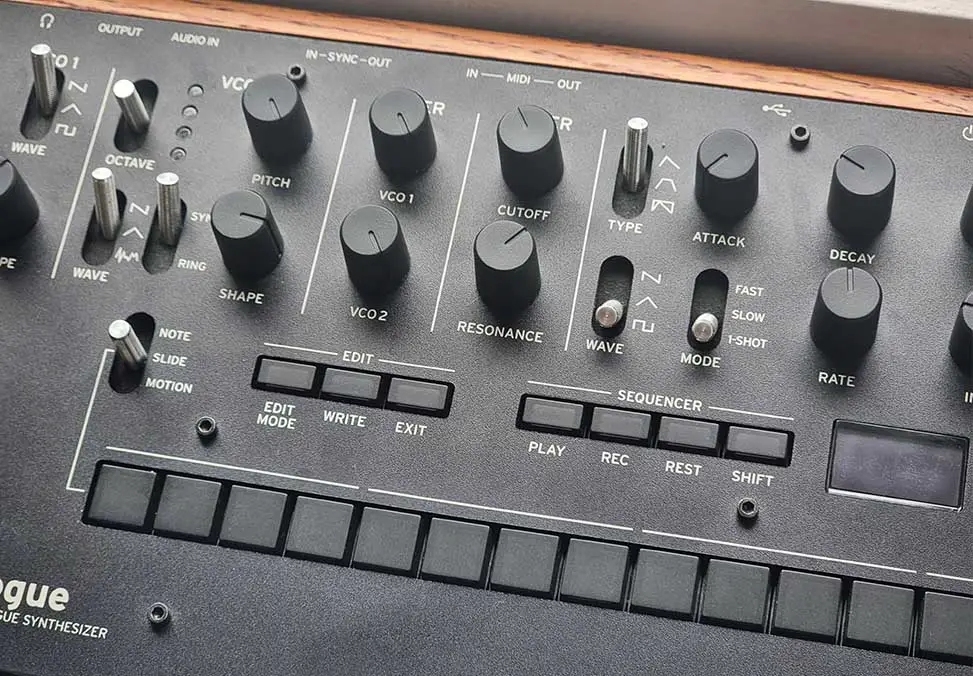 Our experience with Korg Monologue in terms of its durability and build quality is overall great. The device is solid and well-built, and in our testing unit there weren't any loose or creaky parts that we could complain about (and we were not the first owners!).
Bonus points for the metal front plate finish, the wooden back panel and tightly seated metal switches.
All the switches on the Monologue have a nice and firm "click" to them which makes it really satisfying to mess around with its settings when tweaking settings and bringing about your creative sound creations.
All the knobs on the device are high quality rotary encoders, some of them such as the program select knob moving in small steps that you can feel when turning them, some moving smoothly throughout all their range.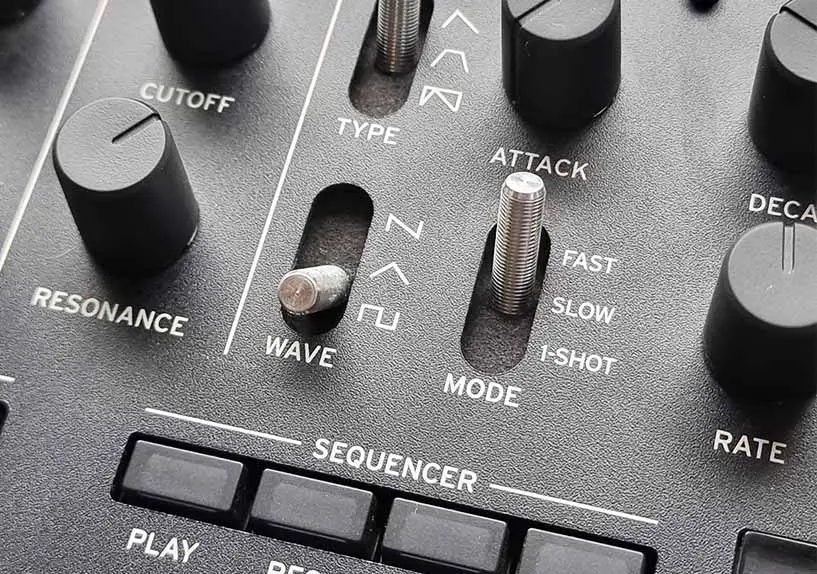 The knobs themselves are also pretty firm and they allow for very precise settings control (such as setting the sequence tempo with accuracy up to 1 bpm).
All these things apply to the Korg Minilogue, as pretty much the same components are used there when it comes to its outer shell and setting controls. You won't find any compromises when it comes to build quality in any of these devices.
The power supply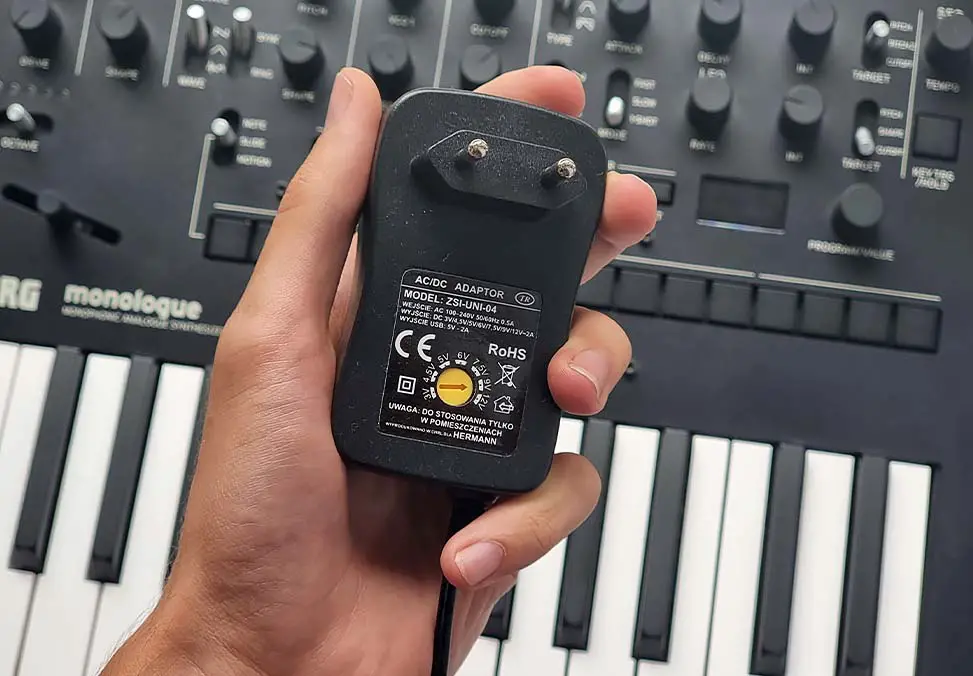 It is important to mention here, that when it comes to some retailers, your Korg Monologue might not ship together with a power supply.
So, which power supply should you get for your Korg Monologue or Minilogue? The official power supply compatible with both Monologue and Minilogue is the Korg KA-350. You should definitely check if your unit will ship with one before purchase.
If you cannot find the KA-350 in stock, you can use one of many popular alternatives. Before making a purchase, cross check if the voltage/amperage and the connector of your chosen power supply match those of the original KA-350 power adapter.
In our studio, we've used a custom power adapter with adjustable power output, which we found compatible and safe to use with both the Korg Monologue and Minilogue after limiting it to 9V.
Keyboard size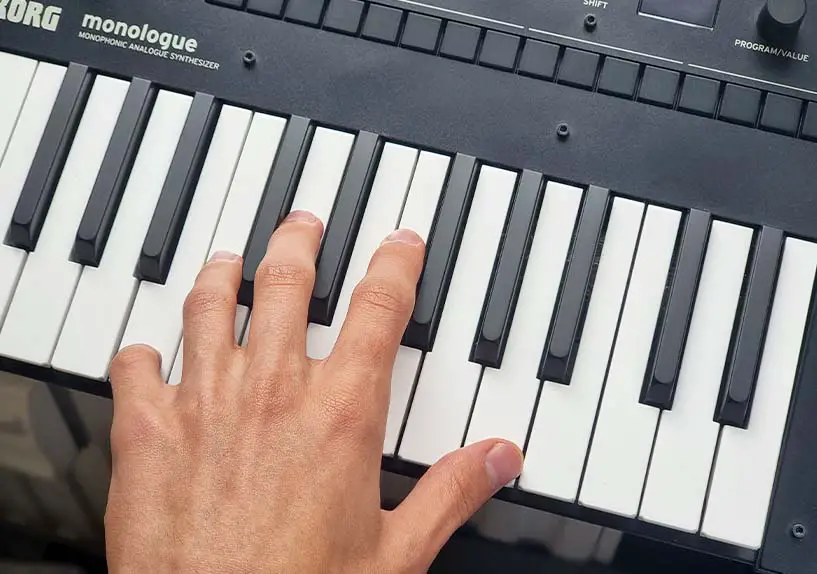 Curiously, there is little to no in key size between the Monologue and Minilogue series.
The main difference lies in the size of the keyboard, or rather, the number of keys available.
As a piano player with some years of experience I found the Monologue keys to be very pleasant to use, albeit of course nowhere close to a "real-deal" weighted keyboards of modern electronic pianos. Nevertheless, these keys feel really nice and I'd say they are on the lighter side of what I've experienced when it comes to analog synths.
Korg Monologue features 25 slim keys, while the Minilogue has 37 slim keys on board. This makes sense, as the keyboard on the polyphonic Minilogue needs to be suitable for playing full 4-part chords with its 4-voice polyphony capabilities.
Keys on both the Korg Monologue and Minilogue are velocity sensitive. This means that you are able to assign synth parameters to the key velocity parameter, which gives you even more creative freedom.
Both devices also are able to send the key velocity data over their standard MIDI outputs.
The USB connection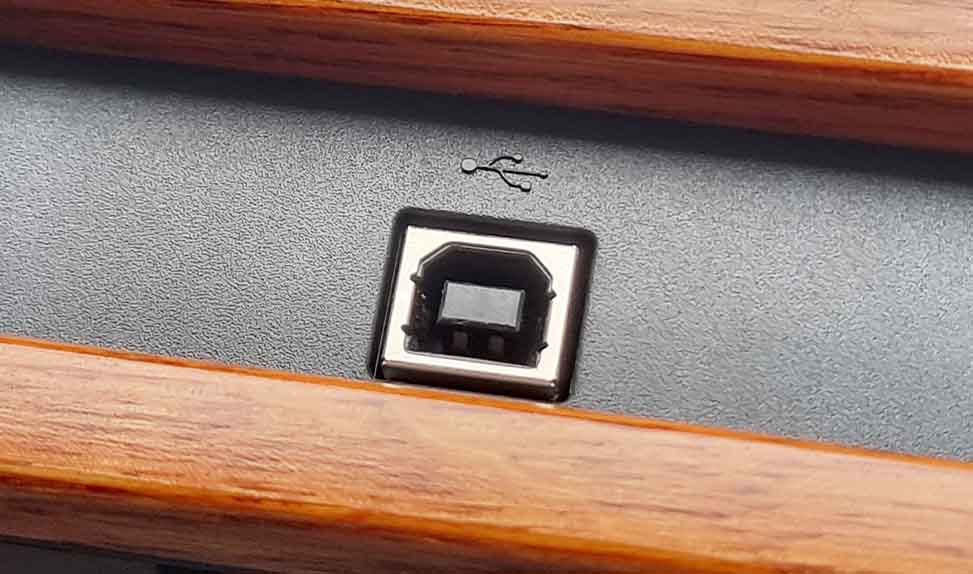 Sadly, Korg Monologue and Korg Minilogue are not able to carry audio through their USB connection.
The USB output on both these synthesizers can be used only for sending the MIDI signal to your computer. This means that you can easily use either your Monologue or Minilogue with your DAW software as a simple MIDI controller.
Automatic tuning on both devices
Both Korg Monologue and Korg Minilogue will tune their oscillators automatically each time the device is powered on.
If for whatever reason you'd like to tune your device again, you simply need to turn your synth off and then turn it back on again.
The whole auto tuning process should take around 10 seconds to complete.
Audio FX
Korg Monologue does not feature any on-board FX besides its built-in analog drive distortion, so if you'd like to add a reverb, delay, or any other effect to your sounds you have to rely on either you DAW software FX or external audio processors.
The basic Korg Minilogue can offer you only its simple (and quite noisy) delay section. It doesn't feauture any additional audio FX besides that.
If you're interested in an alternative with an extensive set of almost 50 different audio FX built in, you should definitely check out the Korg Minilogue XD.
Korg Minilogue vs. Minilogue XD

The "XD" version of the Korg Minilogue, is essentially the upgraded Korg Minilogue with a digital audio FX section and updated front panel controls.
This is quite an advantage for people who are not keen on plugging their synth to a sophisticated chain of external effects right off the bat, and prefer to quickly mess around with their sound creations using internal audio FX.
Having a quality reverb accessible on your analog synth is a great thing by itself. Korg Minilogue XD goes even further beyond offering you a total of 49 audio FX to choose from.
While the Korg Minilogue is a true analog synth, the Minilogue XD is an analog-digital hybrid as it features a third, digital oscillator on-board.
The other notable differences are slightly different control layouts, different filters used in both devices, the filter on the Minilogue XD having a drive switch and being only a sharp 2 pole filter vs. the 2/4 pole solution on the original Minilogue, Minilogue XD featuring a joystick with an extra control axis instead of the classic pitchbend and a dedicated portamento knob.
Minilogue XD also gives you the full set of 16 sequence step buttons that the Monologue had, yet were removed from the original Minilogue.
There are quite some more differences between the two that you may find important, check out the brilliant comparison of the Korg Minilogue and the Korg Minilogue XD over on dailyanalog.com to learn even more.
Number of available presets (and user presets)
When it comes to the number of presets that these devices have to offer, the situation is as follows:
Korg Monologue – 80 factory presets, 20 user presets (100 total).
Korg Minilogue – 100 factory presets, 100 user presets (200 total).
Korg Minilogue XD – 200 factory presets, 300 user presets (500 total).
In all cases you are able to edit, delete and overwrite each of the factory presets to store your own sounds.
The sequencer and waveform display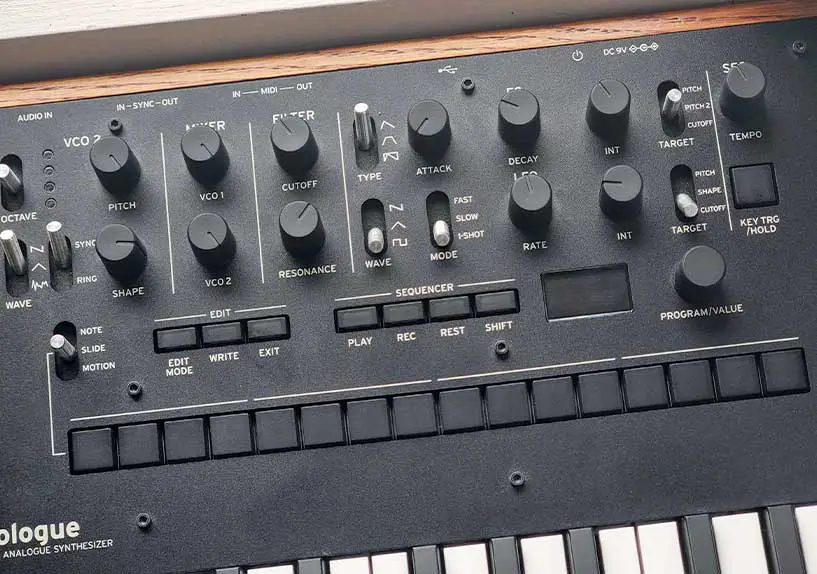 When it comes to great features that all the devices in question share, it's impossible not to talk about the 16-step sequencer with motion sequencing capabilities (automation support), and the small OLED waveform display that shows you the actual waveform of the sound you've generated in real time, plus other parameters you're able to edit. Quite a nifty feature!
The Korg Minilogue also features a 16-step note & motion sequencer, however on the Minilogue there are only 8 buttons on the front panel to control the 16 step sequence. Can get tricky at times.
Can you use the Monologue/Minilogue as a MIDI controller?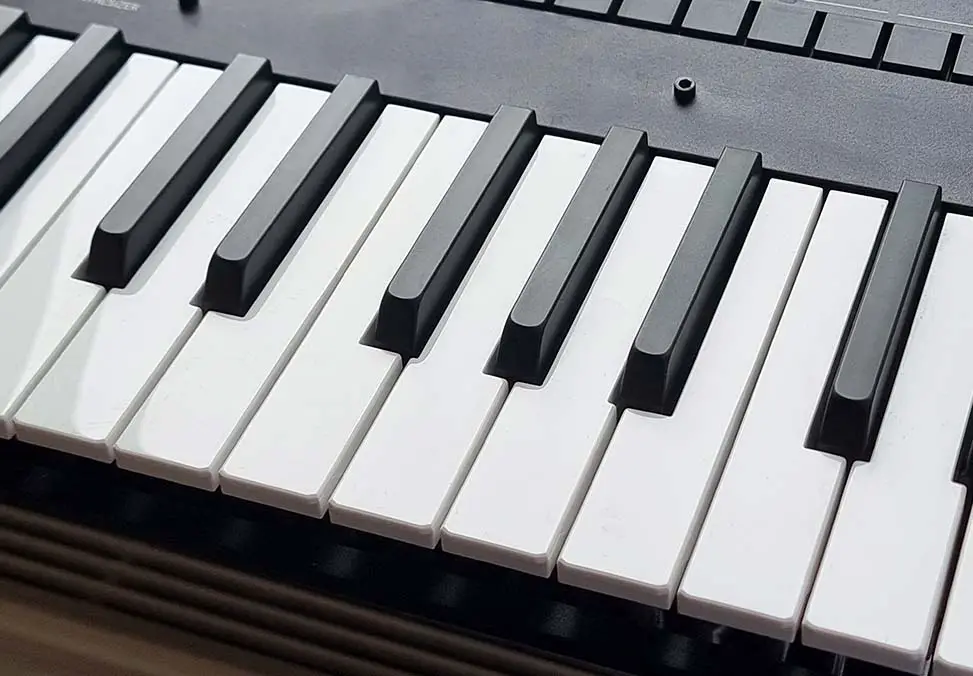 Yes, both Korg Monologue and Minilogue can easily be used as MIDI controllers, as they are able to send and receive MIDI signal (with velocity info) through their MIDI output ports, and the simple USB 2.0 connection port in the back.
All you need for sending MIDI signal from your Korg Monologue or Korg Minilogue to your computer is a standard USB printer cable.
Although Korg Monologue is a mono synth, this doesn't affect the MIDI control signals sent from the device via the MIDI or USB connection. This means that you are able to control polyphonic synths inside the DAW software of your choice, using the Monologue as a MIDI controller. With Minilogue the MIDI control features work exactly the same.
Battery power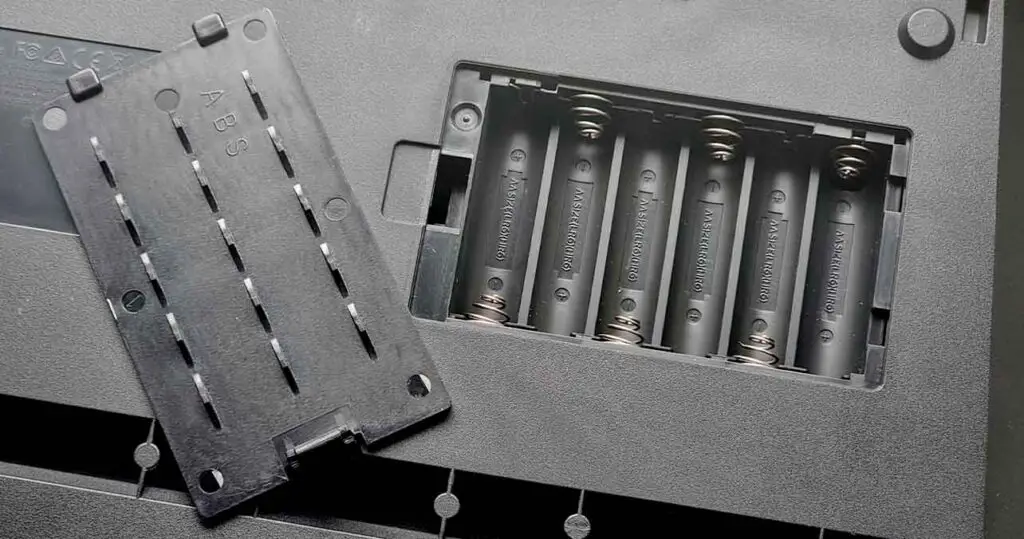 One of the advantages that the Korg Monologue has over the Minilogue is that Monologue is able to run off battery power. It requires 6 AA batteries, and its battery life is advertised as somewhere around 6-8 hours.
Although we haven't tried to run our Monologue on batteries, it's certainly a nifty feature to have, if you're keen on plugging in your headphones and crafting some sounds on the go, or with headphones on in your bed.
Price and availability
As the Korg Monologue and Korg Minilogue differ by quite a bit, the difference in price between them is also quite noticeable.
If you'd like to pay additionally for the polyphonic synth with a built-in delay FX and a slightly larger key range, then your best bet is to go with the Korg Minilogue.
If you can settle with a smaller device that can be battery powered and has buttons for all 16 sequence steps, you can go ahead and purchase the Korg Monologue.
Korg Monologue and Korg Minilogue availability.
The conclusion – which one should you choose?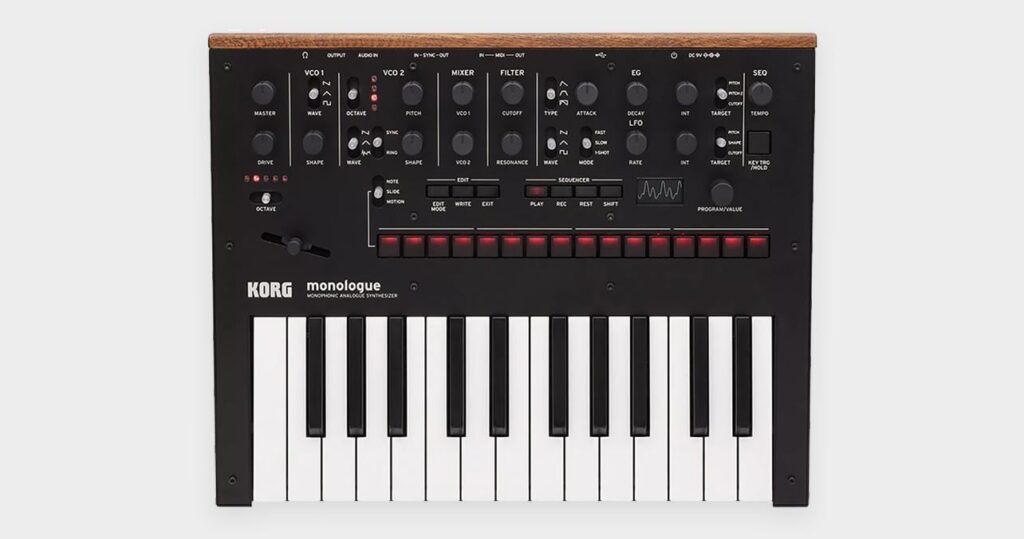 To sum it all up, the Korg Monologue seems to be a great choice if you value portability (smaller size, can run off battery power), and it also is a great and relatively cheap entry point for everyone who's interested in jumping into the analog synthesis without worrying about putting a strain on their wallet.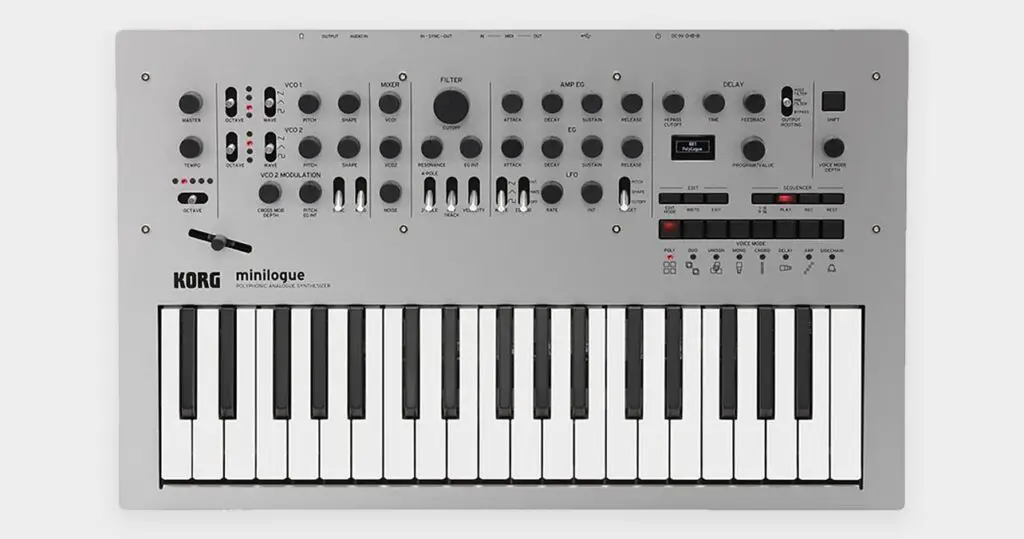 The Korg Minilogue is a step up from the basic Monologue monophony, however when thinking about purchasing one it's best to also consider the Korg Minilogue XD – the slightly more expensive option, yet among other things, upgraded with a lots of great features, among them a high quality digital FX section.
Are any of these good for beginners? Both Korg Monologue and Minilogue (and the Minilogue XD) are one of the best choices for your first analog synth.
They offer you an extensive set of tools that enables you to create almost infinite amount of sounds, unleash your creativity and dive into the wonderful world of analog synthesizers for a really good price.
If you're thinking about getting the Korg Minilogue, we once again strongly advise you to take a closer look at the Korg Minilogue XD. For about $100 more, you can have dedicated in-built FX section alongside with other improvements that the XD has to offer. Consider this when making your final decision.
We hope we helped you at least a bit with your final choice. Get your synth, get creative and rock on!
Where can you get the Korg Monologue and Korg Minilogue?
Your best bet would be to check if your chosen synth is in stock either on Amazon or on Ebay. Here we provide some quick updated links for your convenience.
| Korg Monologue: | Korg Minilogue: | Korg Minilogue XD: |
| --- | --- | --- |
| | | |
Korg Monologue on Ebay:
Korg Minilogue on Ebay:
Korg Minilogue XD on Ebay: