What is a DJ controller used for? Why do DJs even need them? What is the point and purpose of DJ hardware? Whether you're already thinking about getting yourself a brand new DJ controller or just want to get into the fascinating world of DJ hardware, we're going to answer all your questions in this very article so hold tight and let's get straight into the topic!
[this article features Ebay & Amazon affiliate links]
What is a point of a DJ controller?
You might ask yourself – Is a DJ controller necessary for mixing? Can't you mix using just your laptop anyway? The answer is yes and no. Mixing with your laptop only is certainly possible, albeit not easy and really limited in terms of things you can do with your music live.
A DJ controller lets you for example use more than two controls at the same time (which isn't that easy using just a computer keyboard), pre-listen to your tracks in your headphones using the cue functionality and it provides you with additional audio outputs (if it features a built-in soundcard). Moreover, using a DJ controller you can easily and efficiently move through tracks using various types of transport controls including jog wheels, and seriously, nothing beats the feel of actual physical controls.
If you still want to keep to your laptop, we have an extensive article about just that – mixing using just your laptop. Check it out here:
Can I DJ With Just A Laptop? – Do You Really Need A DJ Controller?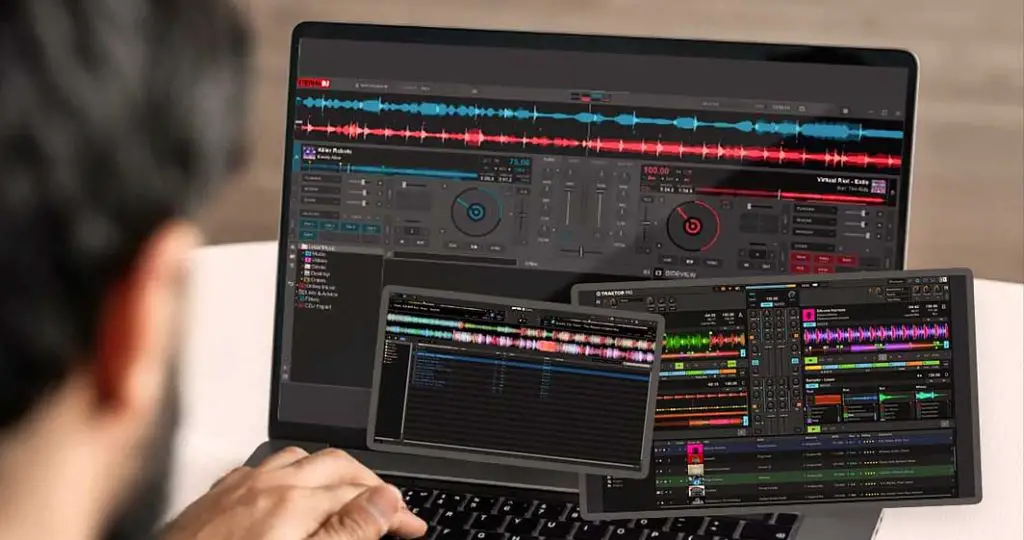 In general when you're just starting out you might be tempted to use solely your laptop for your early mixes. The truth is however that even a most basic DJ controller will provide you with tools and features that you won't be able to utilize using even the best attainable keyboard mapping you can get. It's seriously worth getting yourself even a small entry-level controller to get things moving. Trust us on this one!
If you'd like to know more about DJ controllers for beginners, check out this article:
5 Best Pioneer DJ Controllers For Beginners – Which one should you choose?
What is the difference between a DJ controller and mixer?
DJ controller vs. DJ mixer. People usually refer to a DJ mixer when they mean a device like this – a standalone audio mixer that has additional features that DJs can benefit from such as an audio FX section, filter knobs and so on. A DJ mixer on its own really isn't that useful as it is not capable of music file playback.
To play and mix music you need either a DJ mixer paired with turntables or CD players, or an actual DJ controller and a laptop. The second option is the most cost effective one, and its widely chosen both by beginners and advanced DJs.
In casual speech one can also simply call a DJ controller a DJ mixer. This however is not 100% correct. While DJ controllers do feature mixers in the central section (albeit usually mixers without standalone features), DJ controllers are mainly MIDI controller devices and their main purpose is to enable you to control DJ software on your PC using all the buttons and dials that the hardware features.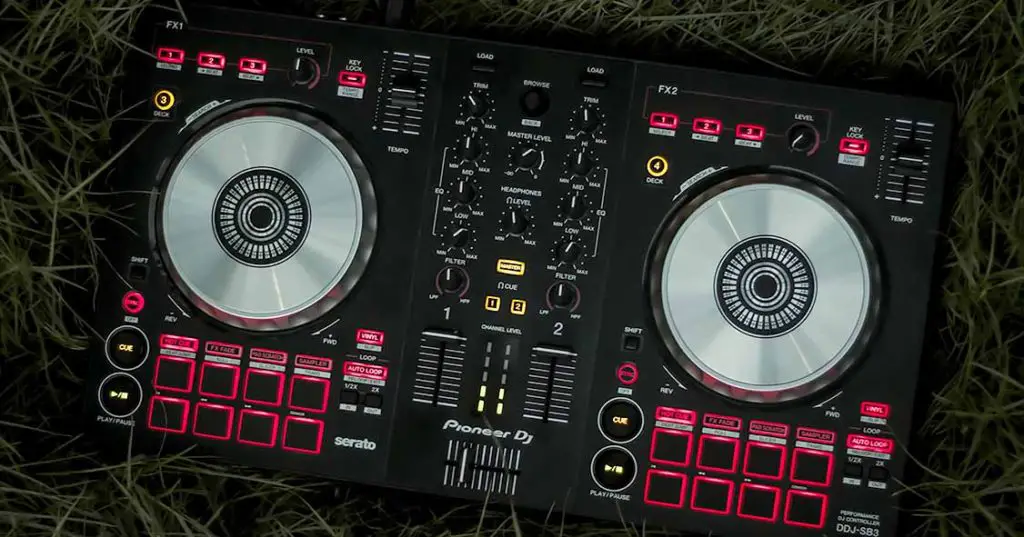 To sum it up – a DJ mixer is a standalone audio mixer that has additional features appealing to DJs and needs to be paired with turntables, CD players or other sound sources to let you mix music.
A DJ controller is a MIDI controller device that is used to control DJ software on your computer and enables you to start mixing right away.
How exactly do DJ controllers work?
Well we're glad you asked! DJ controllers might seem complex and overwhelming at first but rest assured that you can learn using a DJ controller in less than few hours! While mastering the art of DJing later on is another thing, the basics are really simple when you start getting into them!
DJ controllers work by communicating with your computer with the aid of an USB cable, through which MIDI signals are sent back and forth after each button press or fader movement. DJ controllers provide hardware controls in form of buttons, performance pads, faders and so on, to let you mix tracks with ease using the DJ software of your choice.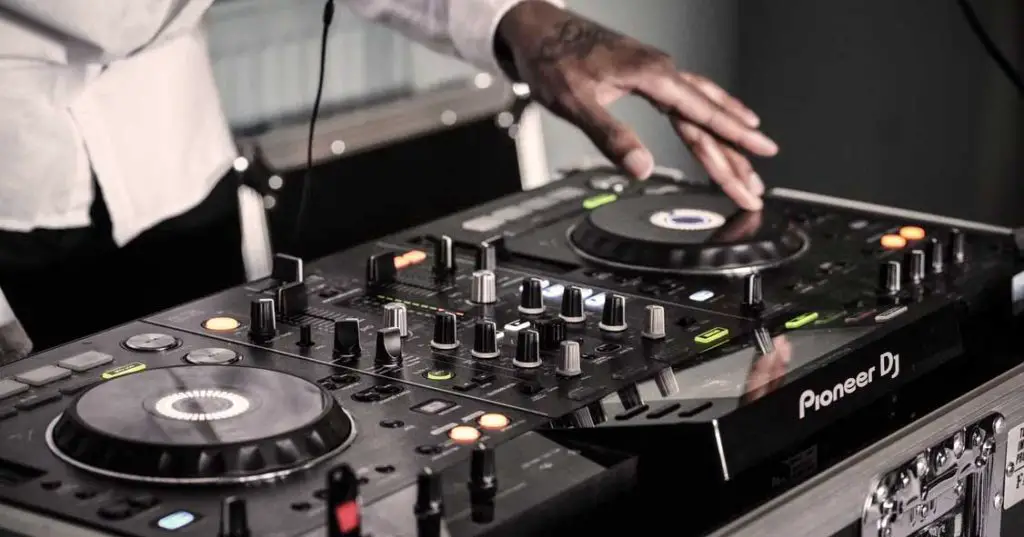 Many of the modern DJ controllers are USB bus powered, which means that you don't need any kinds of external power supply to use them. Most of these devices are also plug and play – you can start using them minutes after you unbox them, without any unnecessary complex and tedious setup process.
We have a great article in which we explain every single button, dial and fader on a typical professional DJ controller. Be sure you give that a read!
DJ Controllers Explained! (What Do All These Buttons Do?)
Mixing using a DJ controller is as many professional DJs say, pretty easy to learn, but hard to master.
What do you need to use a DJ controller?
The beautiful thing about DJ controllers is that you don't really need much to use them. In fact you will only need:
Your chosen DJ controller.
A laptop or a PC (almost any laptop manufactured in the last 5 years will work).
DJ software (most DJ controllers already come with DJ software like Serato DJ or Rekordbox).
Speakers and appropriate audio cables.
Headphones (you probably already have these).
Note: the audio cables you will need depend both on the outputs on the DJ controller of your choice and the inputs on your chosen speakers/audio system.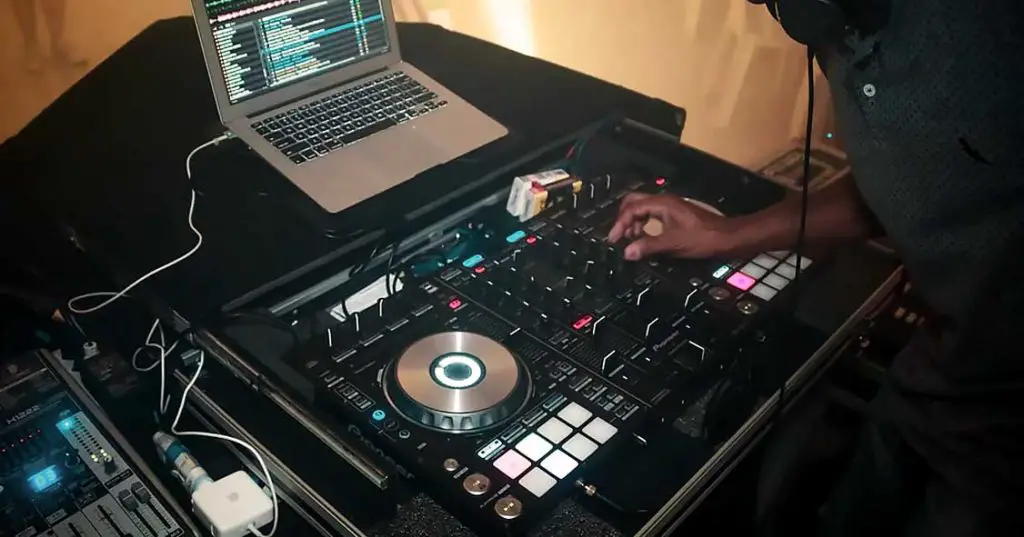 With all these things you are ready to jump into the world of DJing and start learning right away. At this point you might be wondering, which DJ controller should you choose? Feel free to browse through our hardware review library which is curated with sole purpose of helping you get to know the DJ gear on the market better! Visit it here: https://djgear2k.com/hardware/ (will open in a new window).
You can also check out our posts crafted specifically for beginners: https://djgear2k.com/beginners/.
The conclusion
DJ controllers are vital devices for any beginner or advanced DJ. While you can attempt mixing using just your laptop, you are really much better off acquiring even a most basic DJ controller to get a feel of proper controls that real DJs use. There are many affordable DJ controllers available out there, and the best thing with that is that you don't need lots of additional equipment to get them up and running. We strongly encourage you to start a search for your first DJ controller right now. Rock on!
8 Best Top-Notch DJ Controllers You Can Get In 2022!
Check out also:
– 8 Best Top-Notch DJ Controllers You Can Get This Year!
– How To Jumpstart Your DJ Career – 8 Valuable Online Promotion Tips
– 5 Best Pioneer DJ Controllers For Beginners – Which one should you choose?
Main article photo: Rohan