Headphones vs. studio monitor speakers + pros and cons of both solutions. When it comes to home studio music production the sound quality of your audio monitoring device is not a trivial matter. The choice between studio headphones and studio monitors may be non-obvious at first. When working to create a signature sound of your productions you have to make the right choice when it comes to all your audio monitoring devices. But which one should you choose?
[this article features Ebay & Amazon affiliate links]
What are studio monitors?

Studio monitors (AKA studio speakers) are speakers built with the sole purpose of being used in a recording studio environment. They have a flat response, meaning they don't boost or cut frequencies to skew your sound output. For example, many regular consumer grade speakers have a significant bump in the bass frequency range or in the high end. This may make things sound more punchy and lively for some listeners, but as a music producer you're looking for a speakers with a truly neutral sound characteristics.
Studio monitors vs. consumer grade speakers
If you're using speakers with close to flat audio output characteristics you will be able to hear all the audio coming from your DAW in the way closest to the "real" sound of your track, without any misrepresentations that may be caused by the innate sound enhancing nature of many consumer grade speakers.
This will let you prepare much more accurate mixdowns and aid you during the track mastering process. Using studio monitors in a proper studio environment, there will be a way higher possibility that your song will sound good not only on your speakers or headphones at home, but also on any other audio device out there (although still quite obviously the mixdown itself plays the most important part).
The sole purpose of studio monitors, and a thing that places them way above any speakers you might have laying around at home, is their neutral sounding flat audio that resembles the actual sound of your project.
Do you have to sound-proof your room to use studio monitors?
The short answer is: you definitely should. While you could get away with using studio quality speakers in an unprepared room, this will be really counter productive as incompetent placement of your studio monitors can easily skew your sound in a similar way a consumer grade speaker does it inherently.
There are many mistakes you can make while placing studio monitors in your room such as placing them too close to a wall, too far apart or in a really narrow space, too close to the listener, or simply placing them in a room that is not sound-proofed correctly.
Sound proofing a room is beyond the scope of this article, however it's important to note that if you use professional high-end monitor speakers without gaining prior knowledge on sound proofing your studio you might get unexpected results in your production and experience inaccurate audio representation.
Where can you get some good quality monitor speakers?
Here we list some of the more popular studio monitor speakers from our trusted vendors:
The links will safely take you to the official Amazon stores of respective manufacturers.
What are studio headphones?

Professional studio headphones are headphones that produce a truly neutral, flat response, without any strange frequency bumps providing the most accurate sonic representation of your music projects. They are also a useful tool for music producers who need to focus on the music without being disturbed by (or disturbing) others.
Professional studio headphones are meant to be used in a recording or mixing environment, during the production process, final mixdown and track mastering. Of course you can also use them to listen to your favorite tunes in your time off production.
Flat audio characteristic of quality studio headphones once again lets you experience the track you're producing with inaccurate sonic representation, without any sound enhancements that could interfere with your mixdown process.
With studio headphones you don't have to worry about sound-proofing your room at all and that's a great plus! Another obvious plus of studio headphones is their portability factor – you can use them to produce music everywhere you can take your laptop or mobile device with you!

Are there wireless studio headphones?
While there are some wireless studio headphones being advertised here and there such as those for example, you really should reconsider getting these.
Both audio quality and latency are not-so-good to say the least when it comes to wireless audio in general. With wireless studio headphones the sound latency introducted by the Bluetooth connection is going to be the most annoying issue.

Now not only will you be experiencing audio latency caused by your soundcard, but on top of that there will be quite some latency introduced by the wireless connection. If the sound latency gets out of hand in a studio environment of any magnitude, it can make recording really, really troublesome. Trust us on this one!
To sum it up, while there are some wireless studio monitors being sold and all of them have their own upsides and downsides in their category, you should really consider getting yourself a pair of high quality wired headphones instead.
Where can you get some recommended professional studio headphones?
Here are some of the most popular professional studio headphones distributed by our trusted vendors:
The links again will take you to the official Amazon stores of respective manufacturers.
Studio headphones vs. monitor speakers for music production
Studio headphones give you the possibility to mix without disrupting others, which can be especially beneficial for home studio owners. They will also be a great solution when it comes to portability, as obviously you can take your heapdhones with you pretty much everywhere.
In terms of audio quality, while studio headphones and monitor speakers both can deliver excellent audio with flat neutral response, the perception of the sound will be different while using either of the devices. This however is purely a matter of preference (although its always up to debate).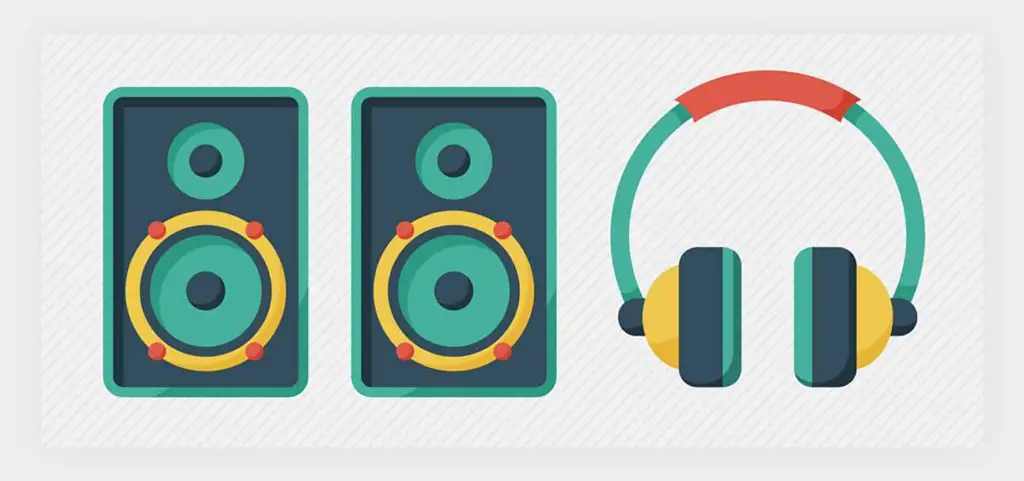 With monitor speakers you have to be prepared for some hassle while soundproofing your room, preparing the right place for them to be placed in and then actually modifying your workspace a bit to make them fit and actually sound good.
In this case the audio experience can be quite astounding, proven you haven't made any grave mistakes while preparing your room and setting up your monitors.
All in all while many prefer audio monitors over headphones and vice versa, and there are many different situations in which you would actually use one or the other, you can produce a great track and do a perfect mix-down and master using almost any audio monitoring equipment which is designed for production purposes.
Pros of studio monitors:
Flat response and neutral sound characteristics perfect for producing, mixing and mastering your tracks.
Excellent sound quality for casual use.
Can last way longer than studio grade headphones, sometimes even for years.
Cons of studio monitors:
Your room needs to be sound-proofed and your monitors have to be placed correctly in order to get the best results.
Studio monitors are the pricier option in comparison to studio headphones.
You can't just easily take them with you if you want to take your production outside of your studio space.
Pros of studio headphones:
Extreme mobility – you can use them to mix and produce pretty much everywhere you can take your laptop or mobile device with a DAW with you.
Great isolation
Cons of studio headphones:
Some argue that mixing on headphones in general doesn't give you the best representation of the actual sonic characteristics of your track – properly placed studio monitors might give you better results.
Even in professional studio headphones the cable is still the weakest link – if not cared for properly it can easily get damaged.
What about DJs? Headphones vs. monitor speakers for mixing
As while DJing you use your audio monitoring in a different way and for different purpose than you would do in a recording studio environment you need to make your decision based on different factors.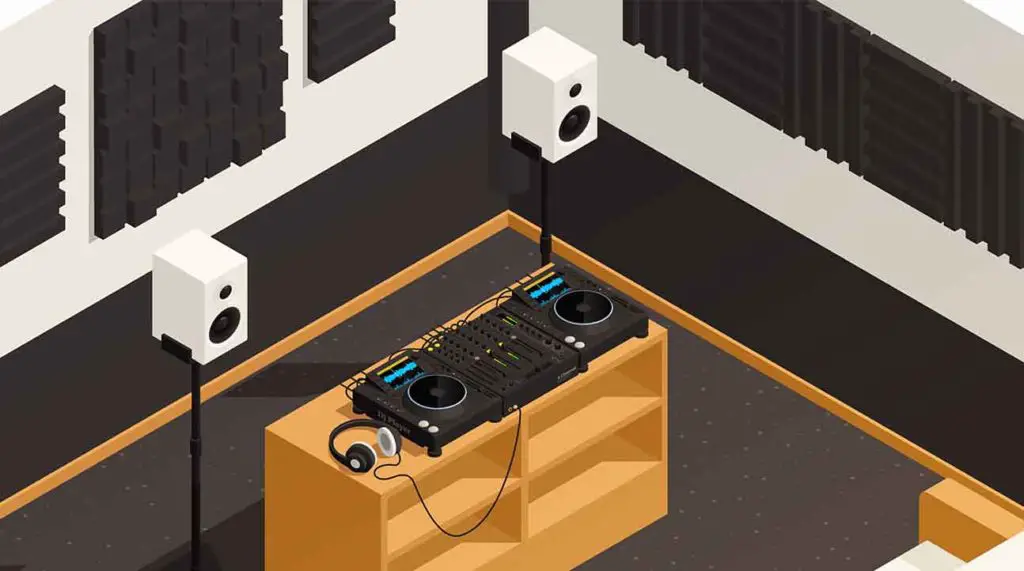 Performing with headphones is generally easier when it comes to loud narrow environments such as small club spaces. Mixing with monitor speakers on the other hand
The accurate audio representation issue shouldn't really bother you that much if you plan on purchasing headphones or monitor speakers for your live performances.
Headphones for a DJ should ideally feature:
Good sound isolation.
Decent output volume.
Foldable design (for easier transport).
An easily replaceable cable (ideally).
An built-in option to bend one of the headphone speakers sides away from your ear (optional).
In terms of monitor speakers for a DJ booth you should be looking for:
Again, decent output volume (important in loud environments).
Good ergonomics (pay attention to where the cable outputs are and where the cables will be going – this is important for setting up your DJ booth).
Built in sound amplifier (optional).
The conclusion – which one should you choose?
Studio monitors and headphones are great tracking tools, but they are entirely different in working. Studio monitors are meant to be stationary and high-quality, which means you'll get a complete, balanced sound when listening to your music. Studio headphones offer a focused sound with no interference from outside sounds. They're great for getting an accurate representation of your music without any interference.
Check out also:
– 5 Best Free Legal VST Plugin Download Sites!
– Top 10 Free VST Instruments You Have To Download Right Now!
– 7 Best New Free Legal VST Plugin Download Sites