Whether you're trying to mix using isolated vocal tracks, remix a certain song or put some vocal chops into your mix, production or mashup it all comes down to one question: Where to download clear isolated vocals / acapella tracks for free.
Here are the 4 handpicked websites that we've found the most useful from tens of sites featuring free vocal tracks and acapellas that were either too hard to navigate, had a poor choice of tracks or were generally hard to access. These sites are easily accessible, have a wide variety of free tracks and are constantly updated by their creators and users. All the site links will open in new windows.
This article is not sponsored and it does not contain affiliate links!

Probably the most popular site for downloading free acapella tracks. It also seems to have the biggest vocal track database from all these sites featuring over 30 thousand tracks at the time of writing this article. When you register you get an amount of free downloads that resets every 30 days. The site features a great search feature and enables you do sort the tracks by key, tempo, duration and even file bitrate.
Large database of vocal tracks
Great sorting mechanism and search features
Requires a free account to download files
Link to the site: https://www.acapellas4u.co.uk

Looperman is a great site for downloading acapellas made by independent artists. The great things are: it features a lot of different genres, new tracks are added almost every other day and it also provides the user with a great search filter with options to sort acapellas by key, tempo, genre and specific keywords. Each artist usually alongside with a vocal track provides a clear description that explains how the acapella or vocal sample may be used.

You can find free unused tracks by independent artists for your mixes or productions
Great search filter features
All the tracks are free but some have certain usage restrictions clearly stated in sample desriptions
Link to the site: https://www.looperman.com/acapellas

This is also a great source featuring over 5 thousand free acapella tracks. The search feature however is not so great here so you might need a bit of time to find what you need. Nice thing about the search however is that you can filter tracks by their bpm and more importantly their license – this makes it easier to find tracks that are free for commercial use.

Over 5 thousand high quality acapella tracks
Filtering by track license
Only a few searchable categories (although the "all" tab features many genres)
Generally poor search filter features
Link to the site: http://beta.ccmixter.org/pells/

This one is an interesting one. remixpacks.ru is a site that collects remix packs – packs of song stems meant for remix contests featuring clear isolated vocal tracks. Remeber to always be cautious of the track's license before using it in your remix or mashup – most of the tracks present here remain copyrighted because the packs are solely meant for remix contest purposes. It's a great source for acapellas for both mashups and remixes.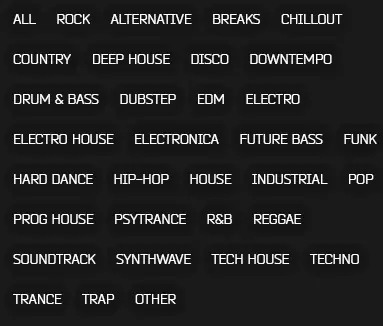 Features full remix packs with not only the isolated vocal tracks but also all song stems
All the acapellas are top-quality audio files taken out straight from original project files
Most of the tracks are naturally copyrighted so they cannot be used in commercial productions without artist's consent
Link to the site: https://remixpacks.ru/
Disclaimer: As always when using any kind of acapella track be sure that you have the rights to use it in the specific context of your mix or production. Be wary of the fact that some of the acapellas you may find can not be used for certain purposes (for example remixing). Do your research and check the speficic track license and you will be fine!