Pioneer DDJ-Rev1 DJ controller FAQ. DDJ-Rev1 is a device great as an entry-level DJ controller for beginners but also a nifty practice tool for more advanced performers. Let's dive into most commonly asked questions about the Pioneer DDJ-Rev1. This FAQ list might be useful to you if you're considering getting your brand new DDJ-Rev1, but also if you've already ordered it and are preparing to test things out. Hope our answers will be helpful to you. Let's begin!
You might also want to check our DDJ-Rev1 review here: New Pioneer DJ DDJ-REV1 – A Great Choice For Beginners?
[this article features Ebay & Amazon affiliate links]
What software does the DDJ-Rev1 come with?
The Pioneer DDJ-Rev1 is a native Serato DJ controller and it comes with Serato DJ Lite software available to you as a free download. You can also do a paid upgrade to Serato DJ Pro to unlock more hardware and software features.

Serato DJ Lite is essentially a cut down version of the Serato DJ Pro software. Lite lacks many features and functions that Pro has, and unfortunately can hold back more advanced users in many different ways. Check out our detailed comparison of Serato DJ Lite and Pro to learn more about this matter: Serato DJ Lite vs. Pro (12 Most Important Differences)
You can download Serato DJ Lite even before you get your DDJ-Rev1, simply go to the official Serato DJ Lite download page and get your software right away. Just know that you cannot really use Serato DJ Lite with just your laptop in the way you would use say Virtual DJ software without a DJ controller plugged in – Serato DJ Lite is just not made for controller-less mixing in mind.
Can you use the DDJ-Rev1 without Serato DJ Pro?
Certainly, however without an upgrade to Serato DJ Pro, some of the functions of your Pioneer DDJ-Rev1 controller will be soft-locked. These functions are to name a few:
All 8 hot cue slots (4 available with Serato DJ Lite).
All 8 sampler slots (4 available with Serato DJ Lite).
Beat Jump pad mode.
Loop Roll pad mode.
Serato DJ Lite vs. Pro (12 Most Important Differences)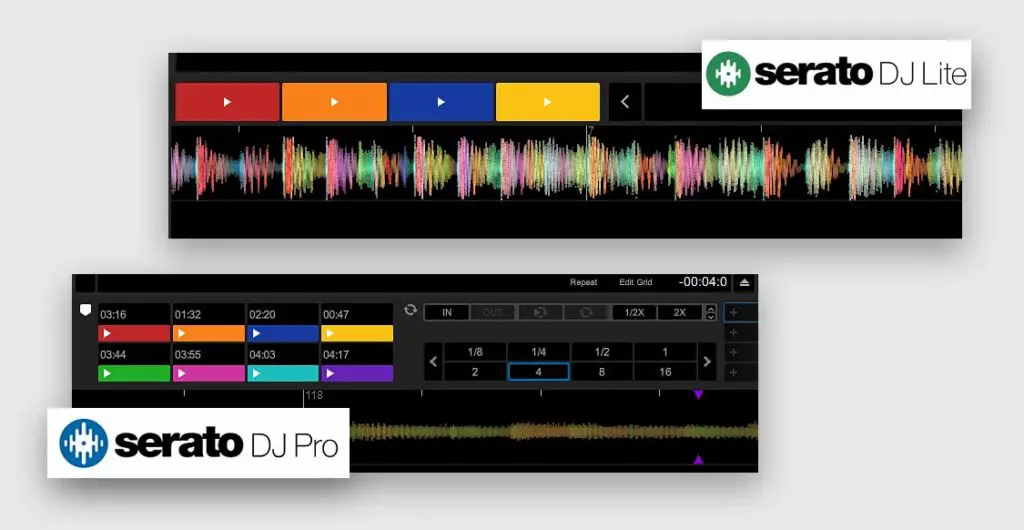 Without Serato DJ Pro you also won't have an option to record your mixes using the in-software recording functionality (although you still can record master audio using other pieces of software). Moreover, the audio looping functionality is limited and you won't get access to many features such as track key analysis and Serato Smart Sync (more about all the differences here).
Can DDJ-Rev1 be used with Rekordbox DJ software?
Unfortunately – no, the DDJ-Rev1 is a dedicated Serato DJ controller without support for the Rekordbox software. Currently, as far as we know, no support for Rerkodbox is planned.
Does the Pioneer DDJ-Rev1 feature a built in soundcard?
Yes, Pioneer DDJ-Rev1 has a built in soundcard which means that just as with the DDJ-400, you don't have to resort to using DJ splitter cables to make use of the headphone cue functionality.
More about DJ splitter cables and why you might need one, here: New DJ Splitter Cables Guide + Troubleshooting.
All you need with DDJ-Rev1 is a pair of headphones with a 3.5mm / 1/8 inch jack connector to freely pre-listen to the tracks you're going to mix together.
How to connect the DDJ-Rev1 to speakers?
You can easily connect the Pioneer DDJ-Rev1 to speakers using the red/white RCA connectors in the back of the device. You will also need a proper RCA cable that on its other end has a connector that is suitable for your speakers/mixer that you plan to connect to. In most cases you will be interested in an RCA-1/8 inch stereo jack cable (if you're using a speaker device that takes in a 1/8 inch jack input).
(1/8 inch jack = 3.5 mm jack)
The red RCA cable should be put in the red input (right stereo channel) and the white in the white one (left stereo channel).
To connect your Pioneer DDJ-Rev1 to an audio device that takes in an 1/8 inch stereo jack input you will need a cable like this.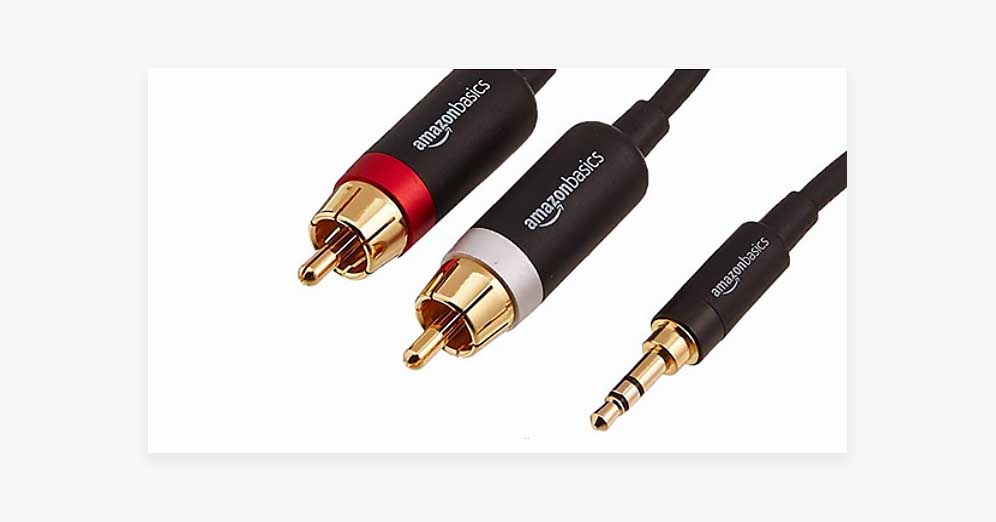 Can you record your mixes with your microphone audio input using the Pioneer DDJ-Rev1?
Yes you can! In case of the Pioneer DDJ-Rev1, the microphone input audio is actually routed through your laptop, so you can add the sound from your mic to your final mix recordings with ease. This is especially great for live streaming DJs.
This isn't the case with some of the previous Pioneer DJ controlers in similar price range, such as the Pioneer DDJ-400. With Pioneer DDJ-400 the microphone audio isn't routed through your computer, so the only way to record microphone audio on your laptop when using this device is to use additional external sound equipment.
Pioneer DDJ-400 – DJ Controller FAQ – Most Important Things To Know
Can you use a Bluetooth speaker with your DDJ-Rev1?
The answer to this question will be exactly the same as it was with the DDJ-400 in our latest article – you can but really you shouldn't. The audio latency that is introduced with wireless headphone connection can really ruin your mixing experience. It's best to rely solely on wired audio devices when it comes to DJing, especially if you're just figuring things out.
Is Pioneer DDJ-Rev1 good for scratching?
Well, this depends on how you'd define good. If we're talking about good, as in one of the better options from among different entry level DJ controllers such as Pioneer DDJ-400 or Numark Mixtrack Platinum FX, then we'd say yes.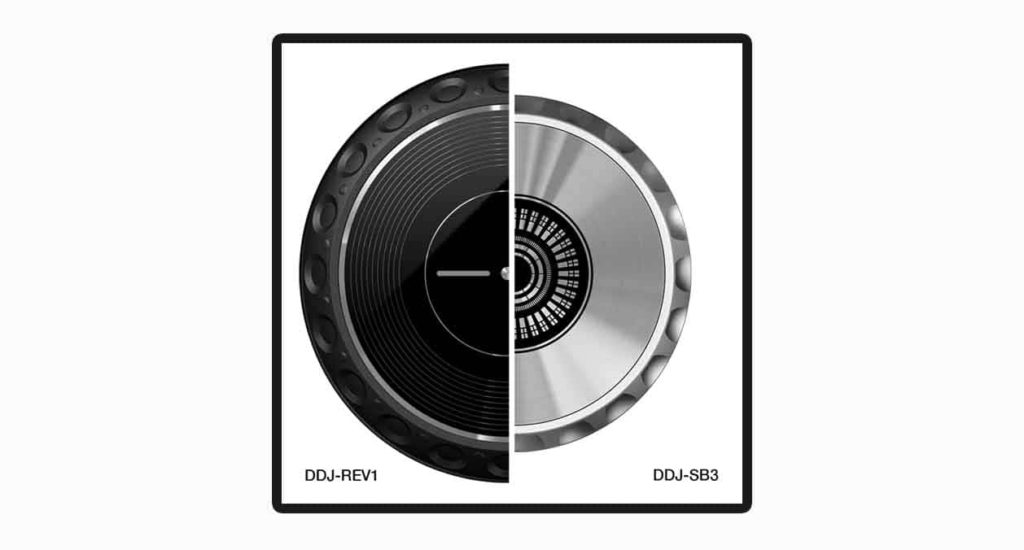 On the other hand, there is no point in comparing the jog wheels on the DDJ-Rev1 to say the jog wheels on the Pioneer DDJ-Rev7 or a proper DVS setup with real turntables. The experiences are vastly different.
New Pioneer DDJ-Rev7 – DJ Controller Detailed Review
Is the Pioneer DDJ-Rev1 USB powered?
Pioneer DDJ-Rev1 doesn't need any kind of power supply to function, as it is a USB bus powered device. This means that it will take all the power it needs via the USB connection cable when plugged into your computer.
Can you use the DDJ-Rev1 with a smartphone?
At this point in time, Pioneer DDJ-Rev1 does not officially support any kind of DJ apps be it on iOS or on Android. Thus, you cannot use your DDJ-Rev1 with a smartphone.
Click here to see if you can use the DDJ-400 with your smartphone!
Can you use Serato Scratch Bank with the DDJ-Rev1?
Yes, DDJ-Rev1 lets you use the Serato Scratch Bank functionality, even without an upgrade to Serato DJ Pro. This is actually the first controller that brought this function into the market of entry-level Serato DJ Lite controllers.
Scratch Bank pad mode allows you to quickly jump into your favorite custom scratch samples using performance pad shortcuts.
Does the DDJ-Rev1 controller layout really resemble a turntable setup?
The DDJ-Rev1 is designed in such a way that its control layout closely resembles a battle style turntable setup. This control scheme is meant to take after the classic double turntable setup in which the turntables on both sides of the mixer are rotated 90 degrees clockwise for the convenience of the performing DJ.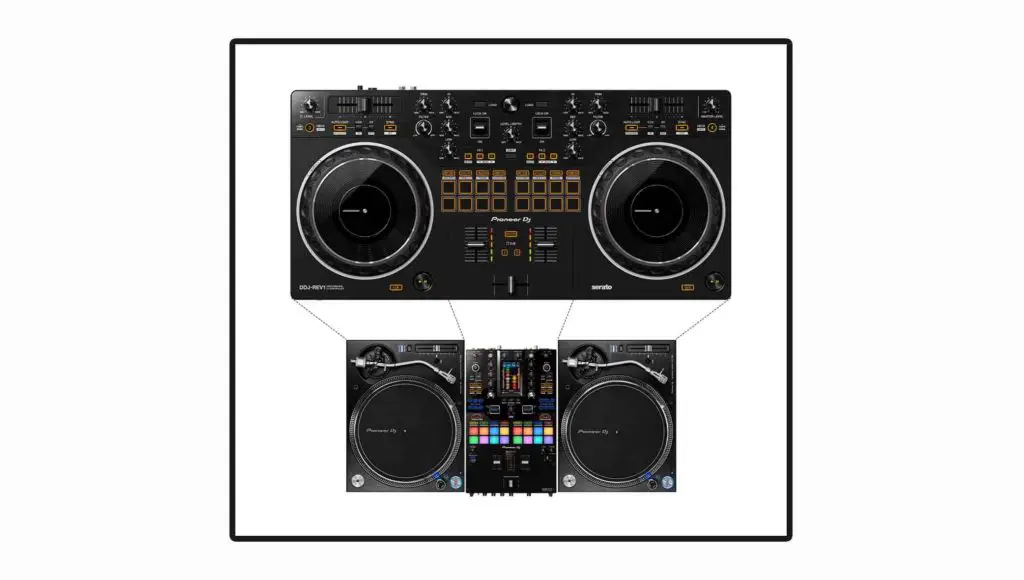 You can read more about battle style layouts here: What Is A Battle Style DJ Controller Layout? – Quickly Explained
Should you get the DDJ-Rev1 or the DDJ-400?
Pioneer DDJ-Rev1 and Pioneer DDJ-400 while being pretty similar in price, feature set and form factor, differ vastly in control scheme layouts, software compatibility and designated user base.
To quickly sum it up, Pioneer DDJ-Rev1 is marketed mostly towards beginner scratch performance DJs and Serato DJ software users, while the DDJ-400 is made for aspiring club DJs who prefer to stick with the Rekordbox software.
There is much more to this, and so we've done an extensive write up in which we compared these two magnificent devices, you can check it out here: DDJ-Rev1 vs. DDJ-400 (Which Is Better For You?)
What is a better alternative to the DDJ-Rev1?
The first thing that comes to mind in terms of tremendous feature upgrades is the older brother of the DDJ-Rev1 – the Pioneer DDJ-Rev7.
Check out our review here: New Pioneer DDJ-Rev7 – DJ Controller Detailed Review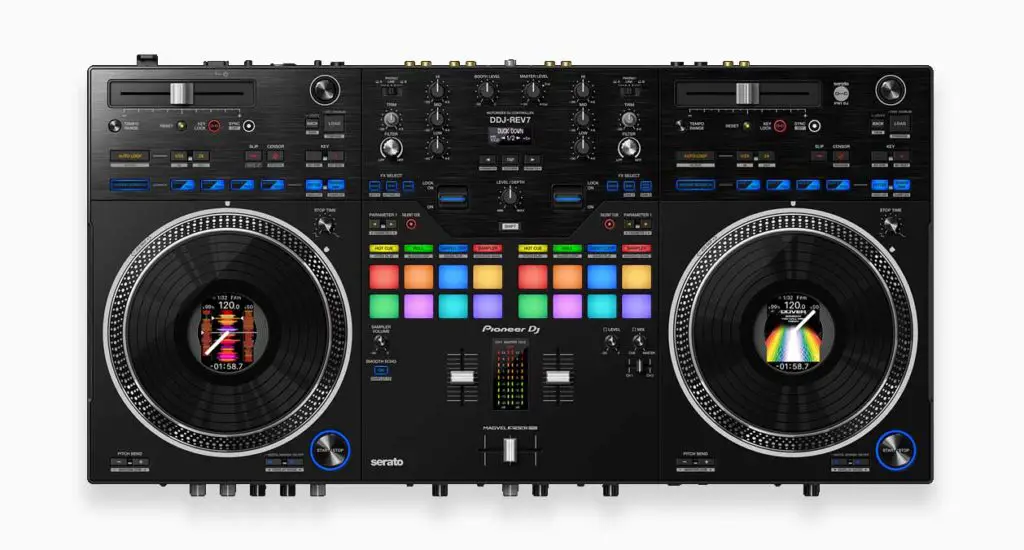 When it comes to similar entry level DJ controllers on the cheaper side with pretty much the same feature sets, you could consider the Pioneer DDJ-400, DDJ-SB3 or Numark Mixtrack Pro/Platinum FX.
Check them out here on Amazon:
Where can you get a brand new Pioneer DDJ-Rev1?
You can check if the Pioneer DDJ-Rev1 is available with shipping to your country at the official Amazon Pioneer DJ store here: Pioneer DJ DJ Controller, Black (DDJ-REV1).
Pioneer DDJ-Rev1 on Ebay:
The conclusion
We hope that we've answered most of your questions regarding the new Pioneer DDJ-Rev1. If you have any further enquiries about your DJ controller be sure to refer to official gear manuals present on the respective hardware manufacturers sites and various online DJ communities. You can also ask your questions in the comment section down below and we'll do our best to answer it. Rock on!
Check out also:
– Pioneer DDJ-400 – DJ Controller FAQ – Most Important Things To Know
– DDJ-Rev1 vs. DDJ-400 (Which Is Better For You?)
– Numark Mixtrack Platinum FX vs. Pro FX (Which is better?)
– 8 Best Top-Notch DJ Controllers You Can Get This Year!